You can play games on platforms like PCs, mobile phones, game consoles, etc. If your game is cross-platform, you can pick one platform to play it. However, if it's exclusive to consoles, you need to get a console instead. What is the best-selling console of all time? This post summarizes some best-selling consoles from three series (Xbox, PlayStation, and Nintendo).
Xbox
Microsoft announced that it stops releasing sales numbers a decade ago. The shown number below is just for reference.
Xbox Series X/S
Xbox Series X/S is initially released on November 10, 2020. It sells so well that plenty of gamers try their best to find the restock on the market. The exact sales number is unknown due to the policy of Microsoft. According to an estimate, Microsoft had shipped over 8 million Xbox Series X/S consoles to retailers until September 30, 2021.
Xbox One
As one of the best-selling consoles, Xbox One has 46 million units sold until 2021. Since Xbox One is still for sale, the sale number still grows. Even so, Xbox One can't compete with Sony's PS4 because it has a lackluster game library. Besides, Xbox Series X/S take hold of the market since its release.
Xbox 360
Xbox 360 was released in 2005. It is the successor to the original Xbox. It was casually mentioned that Xbox 360 had sold 84 million units in an article published in 2014.
PlayStation
PlayStation 5
PlayStation 5, launched in November 2020, becomes one of the fastest-selling game consoles. The PS5 sells 17.3 million units by the end of 2021. However, the global pandemic and well-documented chips shortages affect Sony's ability to meet the market demand.
Given that fact, it is hard for gamers to get the PS5 restock. Though the situation is frustrating for consumers, the initial success highlights the sheer popularity of the console in spite of difficult conditions. This situation also applies to Xbox Series X/S consoles with a 172% increase in sales during the second quarter of 2021.
When talking about PS5, you might be interested in the following content.
PlayStation 4
PlayStation 4 (also referred to as PS4) is one of the best-selling consoles of all time. It has a steady line of heavily praised exclusives like Horizon Zero Dawn, Gold of War, and Uncharted, which makes PS4 the ultimate game machine. Moreover, the failure of Wii U also drives the sales. How many PS4 have been sold? It is estimated that more than 115 million units of PS4 have been sold until July 18, 2021.
PlayStation 3
PS3 was released on November 11, 2006. Up to March 32, 2017, PS3 had sold 87.4 million units according to Sony. Its production has ended.
PlayStation 2
PlayStation 2 is the successor of the SEGA Saturn that entirely killed SEGA's attempt at a rebirth with the Dreamcast. It embeds a DVD player and is graphically superior to any console appearing before it. Importantly, it comes with an endless line of hit exclusive titles. 157.68 million PS2 consoles are sold during the system's lifespan.
Also read: Fixed: How Long Do Gaming PCs Last & How to Extend Their Lifespan
Nintendo
Nintendo Switch
The Switch is one of the most unique consoles of all time, offering gamers the ability to take it on the go. Hence, you can play it at home or play in a tabletop mode. In addition, it is also the main system that Nintendo supports at present.
The sales of the Nintendo Switch surpass that of Xbox One, SNES, and others. The Switch already has a sale of 103.54 million as of December 31, 2021. According to Nintendo, games for the Switch will continue to release for another three years at least. So, it can be expected that the sale of Nintendo Switch video game consoles will continue to increase.
Nintendo Game Boy/Game Boy Color
The Nintendo Game Boy remains one of the best-selling consoles. With more than 118 million units of the Game Boy Color are sold globally.
Nintendo Wii
It is estimated that 101.53 million units of Nintendo Wii are sold. Games like Wii Fit, Wii Sports, and Just Dance dominated the sale charts. Apart from the motion games, the Wii also has some underrated games and under-the-radar hits.
Nintendo DS
The Nintendo DS, launched in November 2004, provides you with two screens. It is the successor to the Game Boy Advance, with more than 154 million units sold.
The picture below shows some of the best-selling console of all time. The following data come from statista.com.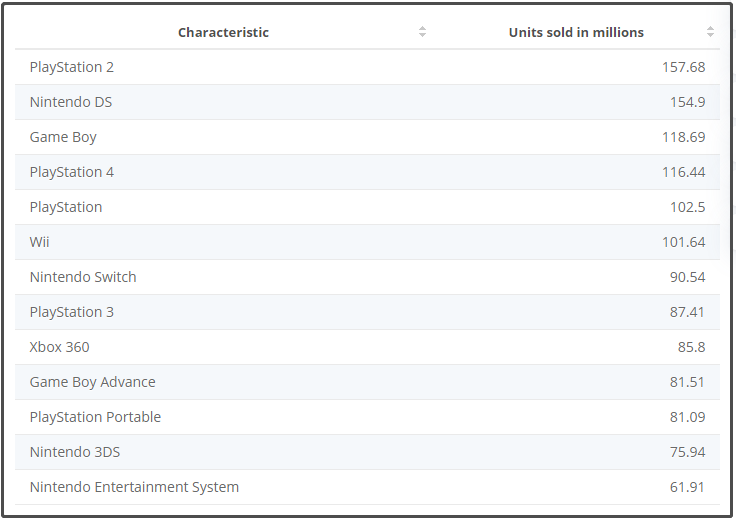 What is the best-selling console of all time? This post shows you the detailed information. You can find the answer from the post.