This post collects several pieces of the best overclocking software for CPU/GPU/RAM. With the given overclocking software, you can boost the performance of CPU, GPU, and RAM. After that, your computer will speed up. Pick one CPU/GPU/RAM overclocking software in this post of MiniTool now!
Part 1: Best CPU Overclocking Software
When you choose CPU overclocking software, you need to what CPU is running on your computer. Simply put, whether the CPU is from AMD or Intel. Then you can decide to choose AMD or Intel overclock software for the CPU.
#1. Intel Extreme Tuning Utility
As its name indicates, Intel Extreme Tuning Utility (referred to as Intel XTU) is a piece of Intel overclock software for CPUs. Even so, it doesn't mean that this CPU overclocking software works with all CPUs. All the processors that support Intel XTU are listed at the bottom section of its official website.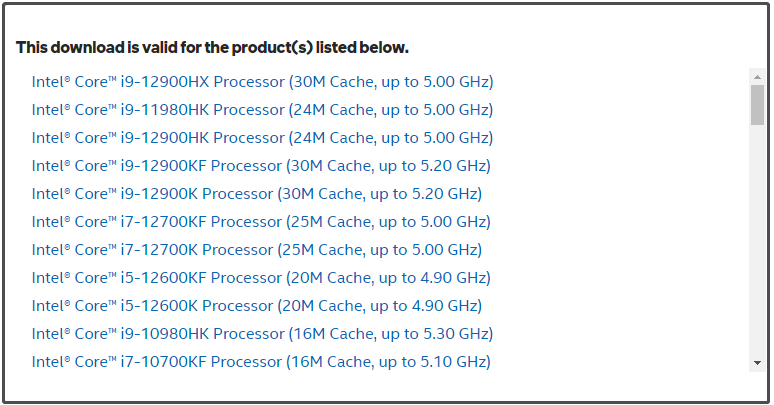 With this utility, you can overclock CPU, monitor the temperature, and stress test your PC. Based on that, it offers you CPU utilization and temperature readings that can be used to supervise the result of overclocking and check if it causes performance issues.
Your PC may freeze and shut down finally if there's a bad CPU overclock. The solution to that issue is to restart your computer and then open the Intel Extreme Tuning Utility app and factory reset the overclock settings. Additionally, don't push the core voltage too high as that will cause higher temperature values leading to thermal throttling or CPU.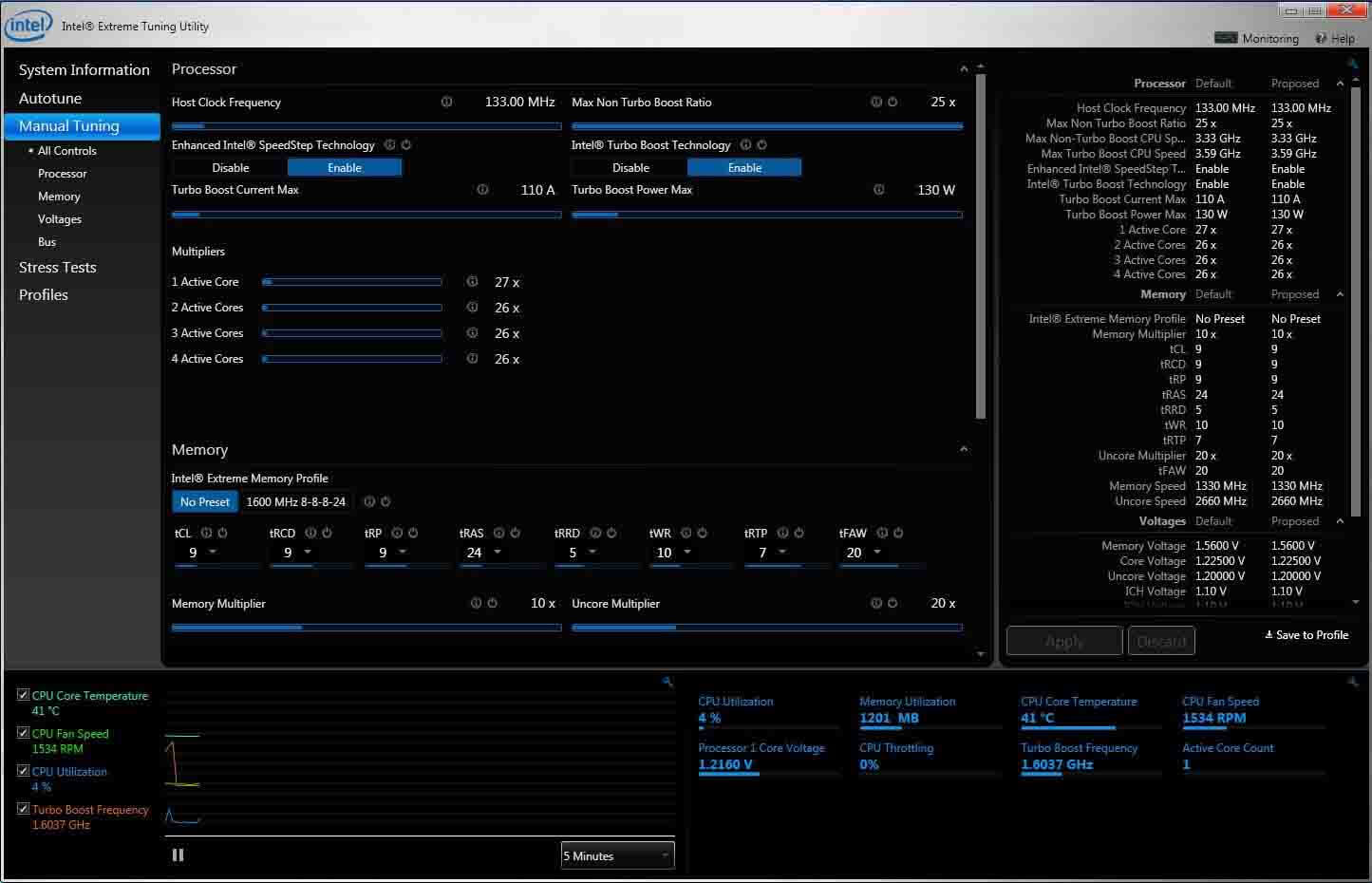 Under the System Information tab of Intel XTU, you can learn details about the motherboard, processor, and BIOS. As the interface of this software directly communicates with the motherboard's BIOS, you are allowed to overclock CPU without the need of a restart. It is one of the best overclocking software for Intel CPUs.
Is it good to overclock CPU? You can find the answer in this post.
#2. Intel Performance Maximizer
Intel Performance Maximizer includes an easy-to-navigate interface. It is built to overclock 9th or 10th Generation Intel processors. The advanced system analysis feature of this Intel overclock software offers you the most optimal settings to overclock the CPU.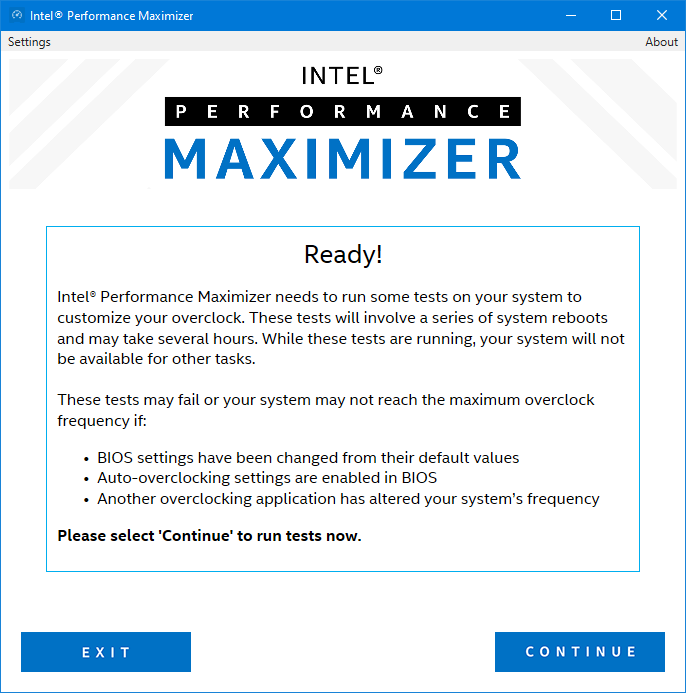 Apart from that, it also tells you the safe parameters that shouldn't be surpassed during the CPU overclocking process. It's worth noting that this CPU overclocking software includes automatic overclocking without the need of accessing BIOS settings.
#3. AMD Ryzen Master
If you are going to overclock AMD CPUs, AMD Ryzen Master deserves your attention as it is specially built to manage AMD Ryzen processors. It has two view options (Basic View and Advanced View). The Basic View is suitable for less experienced users, in which you can overclock the CPU automatically, and obtain important information like the CPU temperature, speed, and voltages.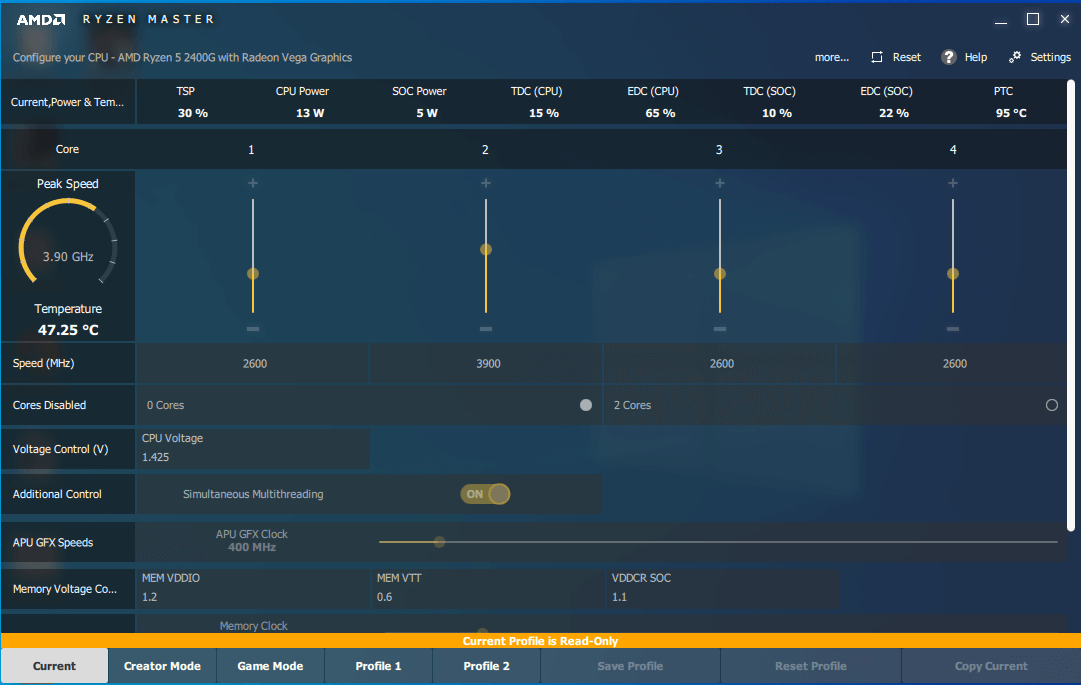 You will have access to voltage control, memory & memory voltage control, DRAM timings, configuration, and individual core multipliers after entering Advanced View. Then you can change factory settings and customize multiple processor clocks and voltage settings in real-time.
As for overclocking CPU, AMD Ryzen Masters offers you three modes (Default, Auto, and Manual). It can even overclock the Ryzen integrated graphics to provide you with a better gaming experience. Furthermore, it comes with a status monitoring capability offering you a real-time status report of your system and its performance.
In addition to CPU overclocking, AMD Ryzen Master also includes pre-tuned settings to overclock RAM and memory profiles to improve the performance of your DDR3 RAM. It means that it can also be used as RAM overclocking software.
You may also like this: 6 Best RAM Cleaners & Boosters & Optimizers for Windows 10/11
Part 2: Best GPU Overclocking Software
If you are finding the best GPU overclock software, pay attention to this section. There are three recommendations for the GPU overclocking software.
#1. MSI Afterburner
MSI Afterburner, a piece of GPU overclocking software, allows you to overclock both NVIDIA and AMD GPUs. It doesn't require a graphics card manufactured by MSI. In Afterburner, you can learn details like the core voltage, temperature limit along with the core clock, and memory clock details.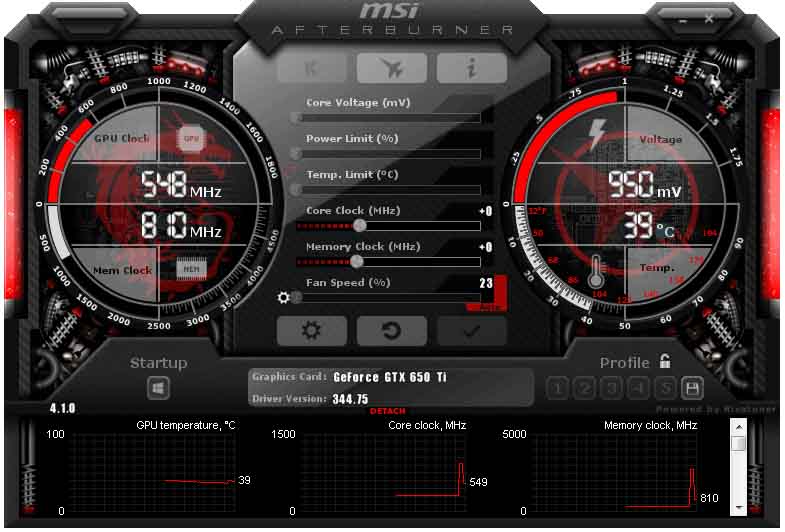 Based on that, Afterburner allows you to tweak the GPU memory clock offset, GPU clock frequency, and fan speed to overclock refresh rate. It enables you to control your computer's fan speed with customized fan profiles, perform benchmarks, and record video and audio of your gameplay.
What's more, MSI Afterburner comes with custom user skins, multilingual support, and Furmark-based software to release the full potential of your graphics card and boost the gaming performance. It helps you find the optimal balance between temperature and performance.
#2. ASUS GPU Tweak II 
ASUS GPU Tweak II is the GPU overclocking software developed by ASUS. It is similar to MSI Afterburner. At first, it has simple and good-looking interface, so you can change the core clock, voltage, or memory clock of your graphics card by moving the corresponding sliders.
Tips:
This GPU overclocking software only works with ASUS graphics cards and requires the latest drivers.
This overclocking software offers a unique gaming booster feature that can remove unnecessary processes. Hence, it can grant you power-packed performance for gaming. The feature will give you instructions when you deal with visual effects, system services, and system memory defragmentation.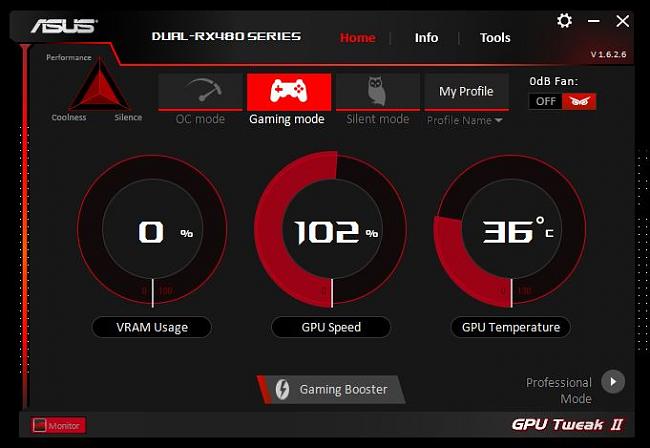 Moreover, it includes 3 performance modes like the overclock mode, the gaming mode, and the silent mode for fast optimization. You can pick one mode according to your performance requirements.
Gaming mode: It is the default mode for long gaming sessions.
Overclock mode: It allows maximum performance output to tackle demanding games.
Silent mode: It reduces maximum performance output for enjoying music and movies.
This best GPU overclock software allows you to overclock PC resources for gaming purposes. Given that fact, FPS increases gradually for good graphics and speed performance. To run ASUS GPU Tweak II, you should have a Windows 7/8/8.1/10 (both 32-bit and 64-bit versions) or AMD 7000 series or NVIDIA 600 series or higher GPU.
Also read: Top 5 Game Boosters for PC (Razer/Smart/Wise/IObit/Samsung)
#3. SAPPHIRE TriXX
SAPPHIRE TriXX is regarded as the best GPU overclock software to overclock SAPPHIRE and AMD GPUs. It allows you to change the GPU core clock, voltage, or video card memory clock to get maximum performance. In a word, it can optimize, fine-tune, and overclock GPUs.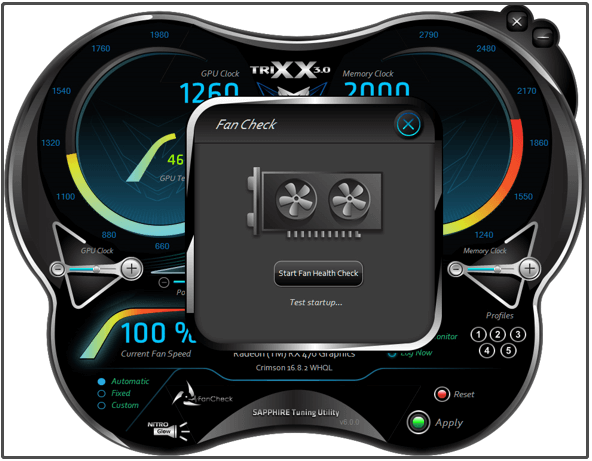 It gives you feedback about the impact of the change on the system's stability. You can save the setting in a custom profile. You are allowed to save up to five profiles. The highlight of this GPU overclocking software is that it offers you two overclocking modes.
Power mode: It is used for higher performance.
Stealth mode: It is used for a balanced gaming experience with power saving.
By using specific settings, you can switch the BIOS view between the primary BIOS and the secondary one. With SAPPHIRE TriXX, you can monitor hardware and get real-time updates on the performance of the system. The fan control feature of this best GPU overclock software allows you to customize the cooling to meet the overclocking demands.
After choosing the best GPU overclocking software, follow this guide to overclock GPU: How to Overclock GPU NVIDIA/AMD to Boost Gaming
Part 3: Best RAM Overclocking Software
DRAM Calculator for Ryzen is a piece of overclocking RAM software. It can help you overclock the memory on the AMD Ryzen platform, but it doesn't include an automatic overclocking option. It holds 3 different modes (SAFE, FAST, and EXTREME).
Tips:
This RAM overclocking software calculates and tells you the optimal overclocking value after completing the 3 different calculation modes.
After you obtain the values of each mode, you need to input them into the BIOS. You have to restart your system and open BIOS settings each time you enter the value. Besides, you are required to shift from SAFE to EXTREME or FAST. Then these values can impact your RAM frequency.
Lastly, you should know that DRAM Calculator for Ryzen only works with Zen, Zen 3, Ryzen first, second, and third generation processors.
Step by Step Guide: How to Overclock RAM
Bottom Line
If you are seeking for the best overclocking software for CPU/GPU/RAM, this post is worth reading. It offers you three best CPU overclocking software, three GPU overclocking software, and one overclocking RAM software. With them, you can obtain the best performance of CPU. GPU, and RAM. To know the performance of your hard drive, perform a hard drive test with MiniTool Partition Wizard.