If you are looking for a RAM cleaner Windows 10, this post is worth reading. MiniTool Partition Wizard introduces several top RAM cleaners & boosters & optimizers. To get the detailed information, read the post now!
RAM is used to store the short-term data that a computer requires to operate properly. The more RAM you have, the faster your programs will run. If you have multiple programs installed, RAM will run out quickly. In this case, you can either free up or upgrade RAM.
To clean RAM easily, you can apply a RAM cleaner. What does it do? The section below will explain that in detail.
What Does a RAM Cleaner Do
Memory cleaners can boost the performance of your system by cleaning RAM. Some RAM cleaners let you clean RAM manually, while some let you automate the process. After you set the RAM consumption threshold or time duration, RAM cleaners will automatically begin the clean process.
In addition to RAM cleanup, RAM cleaners also show your real-time RAM consumption, boost CPU, and perform other processes that are good for performance improvement. As memory cleaners can kill unwanted processes to boost the system's memory, they are referred to as RAM optimizers/boosters.
The RAM cleaners below are available for Windows systems. If you want to get a RAM cleaner for the mac device, you can choose Memory Clean. To clean memory for Android devices, you can try Turbo Booster (Speed up).
How to Clean up Your Computer? Top 8 Methods for You
Memory Cleaner
As Memory Cleaner uses functions embedded into Windows to free up memory, it is better. It allows you to boost RAM manually and clean RAM by setting certain parameters. You have two options (Trim Process and Clear System) to clean RAM after the usage exceed 80%. Memory usage data in percentage is shown along with Average RAM usage, Minimum RAM usage, and Maximum usage.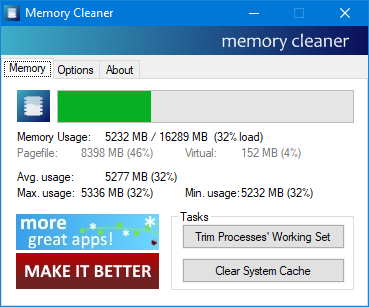 You have access to Memory Cleaner functions from the tray icon without having to open the main window. Various options to automate RAM cleaning process are displayed in the Options menu.
Wise Memory Optimizer
Wise Memory Optimizer is a free RAM optimizer that can free up memory taken by useless applications, defrag memory, and empty standby memory with one click. It runs on 32-bit and 64-bit Windows XP, Vista, and Windows 7/8/10/11 systems.
Tip: Almost all PCs have known and unknown applications running in the background. They use the device's physical memory and thereafter impact its performance. Some applications won't release memory even after the close.
This memory optimizer shows real-time RAM usage on a pie chart. From here, you can see Used and Free memory. To clean up RAM, simply click on the Optimize button right below the pie chart. You need to note that it offers an auto optimizer feature.
After you set a free memory level, this RAM optimizer will automatically optimize RAM once it goes below that level.  This RAM booster and cleaner has a low CPU and system memory usage. What's more, it includes a portable version, so you can drop the program files on the hard drives or flash drives and run it without installing.
RAM Rush
As a simple and free RAM cleaner for Windows, RAM Rush can boost RAM and display RAM usage in real-time. Additionally, you can view real-time CPU usage. The color of graphs that show real-time RAM and CPU activity can be modified separately.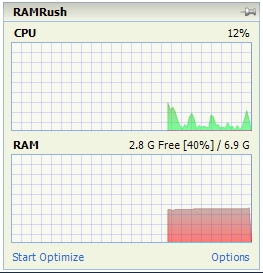 This memory booster speeds up RAM by killing unwanted processes and freeing up RAM. Alternatively, you can set a hotkey for a quick RAM boost. This RAM booster and cleaner doesn't have other options apart from above features.
RAM Saver Control Panel
RAM Saver Control Panel is a free RAM cleaner that can clean RAM and improves the performance of the PC. Like Task Manager, it displays all the running processes and their corresponding RAM consumption. Then you can kill running processes as you like.
This RAM optimizer also shows all the information of your system including OS version, RAM status, processor level, BIOS version, CPU frequency, and so on. You will get a statistical and pie-chart view of total RAM consumption from this RAM cleaner Windows 10. Additionally, it shows the data in the form of percentages and graphical patterns.
To clean RAM with this program, you just need to click the Optimize button. RAM Saver Control Panel also includes advanced settings. For instance, you can set defragment thread priority, enable/disable automatic and intelligent RAM optimization, clean up disks, and make changes to your system's configuration.
Advanced System Optimizer
As a RAM cleaner, Advanced System Optimizer helps you manage memory allocation and free up space on the disk. In addition to that, it offers overall system maintenance and protection. It is used as a PC optimizer too. For example, it cleans and removes files like temp files, junk files, and unwanted files on your system. Moreover, it defragments your hard drive, deletes and manages browsing history and cookies, updates device drivers, etc.
WinUtilities Memory Optimizer
WinUtilities Memory Optimizer is also a free RAM optimizer for Windows devices. Like other memory boosters, it comes with an Auto Optimization feature. However, this feature is disabled by default, you need to enable it manually.
On this RAM booster, you can see the real-time memory consumption and CPU usage of your system. The data is shown in the form of graphs and percentage. The green line in the graph means that memory usage is below the optimal level, while the orange line indicates that memory consumption has reached the optimal level.
The red line in the graph means that memory consumption has exceeded the optimal level, which has an impact on your system's performance. If so, start the RAM optimization process by clicking the Optimize Now button. It optimizes both RAM and CPU.