If you are going to download
Windows 1.0 ISO
, this post deserves your attention. After introducing the basic information of Windows 1.0, it illustrates how to get the Windows 1.0 ISO free download and set up it. Explore the content with
MiniTool Partition Wizard
now!
MiniTool Partition Wizard is a multifunctional partition manager for Windows 7/8/8.1/10/11 computers. To be specific, it helps you clean up the computer, increase disk space, check hard drive for errors, and do other PC optimization works. So, it can be used as a PC cleaner and PC optimizer.
MiniTool Partition Wizard FreeClick to Download100%Clean & Safe
About Windows 1.0 ISO
Windows 1.0, the first public release of Microsoft Windows, was released on November 20, 1985. Unlike MS-DOS, Windows 1.0 allows users to use multiple apps at the same time. Besides, you can switch between apps easily.
Tips:
The original version of Windows 1.01 includes several basic applications, including a text editor, a paint program, and a calculator. Additionally, it contains an early version of the now-familiar desktop interface, with windows and icons that can be moved and opened with a mouse click.
Windows 1.0 includes original drivers for video cards, mice, keyboards, printers, and serial ports, and applications could only invoke APIs based on these drivers. It also has features like alarm, calculator, calendar, and paint. It supports 640 x 350 graphics with 16 colors.
With the MS-DOS option included, this system allows you to use MS-DOS. On this system, you are allowed to combine all the features like a spreadsheet, word-processing, and business graphics in a single document. This makes it easier for normal people to use the computer.
Windows 1.0 ISO Free Download
To get Windows 1.0 ISO 64 bit, you should make sure that your computer meets the requirements below. Then follow the steps below to download the Windows 1.0 ISO and set up it.
Memory: 1MB RAM
Hard drive: 50MB
OS: Any MS-DOS version (above 3)
Tips:
Ensure that you have a fast and stable Internet connection before you start downloading Windows 1.0 ISO.
Step 1: Navigate to archive.org, type Windows 1.0 in the search box, and then hit the Enter key.
Tips:
You can also get the Windows 1.0 ISO free download from other reliable sources.
Step 2: After finding the target result, click ISO IMAGE in the right panel of the webpage.

Step 3: Wait for the finish of the Windows 1.0 ISO free download process.
Step 4: Download and install Rufus on your computer.
Step 5: Connect the prepared empty USB drive to your computer and then run Rufus.
Step 6: Click the SELECT button and find & choose the downloaded Windows 1.0 ISO in the pop-up window.
Step 7: Configure other settings like image option, partition scheme, file system, and cluster size based on your demands. Finally, click the START button to begin the process.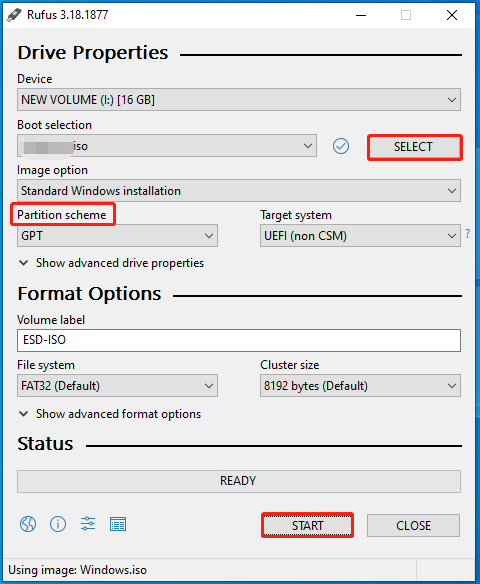 Step 8: Once the process ends, plug the created bootable USB drive into the computer that you would like to install Windows 1.0.
Step 9: Restart the target computer and keep pressing the boot menu key (F9 for most computers) to enter the boot menu.
Step 10: Choose the bootable USB drive from the menu and follow the on-screen instructions to finish the process.
You may like this: Top 2 Methods to Install Windows 10 on New SSD Without USB