If you encounter the blue screen of death (BSOD) error WFP_INVALID_OPERATION on your Windows PC, you are not alone. How to solve this problem? In this post, MiniTool Partition Wizard shows you some feasible fixes.
About WFP_INVALID_OPERATION BSOD Error
Many users reported that they received this error when playing certain games or running demanding software. What is WFP_INVALID_OPERATION? This error indicates that a WFP (stands for Windows Filtering Platform) callout performed an invalid operation, such as accessing an invalid memory address or violating a security rule. It can lead to a system crash and a blue screen with the stop code 0x000001D3.
What causes WFP_INVALID_OPERATION Blue Screen? There are some possible reasons that can trigger this issue, such as:
Corrupt system files
Malware or virus infection
Hardware issue
Outdated OS
Issue with Windows
Problem with the game
……
Before fixing the issue, you'd better recover your data and then back up it. To do that, you can use MiniTool Partition Wizard which allows you to recover various file types from multiple kinds of storage media. You can refer to this guide.
MiniTool Partition Wizard DemoClick to Download100%Clean & Safe
After recovering and backing up data, you can try one or more of the following solutions to solve this error.
Way 1. Run SFC and DISM
You can run SFC and DISM tools to scan and repair your system files. To run them, follow these steps.
Step 1. Type cmd in the Windows Search tool and select Command Prompt > Run as administrator.
Step 2. In the Command Prompt window, type sfc /scannow and press Enter.
Step 3. Once done, restart your PC and check if the error is resolved. If not, proceed to the next step.
Step 4. Run Command Prompt as administrator. Then run the following command and press Enter.
DISM /Online /Cleanup-Image /RestoreHealth
Step 5. If the DISM scan finds and fixes any issues, reboot your computer and check if the error is resolved.
Way 2. Scan and Remove Malware
Malware can cause various errors on your PC, including BSOD errors. To scan and remove malware from your PC, you can use a third-party antivirus program or Windows Defender. You can see this post.
Way 3. Update Your Drivers
Outdated or faulty drivers can cause errors like WFP_INVALID_OPERATION Blue Screen. To update your drivers, follow these steps:
Step 1. Press Win + X and select Device Manager. Then expand the device categories that you want to update like Display adapters or Network adapters.
Step 2. Right-click the driver that you're using and select Update driver. Then choose Search automatically for drivers and follow the instructions to install the latest drivers.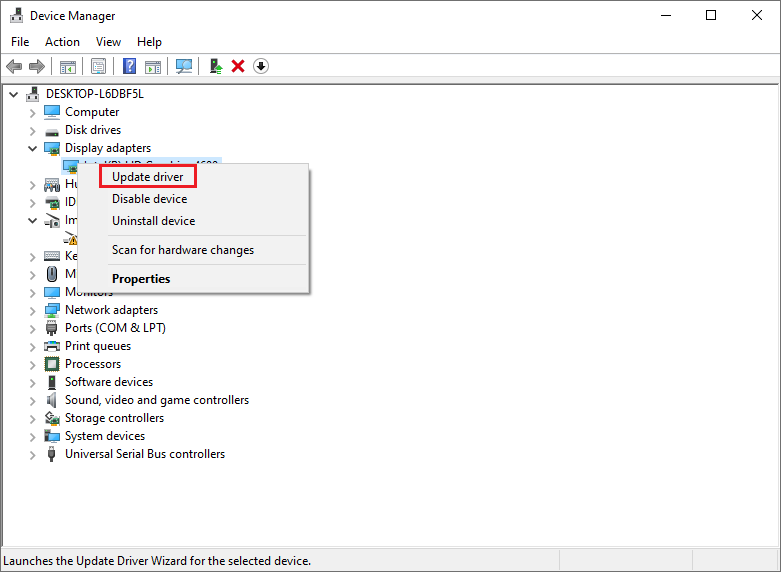 Step 3. Once done, restart your device and check if the error is fixed.
Way 4. Reinstall the Game
You can follow the detailed steps below to reinstall the game.
Step 1. Press Win + R to open the Run dialog box. Then type appwiz.cpl and press Enter.
Step 2. In the pop-up window, select the game you want to uninstall and click Uninstall.
Step 3. Follow the on-screen instructions to complete the uninstallation process.
Step 4. After uninstalling, download and install the latest version of the game.
Step 5. Once done, reboot your system and check if the error is repaired.
Way 5. Reset Your PC
To get rid of the WFP_INVALID_OPERATION Blue Screen, you can reset your PC with the following steps.
Step 1. Navigate to Settings > Update & Security > Recovery. Then click Get started under the Reset this PC section.
Step 2. In the prompted dialog box, click Keep my files or Remove everything depending on your preference.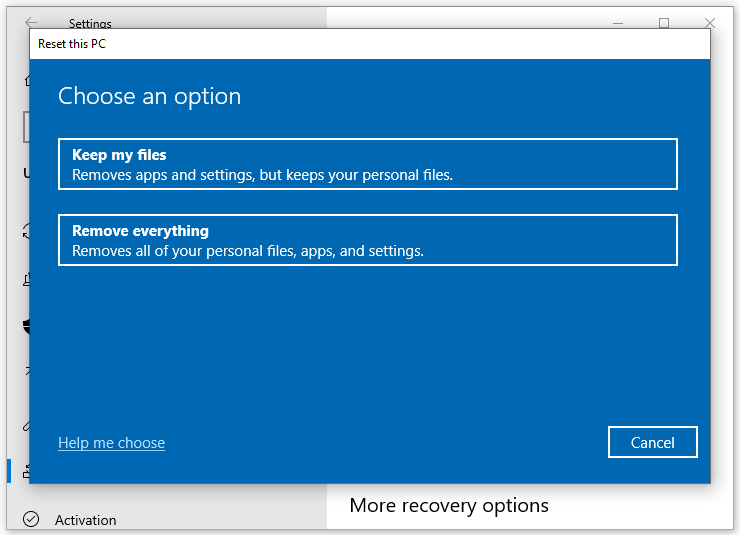 Step 3. Then follow the on-screen instructions to complete the reset process.
In addition to the above methods, you can uninstall the latest Windows update, check for Windows updates, or perform system restore to fix the WFP_INVALID_OPERATION BSOD error.
Conclusion
Now, this post comes to an end. Do you have any suggestions or other nice methods to fix WFP_INVALID_OPERATION BSOD? You can feel free to share them with us in the comment zone below.