What Is TextInputHost.exe
The TextInputHost.exe, a part of the Windows Feature Experience Pack, is an important Microsoft executable file. Known as Windows System File or UX.Client.ST, TextInputHost.exe enables the text input process in the (UWP) Universal Windows Platform.
Therefore, it's important for the Windows system to have this file for its proper functioning. As it is related to the emoji picker feature, the GIF image selector in the tool will be unavailable when you block the file with a Firewall.
Is TextInputHost.exe a Virus
If the TextInputHost.exe file comes from Microsoft, it is entirely safe. So, you can use it on your computer without any issues. However, malware or viruses disguise themselves as TextInputHost.exe and run from a different location. Sometimes, they can duplicate this file and cause issues.
For instance, they may slow down your computer, show pop-ups, steal your data, install unwanted programs on your computer, and even attack various PC hardware components. They will cause the graphics card to malfunction, making it difficult for the PC to display graphics due to graphic processing unit failure.
How to tell if TextInputHost.exe is malicious? A simple way is to check its location. The legitimate TextInputHost.exe file can be found in either C:WindowsSystemAppsMicrosoftWindows.Client.CBS_cw5n1h2txyewyInputApp or C:WindowsSystemAppsMicrosoftWindows.Client.CBS_cw5n1h2txyewy.
If the TextInputHost.exe is in other locations, it is very likely that it is a virus. Another way to check the security of TextInputHost.exe is to run a virus scan on your computer. You can do that by using Windows Defender or third-party antivirus software.
Once you find that TextInputHost.exe is malicious, you need to disable or remove it manually.  You also need to disable the program once you find that TextInputHost.exe is using GPU massively.
Further reading:
Once the TextInputHost.exe file gets malicious, it will result in the following issues.
It causes system damage, which triggers crashes or even the death of the whole system.
exe uses GPU too much.
It changes the home page of the browser and stops you from changing it.
It redirects your searches to phishing or advertising websites.
It takes you much time to launch a program.
How to Disable TextInputHost.exe
There are two methods to disable the Microsoft text input application. You can simply disable this process by changing the name of the file. Here's how to do that.
Step 1: Then open File Explorer by pressing Windows and E keys.
Step 2: Navigate to the location of TextInputHost.exe that has been mentioned earlier.
Step 3: Right-click on the folder and choose Rename.
Step 4: Type the name of the folder and then restart your computer.
Alternatively, it is also available to disable the Microsoft text input application via Task Manager. To do that, you can refer to the steps below.
Step 1: Right-click on the Windows icon and then click Task Manager from the pop-up Start menu.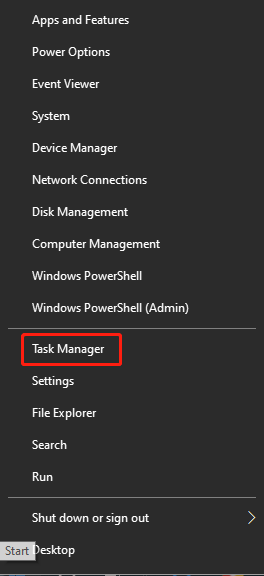 Step 2: Find Microsoft text input application under the Processes tab.
Step 3: Click on the application and click End task.
This post explains what is TextInputHost.exe and how to disable it if it's malicious. If you find that TextInputHost.exe is dangerous, disable it with the offered methods in this post.