How torun the
Steam Deck SSD speed test
? Is there any way to do that? This article from
MiniTool Partition Wizard
provides a full guide to help you test Steam Deck SSD speed and compare Steam Deck SSD vs SD card.
Steam Deck is a handheld gaming computer developed by Valve and released on February 25, 2022. It has been very popular among gamers since its release. However, is your Steam Deck starting to experience lag when playing games? Due to certain issues, the speed of your Steam Deck SSD may be affected.
When Need to Run the Steam Deck SSD Speed Test
To determine when you need to run an SSD speed test on your Steam Deck, consider the following scenarios.
Purchase a new SSD: If you have recently purchased a new SSD for your Steam Deck, it is recommended to run an SSD speed test to determine its performance and ensure it meets your expectations.
Experiencing slowdowns: If you notice a significant drop in performance or speed on your Steam Deck SSD, you need to test its speed.
Compare performance: If you want to compare the speed of your Steam Deck's SSD with other models or benchmark it against similar devices.
Optimize storage usage: Running an SSD speed test on Steam Deck can help you evaluate the performance impact of different storage configurations or file management strategies.
Troubleshooting purposes: When you are experiencing issues with game load times, installation speed, or general system response on your Steam Deck, running the Steam speed test can help diagnose whether the performance of your SSD is a factor.
That's why you need a tool to run the Steam Deck SSD speed test regularly.
How to Run the Steam Deck Speed Test
You can test your Steam Deck SSD speed on your PC as long as your PC has an M.2 slot. Then you can download and install third-party free disk partition software MiniTool Partition Wizard on your PC. Its Disk Benchmark can help you test your SSD write/read speed.
Besides, if you use a MicroSD card to add Steam Deck storage, you can use this disk benchmark tool to test its speed.
MiniTool Partition Wizard FreeClick to Download100%Clean & Safe
Step 1: Take out the SSD from your Steam Deck and connect it to your PC via an M.2 to USB adaptor.
Step 2: Click on Disk Benchmark from the top toolbar, and then select the target SSD card from the drop-down menu and specify its parameters based on your needs. After that, click on the Start button.
Tips:
Here you can set the Transfer Size, Queue Number, Total Length, and Test Mode.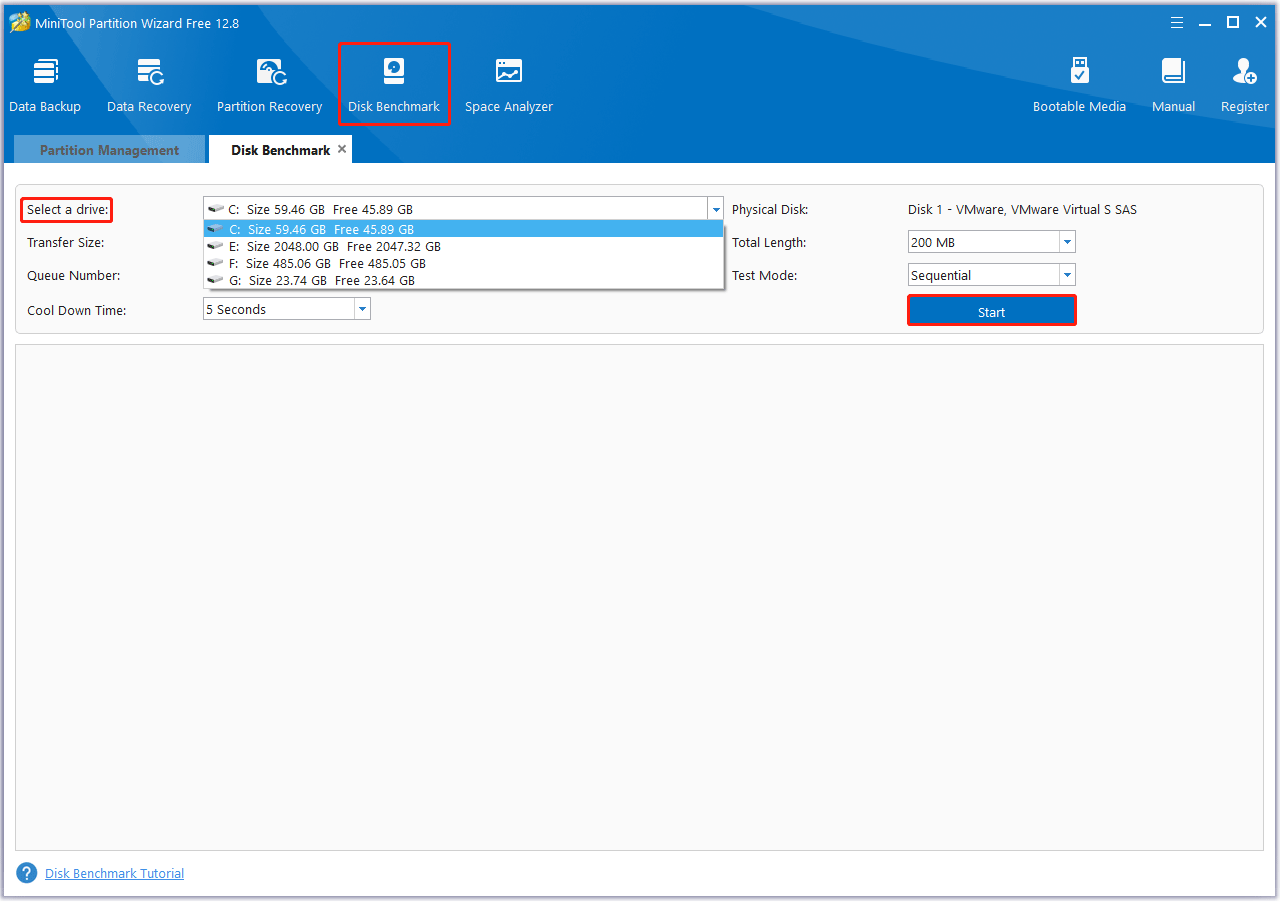 Step 3: Wait for some time to complete this disk benchmark. From this test result, you will know some important information including transfer size, random/sequential read, and write speed.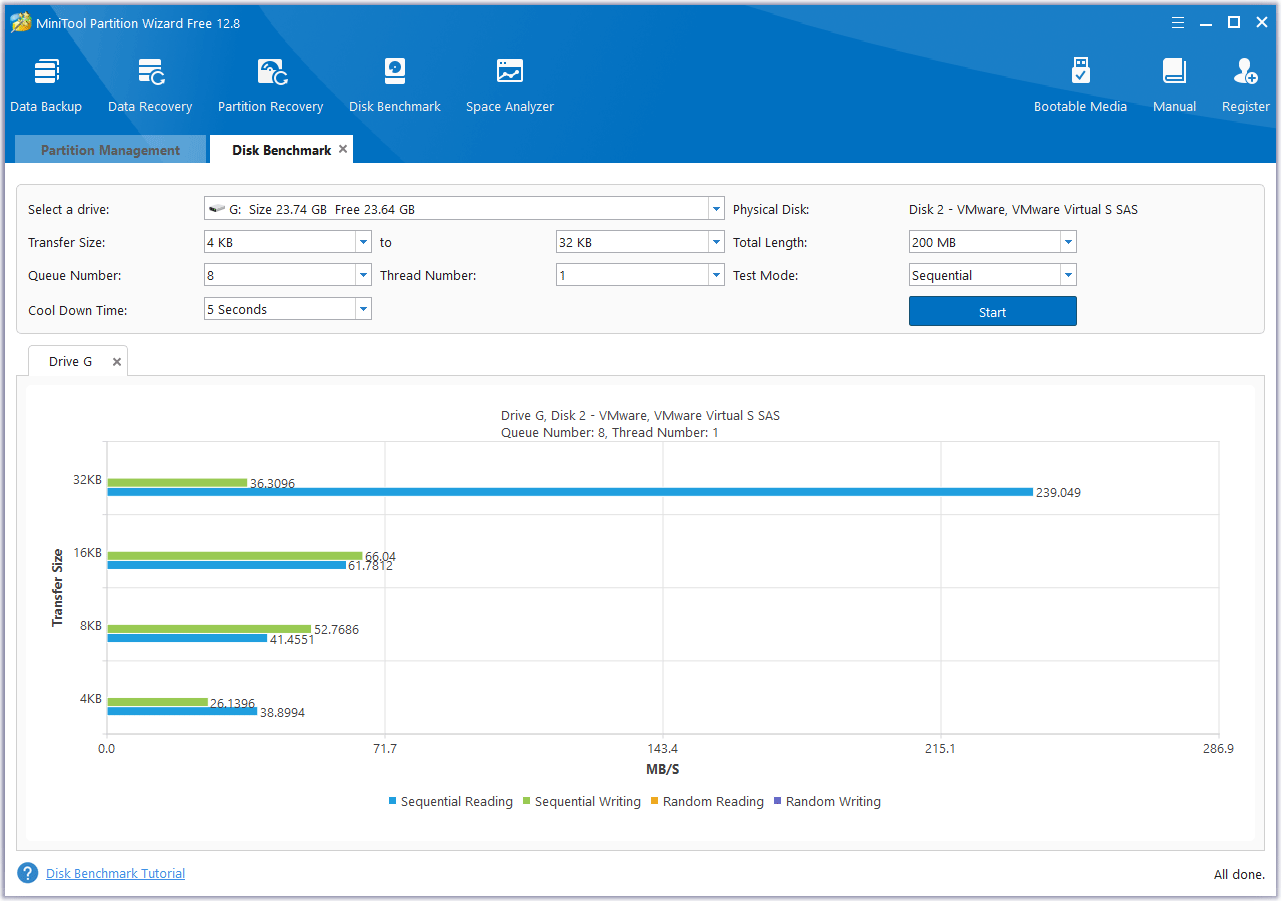 To find out what model of SSD your Steam Deck has, you just need to follow a few simple steps:
Press and hold the Power button until the options menu appears.
Enter Desktop Mode.
Open the Application menu.
Type Device Viewer in the search bar.
Look under Devices for Storage Drives.
Click Hard Disk Drive to select the SSD and look for the model number in the right panel.
Steam Deck SSD vs SD Card
Is a Steam Deck SSD faster than an SD card? Yes, the Steam Deck SSD is faster than an SD card. SSDs have significantly faster read/write speeds than SD cards, making them better suited for games and applications that require fast data access.
The main difference between Steam Deck SSD and SD cards is their performance and functionality. Steam Deck SSDs is generally faster, have higher capacities, and are designed for intensive gaming and application use. On the other hand, SD cards are mainly used for storage expansion, and data transfer speeds are usually slower.
This article shows how to run the Steam Deck SSD speed test and compare Steam Deck SSD vs SD card.