PS5 allows you to expand the storage by adding an SSD, but what is your PS5 SSD temperature? This post from MiniTool Partition Wizard will tell you the detailed information. You can learn about running PS5 SSD temperatures and how to check SSD performance.
Nowadays, PS5 games are larger in size, and users can choose a built-in SSD to expand storage space. When you continue to play games, your SSD can get very hot. You may want to know the temperature of your PS5 SSD and decide if you need a PS5 heatsink.
Well, this article will help you understand PS5 SSD temperature and then analyze whether you need a PS5 heatsink.
PS5 SSD Temperature
Understanding the PS5 SSD temperature range will help you track the performance of the SSD.
Normal SSD temperature range should be between 30°C and 65°C. When running games, though, the SSD is fast. Many gaming SSDs are designed with this in mind and can often withstand higher temperatures. Some PS5 SSDs can reach over 71°C without a heatsink and with the lid on. But in the long run, such high temperatures can damage SSDs.
If the PS5 SSD is not in use, its normal temperature should not exceed 40-50 degrees Celsius.
Whether it's PS5 or PC, the temperature range of the SSD is roughly the same. They will only have some minor differences.
1. Does PS5 SSD Need Heatsink?
The short answer is: yes, the PS5 SSD requires a heatsink. The PS5 heatsink can reduce the SSD temperature by about 10-15 degrees Celsius under the same conditions. A heat sink transfers heat generated by an electronic or mechanical device to a fluid medium where it can then be dissipated from the device.
2. How to Solve PS5 SSD Overheating Problem?
If your PS5 SSD overheats, you may receive a temperature alert. You can follow the methods below to resolve SSD overheating issues:
Clean the console.
Turn off the game and PS5, remove the metal cover of the dock, and wait for the temperature to drop.
Install a PS5-friendly cooler like the Sabrent M.2 NVMe Cooler.
Provide ample open space for the PS5 console to help dissipate heat.
3. How Hot Is Too Hot for the PS5 SSD?
The normal temperature of an SSD should be between 30-65 degrees Celsius. In the worst-case scenario, when the PS5 SSD has no heatsink and is covered, the PS5 SSD can reach temperatures of up to 71 degrees Celsius. Excessively high temperatures may affect the life of the SSD, so it's best to have a heat sink on hand.
4. Does SSD Need Cooling?
Of course, SSDs need cooling when they overheat. Excessive temperatures can affect SSD performance and durability. Therefore, you need to keep your SSD within a normal temperature range to preserve its data and integrity.
5. How to Benchmark PS5 SSD Performance?
SSD performance may also influence SSD temperature. How to benchmark your PS5 SSD? You use third-party free disk partition software – MiniTool Partition Wizard to benchmark the read and write speed of SSD.
As a professional and comprehensive partition manager, it can help you clone Windows 10 to SSD, and check SSD health, etc. Besides, it can be used as an SSD data recovery tool.
MiniTool Partition Wizard FreeClick to Download100%Clean & Safe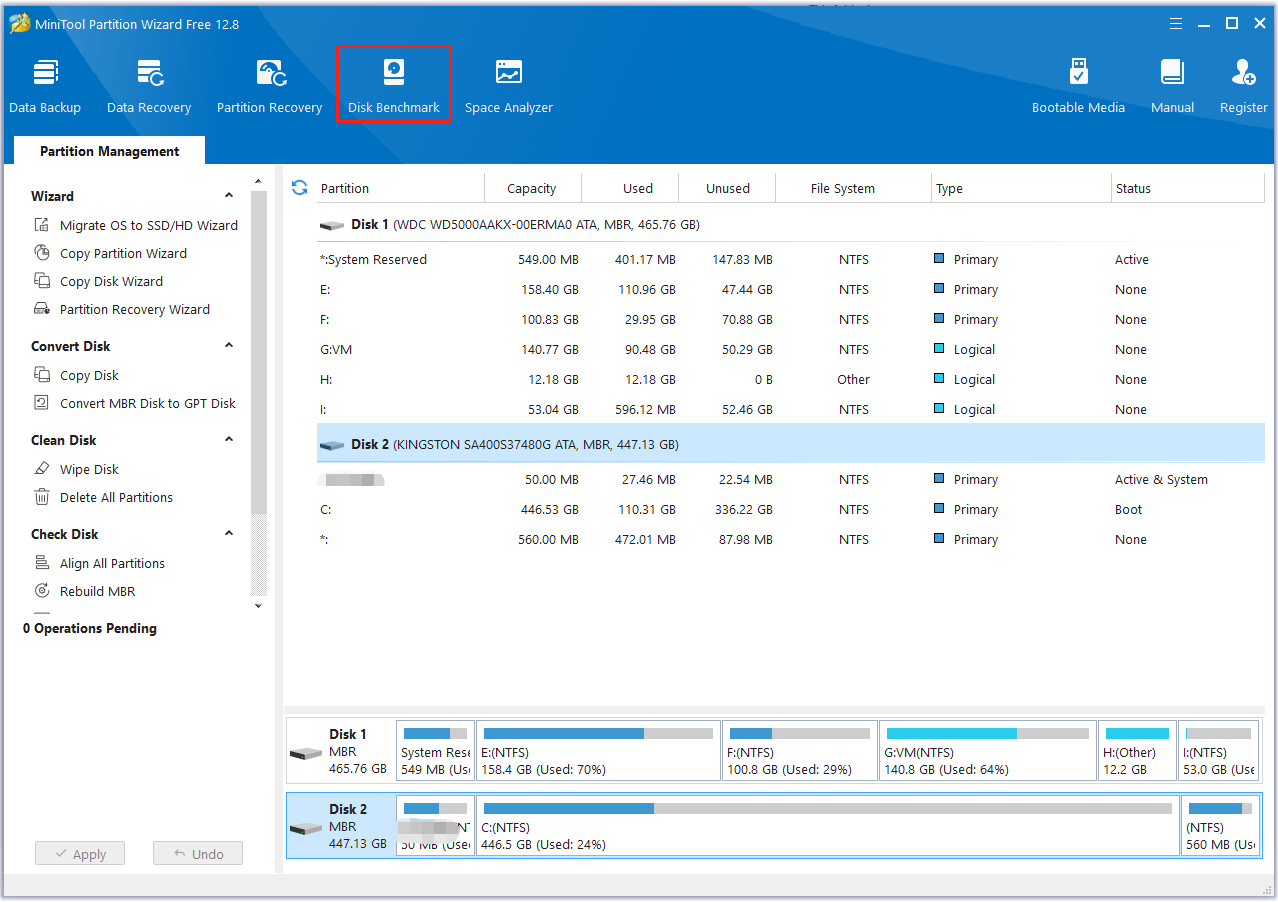 Bottom Line
This post introduces PS5 SSD temperature and some related problems. Besides, you can use a professional partition manager to benchmark your SSD performance.