Hogwarts Legacy PC Performance Issues
Hogwarts Legacy is a 2023 action role-playing game developed by Avalanche Software and published by Warner Bros. Games under its Portkey Games label.
This game received generally favorable reviews from critics, with praise for its combat, world design, characters, and faithfulness to the source material. Within two weeks after its launch, the game sold more than 12 million copies and generated $850 million in global sales revenue. As of 5 May 2023, revenue crossed $1 billion, and 15 million copies were sold globally.
Many people play this game. However, some people report that they have encountered the Hogwarts Legacy PC performance issues like stuttering and low FPS. If you also encounter this issue, you can refer to this post: How to Fix Hogwarts Legacy Lag, Stuttering, and Low FPS Win10/11.
Hogwarts Legacy System Requirements
To avoid Hogwarts Legacy PC performance issues, you need to make sure your PC can meet the following Hogwarts Legacy PC requirements: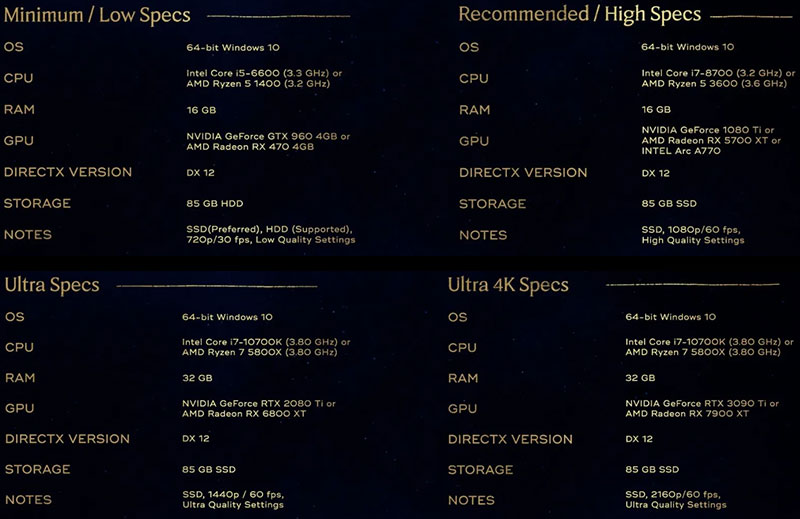 If you plan to play the game at 720p with 30 frames per second (fps) and the Low graphics preset, an Nvidia GTX 960 GPU and an Intel Core i5-6600 processor are OK. However, to get something respectable, you'll need at least an Intel Core i7-8700 and Nvidia GTX 1080 Ti. They will allow you to play the game at 1080p with 60 fps.
If you want to play the game at 1440p or 4K, the Ultra or Ultra 4K requirements are needed.
Best Hogwarts Legacy Settings
How to make Hogwarts Legacy run better? Some people may wonder about this question. Then, you can consider changing the in-game settings to the followings.
Effects quality: High
Material quality: Medium
Fog quality: Medium
Sky quality: Low
Foliage quality: Medium
Post-process quality: High
Shadow quality: Medium
Texture quality: Low
View distance quality: Medium
Population quality: Medium
Some Tips
Other features will also affect the Hogwarts Legacy PC performance. For example, the insufficient RAM. Hogwarts Legacy is a very memory-intensive game, both for your system RAM and for your video RAM. At 1080p, 16GB of RAM is plenty to get you by, but you should seriously consider upgrading to 32GB of RAM if you want to move to a higher resolution
Besides, stuttering in Hogwarts Legacy on PC mostly comes down to running out of video memory. In this case, you can mitigate the issue by trying these things:
Turn on the hardware-accelerated GPU scheduling in Windows. Open the Settings app and go to Display > Graphics > Change default graphics settings. Tick Hardware-accelerated GPU scheduling to On. Then, restart your PC afterward.
Flush your shader cache or increase its size. Nvidia users can open the Nvidia Control Panel, go to Manage 3D settings > Global settings, and set the Shader cache size to Unlimited. AMD graphics card users can open AMD Software, go to Settings > Graphics > Advanced > Reset shader cache, and select Perform reset.
Bottom Line
MiniTool Partition Wizard is a functional tool. It can convert MBR to GPT without data loss, migrate OS, clone hard drive, recover partitions, recover data from hard drive, etc. If you have this need, download it to have a try.
MiniTool Partition Wizard DemoClick to Download100%Clean & Safe