Windows Update Error 0x80080008
Windows Update Error (0x80080008). Recently I`ve been experiencing problems with Windows updates. Every time I click "check for updates" the following error message comes up…the diagnostic says: "Service registration is missing or corrupt" (Not fixed) any Idea how to perm fix this?

https://answers.microsoft.com/en-us/windows/forum/all/windows-update-error-0x80080008/d273c374-d443-4069-9640-a144d627778f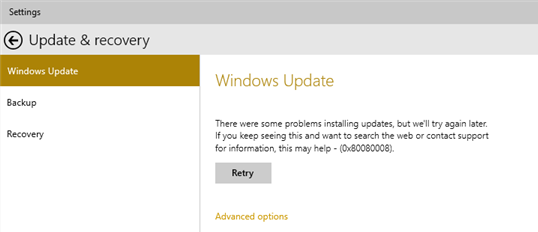 When you update Windows, you may receive the error 0x80080008. For example:
Microsoft .NET Framework 4.8 for Windows 10 version 1803 for x64 (kb4486153) – error 0x80080008.
2019-02 update for Windows 10 version 1803 for x64-based systems (kb4346084) – error 0x80080008.
feature update to Windows 10, version 1803 – error 0x80080008.
2018-09 update for Windows 10 version 1803 for x64-based systems (kb4100347) – error 0x80080008.
In the future, you may also receive this error when you install other updates. How to solve this issue? Keep reading to get the solutions.
How to Fix the Windows Update Error 0x80080008
You can try the following ways to fix the Windows update error (0x80080008).
Way 1. Run SFC and DISM Scans
This operation can ensure that the error 0x80080008 is not caused by corrupt system files. Here is the guide:
Open Command Prompt.
Type "sfc /scannow" and press Enter.
If it detects errors but can't repair them, you can run the following DISM commands:
DISM.exe /Online /Cleanup-image /Scanhealth
DISM.exe /Online /Cleanup-image /Restorehealth
Way 2. Run Windows Update Troubleshooter
Press the Windows logo key + I to open Settings.
Go to Update & Security > Troubleshoot.
Click Additional troubleshooters.
Click Windows Update and then Run the troubleshooter.
This can fix common issues that occur during the Windows update process.
Way 3. Restart the Windows Update Component
If there are glitches with the Windows Update components, the Windows update error 0x80080008 will occur. Then, you can try restarting it to solve the issue. To do that, you just need to open Command Prompt and run the following commands:
net stop wuauserv
net stop cryptSvc
net stop bits
net stop msiserver
ren C:WindowsSoftwareDistribution SoftwareDistribution.old
ren C:WindowsSystem32catroot2 Catroot2.old
net start wuauserv
net start cryptSvc
net start bits
net start msiserver
Way 4. Re-register Wups2.dll
Some people report that the culprit of the Windows update error (0x80080008) is the Wups2.dll. You can try re-registering the file to solve the error. Here is the guide.
Step 1: Launch the Command Prompt and execute the following commands:
REGSVR32 WUPS2.DLL /S
REGSVR32 WUPS.DLL /S
REGSVR32 WUAUENG.DLL /S
REGSVR32 WUAPI.DLL /S
REGSVR32 WUCLTUX.DLL /S
REGSVR32 WUWEBV.DLL /S
REGSVR32 JSCRIPT.DLL /S
REGSVR32 MSXML3.DLL /S
Step 2: Reboot your PC and try to run Windows Updates again to see if the problem has stopped.
Way 5. Manually Download the Update
First, you need to find the KB number of the update you're trying to download.
Then, visit the Microsoft Update Catalog website and search for the update.
Find the update that matches your system architecture and click the Download button to download it.
After you download the update, run the setup file to install it.
Bottom Line
MiniTool Partition Wizard is a functional tool. It can convert MBR to GPT without data loss, migrate OS, clone hard drive, recover partitions, recover data from hard drive, etc. If you have this need, download it to have a try.
MiniTool Partition Wizard DemoClick to Download100%Clean & Safe