MW2 Dev Error 356
MW2, short for Call of Duty: Modern Warfare II, is a 2022 first-person shooter video game developed by Infinity Ward and published by Activision for Windows, PlayStation, and Xbox.
Dev Error 356 is an error code that may appear suddenly when you play the multiplayer on MW2. Many people report that they have encountered this issue.
Every time I get about halfway into a multiplayer game, I get kicked with "DEV ERROR 356" coming up on my screen. I haven't been able to play a full game of multiplayer for the last 2 hours…

https://www.reddit.com/r/ModernWarfareII/comments/ygkvr2/cannot_play_multiplayer_because_of_dev_error_356/
My Steam updates automatically and today after work I fired up MWII and now there's a Dev Error 356 after every FKN match…But after this WZ update it's now FKD.

https://www.reddit.com/r/ModernWarfareII/comments/yvmdrf/wtf_is_dev_error_356_and_why_is_it_popping_up/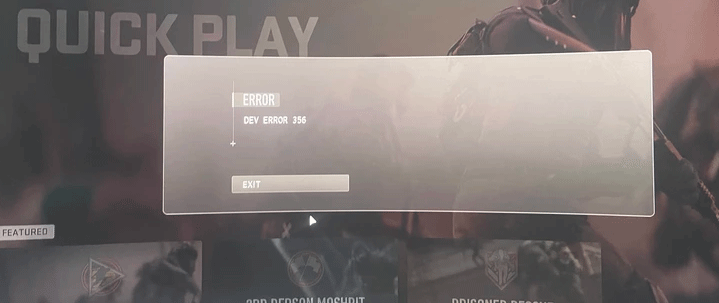 The Dev Error 356 MW2 will occur on PC, PS, and Xbox devices. It will prevent you from playing multiplayer. This error is caused by the bad optimization of the game, but you can take some measures to relieve it.
How to Solve the Dev Error 356 MW2
When you encounter the MW2 Dev Error 356, you can try the following measures and see if they take effect.
Way 1. Restart the Game or Device
A restart can fix many small issues. When the Dev Error 356 appears, restart the game. If this doesn't work, restart your device.
Way 2. Change the Language
One user reports that he/she has solved the issue by changing the language. You can also have a try. Change your in-game language to any language. Then it'll take you back to the main menu. Once you get back to the main menu, change it back to English.
Way 3. Turn off Any In-game Overlays Software
One user reports that he/she has solved the Dev Error 356 issue by turning off any in-game overlay software like Shadow Play, Razer Synapse, Discord, etc. The only in-game overlay he/she still has active is Steam.
Way 4. Restart Shaders Optimization
If you restart shaders optimization, the textures and assets can be re-rendered when the game is loaded. This will allow the game to replace or update any of its dated parts, giving the entire experience a new lease on life. Here is the guide:
Open the Modern Warfare 2 Settings menu.
Go to Graphics.
Under the Display tab, click on Restart Shaders Optimization.
Run the game again and check if the dev error 356 disappears.
Way 5. Verify the Integrity of the Game
If the Dev Error 356 is caused by corrupt game files, this method will solve the issue. Here is the guide.
On Steam:
Open the Steam client on your computer and navigate to Library.
Right-click Call of Duty Modern Warfare 2 and choose Properties from the drop-down menu.
Switch to the Local Files tab.
Click the Verify integrity of game files option.
On Battle.net:
Open the Battle.net client on your computer.
Click on Call of Duty Modern Warfare 2.
Click the gear icon next to the Play button and choose Scan and Repair from the menu that appears.
If this way also doesn't work, you can try reinstalling the game.
Bottom Line
MiniTool Partition Wizard is a functional tool. It can convert MBR to GPT without data loss, migrate OS, clone hard drive, recover partitions, recover data from hard drive, etc. If you have this need, download it to have a try.
MiniTool Partition Wizard DemoClick to Download100%Clean & Safe