A lot of users want to
clone bootable USB
to another drive on Windows 10/11. How to copy bootable USB to another USB? If you are also trying to figure it out, this post from
MiniTool Partition Wizard
is worth reading.
A bootable USB drive is a practical removable data storage media that contains instructions for a computer's bootloader to load up various resources to run an operating system. So, it can be used to boot an unbootable computer and repair your system.
For a great many users, a bootable USB drive seems indispensable in their daily work, especially for developers and technicians. However, many of them encounter various issues with the tool, such as "how to make a bootable USB", "how to convert a bootable USB to normal", and "how to clone bootable USB to another USB". Here's a user example from the Reddit forum:
How Do I Clone Bootable USB Drives in Windows 10? So, I have a USB drive that has WinPE on 1 partition, and a second partition with a WIM File. What's the fastest way to clone this one USB drive to about 10 more? There has got to be a way to do it in Windows, booting Clonezilla live to copy USB drives... seems. overkill.

https://www.reddit.com/r/DataHoarder/comments/11mjj7u/how_do_i_clone_bootable_usb_drives_in_windows/
Can I Copy Bootable USB to Another USB
Can I copy bootable USB flash drive to another one? Of course, the answer is "Yes". Sometimes we need to clone a bootable USB drive for backup, disaster recovery, or upgrading to a larger drive. However, cloning is not a simple copy-and-paste process, which may lead to corrupted files or unbootable operating system on the USB.
So, how to how to copy a bootable USB to another USB? To do this work, you need a professional USB clone utility like MiniTool Partition Wizard. Let's keep reading to know more details.
How to Clone a Bootable USB Drive on Windows 10/11
MiniTool Partition Wizard can help you easily and quickly clone USB bootable drive on Windows 10/11. It's an expertized USB drive manager that can back up USB, low level format USB, recover data from USB, remove hidden partitions from USB, and more.
In addition, it's a multifunctional partition and disk manager that can extend/resize/shrink/merge partitions, convert FAT32 to NTFS, change cluster size, clone a hard drive, migrate OS to SSD, convert MBR to GPT, rebuild MBR, etc.
Here's how to clone a bootable USB drive to another one using MiniTool Partition Wizard.
MiniTool Partition Wizard DemoClick to Download100%Clean & Safe
Step 1. Insert the bootable USB drive and the target drive into your computer properly.
Step 2. Run the MiniTool program to get its main interface, select the bootable USB drive from the disk map, and click on Copy Disk from the left action panel.
Step 3. In the pop-up window, select the target drive and click on Next to go on. Here all data on the target disk will be destroyed. So, make sure you have backed up them and click on Yes to confirm it.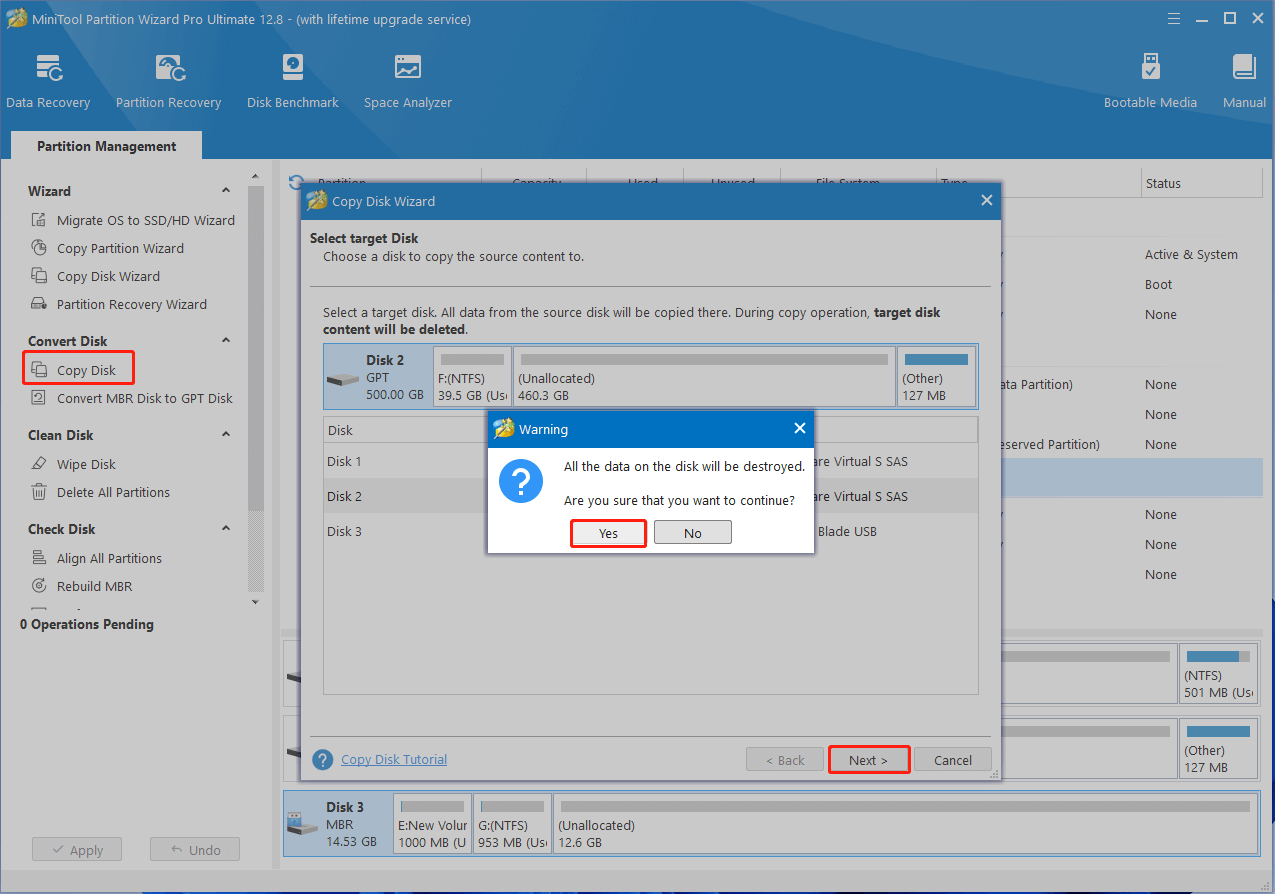 Step 4. Select copy options based on your preference and click on Next.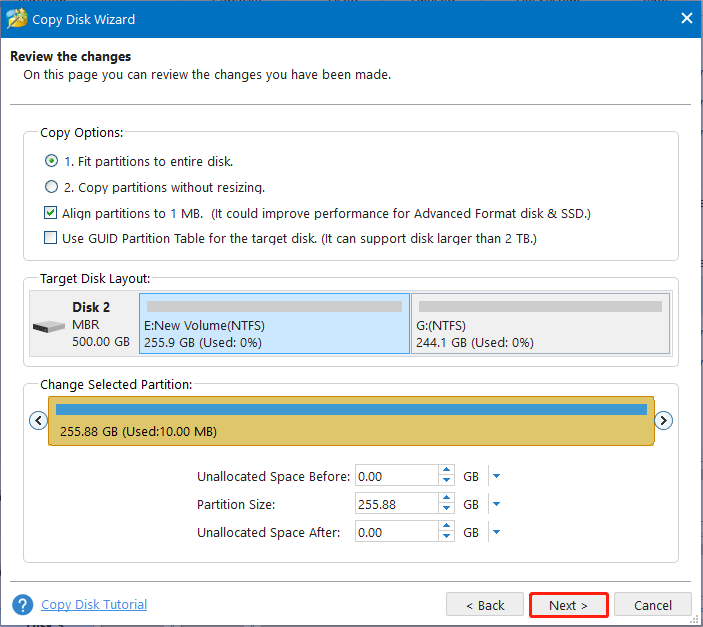 Step 5. Read the Note information and click the Finish button to confirm the copy. Then click on Apply to execute the pending operation.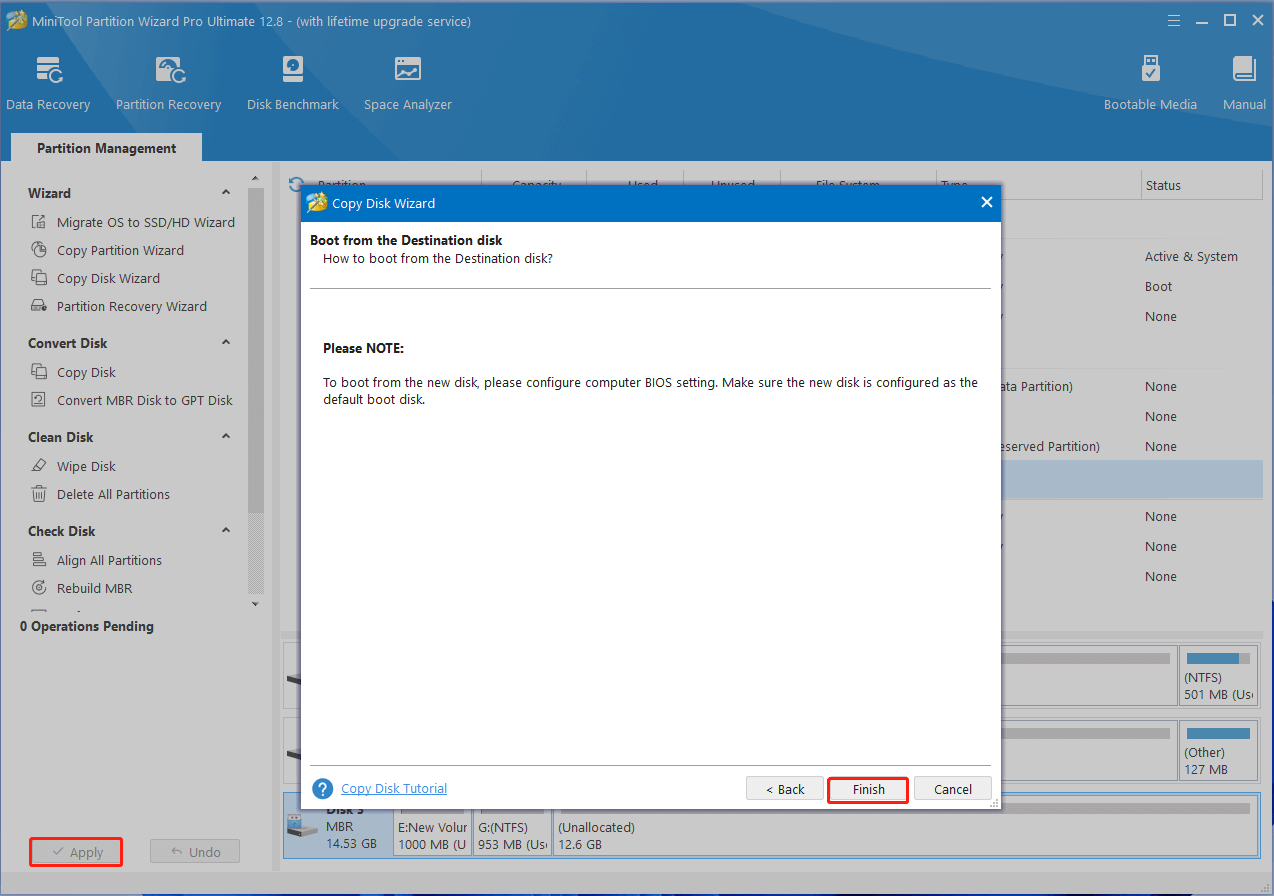 How to clone USB bootable drive on Windows 10/11? Now, I believe that you already know the answer. If you have any other opinions about this topic, don't hesitate to share them with us in the following comment area.