Why Is My 16GB Flash Drive Only Showing 200MB
Sometimes, some users find their 16GB flash drive only shows 200MB on Windows. The same problem may also occur on other storage devices, such as hard drives, memory cards, Micro SD cards, etc.
When you encounter this problem, you may be wondering: why my 16GB flash drive only shows 200MB? The reasons are listed below:
It is a bootable USB disk with a portable Windows operating system installed on it.
There are multiple partitions on the flash drive. Windows only recognizes the first partition.
There is a hidden recovery partition or unallocated space that does not show up on the computer.
Some viruses damage the USB flash drive.
Well, how to solve this problem? Please keep reading.
How to Fix 16GB Flash Drive Only Shows 200MB
Here are 2 effective methods to fix the "16GB flash drive only shows 200MB" issue. Try them in order until the error gets solved.
Method 1. Format the USB Flash Drive
To restore the USB drive to 16GB capacity, you can use a third-party USB formatter to reformat the flash drive. MiniTool Partition Wizard is a great choice that allows you to format USB flash drives, hard drives, pen drives, memory cards, and Micro SD cards. To format USB flash drives, it provides powerful Format Partition functions.
MiniTool Partition Wizard FreeClick to Download100%Clean & Safe
Step 1: Download and install MiniTool Partition Wizard on your PC. Then launch it to get its main interface.
Step 2: Select the target partition and choose Format Partition from the left action panel.
Step 3: Set the Partition Label, File System, and Cluster Size. Then click OK to continue.
Step 4: Click on Apply to confirm the changes.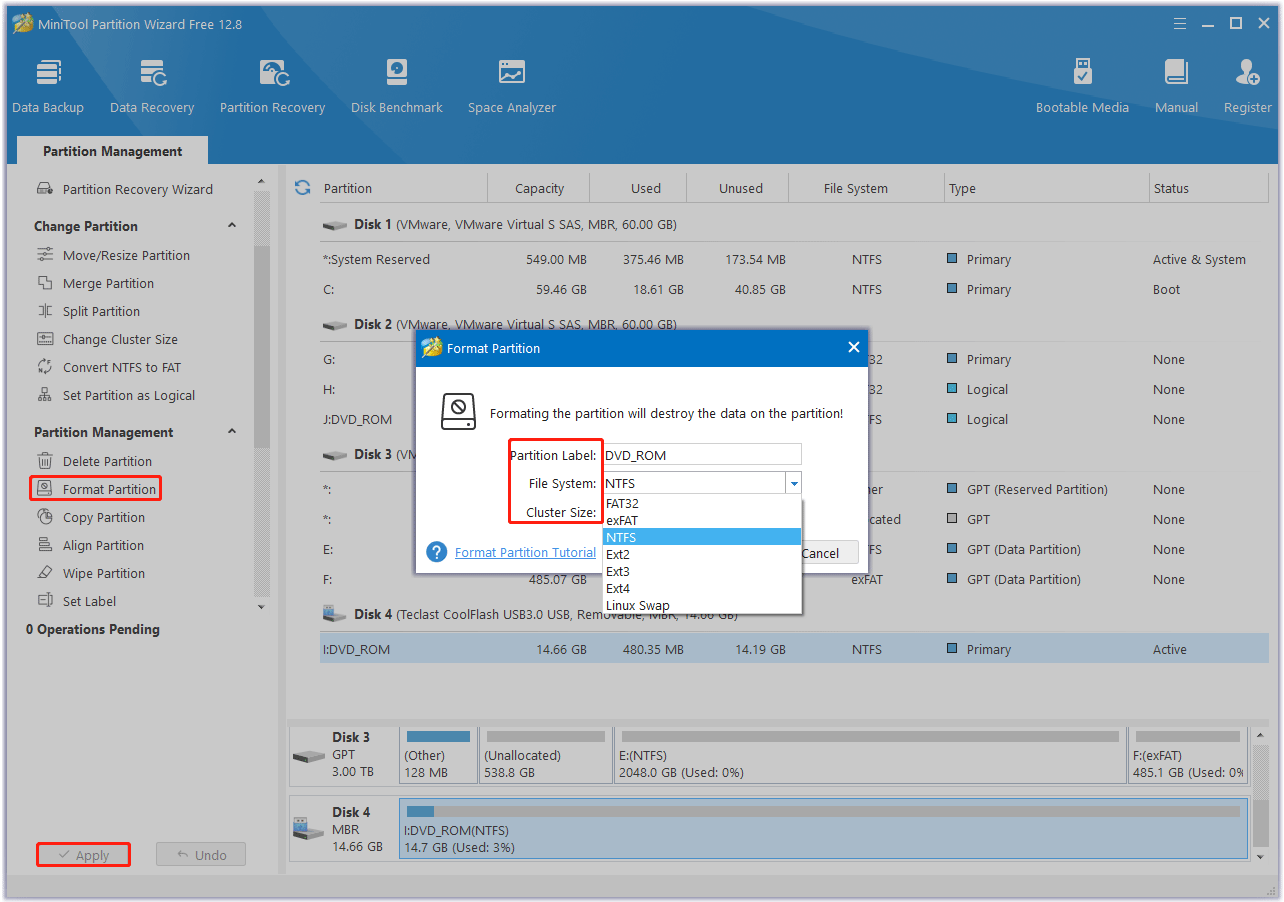 Once done, you can check if the USB flash drive only showing 200MB issue persists.
Method 2. Clean and Repartition USB Flash Drive
The 16GB flash drive only showing 200MB issue can also be fixed using Command Prompt. There is a command that allows you to delete all partitions, format the drive, and then recreate the partitions on the drive.
Step 1: Press the Win + R key to open the Run dialog box, then type diskpart in the box and press Enter.
Step 2: In the Diskpart window, type the following commands one by one and press the Enter key after each typing.
list disk
select disk *(* should be replaced with the correct disk number)
clean
create partition primary
format fs=ntfs quick (ntfs can be replaced with fat, fat32, and exfat according to your partition size)
exit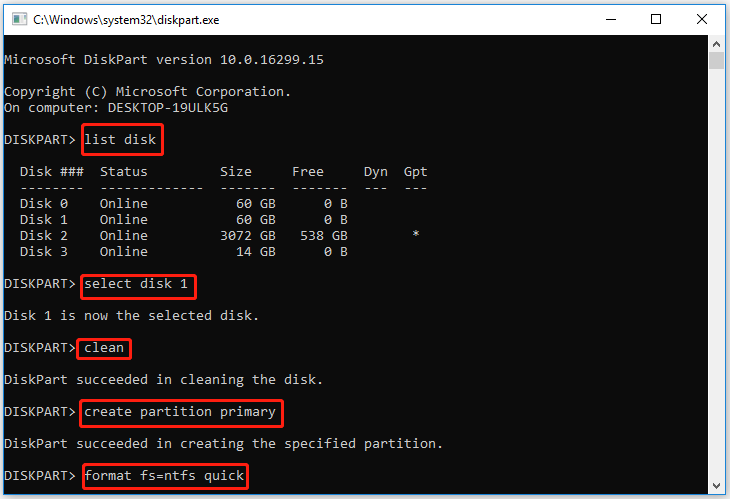 Step 3: Then type assign letter=F (replace F with an unused letter) and press Enter to assign a specific drive letter for the newly created partition.
Bottom Line
In this article, we provide two ways to fix the 16GB flash drive only shows 200MB problem. You can choose one of the methods according to your needs. The first way is more convenient for you to use.
For any other opinions about this topic, you can leave a message in our comment area below.