According to user reports, there are various PS5 issues with the PS5 console. These PS5 problems are rather confusing. In this post, MiniTool summarizes some frequently encountered PS5 bugs and offers you a full PS5 repairing guide.
With many new features and improvements to the system performance, PS5 consoles become a hot sale. The built-in ultra-high-speed SSD makes load times shorter than ever before. Additionally, PS5 includes popular games like Demon's Souls and Spider-Man: Miles Morales.
Compared with previous versions, PS5 is overwhelming. Moreover, it has been equipped for compatibility with the PS4 library. All these features make it competitive with the Xbox Series X and Xbox Series S.
Further reading:
PS5 comes with two versions (PS5 Standard and PS5 Digital). You can pick a suitable version after reading this post: PS5 VS PS5 Digital: Which One Is Better for Game Playing
Though PS5 is excellent in general, it still comes with its own set of issues. Several PS5 issues have been reported since its release in November 2020. Here, we summarize them as follows.
#1. PS5 Connectivity Issues
When you can't connect to the PlayStation network or are unable to connect to server (ce-105799-1), it indicates that you encounter PS5 Wi-Fi issues. If you experiencing the first case, you'd better to check your Internet connection and try again. Alternatively, you can check the network service status to see whether there are any issues with the service.
Tip: It is recommended to unplug the router and turn off the console. After waiting for some time, plug in the router and turn on the PS5 console.
If you can't connect to server or receive the error code CE-105799-1, you can apply these troubleshooting methods.
Check the PSN status page to see if there's any server failure or maintenance going on.
Restart the PS5 console and connect to the wired Internet. After that, configure the network settings again.
If you are using a wireless connection, review the installation location like shortening the distance between the PS5 console and the router.
Update the firmware of the router.
Manually set up a static IP address in the network settings to improve the Internet.
If possible, open these ports. TCP: 80, 443, 3478, 3479, 3480 and UDP: 3478, 3479, 49152 ~ 65535.
You can solve PS5 Wi-Fi issues by making using of the above methods.
Also read: How Much Storage Does the PS5 Have & How to Increase Space          
#2. PS5 External Hard Drive Issues
Sony has regarded the use of external hard drives as one of the most useful features of PS5 for a long time. Based on your preference, PS4 games can be stored on the external hard drive. However, it is reported that some PS5 glitches like data loss or corruption appears during the process of transferring PS3 or PS4 data to PS5.
As one of the main PS5 issues, PS5 external hard drive issues upset plenty of gamers. Fortunately, you can recover the lost data by using a professional data recovery program like MiniTool Partition Wizard.
MiniTool Partition Wizard DemoClick to Download100%Clean & Safe
Step 1: Connect the PS5 external hard drive to your PC.
Step 2: Launch MiniTool Partition Wizard to access its main interface.
Step 3: Click on the Data Recovery option on the toolbar.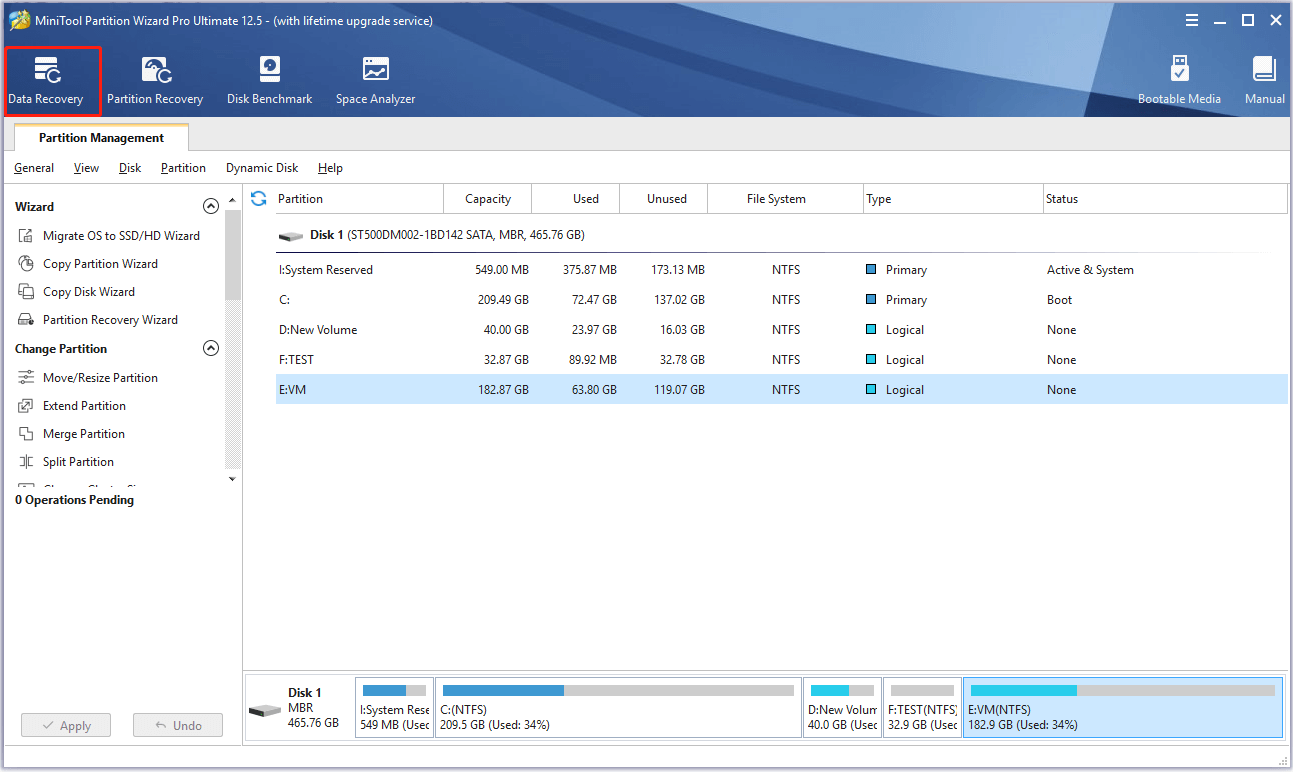 Step 4: In the elevated window, highlight the connected PS5 drive and click Scan to start the process.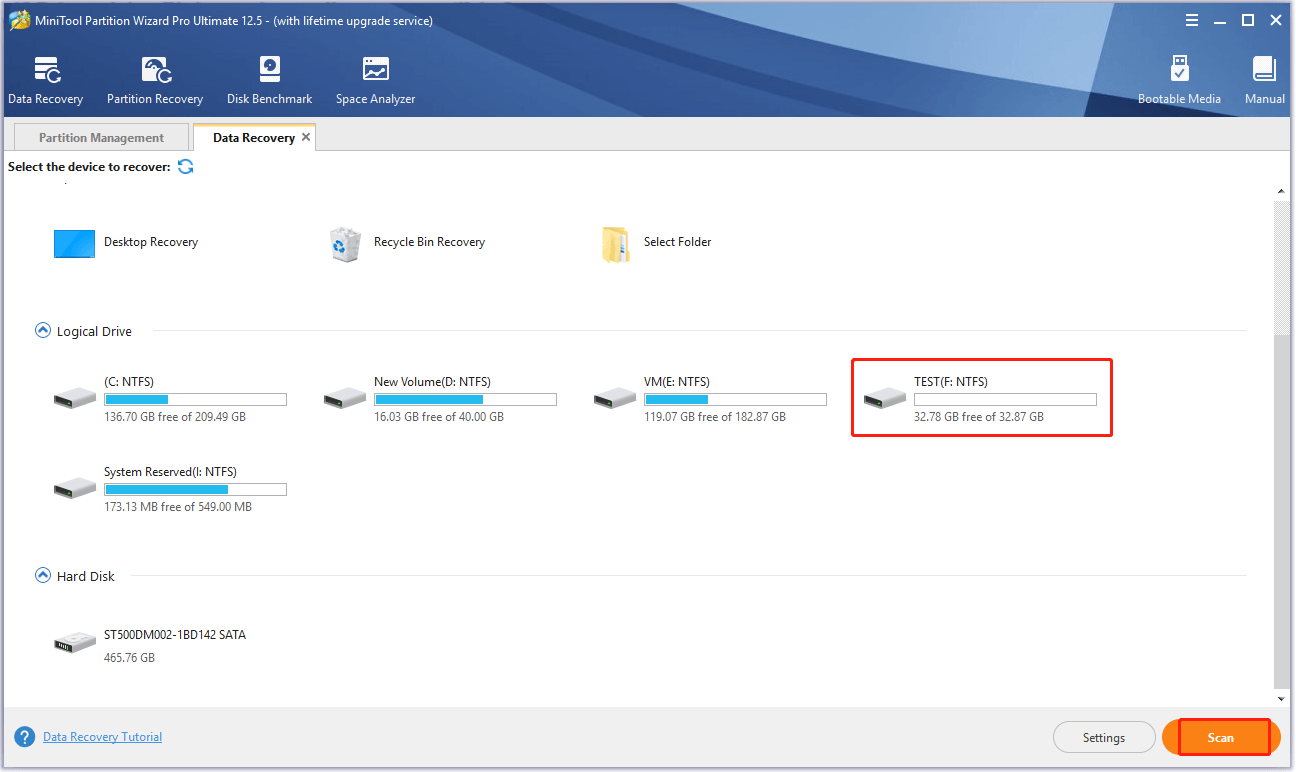 Step 5: After the scanning process ends, choose the data that you want to recover from the scan results and click Save.
Tip: You can find the specific data via options including Show Lost Files, Find, and Filter.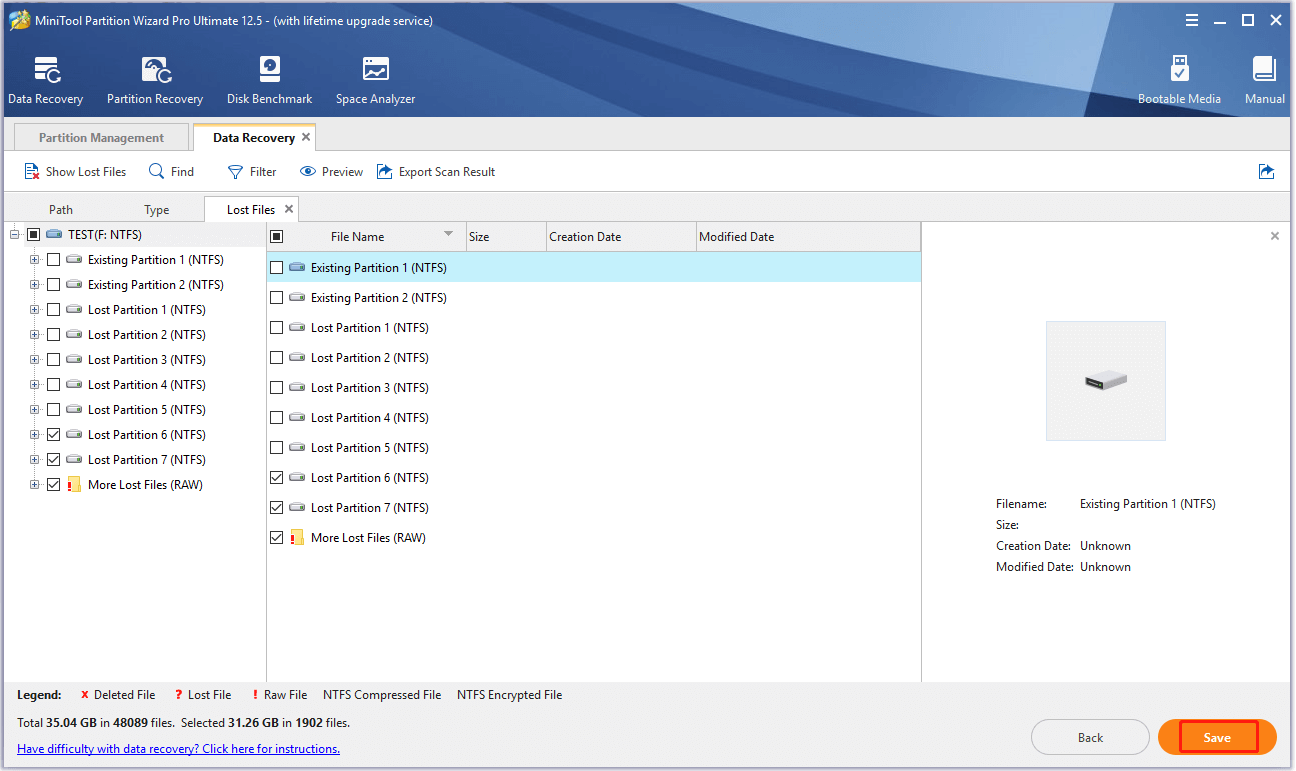 Step 6: In the prompted window, select a directory to save files and then click OK. Then follow the on-screen instruction to finish the process. Don't choose the scanned drive as the destination for the recovered data. Otherwise, the lost or deleted data could be overwritten.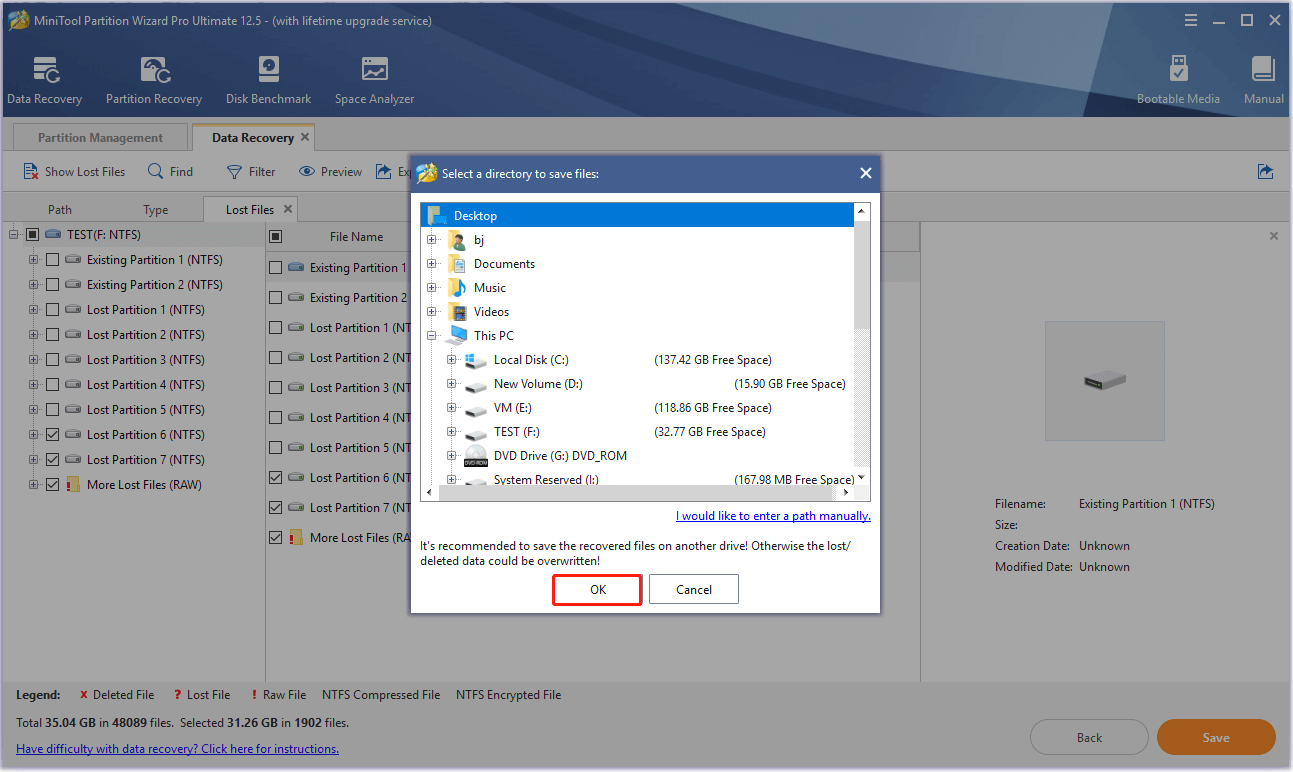 For data loss, MiniTool Power Data Recovery also helps. It is capable of recovering deleted files due to wrong deletion, OS crash, hard drive damage, and other accident situations.
This post shows you how to perform a hard drive recovery through MiniTool Power Data Recovery in various cases.
#3. DualSense Drift
After Nintendo had found itself in hot water for Joy-Con drift on the Nintendo Switch, people have discovered that PS5 also has the same issue. When the DualSense is suffering from this issue, the controller seems to move on its own.
Tip: In the field of controllers, drift is also known as joystick drift, thumbstick drift, or analogy stick drift.
Whether DualSense drift affects you right now or not, it is a server problem that could cause your controller to be unusable. To be specific, this drift ranges from a minor annoyance to a problem that makes all of your games unplayable depending on the severity and frequency.
DualSense drift usually appears because of sensor wear and fatigue. If DualSense drift occurs on your console, you can fix it with these tips.
Identify the faulty control stick and clean the underside with some rubbing alcohol. If you can, spray the underside with a can of compressed air.
Ensure that your controller is updated with the latest firmware update.
Insert a small tool into the hold on the back of the controller for 3-5 seconds to reset the DualSense controller. After that, connect the controller to the PS5 console with a USB cable and press the PS button.
#4. DualSense Controller Not Holding Charge
Many users complain about the DualSense controller not holding charge issue as well. This issue is easy to fix. To avoid and solve the issue, you need to ensure that you are using the included USB cable. If possible, try utilizing another DualSense controller to exclude the fault of the controller.
#5. PS4 Games Are Marked as Unplayable
According to some gamers, PS5 is marking certain games as unplayable and requires gamers to repurchase the title in the store. It sounds like a minor bug only impacting some older PS4 games.
Tip: Though most PS4 games are backward compatible with PS5 consoles, some games are still unplayable on the new generation console. They include DWVR, Afro Samurai 2 Revenge of Kuma Volume One, TT Isle of Man – Ride on the Edge 2, Just Deal With It!, Shadow Complex Remastered, Robinson: The Journey, We Sing, Hitman Go: Definitive Edition, Shadwen, and Joe's Diner.
However, you may think it's rather confusing when you encounter the issue. To solve it, you need to restore license on the PS5 console. Here are detailed steps for doing that.
Step 1: Run PS5 and click on the gear icon to open Settings menu.
Step 2: Tap User and Accounts from the pop-up menu.
Step 3: Scroll down to Other and click Restore Licenses.
Step 4: In the next page, click Restore to confirm the operation. After that, you can play PS4 games smoothly.
#6. PS5 Not Installing Games (CE-100005-6)
The error code CE-100005-6 could appear when you are trying to install a game on the system. This error is easy to fix. Here are several ways to resolve it.
Try removing the install and redownloading.
If you use a physical disc, check for smudges or handprints. Then wipe the disk with a microfiber cloth and try the installation operation once more.
If you download an update and a game at the same time, pause the update and finish the game download process first.
Try factory resetting PS5 consoles.
#7. PS5 Ongoing Power Issues
If the PS5 console won't turn on at all, crashes or freezes while playing, turns off while playing, or loses power shortly after you turn it on, it might experience a breakdown or encounter an internal power issue.
In this case, you have to troubleshoot on the PlayStation website to check if you are eligible for a console repair.
#8. PS5 Overheating
When PS5 is overheating, you may receive an error message. If PS5 keeps overheating, the hardware of the console can be damaged badly so that the lifespan of PS5 could be shortened. The overheating issue occurs mainly because the console is not well ventilated.
To keep the PS5 console cool, please refer to these tips.
Don't put the PS5 console in a cabinet or a completely enclosed place.
Don't put a cloth over it or place it on a cloth.
Leave space between the PS5 console and the walls.
As the fan is under the faceplate, the console will be designed to keep the fan unobstructed. Given that fact, try not to block it.
#9. Data Transfer Errors
Data transfer errors also frequently appear on the PS5 console. They often occur while you switch from PS3 or PS4 to PS5 by transferring data. To be specific, you could receive a number of crashes like full hardware failure, data loss while moving from hard drive, or delay in transfer time.
You can prevent data transfer errors by connecting your PS3 or PS4 via USB or LAN to PS5 as the system prompts you when you turn it on. If you encounter the data loss issue, recover it with MiniTool Partition Wizard or MiniTool Power Data Recovery just like you do in the PS5 External Hard Drive Issues section.
MiniTool Partition Wizard DemoClick to Download100%Clean & Safe
PS4 Keeps Crashing? – Here's How to Fix It Effectively
Are you still bothered by various PS5 issues, especially the PS5 external hard drive issues? Here is a full PS5 repairing tutorial for you. Click to Tweet
Bottom Line
To sum up, this post summarizes some frequently asked PS5 problems and then provides corresponding solutions to them. If you are seeking for methods to fix these issues, this full PS5 repairing tutorial is what you need.
Do you encounter other PS5 bugs while playing games on this console? If so, please share them with us in the comment area below. We will try our best to help you work them out. For any questions on the MiniTool software, directly contact us by sending an email via [email protected].