How do you perform NTFS partition recovery? If your NTFS partition gets lost or formatted, you are able to recover NTFS partition by recovering the lost partition or lost files. MiniTool Partition Wizard is such a tool that is extremely useful to perform NTFS recovery. 
Today NTFS partition has gradually replaced FAT32 partition, becoming the most popular partition format. However, when we feast on the convenience and safety brought by NTFS partition, we may encounter NTFS partition loss.
As the lost partition may store important files, we certainly need to find them back urgently. How to recover lost NTFS partition? In this post, we will explain the related knowledge in detail.
Reasons Lead to NTFS Partition Loss
As NTFS partitions are commonly used, the possibility of NTFS partition loss is bigger than ever. Normally, the following reasons will lead to NTFS partition loss:
Corrupted partition table: Partition table is easily to get damaged or corrupted due to improper operation and virus attack, which can further lead to partition loss.
Accidental deletion: While doing hard disk management, you are likely to delete an NTFS partition that you need, or clean a wrong disk with diskpart command if you are not specialized. Obviously such operations will lead to partition loss.
Bad sector/track: Physically, a hard drive platter is divided into tracks; and each track is divided into several sectors to store data. If a portion of sectors can't be read and written normally, the partition becomes invalid, leading to partition loss in some cases.
Corrupted logical structure: Due to corruption in the logical structure of the hard drive, one or more partitions may get lost.
Power surges: Power surges or fluctuations while the partition is being read/write accessed may lead to partition corruption, and therefore the partition may disappear.
Unsuccessful resizing: Unsuccessful partition resizing can trigger partition loss.
Obviously, all above reasons are able to bring partition loss to computer hard drive. Yet, users shouldn't be too scared to do anything after finding the partition with useful data stored in is missing. They should be aware that partition recovery is possible.
How to Perform NTFS Hard Disk Recovery?
MiniTool Partition Wizard, which provides Partition Recovery Wizard, is a good choice to recover lost/deleted NTFS partition. How does it work towards this issue? Take our topic NTFS partition recovery for example. If it is deleted or lost by accident, the record of NTFS partition in partition table will be eliminated or changed. Therefore, the operating system cannot find it when users are about to open the NTFS partition.
However, the powerful Partition Recovery Wizard can skip the partition table to scan disk directly during NTFS hard disk recovery. And then it will find the lost NTFS partition and record it in partition table again. When this process is finished, the operating system will find the NTFS partition and access its data.
Here Is How to Use MiniTool Partition Wizard to Recover Lost NTFS Partition.
Tip: Partition recovery is a paid feature available in MiniTool Partition Wizard Pro Ultimate and more advanced editions. Hence, you need to buy a copy of the Pro edition to recover deleted NTFS partition. However, you can also download the trial edition to check whether it can find the partition you need before you pay a penny.
MiniTool Partition Wizard DemoClick to Download100%Clean & Safe
Now follow the guidance below to start your own recovery:
Step 1: Find Partition Recovery Wizard.
Run MiniTool Partition Wizard after installation and the main interface will be shown. On the top menu bar, you can find a feature called Partition Recovery. Select it to recover lost NTFS partition.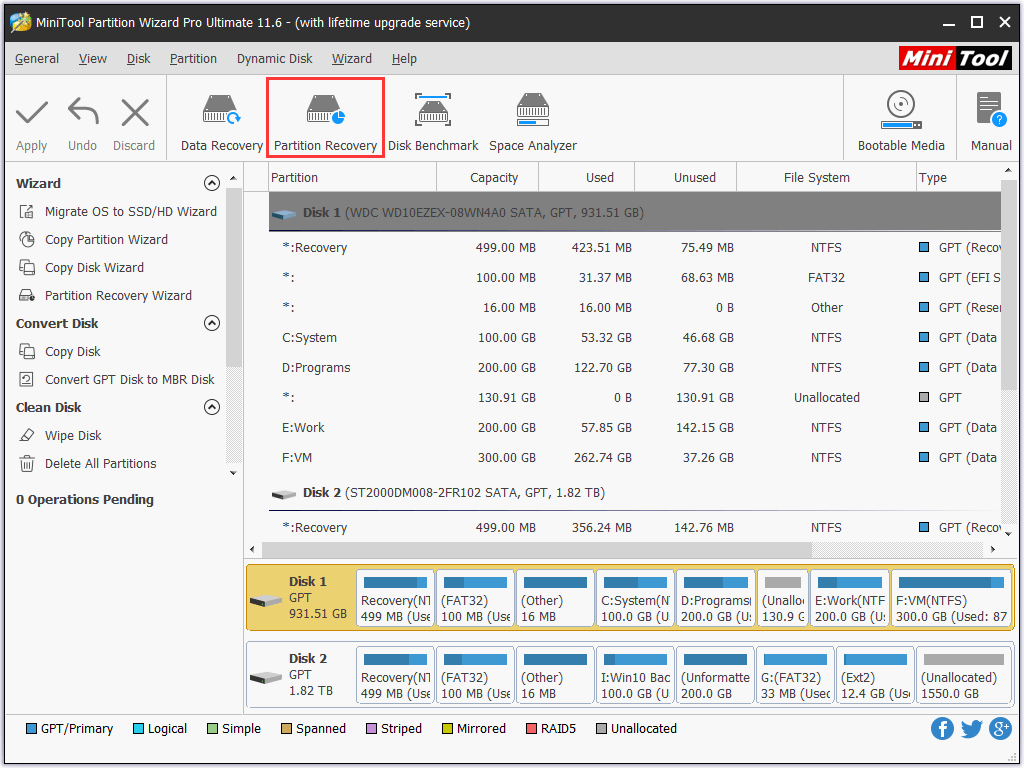 Step 2. Skip the welcome page.
When you see the welcome page, click Next to go on.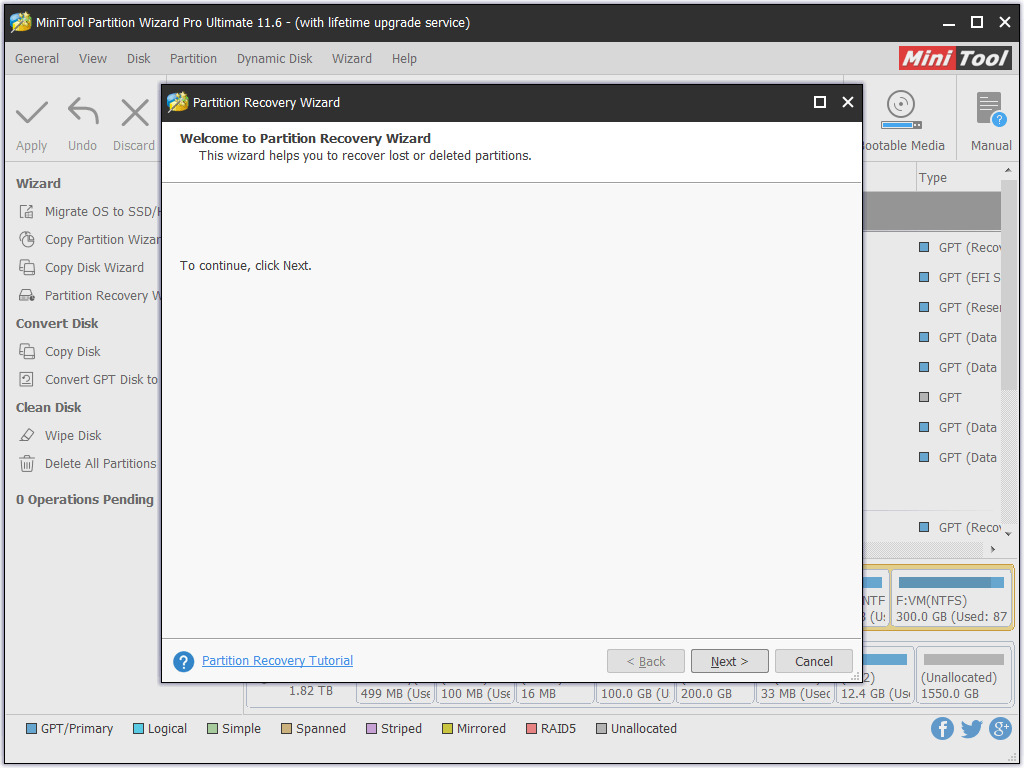 Step 3. Select the disk you would like to recover.
Select a disk you would like to recover from the disk list and click Next to go on.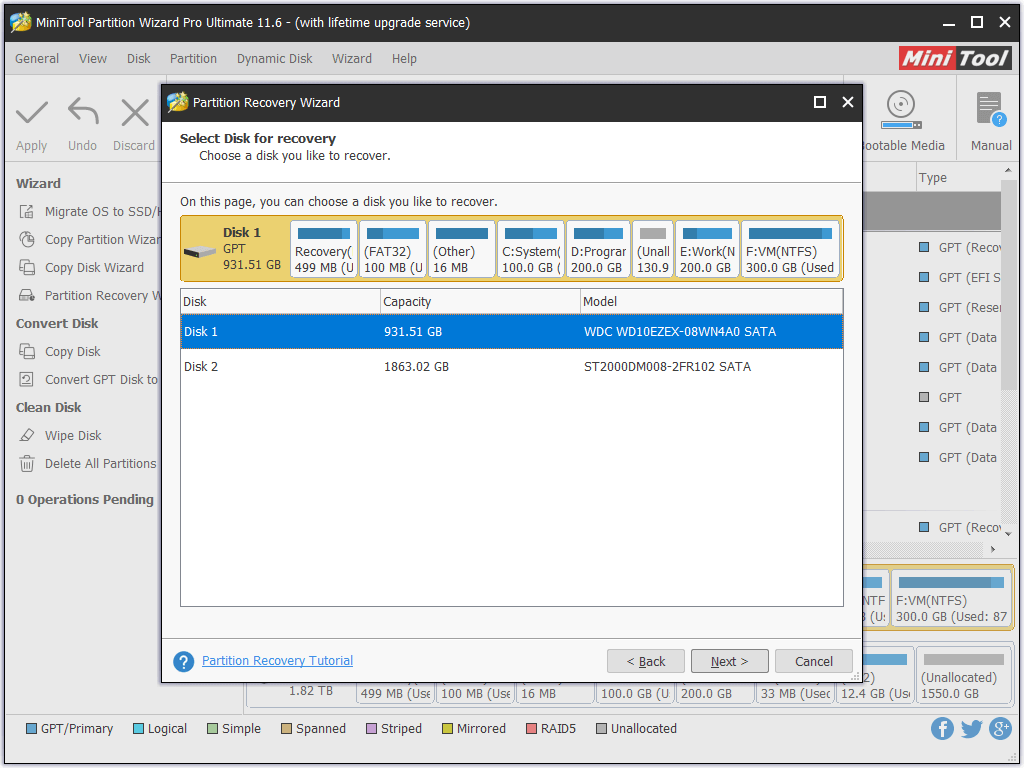 Step 4. Set scanning range.
Now select a scanning range for the specific disk. Here we recommend choosing either of the former two options and then hit Next to continue.
By choosing Full Disk, MiniTool Partition Wizard will scan the entire disk for the lost/deleted NTFS hard disk.
By choosing Unallocated Space, MiniTool Partition Wizard will scan the free space to search for the desired NTFS partition.
By choosing Specified Range, MiniTool Partition Wizard will scan the specific sectors appointed by users.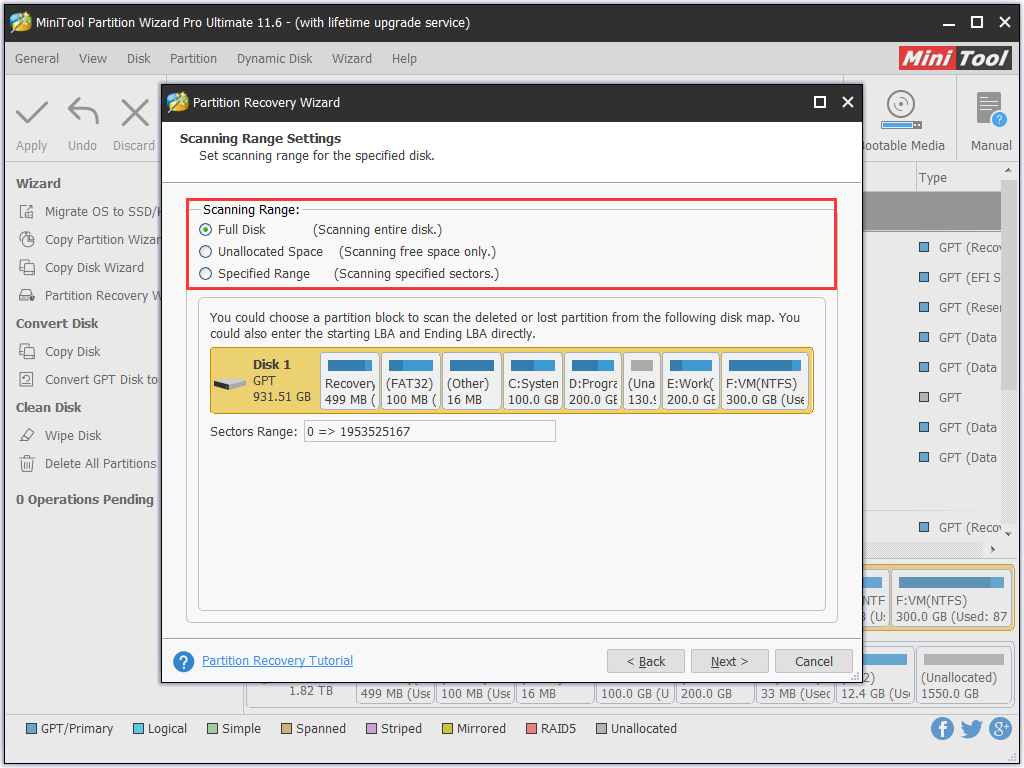 Step 5. Choose a scanning method.
If you choose Quick Scan, MiniTool Partition Wizard will quickly find a lost/deleted partition and then jump to the end of it to find the next one.
If you choose Full Scan, MiniTool Partition Wizard will scan every sector of the specific scanning range. This scanning method takes more time to finish but is useful when Quick Scan fails.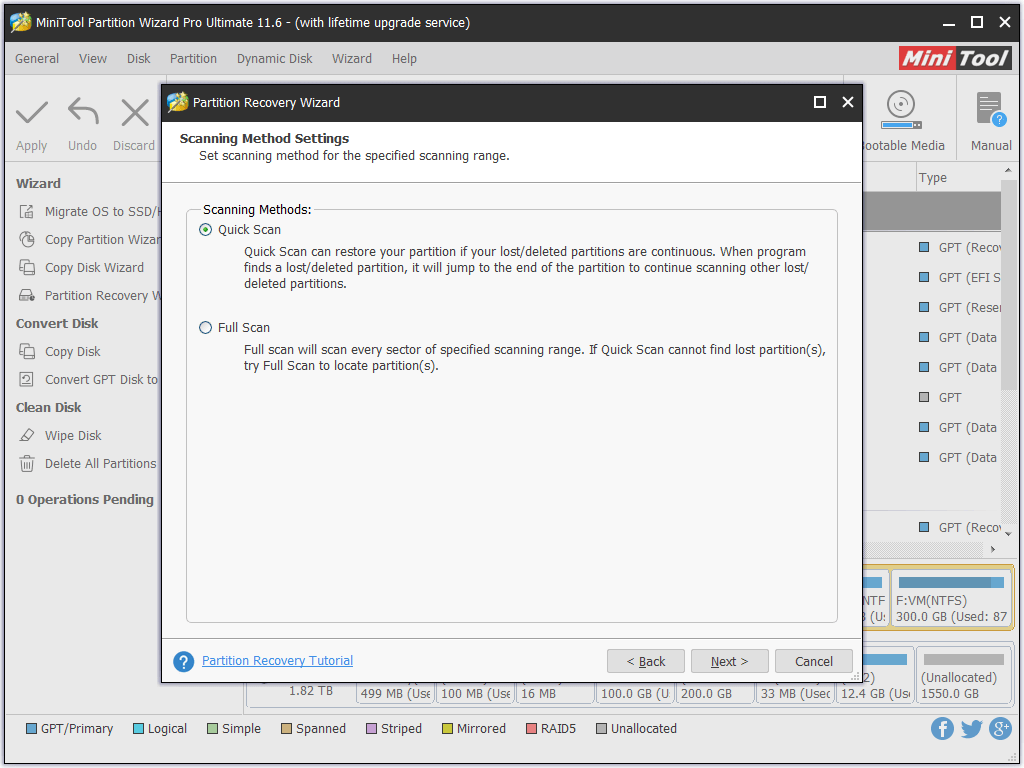 Step 6. Check ALL partitions you need.
Here check all the partitions you need, no matter it is lost or not. Remember, the partitions not checked will be deleted later. So please be careful. Then press Finish button to go back to the main interface.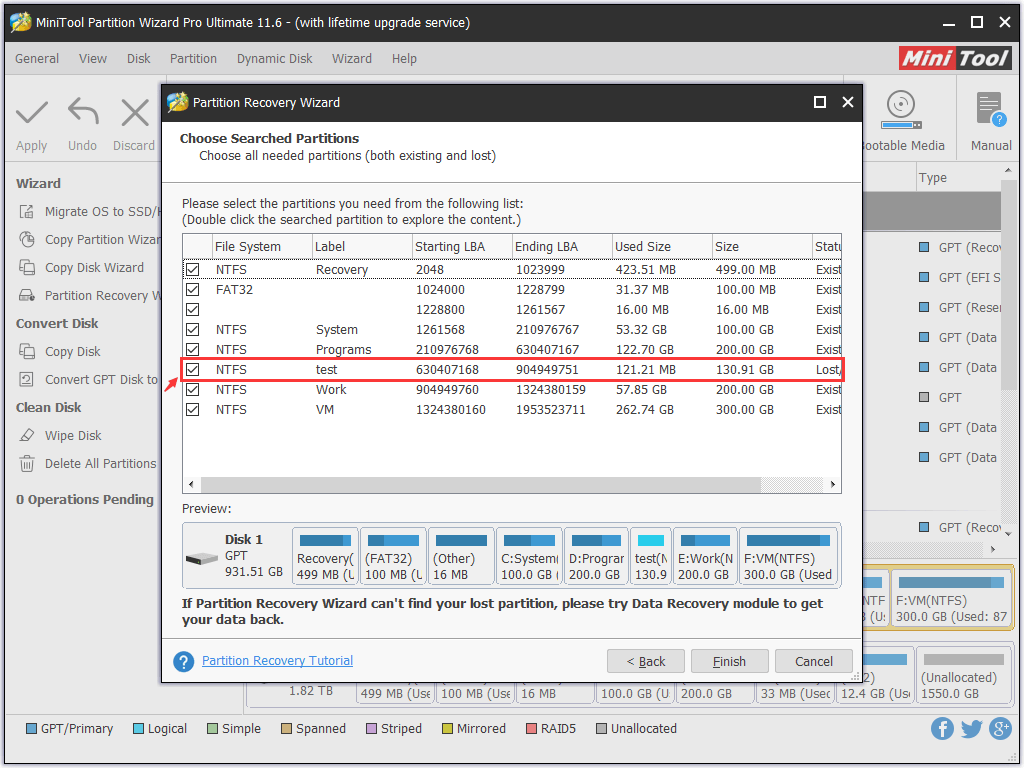 Tip: You can double click a partition in the list to explore its content so as to make it clear that whether this partition is the one you need.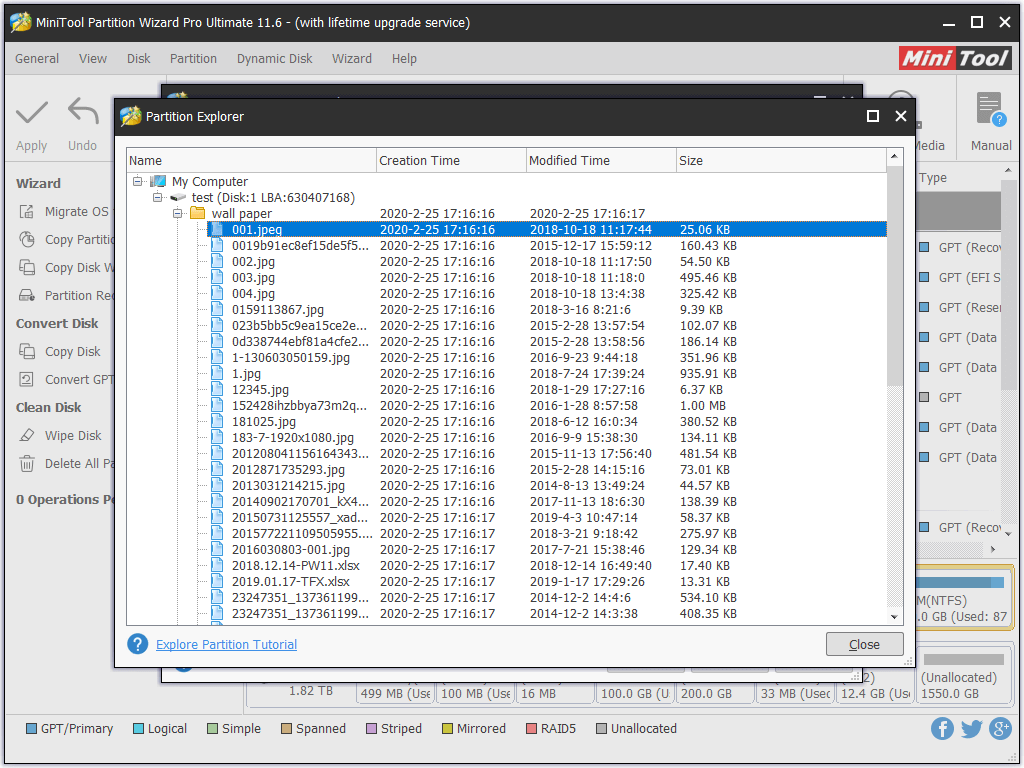 Step 7. Apply changes.
Last but not least, you need to press Apply button on the top left corner to make the NTFS hard disk recovery effective.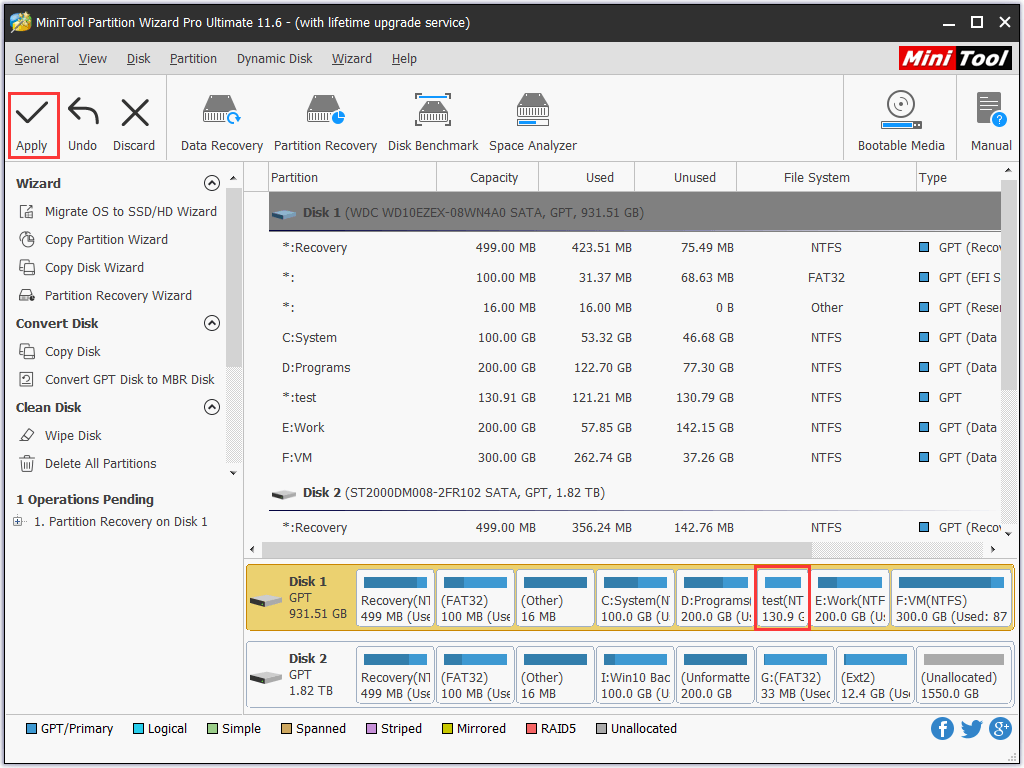 When MiniTool Partition Wizard has finished NTFS partition recovery, you may open Windows Explorer but disappointedly find that the recovered NTFS partition is not there. What's the reason?
In fact, this is caused by the missing drive letter. Windows won't display hard drives without a drive letter.
Step 8. Add a Letter.
Run MiniTool Partition Wizard again and add a drive letter to the recovered partition by using Change Drive Letter feature. Finally you can access the recovered NTFS partition in Windows Explorer and all data are still there.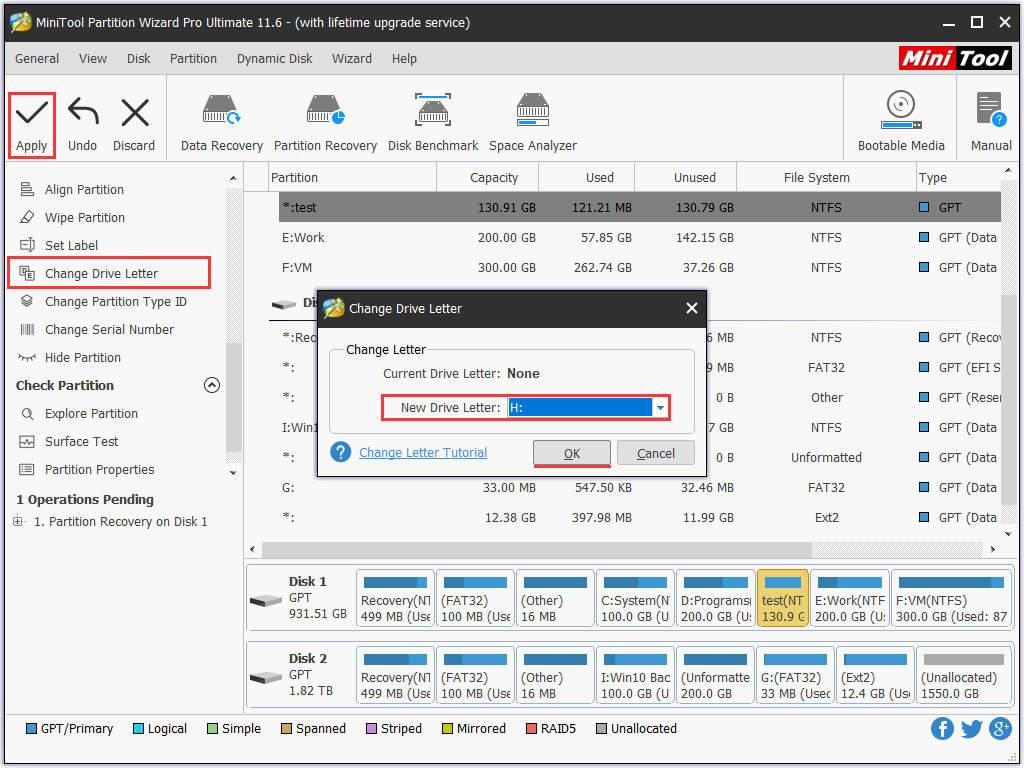 Amazing NTFS hard disk recovery software, right! In addition to lost partition recovery, MiniTool Partition Wizard is also equipped with a bundle of disk management functions like Migrate OS to SSD/HD, convert MBR disk to GPT disk, merge partition, rebuild MBR, etc. Try them out if you just need these features.
What if the NTFS Partition Is Formatted?
You may ask: what if my NTFS partition is formatted instead of deleted or missing? Do I still have the chance to get data back? Yes, of course! Here we suggest using another function of MiniTool Partition Wizard Pro Ultimate to recover data from formatted partition, and it is called Data Recovery.
MiniTool Partition Wizard DemoClick to Download100%Clean & Safe
The Data Recovery aims to recover lost data on Windows 7/8/10 due to various reasons. In short, as long as the source data is not overwritten and the hard drive is not physically damaged, you have the chance to get lost data back. Then how can you recover data from formatted NTFS partition? Please follow the tutorial below:
Step 1. Select the partition to recover data from.
After launching this NTFS hard disk recovery software, right-click the formatted partition and choose Data Recovery from the context menu.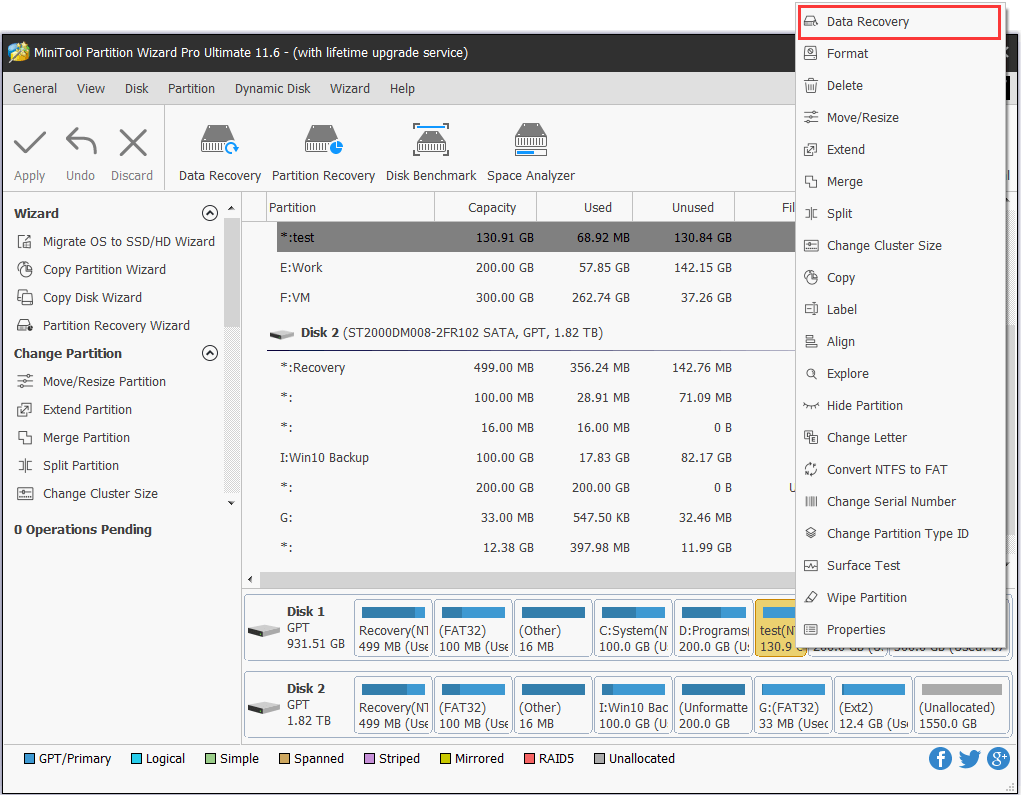 Step 2. View and check the files you need.
MiniTool Partition Wizard will start a full scan on the partition. During the scanning process, you are able to open the found partitions one by one to check needed files (most probably in the All RAW Files partition). Also, you can employ the Preview function to confirm whether it is the one you need, as well as use the Filter function to filter needed files. Check the files you need.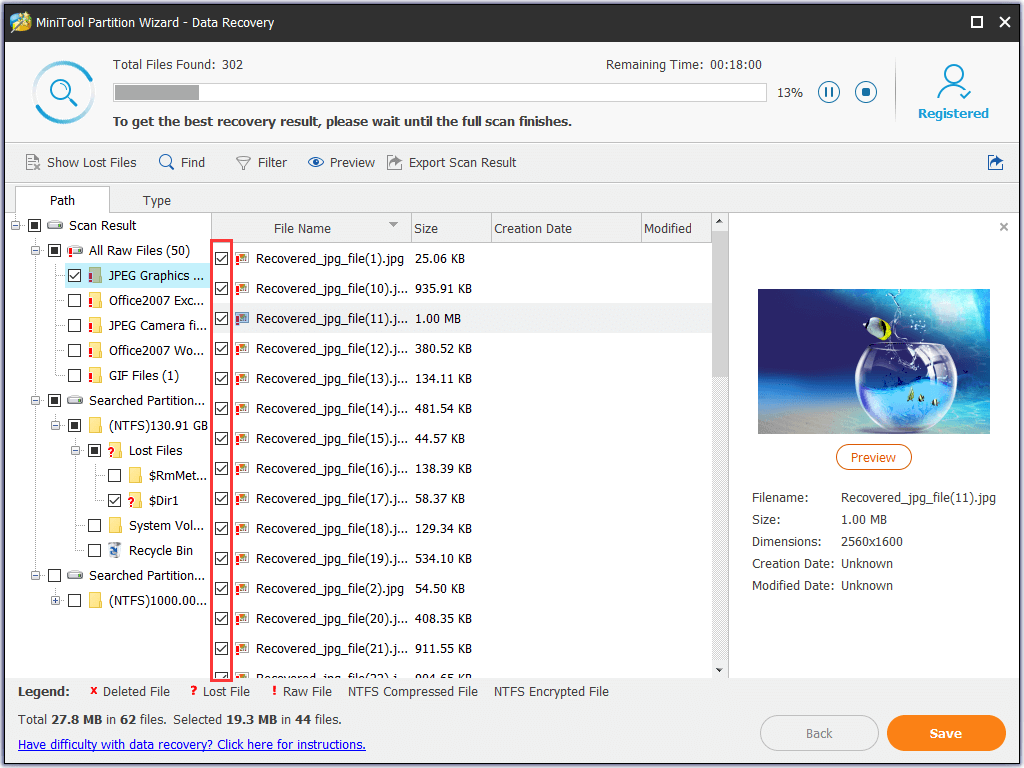 Step 3. Save files.
Finally, click Save button to choose a safe location to store the lost files from the formatted NTFS partition (Should be different from the formatted partition, for this will overwrite the hard drive. If the recovery is not satisfying, there is no way for a second-time recovery.).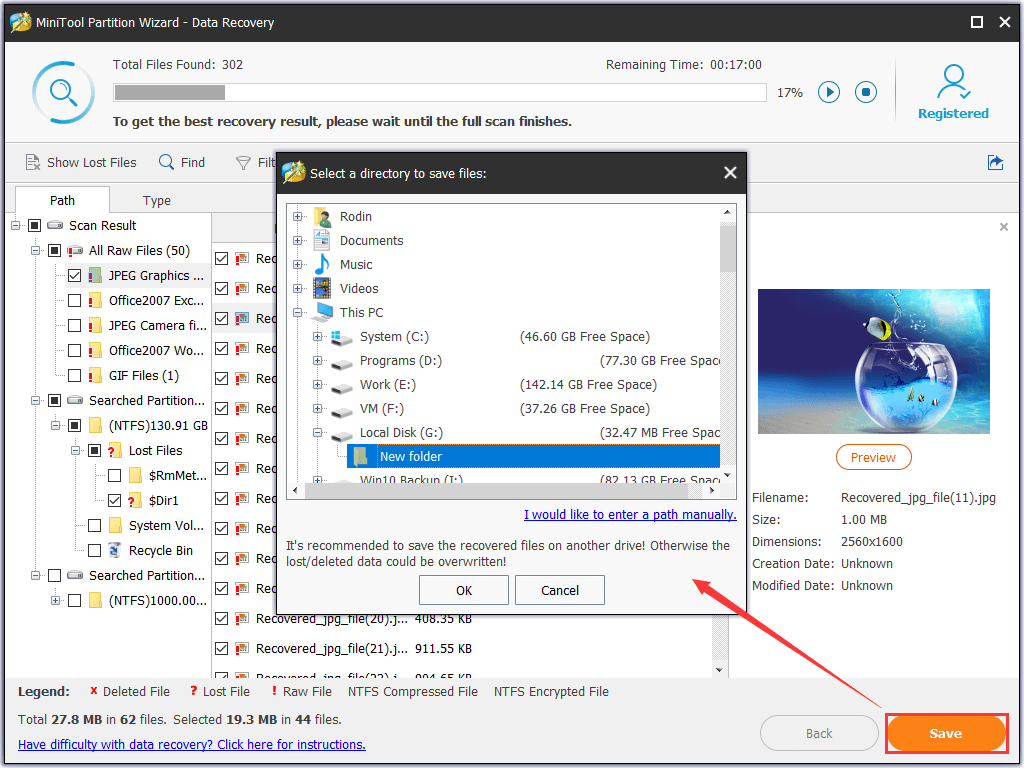 See! MiniTool Power Data Recovery is so easy to do hard drive data recovery. If you are troubled by formatting an NTFS partition by mistake, you can download this free data recovery software to have a try.Click to Tweet
Why NTFS Partition Is More Popular?
Knowing how to perform NTFS hard disk recovery, we would like to explain why so many users prefer NTFS partition. In fact, this is due to the advantages of NTFS file system. NTFS is developed for Windows NT and the later editions of operating systems. Compared with other file systems like FAT, it has the following advantages:
NTFS offers high security over individual files and folders. NTFS allows access permission to single file and folder and provides file encryption function to improve data security.
Data stored in NTFS partition can be shared and accessed over the network.
NTFS guarantees the consistency of the volume by using standard transaction logging and recovery techniques. If the system fails, NTFS uses its log file and checkpoint information to restore the consistency of the file system automatically.
NTFS possesses outstanding disk compression ability. According to Microsoft, "files that are compressed on an NTFS volume can be read and written by any Windows-based application without first being decompressed by another program. Decompression happens automatically during the read of the file. The file is compressed again when it is closed or saved."
NTFS supports huge disks and individual files larger than 4GB. Along with the increase of disk capacity, the performance of NTFS will not reduce as FAT does. For more details, view Fat32 limits.
NTFS offers high speed to read and write data from the hard drive.
NTFS works more stable and reliable.
Now you know why the majority use NTFS partition. If you employ FAT file system, how can you change the FAT partition to NTFS partition?
Normally, you can format the hard drive to NTFS (requires backup in advance, otherwise data loss happens) or you can simply convert the FAT32 partition to NTFS without formatting.
MiniTool Partition Wizard again is recommended here, for it is such a smart partition magic that can deal with disk/partition conversion easily. It is worth mentioning that the paid edition of MiniTool Partition Wizard not only helps convert FAT to NTFS without data loss but also enables to convert NTFS to FAT safely.
Summary
So the bottom line here is, use MiniTool software to perform NTFS hard disk recovery. If the NTFS partitions are lost or deleted, MiniTool Partition Wizard helps to recover the lost partitions. If the NTFS partition is formatted, MiniTool Power Data Recovery is capable to recovery data from formatted hard drives.
Hopefully, this post has explained everything you need. Now it is your turn to have a try on these NTFS hard disk recovery software. For any questions or suggestions towards MiniTool software, please feel free to leave us comments or directly contact our support team via [email protected].