Although NTFS file system has more advantages over FAT32 file system, sometimes users still need to convert NTFS to FAT32 due to compatblity issues. Then how to convert NTFS to FAT32 without data loss? This article will show you how to convert NTFS to FAT32 with two methods.
Nowadays most partitions' file-system are of NTFS. I have one partition need the file-system to be FAT or FAT32. How to change the NTFS into FAT/FAT32?
Yesterday when I visited Windows Legacy OS forum, I saw this post. This user is perplexed about how he can convert NTFS to FAT32. It is not a difficult thing with the help of professional software. Let's have a look at what is NTFS and FAT32 at first.
NTFS and FAT 32 are two file systems. File system is used to identify how files are stored, named and organized on devices by the operating system.
FAT32 VS. NTFS
NTFS, short for New Technology File System, is a newer and popular file system. It was introduced by Windows in 1993. It wins a growing number of users nowadays. FAT32 is an older file system, at the same time, the most common version of the FAT (File Allocation Table) file system.
Comparison Between NTFS and FAT32
1. Security: NTFS allows file compression, quotas and file encryption which improves the security. However, FAT32 does not have these permissions.
2. Volume Size and File Size: The maximum volume size and file size of NTFS are larger than FAT32. While FAT32 only supports up to 4GB of a single file. The maximum volume size of FAT32 is 32GB in Windows unless you make use of third-party software.
3. Compatibility: NTFS cannot work with some operating systems, including Linux and Mac OS X. It is read-only with these systems. Compared with NTFS, FAT32 is compatible with many old operating systems, games consoles and bootable disk.
I think you have known the reason to convert NTFS to FAT32. It is the high compatibility of FAT32 that makes the conversion necessary.
How to Convert NTFS to FAT32
Method 1. Use MiniTool Partition Wizard Without Data Loss
As an effective partition manager, MiniTool Partition Wizard has a great many powerful functions, including Copy Partition, Wipe Partition and Convert NTFS to FAT 32. Today I use its Convert NTFS to FAT Feature.
Step1. Run this software to enter its main interface. Choose a partition needs converting to FAT 32, then click Convert NTFS to FAT in the left action pane.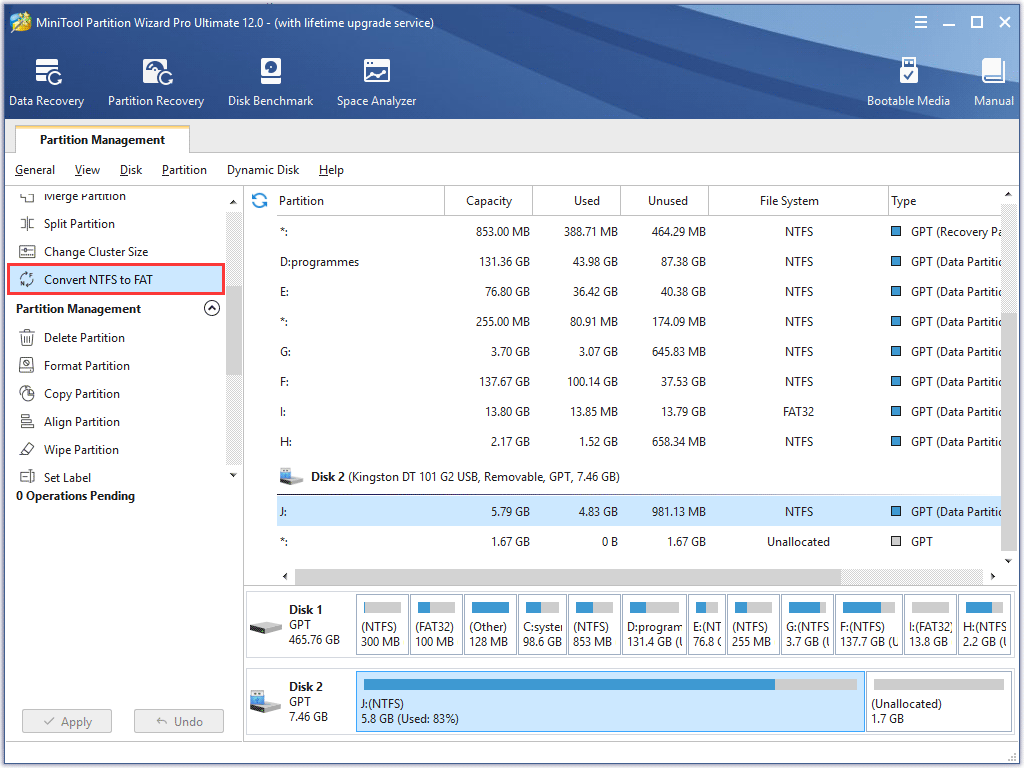 Step 2. You can see the partition has become FAT 32, but this is preview effect. Click Apply button to save the change.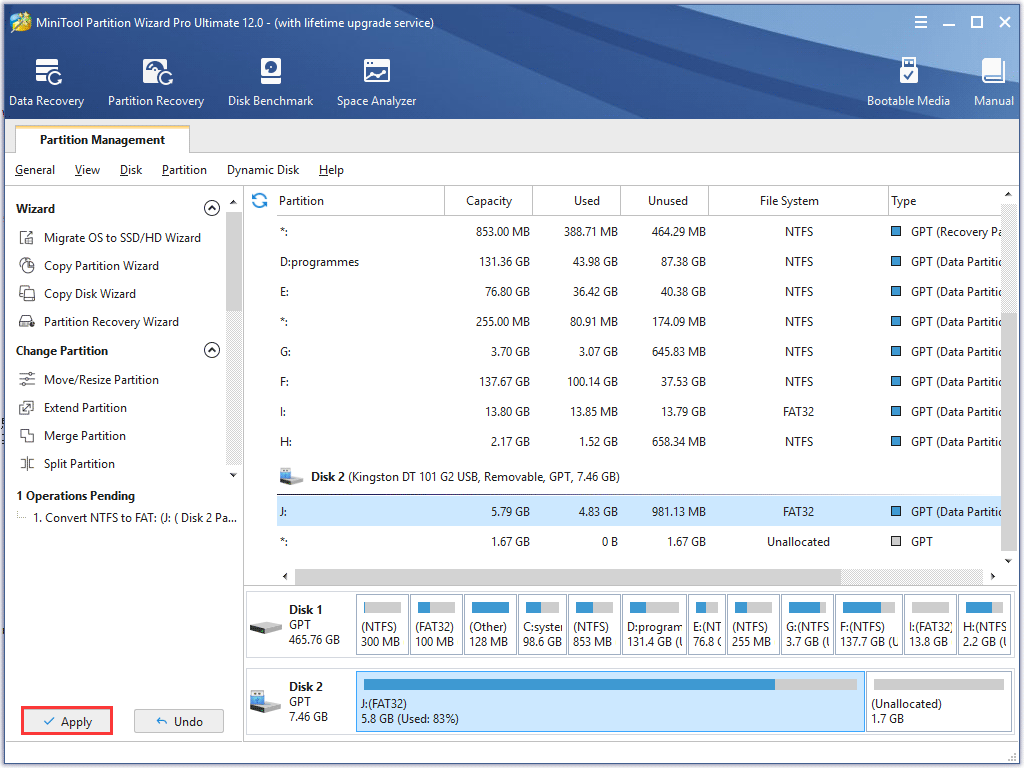 Tip: MiniTool Partition Wizard Professional Edition can also help you to convert FAT32 to NTFS, If you are interested in it, click Convert FAT to NTFS to get detailed information.
Method 2. Rely on Disk management
Note: You need to back up important files before this operation because Disk Management doesn't support changing NTFS to FAT32 without data loss. You are asked to format NTFS to FAT to realize this conversion. In addition, Disk Management cannot format a partition larger than 32GB to NTFS. If you want to use Disk Management, please make sure the partition you select is smaller than 32GB.
Step 1. Right click This PC and choose Manage from the drop-down menu. Then double-click Disk Management in Storage.
Step 2. Select a NTFS partition you want to convert to FAT32, then right click it. Choose Formatfrom the short-cut menu.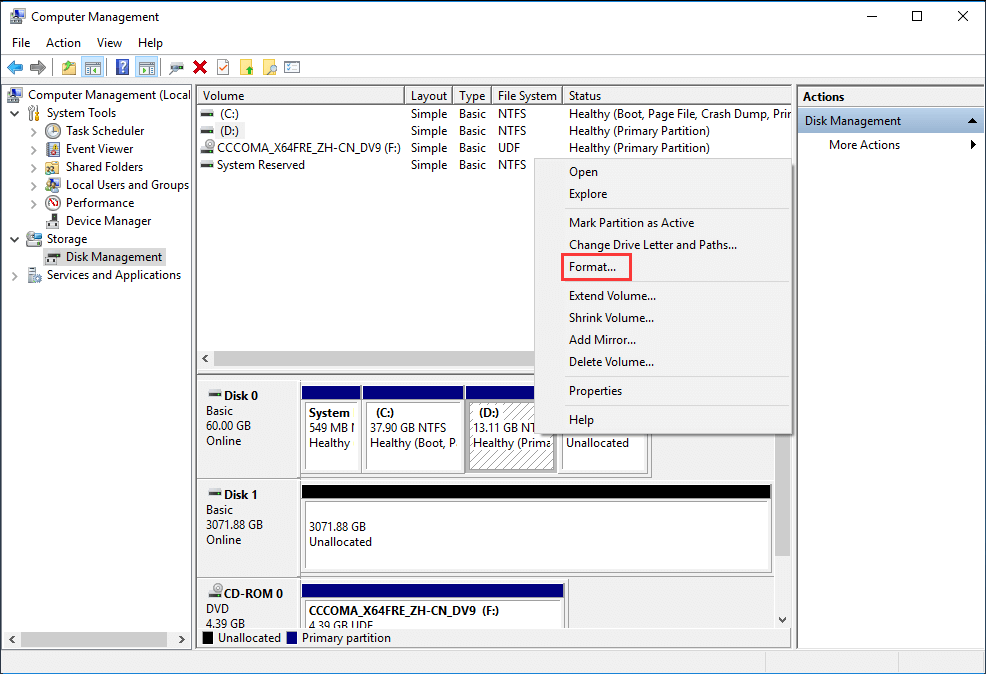 Step 3. Specify the volume label and select FAT32 as the desired file system. Then click OK to continue.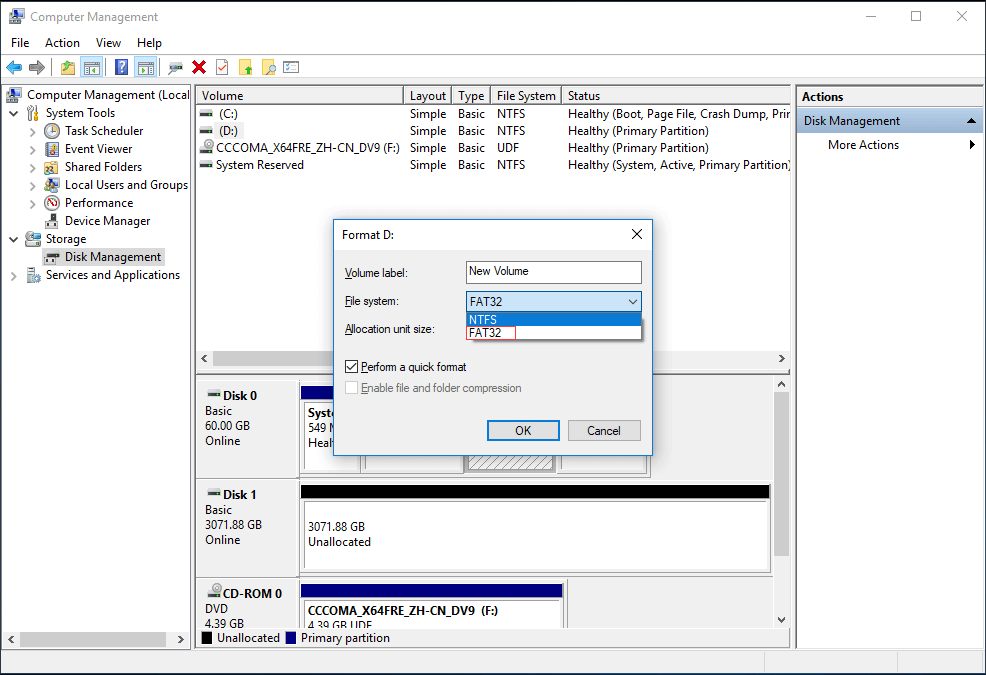 Step 4. Windows will give a warning that "Formatting this volume will erase all data on it. Back up any data you want to keep before formatting. Do you want to continue?" If you have made a backup, click OK to finish this conversion.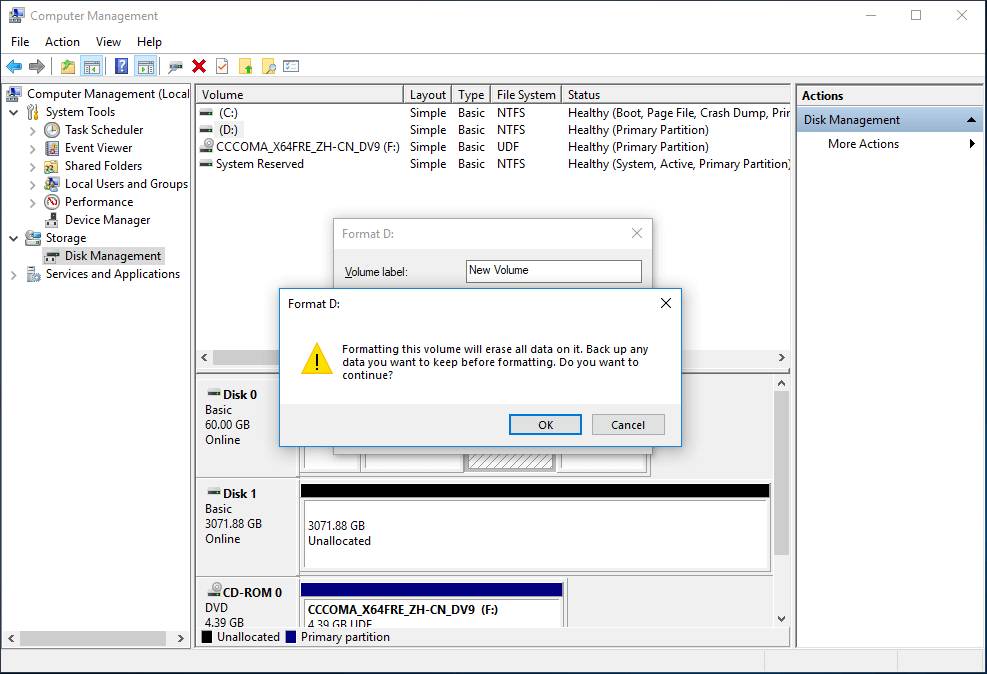 "Hey! I used MiniTool Partition Wizard, and I quickly converted NTFS partition to FAT32 without data loss. Don't you want to have a try? And, don't hesitate to share it with your friends if it works."Click to Tweet
Summary
In this post, I list two ways to convert NTFS to FAT32. There is no doubt that MiniTool Partition Wizard Professional Edition is the best option. If you have any questions when you use MiniTool Partition Wizard, please leave a comment or contact us via [email protected].