PlayerUnknown's Battlegrounds (PUBG), one of the most popular battle shooter games, is frequently reported for buildings not loading problems which make many users upset. How to fix PUBG buildings not loading? MiniTool offers 7 solutions. You can try them one by one to solve the issue.
Problems About PUBG Buildings Not Loading
PlayerUnknown's Battlegrounds is an online multiplayer game which is so popular around the world.
In this game, up to hundred players land in an island where they have to get weapons, kill others and avoid getting killed by others. During the game, they are able to find equipment or hide to survive in the buildings. The last player or team who lives will win the game.
However, many players are reporting an issue with the game: PUBG not loading the texture of buildings and other objects. This problem brings a very bad gaming experience to players. If the buildings and texture don't load, it is very difficult to get inside and interact with objects.
This mainly happens when your hard drive reads slowly or when you do not have enough resources to completely load the game without any problems.
How to fix PUBG buildings not loading? Just keep reading to get solutions.
Solution 1: Press Tab to Force Load the Buildings
When you play PUBG, your inventory consisting of all the items you currently own will come forward if you press Tab button. Press the Tab again, and you will be back to the game. This process forces the game to reload the current resources around the player. If they were not loaded properly, they will be loaded again.
So, when you encounter PUBG buildings not loading, you can simply fix it by pressing Tab key twice to open and close the inventory page and force load the buildings around you.
The game may freeze for a few seconds when you press the Tab for the second time, as it's loading the texture. After that, check if the problem has been solved. If you still have the error buildings not loading in PUBG, try the next solution.
Solution 2: Turn Off ShadowPlay
Nvidia ShadowPlay is a game recording utility present in GeForce Experience. This utility helps record gameplay videos for as long as you want. It is hardware accelerated and has a lot of recording features such as recording the screen in the background.
Some PUBG players report that the recording software had an impact on the game and they fixed PUBG not loading buildings by disabling ShadowPlay. Here are the detailed steps.
Step 1: Run Nvidia Geforece Experience as administrator.
Step 2: Select General in the left side of the screen.
Step 3: Find SHARE feature in the right pane (Nvidia ShadowPlay is also known as Nvidia Share) and then turn it off.
Step 4: Save the changes and close Nvidia Geforece Experience.
Then you can restart your computer and launch PUBG to check if the problem is gone.
Solution 3: Update Your Graphics Card Driver
It turns out that outdated graphics card driver is one of the reasons for PUBG not loading the texture of buildings. If you don't know how to fix PUBG buildings not loading problem, you can try updating your graphics driver. To do this, you can follow the steps bellow.
Step 1: Press Win + R to invoke Run window. Then input devmgmt.msc in the dialogue box and click OK to open Device Manager.
Step 2: Double-click Display adapters to expand the list.
Step 3: Right-click your graphics card driver and select Update driver.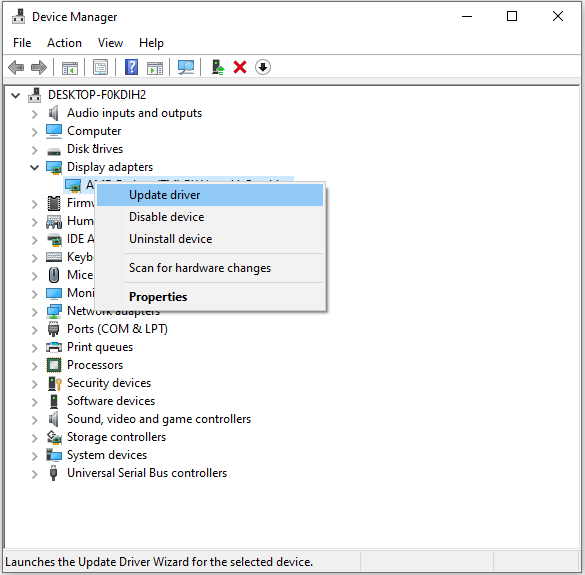 Step 4: In the pop-up window, choose Search automatically for updated driver software.
Then Windows will search your computer and the Internet for the latest driver, and you just need to wait patiently. Once any available updates are found, Windows will download and install them automatically.
Tip: Alternatively, you can visit the manufacturer's official website to download the latest graphics card driver software and then install it manually.
After these updates are installed, restart your computer for these changes to take effect. Then you can launch PUBG again and see if the problem is solved.
Solution 4: Reinstall Your PUBG
If your PUBG files are corrupted, you will see PUBG not loading buildings error. You can uninstall the program and then reinstall it to fix the problem. Then you can run PUBG and check if the buildings can be fully loaded.
If there is still something wrong. You may need to consider the problem related to RAM on your computer. Try the next solution to fix the problem.
Solution 5: Increase Virtual Memory
Virtual memory is a memory management technique which is used to increase computer's memory capability. Usually, if you have more RAM on your computer, the programs can run faster with less problems. When your RAM is running out of space, increasing virtual memory is good way to fix the problem.
Games like PUBG needs a lot of memory to store and use the game resources. If you don't have enough RAM to meet the requirements, errors like buildings not loading in PUBG may appear.
Let's try fixing it by increasing virtual memory.
Step 1: Press Win + S to open Search. Then input advanced system settings in the search box and click View advanced system settings from the search results to access System Properties.
Tip: you can also go to Control Panel> System and Security > System. Then click Advanced system settings from the left panel.
Step 2: Switch to Advanced tab, and click Settings under Performance section.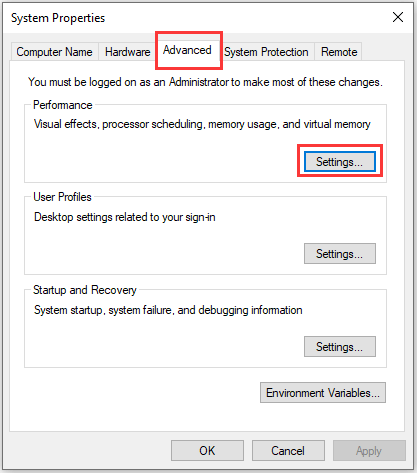 Step 3: In the pop-up window, click Advanced tab and then select Change under the Virtual memory section.
Step 4: Uncheck Automatically manage paging file size for all drives, and select Custom size. Then set both Initial size (MB) and Maximum size (MB) to 8000.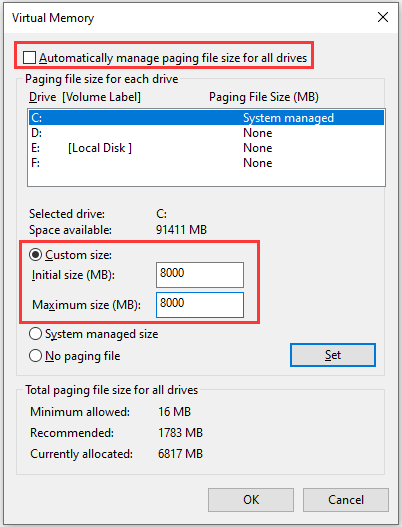 Step 5: Click Set to apply the changes.
Now you can restart your computer and run PUBG again. The issue PUBG buildings not loading should be fixed.
Here is how to fix PUBG buildings not loading in this post. Try these solutions one by one when you encounter PUBG not loading the texture of buildings.Click to Tweet
Solution 6: Add Physical RAM
Microsoft recommends that you set the virtual memory to be a minimum of 1.5 times and a maximum of 3 times of your physical RAM. If you want to use RAM beyond 3 times of your physical RAM, you may need to add physical RAM (RAM bar) to your computer.
Here is how to do it.
Step 1: Figure out how much RAM you have currently by pressing Win + PauseBreak.
Step 2: Check how much your system can support by running the command "wmicmemphysical get maxcapacity" in Command Prompt.
Step 3: Decide how much RAM you want to add and buy a proper memory bar.
Tip: You need to notice the model when you buy a new memory bar to make it compatible with the system.
Step 4: Turn off your computer and unplug the power cable. Then install the new RAM bar.
Step 5: Put everything back and turn on your computer. Launch PUBG to check if the problem disappears.
If you haven't add RAM before and you don't know how to do it, you can get more detailed steps and information from my previous post: Memory vs. Storage: Differences and How Much Do You Need?
Solution 7: Move Your Game to SSD
PUBG requires faster access speed as compared to normal games because it has a lot of resources which need to be accessed quickly.
As we know, SSDs read and write faster than conventional hard drives. If you're using an HDD, you can move your game to an SSD and then launch it from the SSD to solve the problem PUBG not loading buildings.
There are 2 ways to move PUBG to an SSD: use Steam or MiniTool Partition Wizard. You can choose one according to your condition.
Option 1: Use MiniTool Partition Wizard
If there is no SSD on your computer, you can use a professional tool, MiniTool Partition Wizard, to move games from your HDD to an SSD easily. Besides, it can also help you upgrade the HDD to SSD without reinstalling OS.
Get this tool from the following button.
Step 1: Connect the SSD to your PC and launch MiniTool Partition Wizard.
Step 2: Select your original hard drive and choose Copy Disk from the action panel.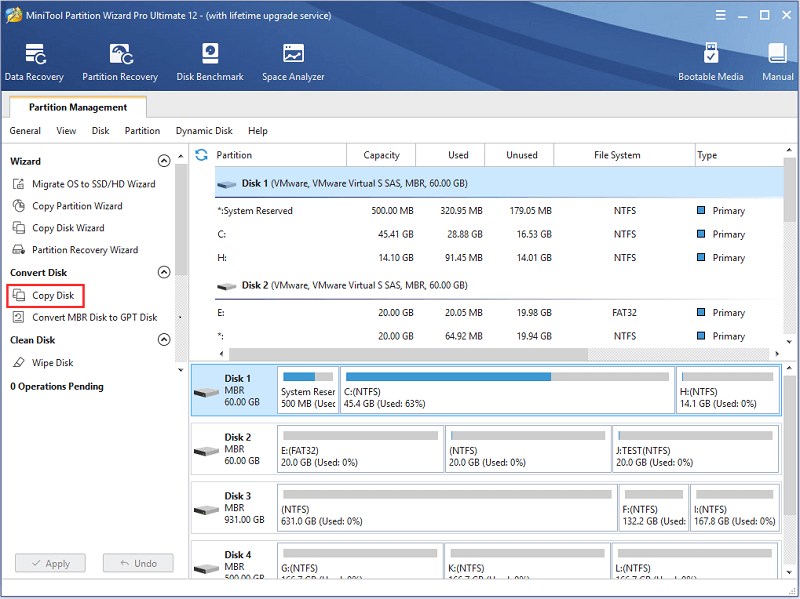 Step 3: A window of Copy Disk Wizard will pop-up. Just select the SSD you prepared to store everything on your original hard drive and then follow the wizard to complete the process.
Tip: Please make sure there is no important data on your SSD, because it will be deleted during the copying disk process.
Step 4: Click Apply to execute the pending operation.
Then you can boot your computer from the SSD and then launch PUBG again to check if the problem has been solved.
Option 2: Use Steam
Another way to move your PUBG to an SSD is using Steam. If you already have an SSD installed on your computer, you can choose this option. It's more complicated because you need to create a Steam library folder on the SSD first. Let's see how to do it.
Step 1: Launch Steam.
Step 2: Click Steam menu from the menu bar and go to Settings.
Step 3: Select Downloads tab and click STEAM LIBRARY FOLDERS.
Step 4: In the pop-up window, click ADD LIBRARY FOLDER.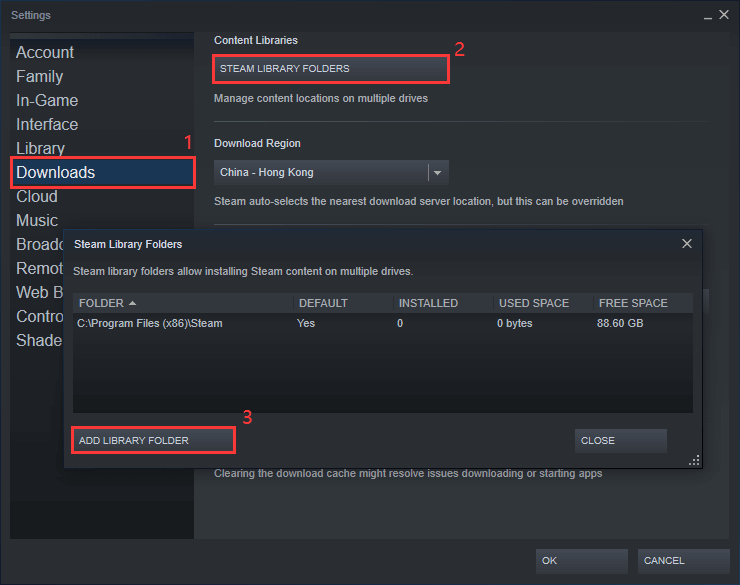 Step 5: Choose a location on your SSD where you want to save PUBG files and click NEW FOLDER to create a new folder. Then click OK.
Tip: By default, the new folder will be named as SteamLibrary. If you want to use another name, just input it in the box before clicking OK.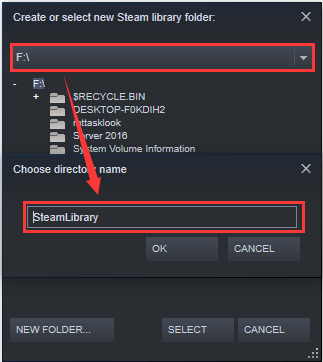 Step 6: Highlight the folder you create and click SELECT. Then you can start moving PUBG to the SSD.
Step 7: Go back to the homepage of Steam. Under LIBRARY tab, right-click PLAYERUNKNOWN'S BATTLEGROUNDS from the drop-down list of your games and select Properties.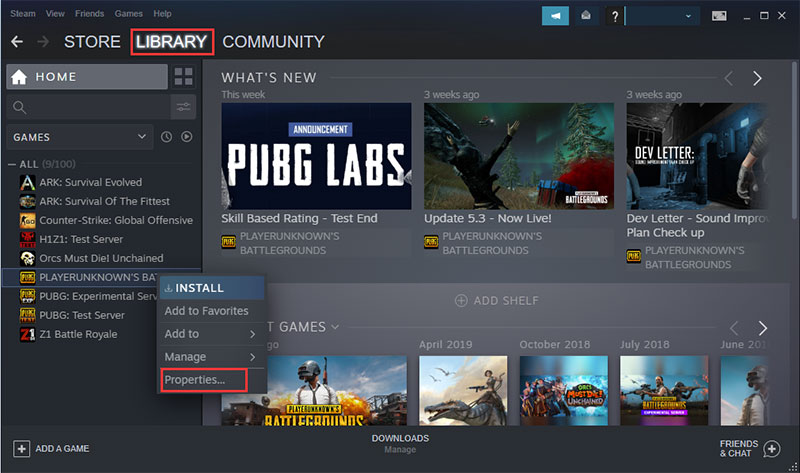 Step 8: Click LOCAL FILES tab and choose MOVE INSTALL FOLDER. Then select the SteamLibrary folder you just create on the SSD and click MOVE FOLDER to move the PUBG files to your SSD.
After you move PUBG files to the SSD, you can launch the game and check if it works fine.
Here are 7 solutions to buildings not loading in PUBG. I'd like to share with you.Click to Tweet
Bottom Line
In this post, I talk about 7 solutions to buildings not loading in PUBG. If you encounter this problem while playing the game, try them one by one. Some of solutions will work for you.
If you have any problems, please post them in the comment section and you will be replied as soon as possible. For any questions about MiniTool Partition Wizard, you can send us an email via [email protected].
PUBG Buildings Not Loading FAQ
Why does my PUBG not load buildings?
Reasons for PUBG not loading buildings are various. In most cases, the problem happens because of slow read and write speed of your hard drive, or when there is not enough RAM on your computer.
How to fix PUBG buildings not loading?
When you encounter PUBG not loading the texture of buildings, you can try press Tab immediately. If the problem still exists, you need to update your graphics card driver or try the other solutions mentioned in this post.