Is PUBG down on PC, PS4, or Xbox One? Why can't I play the game? Are you bothered by these questions? To figure out if PUBG is down, you need to check the PUBG server status. This post from the MiniTool Partition Wizard introduces a detailed tutorial.
PUBG, short for PUBG: Battlegrounds or PlayerUnknown's Battlegrounds, is an online multiplayer battle royale game. It is available on Microsoft Windows, PlayStation 4, PlayStation 5, Xbox One, Xbox Series X/S, iOS, and Android.
PUBG received positive reviews from critics and got several Game of the Year nominations. As one of the best-selling video games on PC and Xbox One, this game is quite popular among game lovers.
What Will Happen If PUBG Server Is Down?
As a massively multiplayer game, PUBG hosts servers all over the world, and here is a list:
Virginia, US
Ohio, US
California, US
Oregon, US
Canada
São Paulo, Brasil
Ireland
London, UK
Frankfurt, Germany
Mumbai, India
Japan
Seoul, Korea
Korea
Singapore
Sydney, Australia
Moscow, Russia
East Australia
South
Australia
Unfortunately, sometimes these servers will malfunction or be taken down by developers for maintenance. When PUBG servers are down, you will be unable to access the game or receive error messages, such as:
Connection to server lost
Unable to connect to server
Server is busy. Please try again later.
Unknown login error (serviceunavailable)
…
Therefore, when you receive any error messages related to the server, you should check whether there is something wrong with the PUBG server.
How to Check PUBG Server Status
The developers will take down PUBG servers when they begin maintenance, which usually happens for an update release or bug fixes. If the PUBG server status is down, you can do nothing but wait until the developers finish the maintenance.
How to check for PUBG server status? Generally, there are two methods.
Method 1: Check PUBG Server Status from Its Official Twitter
Every time when PUGB developers plan to start maintenance, they will announce it on Twitter. Therefore, visiting its official Twitter is an easy way to check PUBG server status.
You just need to open a web browser and open this link. Scroll down to search for any posts about maintenance or servers. You can also find out when the maintenance is expected to finish.
As you can see in the following screenshots, the latest maintenance happened on June 8.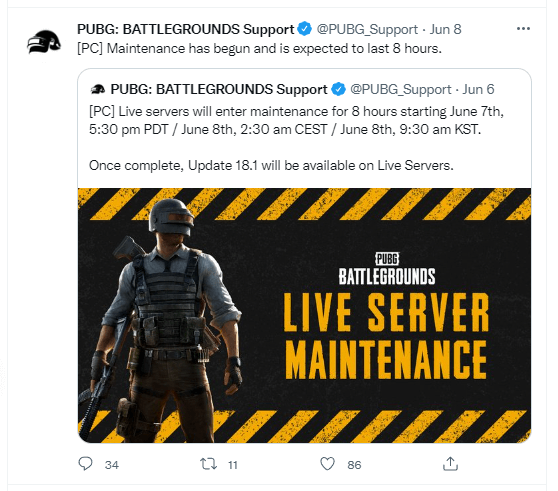 A few hours ago, PUBG solved connectivity issues related to server failure. You can get all the news about the server status changes from PUBG's Twitter.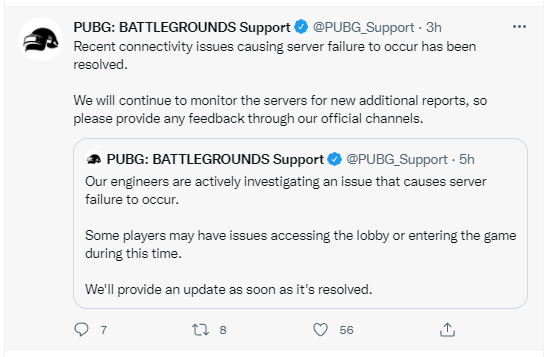 Method 2: Check PUBG Server Status from a Reliable Third-Party Website
In addition to PUBG's Twitter, you can check PUBG server status from a reliable third-party website, such as Downdetector. It displays PUBG outages reported in the last 24 hours.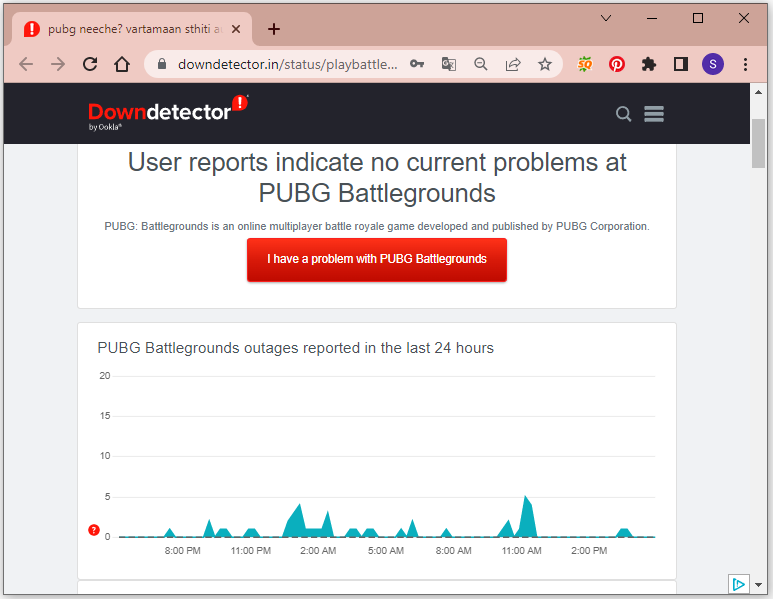 Further Tip: Troubleshoot Your Network
If the PUBG server status is up and running but you failed to connect to the server, you should check for network problems.
If you are playing the game on a video game console like Xbox One or PS4, you need to check the Xbox status and PSN service status as well when you encounter server issues.