It is well known that Xbox One Internal hard drive has a limited size. So, a large number of users want to get Xbox One extra storage. How to get more storage on Xbox One? This post of MiniTool will introduce many effective ways to you.
Xbox One is a widely popular home video game console developed by Microsoft. This game console comes with only 500GB of internal hard drive space, however, the game file sizes are getting bigger and bigger. For instance, Call of Duty Modern Warfare requires 1755GB hard drive space at least and Red Dead Redemption 2 requires 150GB storage space.
How to get more storage on Xbox One? Let's scroll down to learn more.
How to Check Xbox One Hard Drive Space
How much the Xbox One hard drive is used? It is an important part to get extra storage for Xbox One. Now, follow the steps below to check the used Xbox One hard drive space.
Step 1. Press the Xbox button on your console.
Step 2. In the Xbox One dashboard, select the options one by one: Profile & system >All Settings > System > Storage.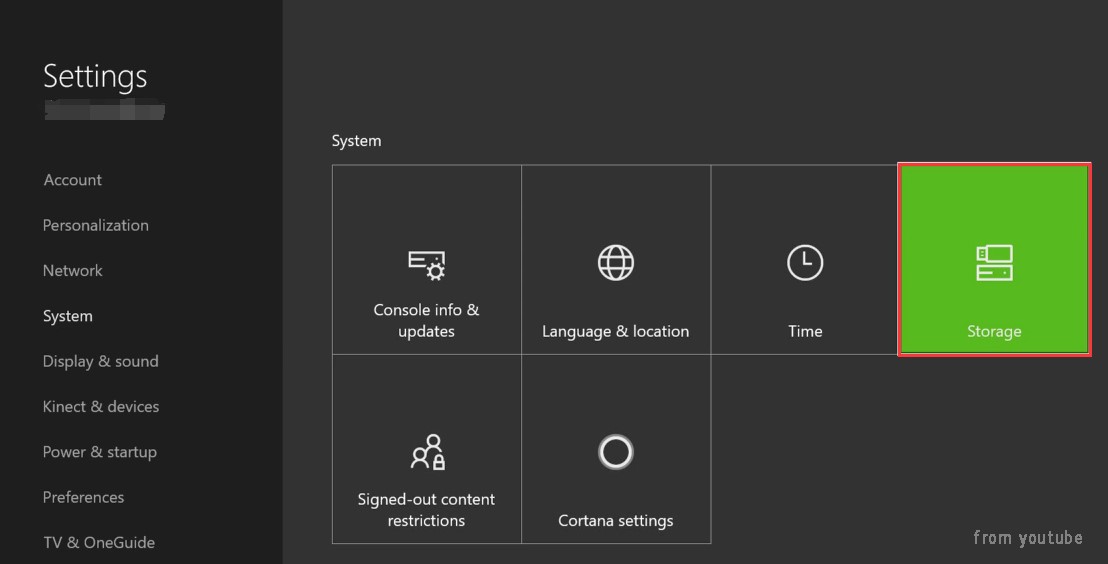 Step 3. Check the Xbox One screen that displays the percentage of space used, the available free space, etc.
Now, let's see how to add storage to Xbox One.
How to Get More Storage on Xbox One
How to get more GB on Xbox One? There are 3 accessible solutions to create Xbox One extra storage. You can choose one based on your own situation.
Solution 1. Remove Unwanted Games to Get Xbox One Extra Storage
The first and simplest method is to remove unwanted games, apps, and save data. According to the above section, you should know how much available space on your Xbox hard drive. Follow the steps below to delete unwanted games:
Step 1. In the Home screen of your Xbox One, select the My games & Apps from the left pane.
Step 2. Select Sort by Size from the drop-down menu, and then you will see how much space each game uses.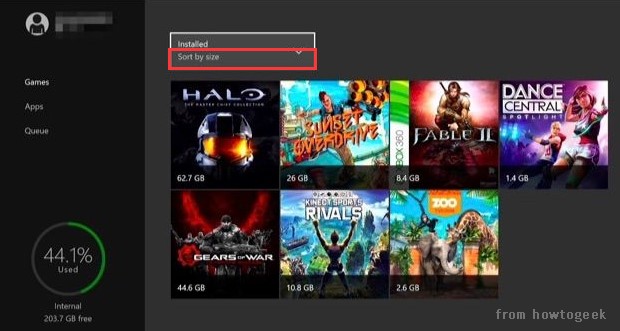 Step 3. Select the game that you want to remove and press the Menu button on the console, and then select Manage Game and you can view the used space for different Xbox profiles.
Step 4. Select Manage All > Uninstall All to delete the unwanted game and its saved data.
Tip: If your game is synchronized to Microsoft's servers, you still can download the game from Microsoft servers and restore it to the console.
This method can help you obtain extra storage for Xbox One. However, you have to delete some games and apps. How to get more storage on Xbox One without data loss? Let's keep reading.
Solution 2. Use an External Hard Drive
In addition to removing unwanted games, Microsoft allows you to use an external hard drive to add more Xbox One storage. Here is a simple tutorial to add an external hard drive to Xbox One:
Step 1. Prepare an external hard drive that has 256GB space at least and supports USB 3.0 or later port.
Step 2. Connect the external drive to Xbox One via the USB port. Once the external hard drive is recognized by your system, select Next to continue.
Step 3. Enter a name for the drive based on your demand and select the Install new thing here option to automatically install games on the drive.
Step 4. Click on the Format storage device button to format the external hard drive.
Step 5. After several seconds, you will see a prompted message saying external storage ready.
Now, you can configure Xbox One for future games and apps to install on the external drive.
Solution 3. Upgrade Your Internal Hard Drive
An external hard drive adds extra storage for Xbox One, but it is more vulnerable to damage due to a sudden shock or fall. A better choice is to upgrade your Xbox One internal hard drive to a larger one, which will not only add more space but improve the gameplay experience and accelerate browsing speed.
How to upgrade Xbox One hard drive without data loss? You can utilize a professional tool to copy all the partitions on the hard drive to a new one. Here MiniTool Partition Wizard is highly recommended. It is a trusted partition manager that can help you extend/resize partition, migrate OS to SSD, rebuild MBR, etc. To upgrade your Xbox One hard drive, you can read this post to learn more.