What is the registry? Why do I need to clean up Windows Registry? What are the best registry cleaners? You can find the answers in this article. What's more, you will learn about how to back up computer using MiniTool Partition Wizard to avoid data loss during registry clean.
What Is the Registry?
The registry, or Windows Registry, is a database that is used to store low-level settings for Windows operating system and most applications like device drivers, services, and so on. It contains information, settings, options, and other necessary values for programs and hardware installed on Microsoft Windows.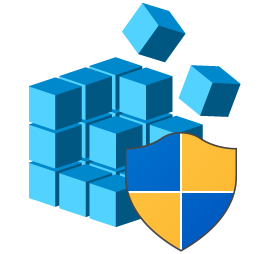 That is to say, Windows will refer to the registry when you are trying to open a program or change hardware. But you should know that not all the Windows applications use the registry for configurations. As a typical example, the configuration files of portable applications are usually held in their executables.
The registry has two basic elements: Keys and values. The relationship between keys and values is similar to that of folders and files. The value is contained in its key, and a key may contain values and subkeys. As for the location of a key, we often reference it with a syntax that is similar to the path name in Windows.
To get further information about the registry, you can check this article.
Why do You Need to Clean up Registry?
Every time you install a new application, new registry entries will come up in the database. And after you uninstall a program, its relevant registry will become old and useless. Although your Windows can always keep the registry up to date, it cannot clean it up automatically. So, you have to clean up registry by yourself.
Generally speaking, you might want to clean up your registry for the following reasons:
To improve the performance of your computer. If there are too many old entries accumulated in the registry, you might receive various error messages while operating with your computer and your device will obviously slow down.
To remove potential threats from malware. If you have installed any malicious applications on your computer and then uninstalled it, there are still some remnants in the registry that may also cause some critical errors and affect your computer performance. So, you need to clean up the registry to remove all the leftover.
To protect your personal information. Some data related to an uninstalled program may still be saved in the registry, such as sign-in information, associated email address, and related private data. If you don't clean up the registry, someone who can access your device may obtain your personal information even if you've removed all the related files/folders.
Top 10 Free Registry Cleaner for Windows 10
Theoretically, you can clean up registry manually via the Registry Editor, but it is a time-consuming and risky task. If you delete a critical entry by mistake or make any wrong changes, it is possible to cause unrecoverable damage for your computer.
Therefore, to clean up registry completely, efficiently, and safely, you had better use a registry cleaner. Here, 10 free registry cleaners Windows 10 are listed. Let's check them out, and you can choose one according to your preferences and needs.
10 Free Registry Cleaner Windows 10
Wise Registry Cleaner
CCleaner
Advanced SystemCare
Auslogics Registry Cleaner
SysTweak RegClean Pro
Iolo System Mechanic
SlimCleaner
EasyCleaner
JetClean
AVG TuneUp
1. Wise Registry Cleaner
Compatible with Windows XP/Vista/7/8/10 of both 32-bit and 64-bit, Wise Registry Cleaner is popular among users for its fast registry cleaning, automatic registry backup, scheduled cleanup, and various scan modes. It also provides the feature of System Tuneup and Registry Defrag to help you improve the computer performance.
Besides, it supports scanning and cleaning registry of all users with an administrator user. This multi-user cleaning feature is not available in Free edition and you need to pay for it. It is worth mentioning that this program might attempt to install other programs during the setup.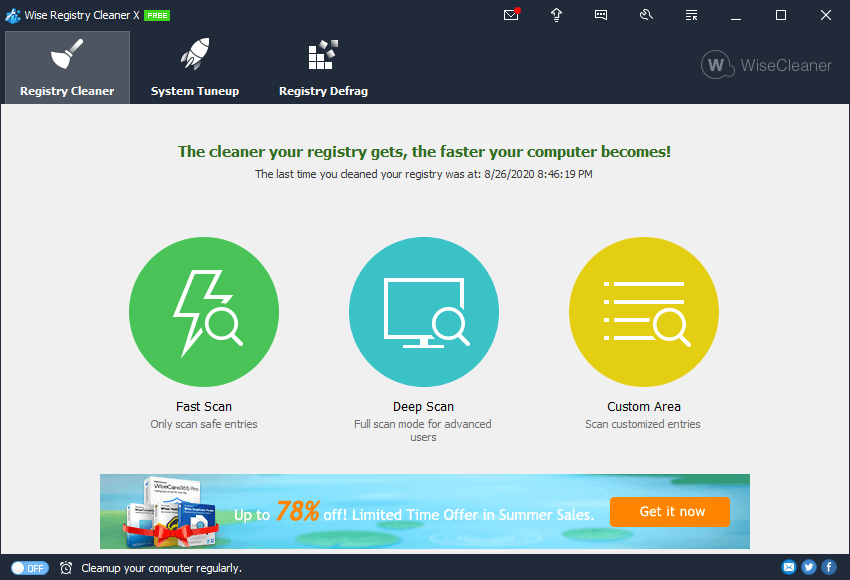 2. CCleaner
For most common users, CCleaner is the best registry cleaner. As an all-in-one tool for PC cleaning, it allows users to clean up registry with a few clicks in seconds. It is a good choice for those who don't know much about the PC cleanup. You can also get more advanced features in paid editions if you need.
Apart from the Registry Cleaner feature, it also provides other useful utilities to help you keep your computer in good shape. It does good jobs in protecting your privacy, ensuring safe browsing, and optimizing your computer.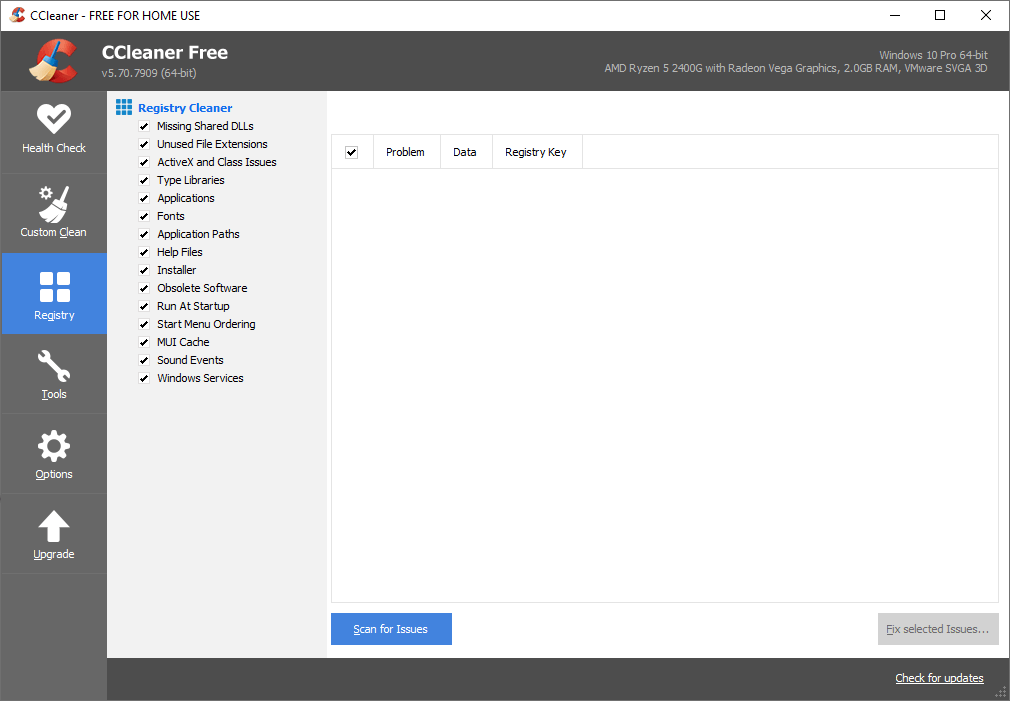 CCleaner was hacked at the end of 2017 and many users are worried about being infected by malware. Is CCleaner safe? This is a common question among users. Actually, CCleaner has been updated and its security has been greatly improved.
3. Advanced SystemCare
Advanced SystemCare, developed by IObit, is a professional and user-friendly Windows registry cleaner. It has a technological user interface and provides multiple tools. It allows you to make a customized scan for cleaning and optimization of specific items.
Besides, it can protect your online privacy, monitor your system resource in real-time, and boost computer performance effectively. Similar to CCleaner, Advanced SystemCare is also an ideal choice for beginners.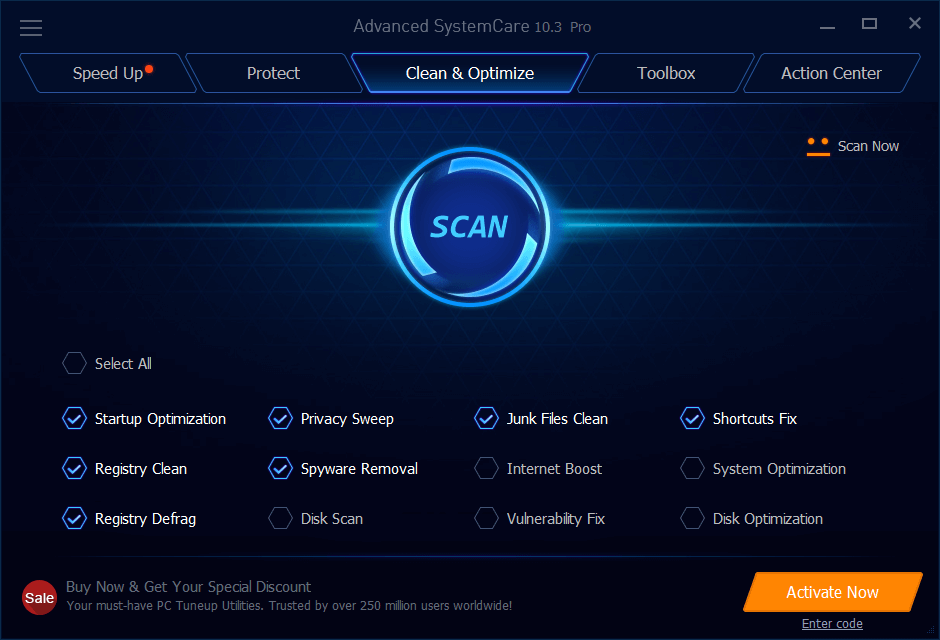 4. Auslogics Registry Cleaner
Auslogics Registry Cleaner is another professional tool that can help you clear invalid entries from the registry. It aims to limit program crashes and keep the system stable and tidy. More importantly, Auslogics highlights the registry area that requires the most attention. With the colored severity rating, you can learn about the status of the registry at a glance.
It also has bundled programs, but you can decline the extra installation if you don't need.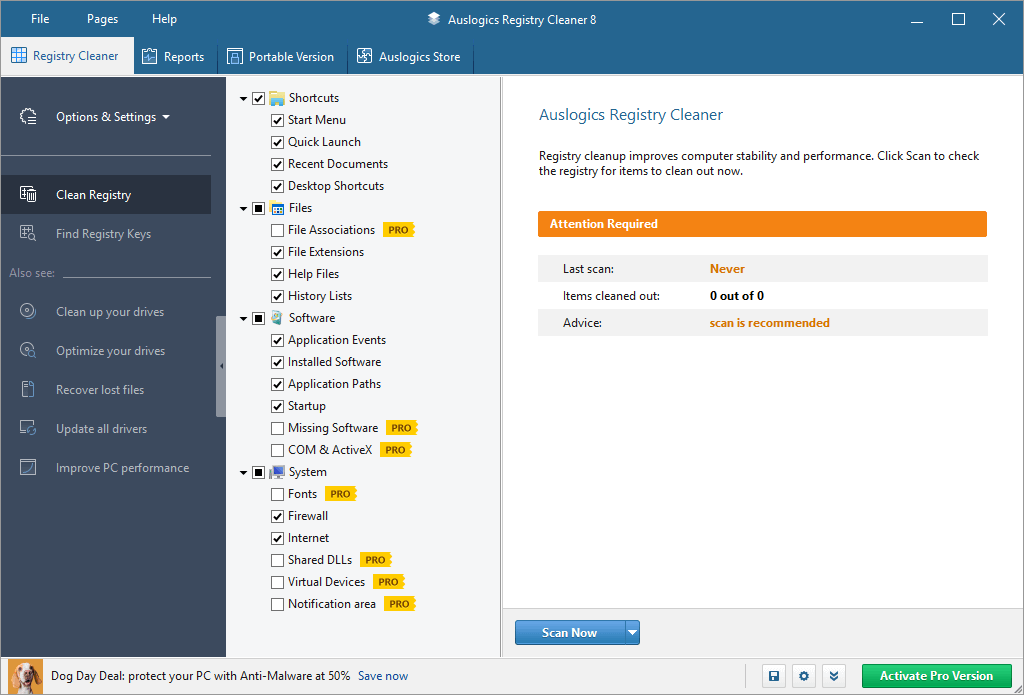 5. SysTweak RegClean Pro
SysTweak RegClean Pro can help to clean, repair, and optimize the Windows registry. It supports multi-user cleaning and scheduled registry cleaning, which is similar to Wise Registry Cleaner. As a reliable computer optimizer, it can also:
Protect system from malware and reduce system crashes.
Update necessary drivers to boost your computer speed.
Allow customized scan areas.
Improve gaming experience.
Keep personal data safe.
6. Iolo System Mechanic
Iolo System Mechanic is an advanced PC tuneup utility which can help you defrag, compact, optimize, and back up the registry. And you can learn about the detailed problems on your computer and possible solutions from the provided personalized report.
With the patented performance technology, this tool can effectively boost the startup and download speed, and improve the performance of your CPU and graphics. Besides, you can choose Quick Scan or Deep Scan mode to clean up to 50 types of junk files, including your browsing and chatting history and cache.
It only supports Windows operating system. Some of its advanced features are not available in Free edition, and you need to pay for higher edition to get full functions.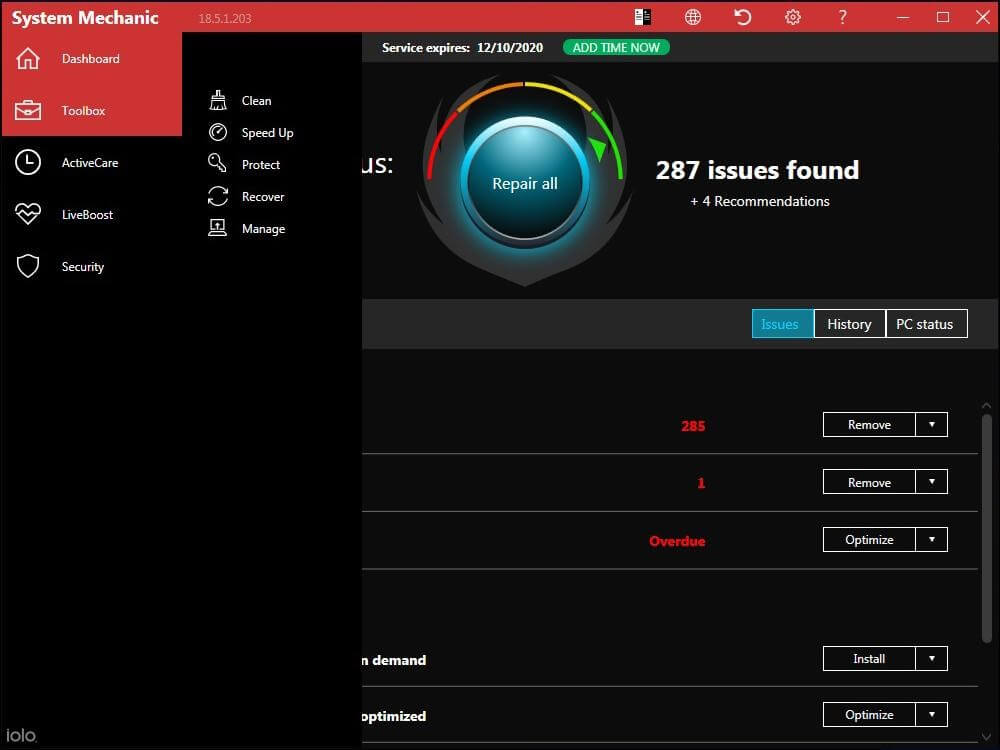 7. SlimCleaner
SlimCleaner is a professional PC optimizer. It allows users to manage disk space, startup items, and installed software easily. You can also use it to clean up various files including registry, but it doesn't provide a specialized registry cleaning module.
It provides power management mode and performance boost mode, and can give you an alert if there are unwanted startup items.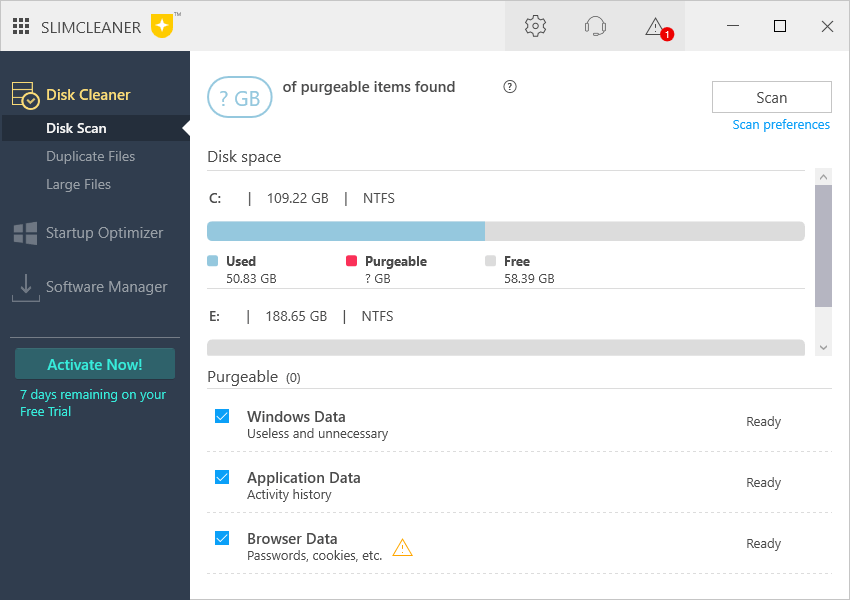 8. EasyCleaner
Compared with other Windows registry cleaners, EasyCleaner is a quite old tool, but it can also do a good job in cleaning up registry. It has a quite simple and old-looking interface. By deleting invalid registry entries and other unnecessary files, it can boost your computer performance.
This tool can work perfectly in Windows XP/2000/NT/ME/98/95.Therefore, EasyCleaner is the best registry cleaner if you want to clean up registry for a Windows computer of an old version. Besides, it is a portable program, and you can use it immediately after extracting the downloaded package. It takes more time for scanning than the mentioned registry cleaners here.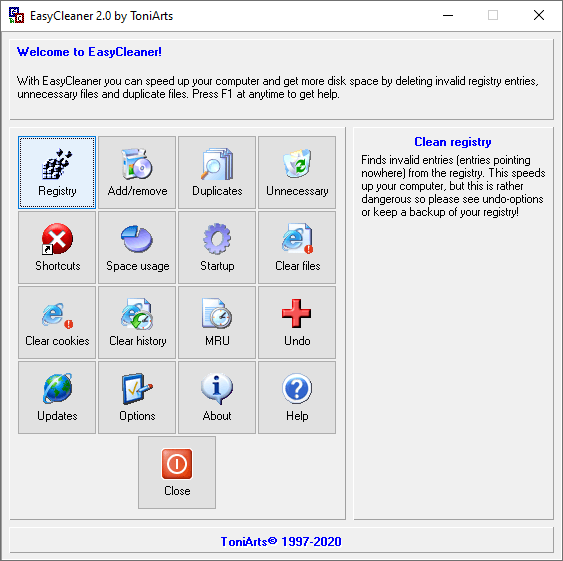 9. JetClean
JetClean is an efficient and lightweight Windows registry cleaner. Besides registry clean, this tool can also make deep cleanup for your Windows, apps, shortcuts, and RAM. You are able to clean junk files and unneeded registry entries to improve PC performance by one simple click.
JetClean provides various filter options which allow you to perform cleanup in a targeted manner. Besides, you can generate a portable version of it easily and put it in your USB drive, so that you can clean up and optimize any PC anywhere.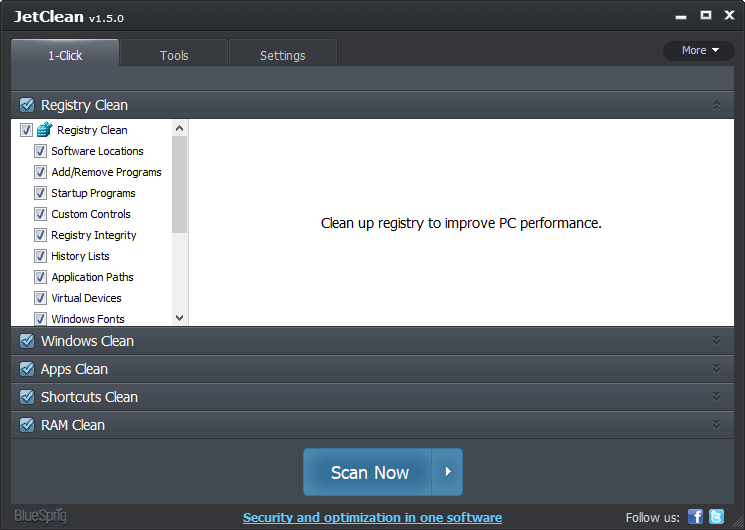 10. AVG TuneUp
AVG TuneUp is an easy-to-use program that can help you clean up registry as well as fix broken registry items. This tool provides 4 major modules for users, including Maintenance, Speed up, Free up space, and Fix problems.
It can get all your programs updated with a simple click, free up your storage space, remove unwanted bloatware and junk programs, and optimize your computer by putting resource-draining programs to sleep.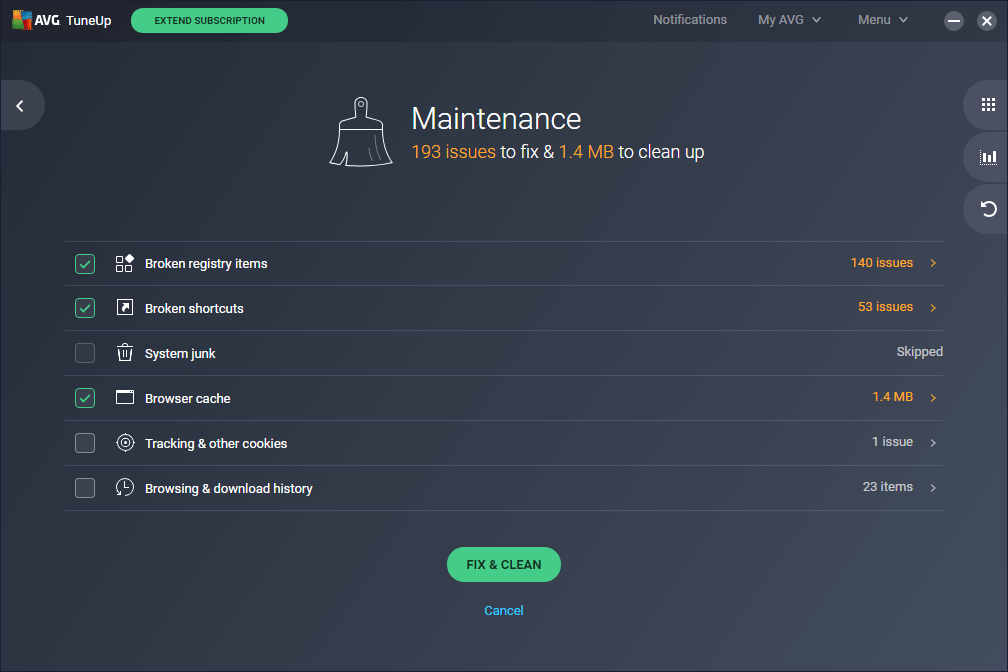 Are you planning to clean up registry for your computer? Here are 10 free registry cleaner tools for you.Click to Tweet
Bonus Tip: Back up Your Computer Before Registry Clean
As mentioned before, improper changes for registry may lead to unrecoverable damages, so you'd better make a backup in advance. Commonly, you can back up the registry for a certain item manually or using the provided feature of your registry cleaner.
However, you might also encounter some problems even if you are using a registry cleaner. In some cases, the downloaded registry cleaner itself or its bundled programs may attack your computer and crash system down. So, when you are not sure if the tool is safe, you should back up your data together with the operating system at first.
To back up your computer, you can try MiniTool Partition Wizard, a reliable and professional disk manager. Just click the button below to obtain this tool and follow the given instructions to proceed.
Step 1: Prepare an external storage device that can hold all your data and connect it to your computer. Launch MiniTool Partition Wizard program.
Step 2: Select the original disk and choose Copy disk from the left pane.
Step 3: Choose the connected device as the target disk and click Next. Make configurations for the new disk as your needs and click Next button.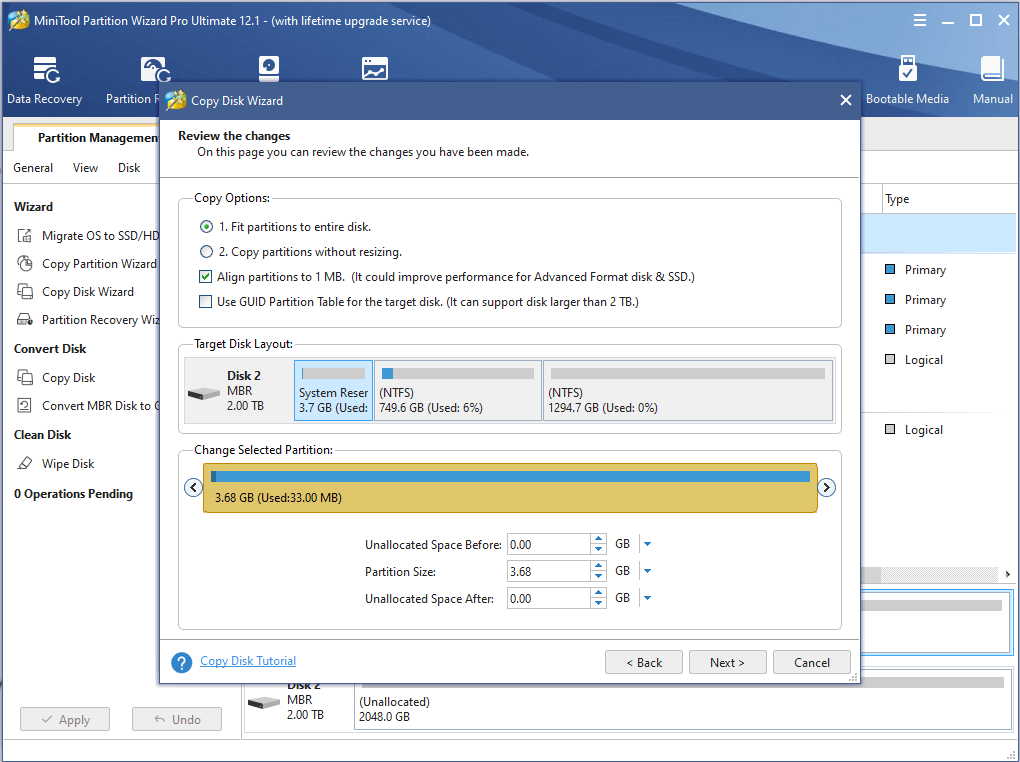 Step 4: Read the given note and click Finish button to go back to the main interface. Click Apply button to execute the operation.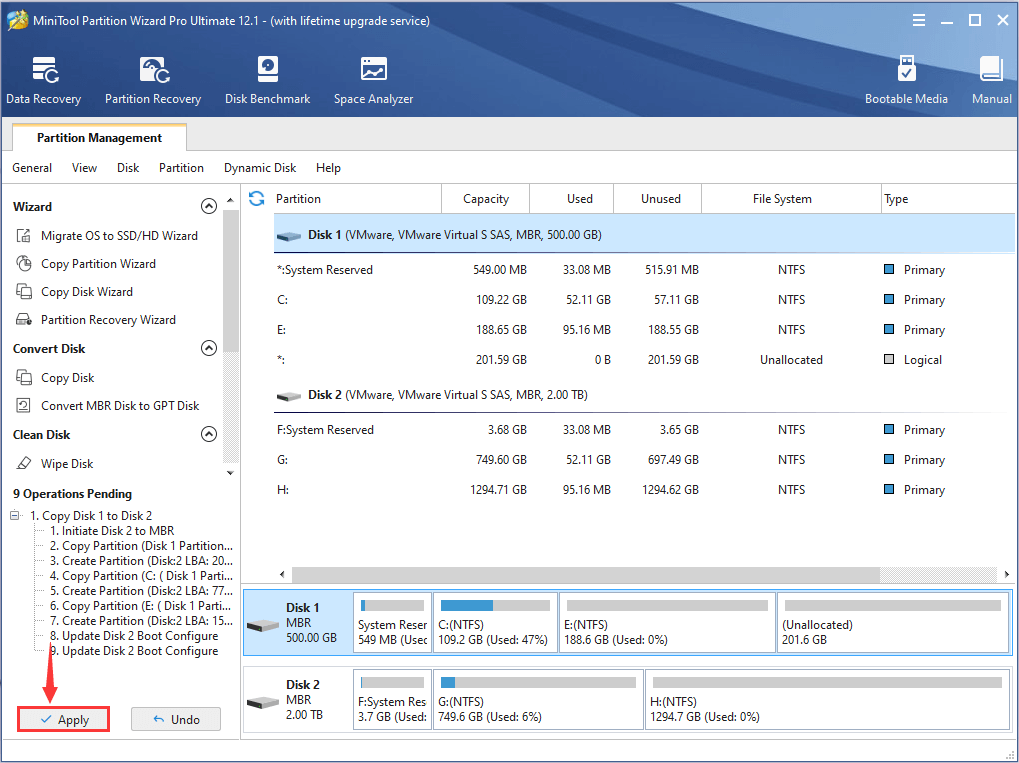 After backing up computer, you can clean up the registry with your preferred registry cleaner Windows 10 without any worries.
Bottom Line
This post has introduced the Windows registry and explained why you need to clean up registry. It has also listed top 10 free registry cleaners for Windows 10 and the way to back up your computer. Hopefully, you can benefit from this post.
If you have any problems with this post, you can leave your idea in the following comment zone. You can also share your experience in cleaning up registry with us. If you want to know more about MiniTool program, you can check the user manual or contact use via [email protected].
Free Registry Cleaner FAQ
Are registry cleaners safe?
Most registry cleaners are safe to use and can help you clean up registry efficiently. But some registry cleaner programs may be poorly developed or bundled with other malicious applications, and they are likely to cause certain problems with your computer.
What is the best registry cleaner?
Well, the answer might be different for different users. The best registry cleaner should work properly on your computer and effectively clean up registry in your case. Here are 10 free registry cleaners in this post, and you can choose a best registry cleaner according to your own situation.
How do I know if my registry is corrupted?
The registry might run into certain errors and even get corrupted easily for various reasons. Your registry might be corrupted and you need to fix broken registry if you are facing these facts:
Your system takes long time to start.
You cannot open any installed applications.
Your computer performance is greatly decrease.
You receive blue screen message after a restart.
How do I manually clean my registry?
You are not recommended to clean registry manually, as any misoperation may cause damage to your computer. But if you have to do that, you can back up your registry and follow the steps below:
Press Windows + R to open Run
Input regedit and click OK to open Registry Editor.
Locate the registry you want to remove, right-click it and choose Delete.