A great many gamers complain about the Fallout 4 low FPS issue on PC. What causes the Fallout 4 frame drop problem? How to improve Fallout 4 FPS? Now, let's explore the answers together with MiniTool.
Fallout 4 is an action role-playing game released on November 10, 2015. It is available on Microsoft Windows, Xbox One, and PlayStation 4. There is no doubt that Fallout 4 is an amazing game. However, various issues also come up with the game such as Fallout 4 crashing, Fallout 4 long loading times, Fallout 4 mods not working, and the one discussed in this post.
What Causes Fallout 4 Low FPS
Fallout 4 low FPS is one of the most common issues that many PC gamers encounter. As it's well known, Fallout 4 has received many negative comments due to its poor optimization. Since its release, this game has always experienced performance losses, stuttering, lagging, FPS drops, and everything of the like. This makes people mod Fallout 4 on PC to get the game in a workable state.
In addition, the Fallout 4 random FPS drops problem also occurs due to some known causes. Many gamers reported that Fallout 4 frame drops when the VSync is turned on. Furthermore, other settings like Vibration, Controller, high God rays, and Draw Distance are also responsible for the problem.
Fortunately, we summarized several effective ways to fix Fallout 4 low FPS after investigating extensive user reports and posts. Let's see how to get more FPS in Fallout 4.
How to Improve Fallout 4 FPS
How to improve FPS in Fallout 4? You can try the following 5 proven ways in order until the Fallout 4 frame rate drops problem gets solved.
# 1. Check Your System Hardware
Before you start trying other fixes, we recommend you check if your computer meets the basic system requirements of Fallout 4. If you don't know how to check PC specs, this post provides a full guide.
Operating System: Windows 10/8/7 (64-bit required)
Processor: Intel Core i5-2300 2.8GHz / AMD Phenom II X4 945 3.0GHz or equivalent
Memory: 8 GB
Hard disk: at least 30 GB of free space
Video: NVIDIA GTX 550 Ti 2GB / AMD Radeon HD 7870 2GB or equivalent
Graphics Memory: 2 GB
To know more details on how to upgrade the hardware, you can refer to the following guides:
# 2. Turn off the Vibration and Controller Settings
Many players reported that the Fallout 4 random FPS drops when they turned on the Vibration for the game as well as the controller. In this case, disabling the Vibration settings may help you fix the problem.
Step 1. Launch your Fallout 4 game and load the main menu. Once you are inside the game, go to the Pause Menu and select Settings.
Step 2. Go to the Gameplay tab and scroll down the list of settings to the Vibration and Controller sections. Once you find them, simply turn them Off.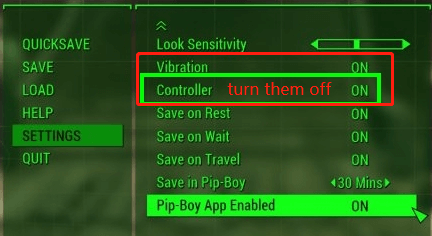 Step 3. Exit the Pause menu and restart the game to check if the Fallout 4 framerate drop issue is fixed.
# 3. Turn off the Built-in VSync
VSync is a built-in feature in Fallout 4 that can be used to regulate the game's frame rate and the refresh rate of the monitor. However, VSync was designed for 30fps on consoles. If you turn on the VSync or sync higher, the Fallout 4 framerate drop issue can occur. Here you can try disabling this feature and see if it works.
Step 1. Exit the game completely by ending it via Task Manager.
Step 2. Press Win + E keys to open the File Explorer, and then navigate to the following Fallout 4 installation directory path.
This PC/Documents/My Games/Fallout4
Tip: If you can't find the Fallout 4 directory, you can open the Steam client, and then navigate to Library, right-click the Fallout 4 game and select Properties, go to the Local Files tab and click on Browse local files. Then you will open the local files of the game.
Step 3. Inside the Fallout 4 folder, right-click the Fallout4Prefs.ini file and select Open with Notepad.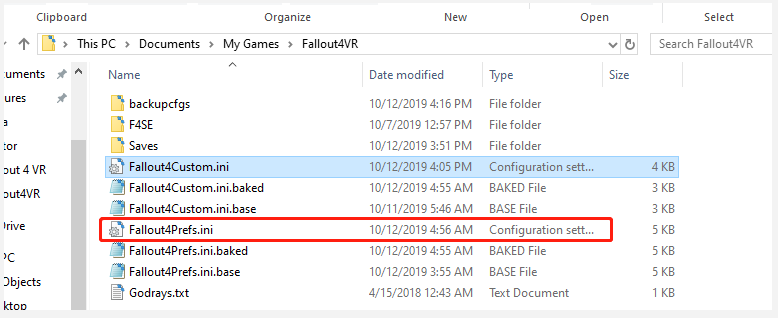 Step 4. In the Notepad window, locate the iPresentInterval=1 line and replace 1 with 0. Then press Ctrl + S keys to save the change. If it is not here, you can add the line and set its value to 0.
Step 5. If there is a file name Fallout 4.ini or Fallout4_Default.ini, you need to do the same procedure as Step 4 to set the iPresentInterval value to 0.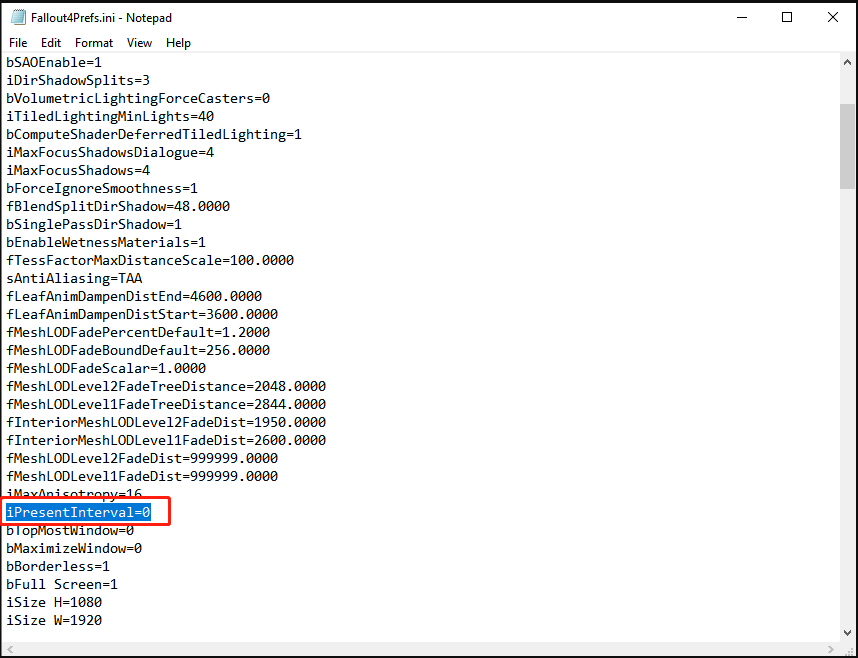 Once done, restart the game and check if the Fallout 4 low FPS issue disappears.
# 4. Turn the God Rays to Low
Another possible reason for Fallout 4 random FPS drops is the high value of the God Rays. In this case, you can try lowering the God Rays. For that:
Step 1. Repeat Step 1 and Step 2 in # 1 to locate the Fallout 4 path.
Step 2. Under the directory, find a file named Fallout4Custom.ini, right-click it and select Open with Notepad.
Step 3. In the pop-up window, add the following lines and save the change.
[General]
sStartingConsoleCommand=gr off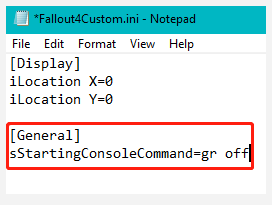 # 5. Close All Unnecessary Processes
If there are too many CPU or GPU-hogging processes running in the background, it may trigger the Fallout 4 frame rate drops issue. In this case, closing them can help you fix the problem.
Step 1. Press Ctrl + Shift + ESC keys to open Task Manager and click on More details.
Step 2. In the Processes tab, right-click the unnecessary programs and select End task. Then repeat this progress to close other tasks.