Summary :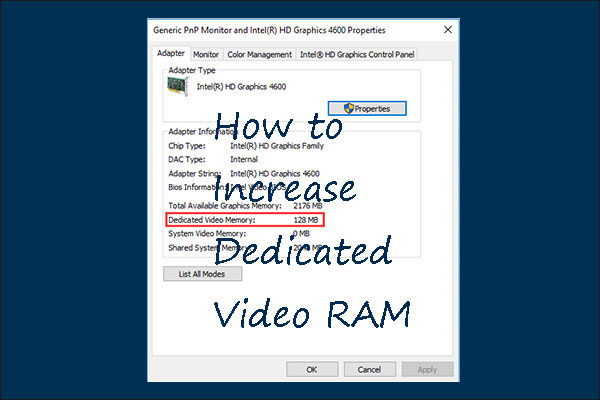 Are you unable to run some games or applications on your computer? Maybe this lies in insufficient dedicated Video RAM. But what is dedicated Video RAM is? How to increase it on laptops? In this post, MiniTool answers the two questions.
Dedicated Video RAM
What is dedicated Video RAM? Video RAM, also known as VRAM, is a special type of RAM that is required when you want to buffer the high-quality visual display to your system monitor.
VARM is used for processing high-intensity video faster than the system RAM. It can enhance computer performance by allowing the GPU to fetch information and beam it to your monitor in a hasty manner.
Why do you need to increase dedicated Video RAM? Although having more VRAM does not indicate that your computer performance will be boost necessarily, having insufficient VRAM does mean that your system will make use of standard RAM. This can lead to a slower computer, lower frame rate, and other similar situations.
Now, do you want to increase dedicated Video RAM? If yes, please keep reading.
Check the Amount of VRAM on Your Graphics Card
Before showing you the tutorials on how to increase Video RAM on laptops, we would like to show you how to check the amount of VARM on your graphics card.
Here is the tutorial.
Step 1: Navigate to Start menu > Settings > System > Display.
Step 2: Scroll down the Display menu until you find Display adapter properties and click it.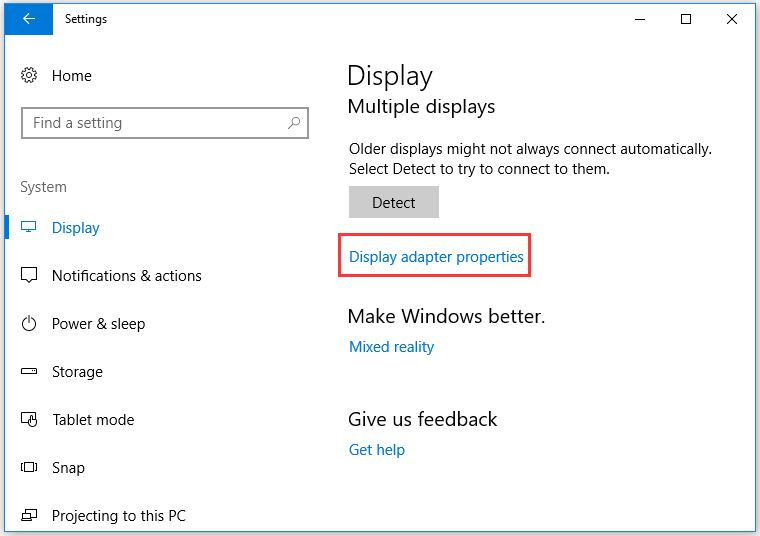 Step 3: Under the Adapter tab of the newly popping-up window, you will see what the adapter type is and other graphics information. Check how much dedicated video RAM your graphics card on your system.
Note: For most integrated graphics cards, the amount of VRAM displayed on the Display adapter properties window is not always genuine because the system will automatically adjust it depending on the applications you run.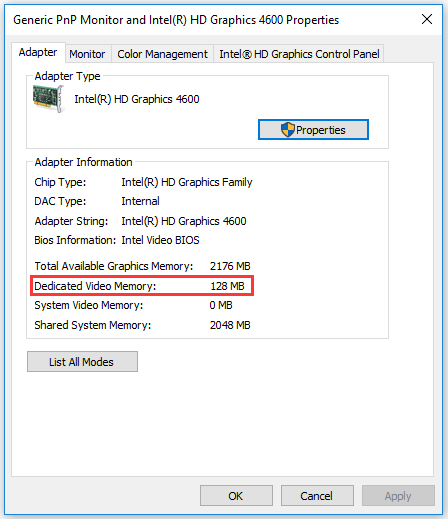 Let's move to the following part to know how to increase dedicated Video RAM.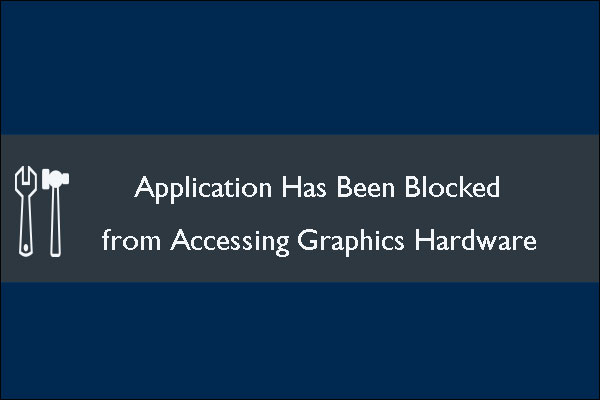 Have you ever received the error "Application has been blocked from accessing Graphics hardware" when launching a game? This post shows you how to fix it.
Two Ways to Increase Dedicated Video RAM
Here are two ways to help you increase dedicated Video RAM to run some games and applications.
increasing dedicated Video RAM via BIOS;
increasing dedicated Video RAM via Registry Editor.
Note: The first method will not work for all motherboards. You can directly try the second method and this method is just for integrated Intel graphics cards.
Way 1: Increase Dedicated Video RAM via BIOS
Step 1: Save all your unfinished works and then reboot your computer. During the bootup, please press the F2/F5/F8/Del key repeatedly to enter the BIOS menu.
Step 2: In the BIOS menu, switch to the Advanced tab. On this tab, click Video setting, Graphics settings or VGA Share Memory Size. If you cannot find any one of these options, look for a category with a similar option.
Step 3: Customize the memory size that is best suits for your task.
Tip: The default memory allocated to GPU is 128MB. You can switch the default number to 256MB or 512MB.
Step 4: Save the changes and restart your computer to complete these changes.
Way 2: Increase Dedicated Video RAM via Registry Editor
Note:
Making improper changes in Registry Editor can lead to irreversible damage. So, it is highly recommended you
back up your computer
before making some changes in Registry Editor.
The following tutorial is only applicable for integrated Intel graphics cards.
Step 1: Launch Registry Editor.
Press Windows + R to call out the Run
On the Run window, type regedit and then click OK.
Step 2: On the Registry Editor window, navigate to the following path:
HKEY_LOCAL_MACHINE > Software > Intel
Step 3: Right-click the Intel key, choose New > Key, and name it as GMM.
Step 4: Right-click the GMM key, choose New > DWORD (32-bit) Value, and name it as DedicatedSegmentSize.
Step 5: Double-click the DedicatedSegmentSize DWORD, select Decimal and then set its value from 0 to 520.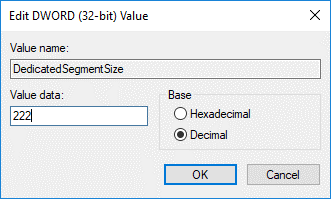 Step 6: Click OK to save the changes and then restart your computer to execute the changes.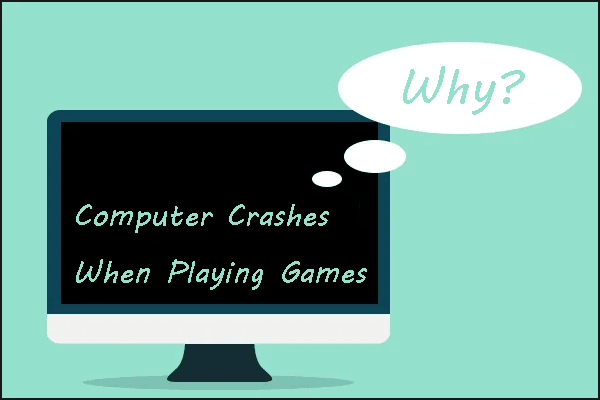 As a game lover, you may run into computer crashes when playing games. This article offers some solutions to this issue.