Looking for ways to make a backup for Windows 10/8/7 computer but don't know which one should be chosen, disk cloning or imaging? This post will walk you through some information about clone VS image as well as how to clone a hard drive and image a hard drive with MiniTool ShadowMaker.
Overview of Backup Methods
"Hello Everyone,
Can u help to explain these two things, image VS
clone.
-Which one that we should use to prevent hard drive
failure or Windows stop working?
Thanks" eightforums
As is well known, clone and image are two types of backup methods for computer protection by creating an exact record of your drive.
All the files on your drive along with the master boot record and everything required for Windows to boot are included. Once there is something wrong with your hard drive or Windows operating system gets corrupted hopelessly, a clone or image backup can get your computer back to work quickly.
Well then, when should you image a hard drive or clone a hard drive? What's the difference between image and clone?
When you search for "clone VS image" in Google, you will find some users also have a doubt about this topic. Now, the following is some information about these two backup methods. Keep reading.
Clone VS Image
①Defining Terms
What Is Hard Drive Cloning?
What does disk cloning mean? Perhaps you are looking for the answer.
In a nutshell, it refers to the process of copying all the contents including Windows boot records, files, settings, and programs on your hard drive to another disk.
Moreover, an exact same copy of the source disk is created, no compression. Namely, the contents of the destination disk are identically the same as the source disk. Once your hard drive fails, you can remove it and use the target disk containing the copy of source disk to replace it immediately, and no data loss appears.
What Is Hard Drive Imaging?
When it comes to disk imaging, it is like creating a large compressed file of your drive. And all files needed for Windows to run, as well as everything you have stored on your hard drive, will be compressed to an image.
Due to the compression nature, you can save multiple images on your hard drive as long as there is enough disk space. Usually, external hard drives are chosen.
Through disk imaging, multiple full backups, incremental backups, and differential backups can be saved on one disk to better keep data safe. But note that the image file can only be used by the program that created it.
②Scenarios for Hard Drive Cloning and Hard Drive Imaging
Now, after knowing "clone VS image" in definition aspect, now let's get the scoop on disk imaging VS disk cloning in usage situation aspect. Please choose the proper one based on the actual needs.
When to Clone a Hard Drive?
Actually, disk cloning is selected to upgrade a disk to a larger or faster drive. In other words, if you want to move all contents on your source disk to another disk for more storage space or better performance, cloning will be the easier solution.
You only need to plug in the target drive, run a hard drive cloning software and do the job.
Besides, disk cloning makes a lot of sense to replace a damaged disk. When a disk failure occurs, the target disk can be used directly to replace the source drive.
As for system disk cloning, you are able to boot your computer from the target disk in the event of the OS disk failure. This can minimize downtime. In one word, cloning is great for a speedy recovery.
When to Image a Hard Drive?
Hard drive imaging offers you greater flexibility while backing up a computer. As mentioned above, several images can be saved on a sufficiently large external hard drive.
This makes it easier and more economical to back up multiple computers or save several backup versions of the same disk. But only one clone can be saved on a drive.
More importantly, imaging offers you many backup options, for example, incremental backup and differential backup, which can record how the data of your disk changes day by day. To sum up, disk imaging plays an important role in most situations since it is more flexible and takes up less storage.
By reading "clone VS image" section, you know clearly the difference between image and clone. Maybe now you are curious about how to clone a hard disk or create an image backup in Windows 10/8/7. Follow the guide in the following part.
How to Clone a Hard Drive in Windows 10/8/7?
To make a successful disk cloning, you should ask a third-party program for help. Which one should you use? Here, we recommend using MiniTool programs – MiniTool ShadowMaker and MiniTool Partition Wizard, which are gaining great popularity from users worldwide.
MiniTool ShadowMaker
MiniTool ShadowMaker, the dedicated free backup software, is developed to create an image backup. Besides, it has another important feature called Clone Disk, enabling you to copy all data from a disk to another disk for disk upgrade or hard drive replacement in Windows 10/8/7.
Don't hesitate! Free download this hard drive cloning software for a try right now!
MiniTool ShadowMaker TrialClick to Download100%Clean & Safe
Step 1: Run MiniTool ShadowMaker
Double-click this program that has been installed on your computer.
Then, enter a small window to choose one computer to manage.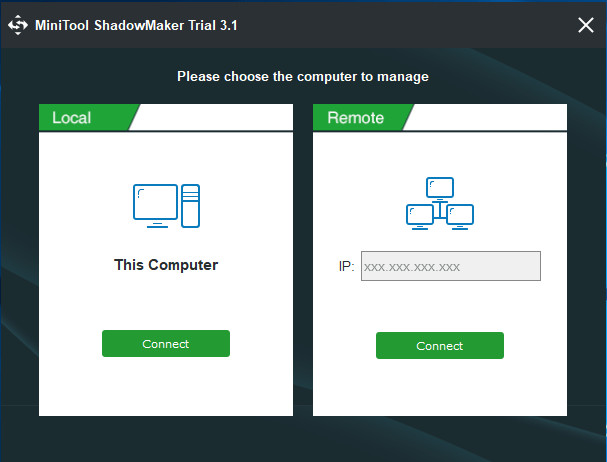 Step 2: Find the Cloning Feature
Next, please choose the Clone Disk feature which is located in Tools page.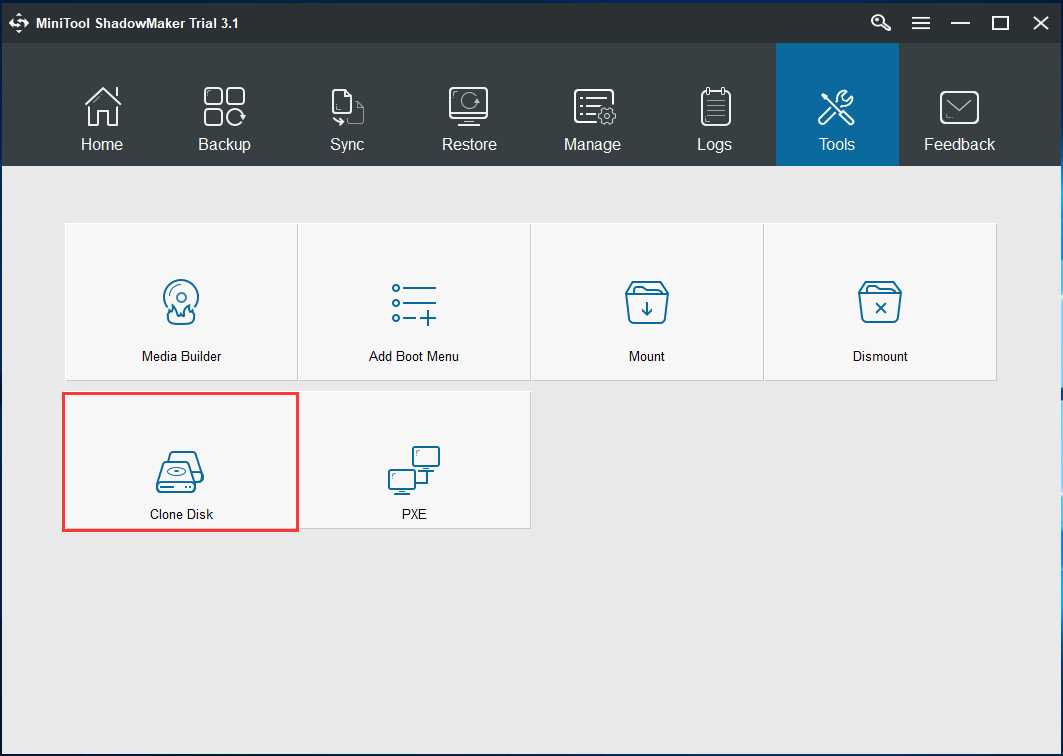 Step 3: Specify Cloning Disks
A small pop-out window appears.
You should choose a source disk and a target disk for the disk cloning by clicking the corresponding section.
Note:
a) In most cases, to choose a system disk as the source disk is a good option.
b) From "clone VS image" part, you know disk cloning copies all data. Hence, please make sure there is enough disk space on your target disk so as to hold all source data.
c) After completing the selection, click the OK button. Then, a warning appears telling you all target disk data will be destroyed. Consequently, ensure no important files are saved on this disk or back up them in advance.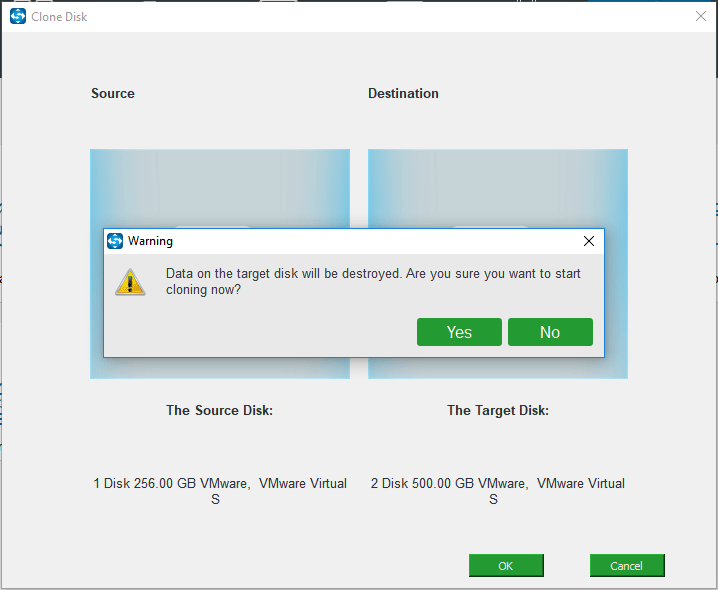 Step 4: Start Disk Cloning
Now, MiniTool ShadowMaker is performing disk cloning operation. Please wait patiently. In the following figure, you can see the option Shut down the computer when the operation is completed. Check it when there is a need.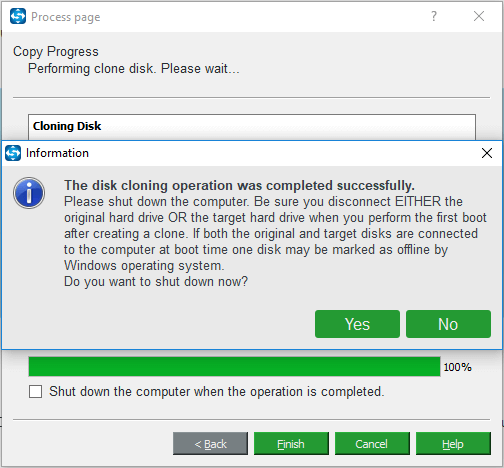 After the disk cloning, both source disk and target disk are exactly identical. As a result, Windows operating system marks one disk as offline.
If you aim at backing up disk, just shut down the computer, and remove the target disk.
If you want to keep both of them, you can enter BIOS and change the boot order to boot your Windows 10/8/7 computer from the target disk.
"After knowing some knowledge about clone VS image, I know I should choose disk cloning for my disk upgrade. Thankfully, MiniTool ShadowMaker helps me much."Click to Tweet
MiniTool Partition Wizard
MiniTool Partition Wizard, another professional disk cloning software, can provide help for you in cloning a hard drive. It is an easy-to-use and full-featured tool and is compatible with Windows 10/8/7. Firstly, please download and install MiniTool Partition Wizard Free Edition.
MiniTool Partition Wizard FreeClick to Download100%Clean & Safe
Step 1: Choose a Feature for Disk Cloning
Migrate OS to SSD/HD is suitable to only transfer OS or copy system disk to another hard drive.
Copy Disk can help to copy system disk as well as a data disk.
Here, we choose this feature as an example. Just click it in the left action panel.
Step 2: Select Target Disk
Determine which disk you want to choose as the target disk to save the source data. Similarly, the cloning process will overwrite the target disk. Ensure no important files are on this disk.
Click OK to go on.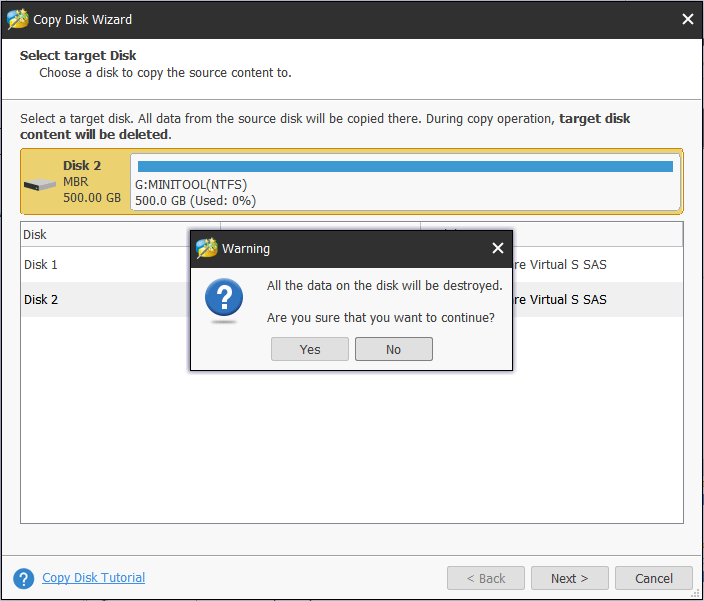 Step 3: Choose a Copy Option
Select one copy option based on your need.
Besides, check Use GUID Partition Table for the target disk if you want to clone disk to GPT. But this feature is included in the Professional or an advanced edition.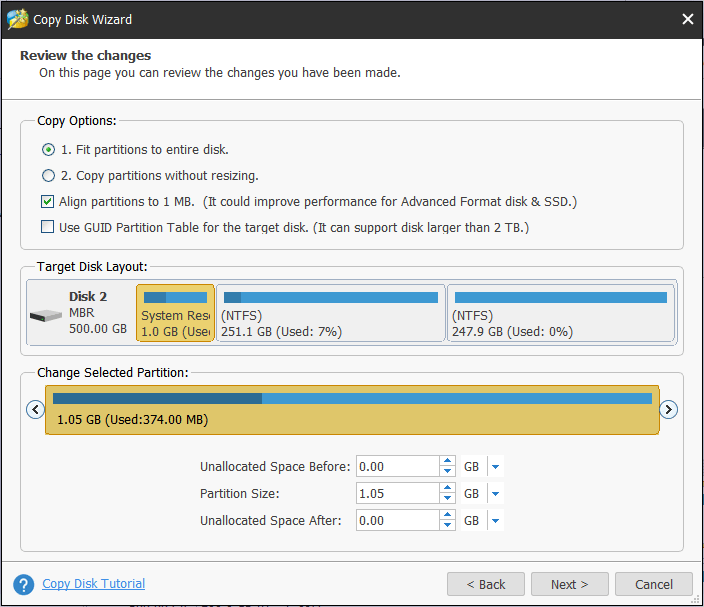 Step 4: Boot from Destination Disk
Then, this cloning software will inform you how to boot your computer from the target disk. Just do it when there is a need.
Step 5: Execute All Changes
Execute all operations by hitting the Apply button.
How to Image a Hard Disk in Windows 10/8/7?
In "clone VS image" part, you know imaging is more flexible for computer protection because of its compression nature and supported backup types. Well then, how do you image a hard drive?
To back up your computer, you had better use a piece of professional backup software. Here, MiniTool ShadowMaker, hard drive image software, is well worth recommending since it allows creating an automatic backup, full backup, incremental and differential backup for the Windows and hard drive.
MiniTool ShadowMaker TrialClick to Download100%Clean & Safe
Step 1: Choose a Backup Mode
Launch this image backup software in Windows 10/8/7.
Click the Connect button in the Local section.
Step 2: Go to Backup
Enter the Home page where you should click SET UP BACKUP button if no backup is created yet.
Or directly click the Backup button.
Step 3: Configure for the Backup
1. In the Backup tab, you see this program has checked system partitions to back up by default.
2. To back up a hard drive, please click Source section, select a disk (strongly recommend system disk ) and then check all disk partitions.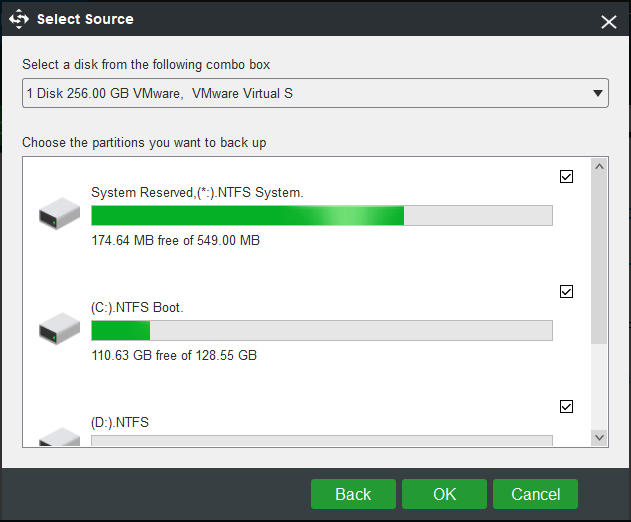 3. Select one storage path for the disk image. Here, you had better back up your hard drive to a partition of an external hard drive.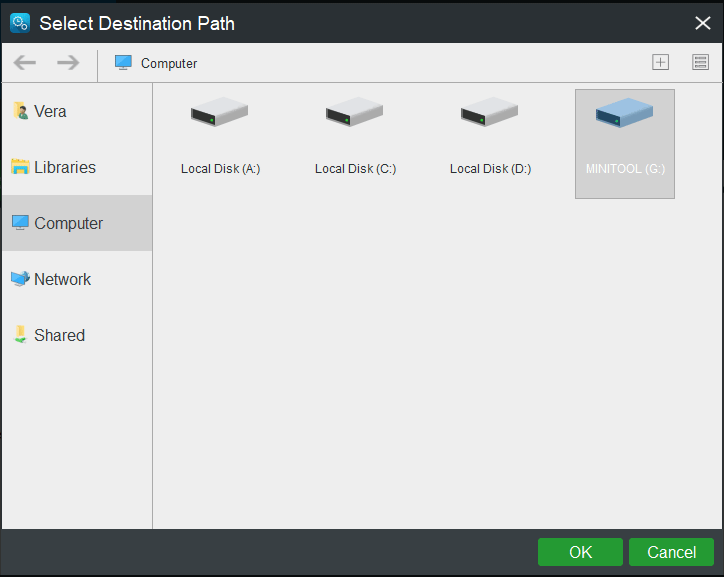 Step 4: Run a Backup
Finally, click Back up Now button to start the operation.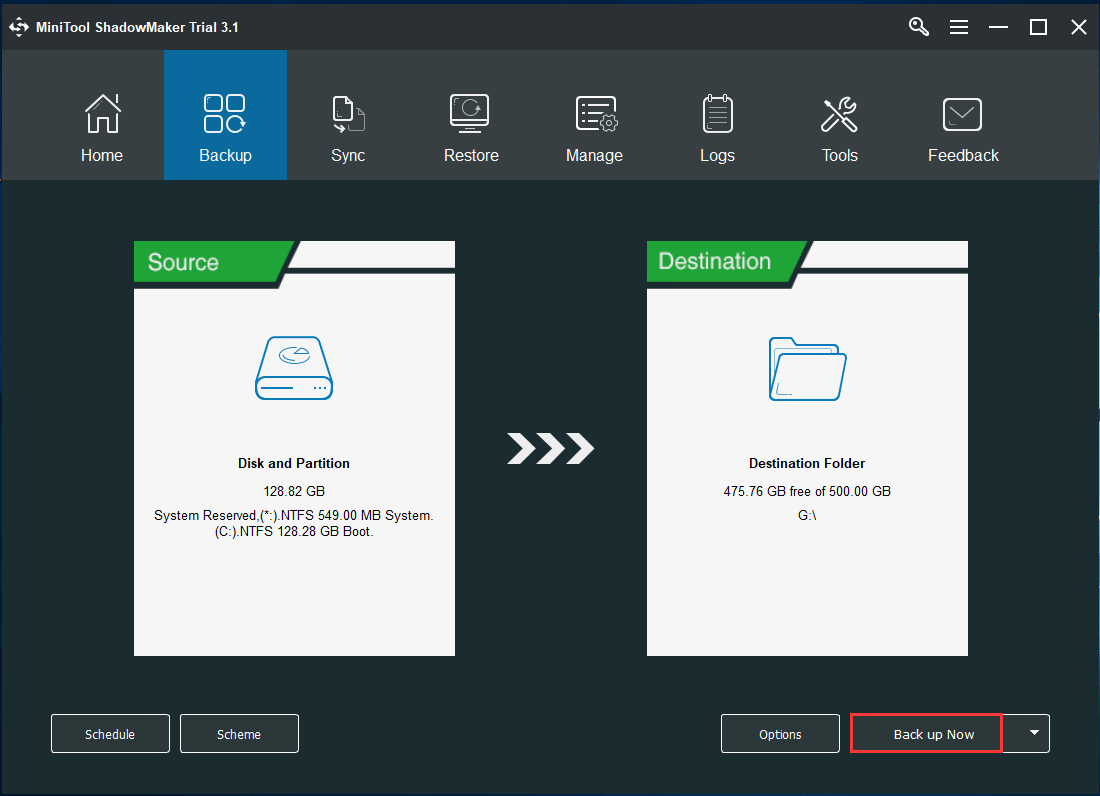 In the Backup tab, you see two features on the lower left side: Schedule and Scheme.
The former allows you to create an automatic backup.
The latter enables you to create an incremental or differential backup, as well as disk space management. Just click one to make advanced settings depending on actual situations.
From the above contents, you know MiniTool ShadowMaker is really helpful for computer backup since it supports not only disk cloning but also disk imaging. Disk imaging VS disk cloning, no matter which one you want to use, this free hard drive image software is your good option. Get it now via the following button.
MiniTool ShadowMaker TrialClick to Download100%Clean & Safe
Hot article: How Can You Make System Image Recovery in Windows 10?
Bottom Line
Clone VS image or clone VS backup: what the difference between image and clone? When to image a hard drive or when to clone a hard drive? After reading this post, you have learned much. Now, it's the time for you to choose a proper way to protect your PC with MiniTool ShadowMaker.
If you have any questions about using our software, please tell us by sending an email to [email protected] or leaving a comment below. Also, any suggestions of backup methods are welcome.
Clone VS Image FAQ
What is the difference between image and clone?
When cloning a disk, everything on the original disk is cloned to another disk. Thus, these two disks are identical completely. But when using an image backup software backs up a disk, everything is copied to a single and compressed image file.
Does cloning a hard drive copy the OS?
If you clone a hard drive that contains all of the system files, the OS will be copied to another hard drive. The target disk can be bootable, that is, you can boot the PC from this hard drive.
What is the best cloning software?
MiniTool ShadowMaker and MiniTool Partition Wizard can be the best cloning software. You can use ShadowMaker to clone a system disk or data disk to another one. Partition Wizard allows you to do disk cloning, as well as migrate Windows to SSD.
Does Windows 10 have cloning software?
In Windows 10, there is no a built-in cloning software. To clone a hard drive in Windows 10, you can use MiniTool ShadowMaker or MiniTool Partition Wizard.