If your data is stored in DVD, it is advised to transfer it to hard drive. To clone DVD to hard drive, you can refer to the steps offered in this post of MiniTool Partition Wizard.
Why do you need to clone DVD to hard drive? At first, DVDs are getting out of date gradually. Most modern computers don't come with DVD drives and DVD players leave the market. So, it would be hard to play DVDs.
Moreover, DVD discs are easy to break and fail to be played because of improper preservation and mechanical breakdown.
Note:
Though commercial DVDs are expected to last over 50 years, they must be compressed on quality media and stored in a cool, dark, and dry place. However, the lifespan of DVDs will be shortened if they are kept in a heat and humidity environment.
After you copy DVD to hard drive, you can double-click the digital copy to play and don't need to find the disc > slide it into a DVD player > flip the TV to the proper input. Here comes the question: can you directly transfer DVD to hard drive. Find the answer in the section below!
Can You Directly Clone DVD to Hard Drive
The answer depends. Most time you can't directly copy contents in DVDs to internal or external hard drives. Why? Here are some reasons behind that. First and foremost, nearly all DVD movies and TV shows are one or more copy-protection schemes, which stop you from copying them directly.
Tips:
DVDs are mainly divided into two types: commercial DVDs and homemade DVDs. Many kinds of DRM copy protections are included in commercial DVDs, such as CSS (content scrambling system), RC (region code), RCE (region code enhanced), UOPs (user operation prohibition), APS (analog protection system), etc.
Besides, if you directly play VOB files on a DRM-protected commercial DVD, the playback on your computer is pixelated. Differently, you can directly copy the content of the homemade DVD to hard drives and normally play the DVD with some media players on the computer. However, almost no other devices like mobile phones and TVs support VOB.
To make DVDs playable on personal or portable devices, the best way is to rip the DVD to the hard drive. This operation brings you many benefits. For instance, you can play DVDs on a computer, save much computer capacity, and transfer converted DVD movies to multiple devices.
Tips:
You are unable to clone DVD to hard drives when there are firmware or manufacturer faults, mechanical failures, or corrupted files.
How to Clone DVD to Hard Drive
The method varies according to the DVD type. If your DVD is homemade, simply follow these steps to copy DVD to external hard drive.
Step 1: Insert the DVD into the disk drive.
Step 2: Double-click the DVD drive to open it.
Step 3: Find and copy all the content of DVD.
Step 4: Open the target hard drive and paste the copied content on DVD to it.
Step 5: Wait for the finish of the cloning process.
The situation is different if your DVD is a commercial one. Since the content of commercial DVDs is copy-protected, a DVD cloning tool is required when you clone DVD to hard drive. There are various DVD clone programs on the market. Which to select? Based on your demands, you can choose EaseFab DVD Ripper, VLC, Handbrake, VideoByte DVD Copy, or other reliable DVD rippers.
Download a DVD cloning program from its official website, and then install it on your computer. After that, follow the on-screen instructions to complete the cloning process. Here, we show you how to copy DVD to external hard drives via VideoByte DVD Copy.
Step 1: Connect the external hard drive to your computer and launch the DVD ripper.
Step 2: From the Source drop-down menu, select the DVD that you want to copy.
Step 3: Select the connected external hard drive as the destination for the copied DVD.
Step 4: Click Next to set options.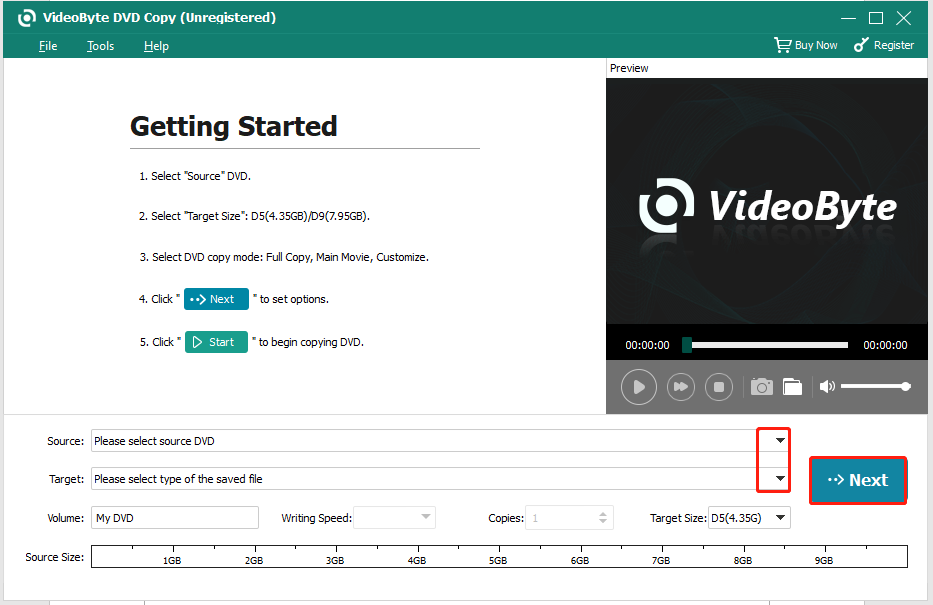 Step 5: Tap Start to begin the copy operation.
Further Reading
If you are in one of the following cases, try using MiniTool Partition Wizard. Its Migrate OS to SSD/HD and Copy Disk features allow you to complete the cloning process easily. Within a few clicks, you can clone the desired content to the expected place. In addition to that, you are allowed to perform various operations related to partitions or hard disks.
MiniTool Partition Wizard DemoClick to Download100%Clean & Safe
Clone SD card to PC or larger card
For instance, you are able to check file system, check hard drive speed, check hard disk space usage, change cluster size, wipe disk, recover data, etc. According to your needs, select the corresponding feature and follow the prompted instructions to complete the operation.