Many users encountered the same situation that failed to reduce D drive to extend C drive in Disk Management. They are wondering why this is happening and how to solve this problem. Stop worrying, this post will tell them the answers.
C drive is nearly full while D drive has more than 100GB free space, so I planned to shrink D to enlarge C. Nevertheless, I have reduced D drive but still can't extend C in Windows 10 Disk Management. Why? Is there any solution?
You can see that the user wants to extend system partition whose letter is normally set as C on computer. Users want to expand the C drive for various reasons, for example, the lack of space on the C drive causes the computer to run slower. But the solution that to reduce D drive to extend C drive but failed happens all the time.
How to increase C drive space from D drive is a quite common issue among Windows users, and most of them still haven't found a good solution. In fact, users only need a professional partition manager – MiniTool Partition Wizard.
Fortunately, this post will explain why Windows Disk Management doesn't allow users to extend C drive by taking space from D drive as well as show how to fix the issue.
Reduce D Drive to Extend C Drive in 3 Simple Steps
Since you want to extend C drive Windows, to make your computer boot normally after reducing D drive to extend C drive, we suggest using MiniTool Partition Wizard Bootable Edition.
If you are a home user, the MiniTool Partition Wizard Pro Edition can totally meet your needs. Click the button below to get this program.
Then, you need to download, install and resister this program on your computer.
At first, you need to create a bootable media. Then shut download your computer. After that, make your computer enter BIOS and set your computer to boot from the bootable media. Next, you need to wait a while, and this tool will enter to the main interface of MiniTool Partition Wizard automatically.
Step 1: Select the C partition and choose a preferred way to start extending C drive by taking space from D drive:
Choose Extend Partition from the left action panel under Change Partition.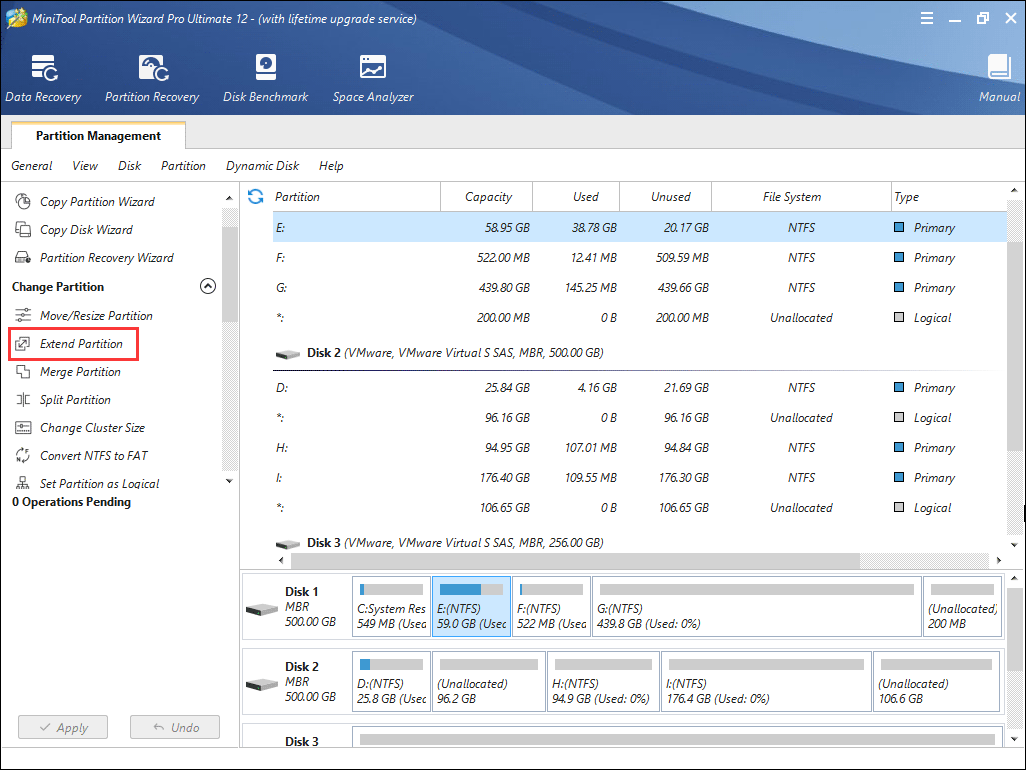 Step 2: Select D drive to take free space from the drop-down menu of Take Free Space from option and drag sliding handle to decide how much free space to take. Then, click OK to return to the main window.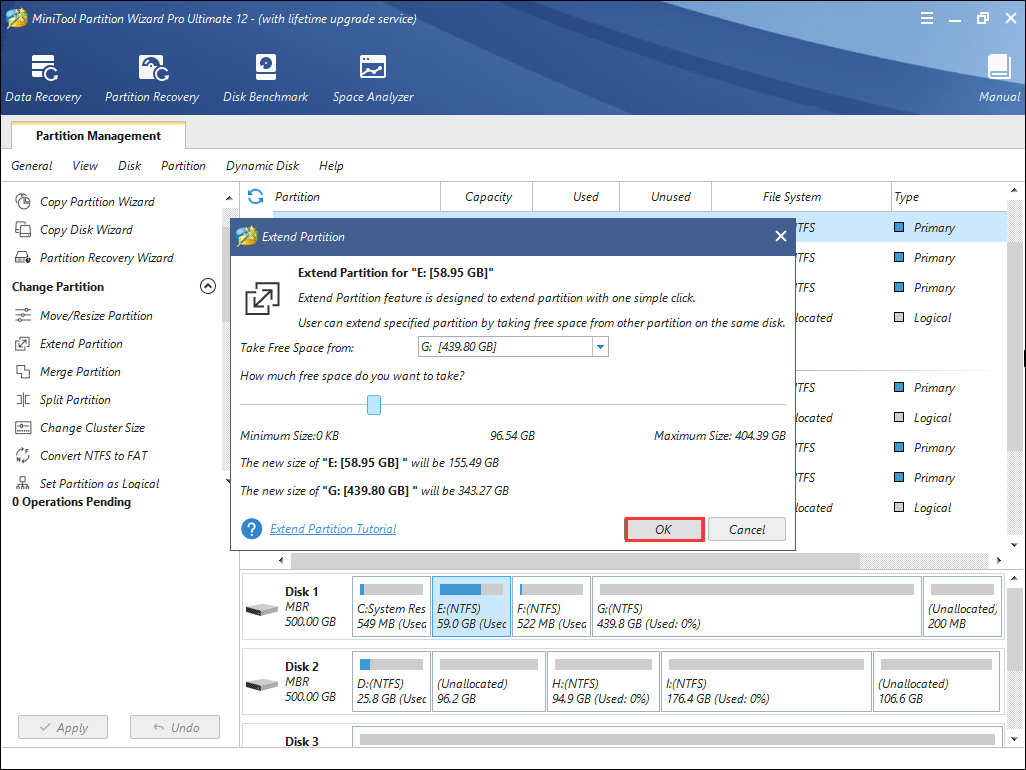 Step 3: Now, users can see the changes of these two partitions on the main interface intuitively, but this is just a preview. If users want to save this, don't forget to click the Apply button in the top left corner. Then the C drive space is increased successfully by reducing D drive.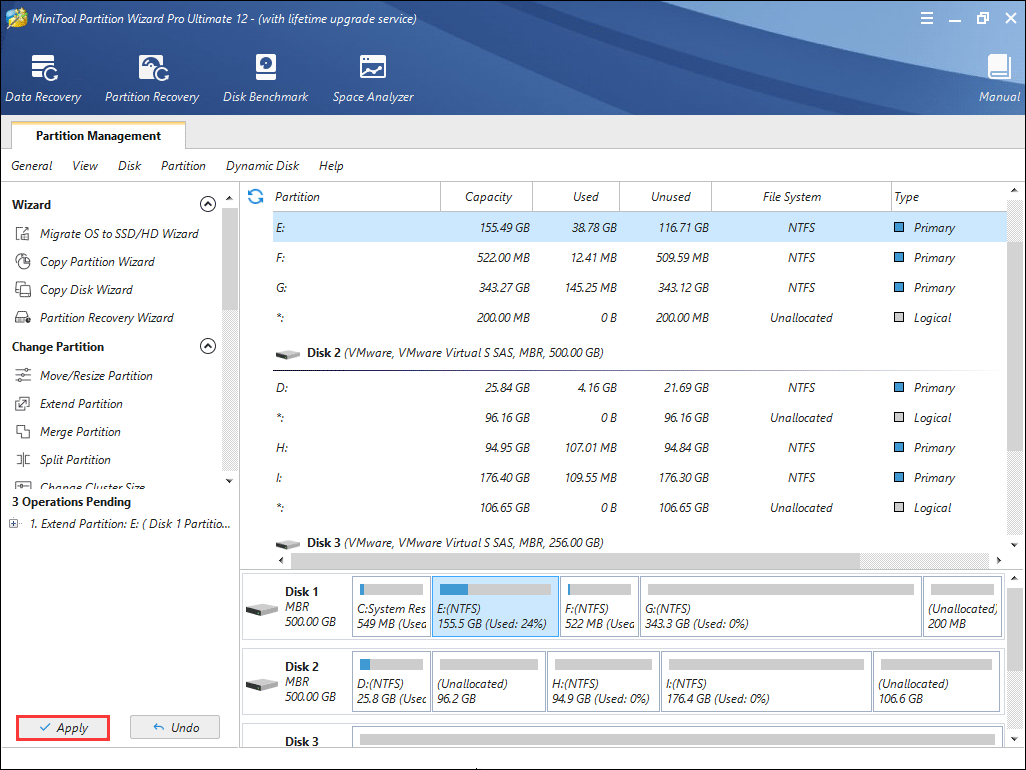 This is the end of extending C drive by taking space from D drive with MiniTool. Besides, this is not the only solution to extend C drive from taking free space from D drive. Move/Resize Partition can also achieve the purpose which by using another feature via this tool.
Next, what causes this issue in Disk Management will be explained.
Why Reduced D Drive but Can't Extend C in Windows Disk Management
It's largely because space got from D drive is not right contiguous to drive C. Or the file system is not NTFS or RAW.
Users who are quite familiar with Windows Disk Management utility know Shrink Volume feature can only create an unallocated or free space after its source partition, and the very space can only be used to create a new drive or extend the source partition itself.
However, the Extend Volume feature is available only when there is contiguous unallocated or free space on the right side.
So, these limitations mentioned above are the reasons why users can't reduce D drive to extend C drive in Windows Disk Management. Possible reasons for Extend Volume grayed out are shown here, and users will be given corresponding solutions at the same time.
Bottom Line
MiniTool Partition Wizard can extend a partition by taking free from any unallocated space or even existing partitions on the same hard disk. That's a quite useful feature for Windows users. If you want to reduce D drive to extend C drive, don't hesitate to own this program.
Now if users have better idea about how to shrink D drive and extend C drive issue, welcome to share with us in the comment zone. Should users have any problem with MiniTool Partition Wizard, just feel free to contact us via [email protected].