A lot of users are confused about HP Scan and Capture. In this post, MiniTool will introduce the definition of this software and provide a full HP Scan and Capture download guide for Windows. It also helps you fix the HP Scan and Capture general failure error.
HP is a widely known multinational technology company that has released a variety of products, including laptops, desktops, printers, speakers, etc. Moreover, HP also released many specified programs and drivers to manage/troubleshoot/upgrade their products such as HP hardware diagnostics, HP Universal Print driver, HP Smart, HP Support Assistant, and the one discussed here.
What Is HP Scan and Capture
HP Scan and Capture is a practical application that can capture photos or documents from any HP scanner or your PC's built-in camera. In addition, this app provides many other features such as exporting your scans into various formats, previewing/editing/saving the images and sharing them with other apps, recording your documents, and more.
How to download HP Scan and Capture for Windows 11/10/8/7 and install it? How to use it? Let's read the following part.
HP Scan and Capture Download & Install for Windows 11/10/8/7
Before you get the HP Scan and Capture downloaded on Windows, make sure that the correct HP drivers for your scanners have been installed from the official website. In addition, to use the HP scan app, you must have the HP printing software installed on your computer.
Here's how to download HP Scan and Capture and install it on Windows 10.
Step 1. Click here to open the HP Scan and Capture download page and click on Get in Store app. Alternatively, you can open Microsoft Store, directly search for HP Scan and Capture app in it and click on Get.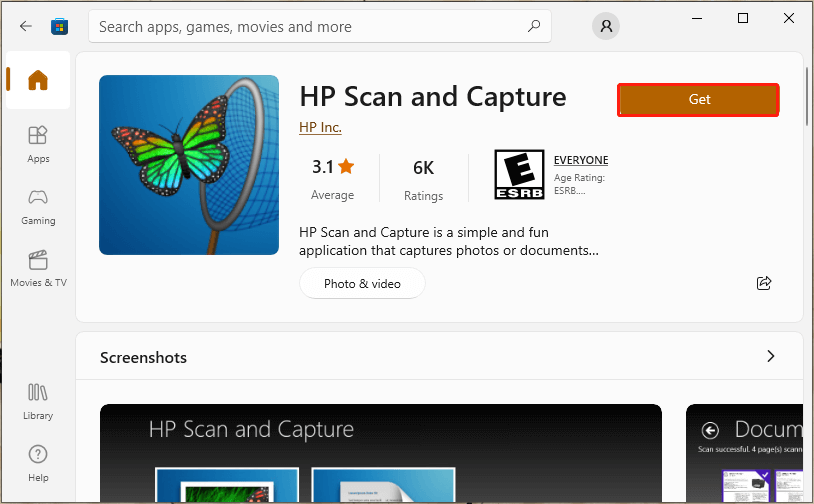 Step 2. Follow the on-screen prompts to complete the HP scanner app installation. Once installed, click on Open.
Step 3. To use the HP scan app, turn on your HP printer and confirm the ink or cartridges are installed.
Tips:
If you have an automatic document feeder (ADF), you can load the item you want to scan into it or place the item on the scanner glass.
Step 4. Click on the Menu icon and select Settings on the HP print and scan app.
Step 5. Click on Select Device and select your HP printer or scanner.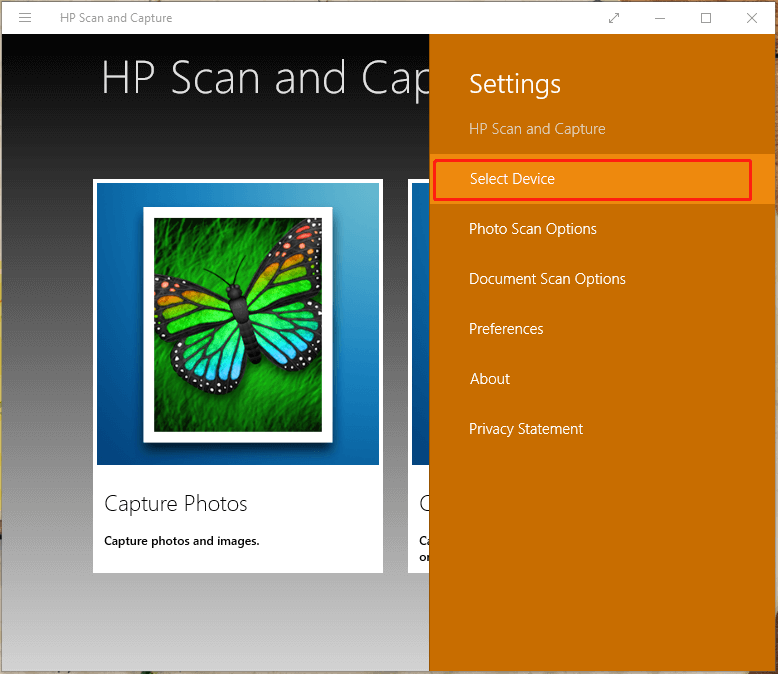 Step 6. To capture documents or photos, click on Document Scan Options or Photo Scan Options to change the settings and click the back arrow.
Step 7. Come back to the main interface, click on the Settings menu and select Capture Documents or Capture Photos. Once completed, click on the Save icon and select a location to save the item.
How to Fix HP Scan and Capture General Failure
Many users reported that they encounter the HP Scan and Capture general failure error when using the app. According to a survey, the error can occur if you haven't the full feature HP printer software and driver installed on Windows. In this case, you should go to the official HP support website and download/install the Full feature software.
Some other people reported that the general failure problem can be solved by installing the HP Scan Extended software. Once installed, navigate to Start > All Programs > HP > HP Scan Extended > Run to run this software and check if the error gets fixed.
If the above two methods fail to work, you can try reinstalling this HP scanner app from Windows and restarting your computer. Then relaunch the app and see if it works. This operation has been proven by some people to be useful. You may have a try.
Further reading: If you can't install this app on Windows due to insufficient disk space, don't worry. MiniTool Partition Wizard can help you fix the problem easily by analyzing disk space, extending partition, upgrading to a larger hard drive, etc.