Can I run Warzone? How to play Warzone on PC? This post from MiniTool Partition Wizard tells you the answer. With this detailed guide, you can start enjoying Call of Duty Warzone easily.
Warzone PC Requirements
Call of Duty: Warzone is a free-to-play battle royale video game released on March 10, 2020, for PlayStation 4, Xbox One, and Microsoft Windows. This game received generally positive reviews and as of April 2021, the game has more than 100 million players worldwide.
Tips:
Call of Duty: Warzone 2.0 will be available for PS4/5, Xbox One, Xbox Series X/S, and Windows, on 16 November 2022. But Call of Duty: Warzone will not be discontinued.
Many people may want to play Warzone on their PCs. To do that, the PC should meet the following requirements.
Minimum Warzone PC Requirements
OS: Windows 7 64-bit (SP1) or Windows 10 64-bit
CPU: Intel Core i3-4340 or AMD FX-6300
GPU: NVIDIA GeForce GTX670 / GeForce GTX 1650 or Radeon HD 7950
VRAM: 2GB
RAM: 8GB
Storage: 175GB
DirectX:0
Recommended Warzone PC Requirements
OS: Windows 10 64-bit latest update
CPU: Intel Core i5-2500K or AMD Ryzen R5 1600X processor
GPU: NVIDIA GeForce GTX 970 / GTX 1660 or​ Radeon R9 390 / AMD RX 580
VRAM: 4GB
RAM: 12GB
Storage: 175GB
DirectX:0
How to Check PC Full Specs Windows 10 in 5 Ways
Can I Run Warzone?
As you can see, Warzone PC requirements are not low. Can I run Warzone? You may ask this question. To answer this question, checking PC specs is needed. Here is the guide:
Press the "Windows + R" keys to open the Run box.
In the Run box, type "dxdiag" and press Enter to open DirectX Diagnostic Tool.
On the System tab, you can check OS, CPU, and RAM.
On the Display tab, you can check GPU and VRAM.
To check the hard drive space, you can use File Explorer. It will tell you how many partitions are there, and how much free space is there.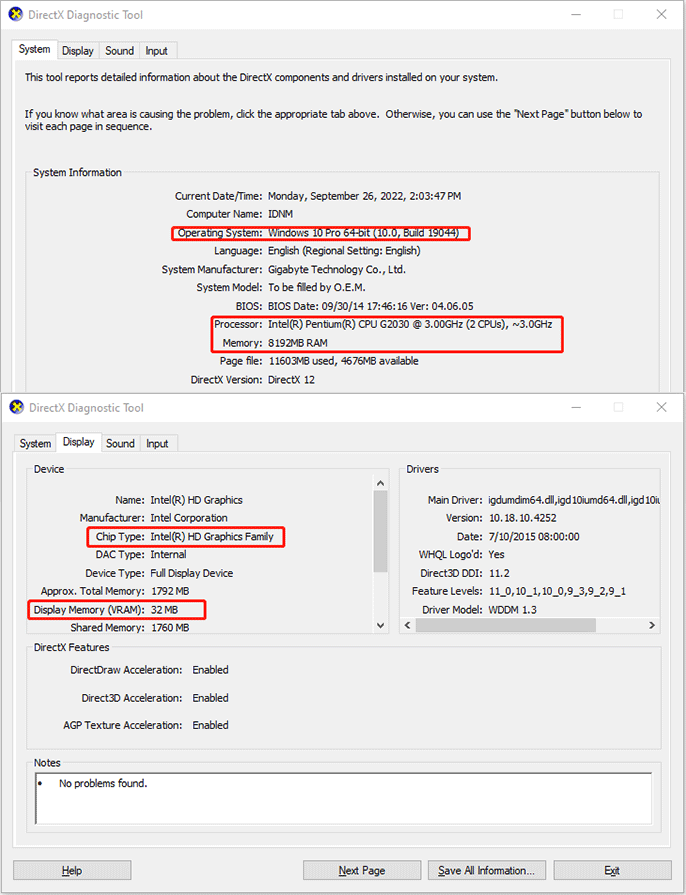 What to do if your PC doesn't meet the minimum Warzone system requirements? It depends on the specific situation that your PC is in.
Warzone requires 175GB of free space, which is very large for many PCs. Therefore, getting more free space is necessary. You can try freeing up the disk space first. If this method can't get enough space, you can then use the other ways.
If there is only the C drive on the PC, you need to add a second hard drive (if there is another hard drive slot) or upgrade the disk to a larger one. If there are other drives (E, E, F, etc.), you can extend a partition by taking free space from other partitions. MiniTool Partition Wizard can help you do that easily. Here is the guide:
MiniTool Partition Wizard FreeClick to Download100%Clean & Safe
Step 1: Launch MiniTool Partition Wizard. Right-click the partition you want to extend and choose Extend.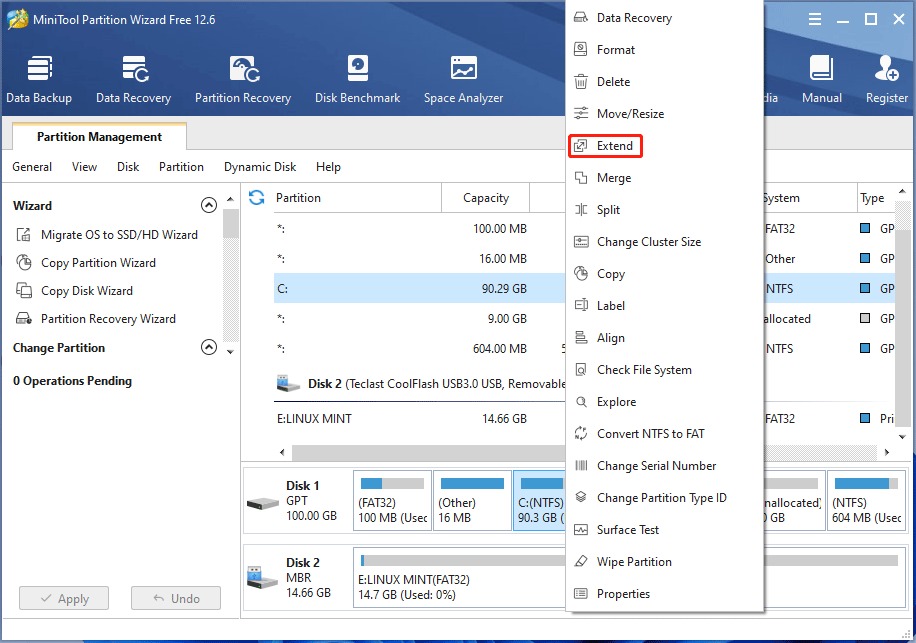 Step 2: On the pop-up window, choose where to take space from. You can choose unallocated space or an existing partition. Then, drag the blue block to decide how much space you want to take. After that, click OK.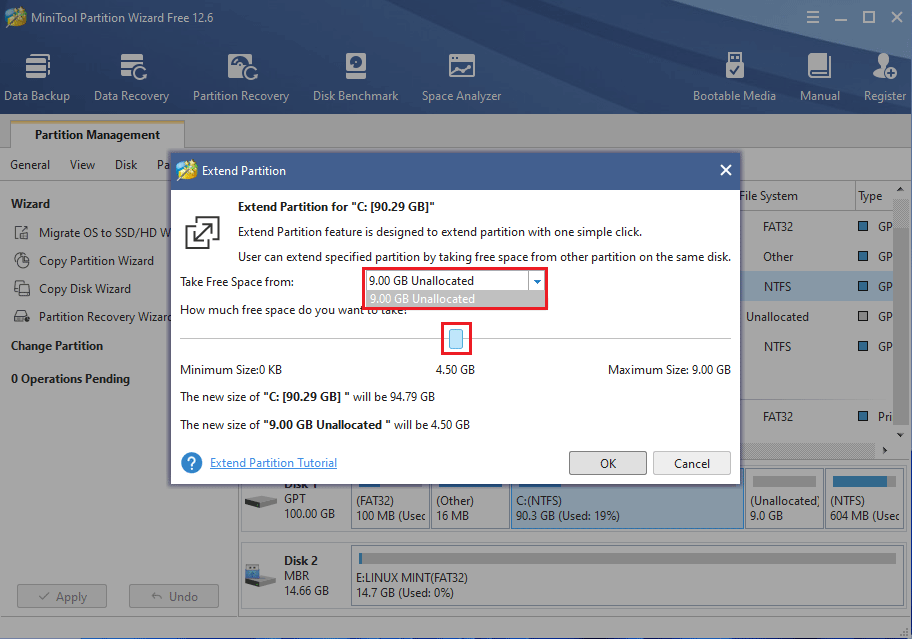 Step 3: Click the Apply button to execute pending operations.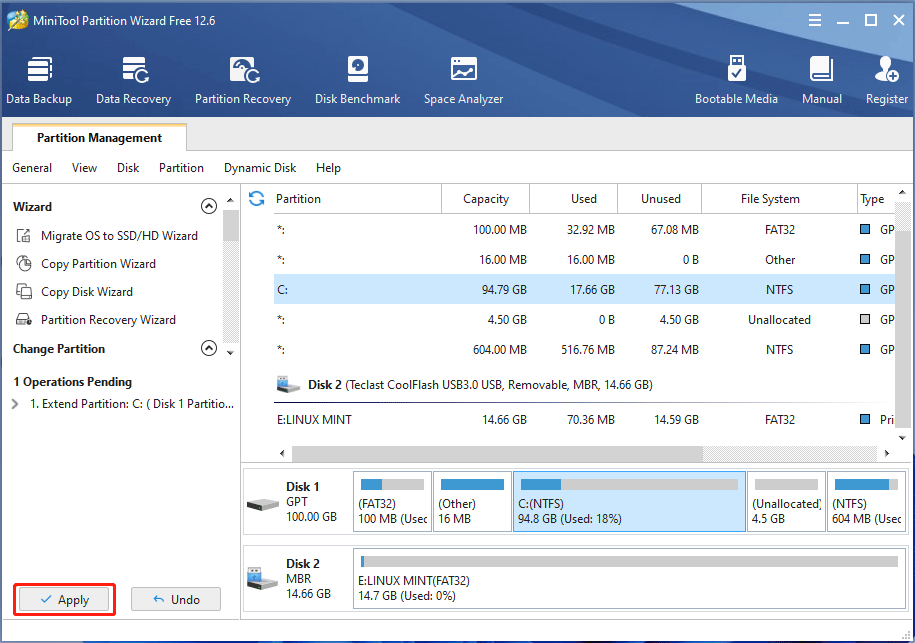 How to Get Warzone on PC
Only if the PC meets the Warzone requirements, you can play Warzone on it. Now, you can start downloading Warzone on the PC. How to download Warzone on PC? You can refer to the following content.
Step 1: Download and install the Battle.net app.
Go to the official Call of Duty Warzone download page.
Click the Battle.net PC button.
On the new page, click Play for Free. This will download the Modern-Warfare-Setup.exe file.
Run the executable file to install the Battle.net desktop app. You can change the installation location.
Step 2: Download and install Call of Duty Warzone.
When Battle.net launches, log in to your Blizzard Account. If you do not have a Blizzard Account, you can create one for free.
After the Battle.net app opens, click the Warzone icon and then click Play For Free.
On the pop-up window, change the Install Location if necessary. Then, click Start Install.
Once the installation is completed, click the Play button to launch the game.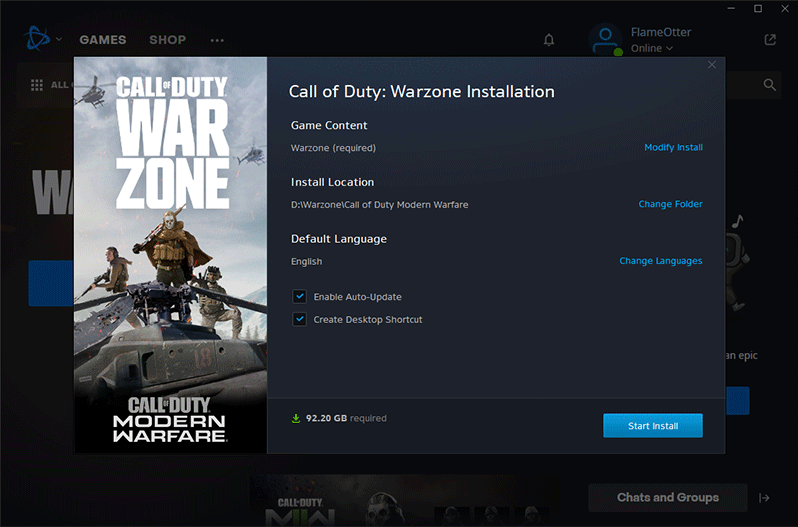 Tips:
Currently, Call of Duty Warzone is not available on Steam or other digital distribution platforms. You can only get the game through the above way.
How to Play Warzone on PC
In this part, I will show you how to play COD Warzone on PC in detail. With this guide, you can start a game or play with your friends easily.
How to Start a Game
When you launch Warzone, you will get into the lobby. Under the Play tab, you can select a game mode to enter the corresponding lobby. The game will start when there are enough players.
Tips:
Some game modes allow you to select the team size: Solos (one player per team), Duos (two players), Trios (three players), or Quads (four players). It's recommended that you select the specific mode that fits your current party size.
If the number of players you bring into a playlist is less than the squad size, it will fill your squad with fellow community members searching who are also searching for a full squad.
If you don't want others to join your team, you can toggle the Squad Fill option – located towards the bottom of the Play menu – to Don't Fill.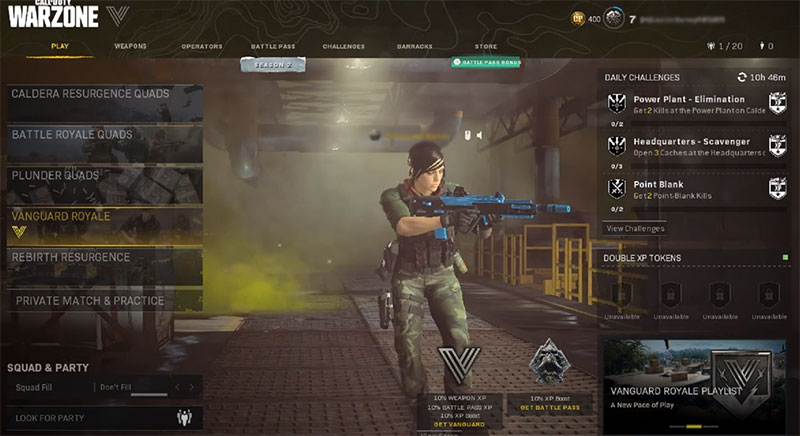 How to Play Warzone on PC With Friends
Call of Duty Warzone has the multiplayer option, allowing you to play with your friends online. Here is a guide on how to play COD Warzone on PC with your friend:
Tips:
Call of Duty Warzone is cross-platform and this feature is enabled by default. You can find the crossplay toggle under the Options > Account tab.
Step 1: Add your friend.
Go to Options > Account to make sure the Display Unique ID Numbers option is enabled.
From the main menu, select Social > Friends > Add Friends/Invite Friends.
Select Activision Account, net, Account for PS, or Xbox Live Gamertag according to your condition.  
In the search box, enter your friend's account ID and then click the arrow button to send the request.
Once your friend accepts the request, you can invite him to your party.
Tips:
If your friend doesn't see the request, let him go to Social > Friends > Friends Requests to find that and accept it.
If you want to add a player who plays with you recently, go to Social > Recent Players, click the player, and select Friend Request.
Step 2: Select Social > Party > Manage Party > Invite Players. Choose the player you want to invite from your list of friends. Return to the Party tab and select Party Settings to adjust your Party's privacy settings. Then, you can start the game.  
Warzone Gameplay
COD Warzone mainly includes 4 game modes: Battle Royale, Plunder, Rebirth Island Modes, and Limited Time Modes. It supports up to 150 players in a single match and some limited-time modes support 200 players.
Battle Royale: Up to 150 Operators drop into Verdansk to gather items, build their loadouts, and fight to claim a hard-earned victory. After a few minutes into the match, the safe circle collapse begins. The last team standing wins.
Plunder: It has the same basic mechanics and map as Battle Royale, but it has no circle collapse. Players collect Cash by slaying enemies and completing contracts. The team having the most amount of Cash wins.
Rebirth Island Modes: It has two modes – Resurgence and Mini Battle Royale. Mini Battle Royale is the traditional Battle Royale game mode but has a different map. Resurgence is a twist on the traditional Battle Royale formula where respawning is a key to victory.
Limited Time Modes: These modes will appear on a week-by-week basis, most often after a major update within Warzone. They may add radical changes to traditional Battle Royale or Plunder formulas.
COD Warzone also includes Private Matches and Tutorials, which covers Trials, Private Matches, and Tutorials, making you know about the game better.
Default Warzone Keyboard and Mouse Controls
W, A, S, D: Move forward, left, backwards, and right.
Mouse: Change the field of view or aim a weapon.
Left Click: Aim down sight.
Right Click: Fire weapon.
F: Access a context-sensitive object.
R: Reload a weapon.
Space: Jump/Stand/Mantle/Cut Parachute.
C: Crouch/Slide.
Left Ctrl:
Left Shift: Sprint/Tactical Sprint/Steady Aim Freelook.
Mouse Wheel Up: Next weapon.
Mouse Wheel Down: Previous weapon.
Z: Mount a weapon.
Here is a post showing you how to play Warzone on a PC. If you are interested in this game, this post may help you. Click to Tweet
Bottom Line
Is this post useful to you? Do you know other opinions about how to play Warzone on PC? Please share them with us in the following comment zone. In addition, if you encounter problems when using MiniTool Partition Wizard, please feel free to contact us via [email protected]. We will get back to you as soon as possible.