A lot of gamers complain that the Warzone friends not showing issue always happens each time they update the game. How to fix Warzone not showing friends online? This post of MiniTool explores several simple ways to fix it.
Both Call of Duty: Warzone and Modern Warfare are widely popular video games for Windows, PlayStation, and Xbox. However, they are not always perfect while running. A great many payers encounter various errors and issues, such as  Modern Warfare Multiplayer not working, Dev error 6635, Dev error 6034, and the one discussed here.
What causes the "Warzone friends not showing" issue? Up till now, there is no official word from Activision support. But luckily, we find several potential troubleshooting methods after investigating extensive user comments and posts. Let's start trying.
Tip:
Before you start trying these fixes, we recommend you exclude the factor of ongoing server outage first. Click
here
to open the Activision support page and see if all platforms are online.
# 1. Restart the Game and All Related Progresses
The first and most effective method proven by many gamers is to completely restart everything that's connected to the game. Here's a true example from the user comment:

If you are troubled by the "Warzone no friends online glitch" on PC, this way is worth giving a try.
Step 1. Press Ctrl + Shift + Esc keys to open the Task Manager window and click on More details to view more information.
Step 2. In the Processes tab, right-click the COD Warzone or Modern Warfare progress and select End task.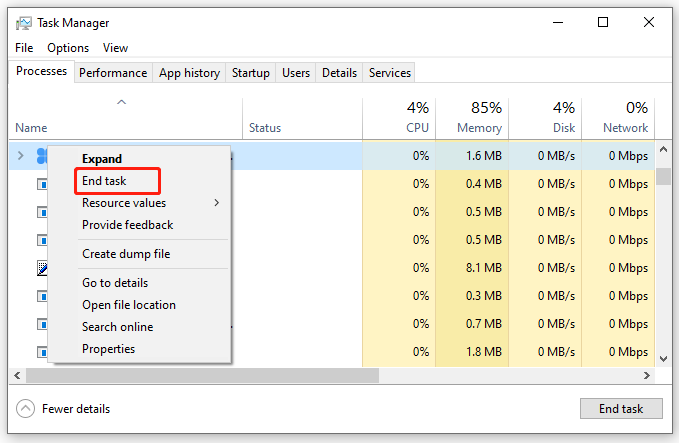 Step 3. Repeat the same procedure to end all other tasks that are connected to the game, like Battle.net, Discord, etc.
After you end all these processes, relaunch the game and check if the friends list not showing up Modern Warfare/Warzone issue gets solved.
# 2. Use Discord to Link with Your Friends
Some other people reported that they managed to fix the "Call of Duty friends not showing up" issue by using Discord. To link Warzone with your friends using Discord, you need to do the following things:

Step 1. Make sure that you and your friends have the Discord activity status set to On.
Step 2. Make sure you have connected your Battle.net account to Discord.
Step 3. Make sure everyone launches the Call of Duty Warzone or Modern Warfare.
Step 4. Click on the Avatar of your friends and click on Join game right next to the COD Warzone or Modern Warfare log. Once done, all players should join from the same Discord.
# 3. Create a Group in Warzone
If the Warzone friends not showing issue still occurs, you may consider using an alternative to link with your friends. That is to create a group in Warzone and invite your friends to join in. Here's how to do that:
Step 1. Open the COD Warzone game and navigate to the Social menu from the top toolbar.
Step 2. Go to the Groups tab and select Create a Group.
Step 3. Create a Group Name and Group Tag according to your preference. Then wait to check if it's approved.
Step 4. Once the group is created successfully, go back to the Social menu and select Invite Friends from the Friends tab.
Step 5. Select Enter Activision ID to send an invite and enter your friend's Activision ID.
# 4. Turn off and on Crossplay
Sometimes the Crossplay feature may trigger the "COD friends list not showing" problem. To fix it, you can try disabling and re-enabling the Crossplay feature in Warzone.
Step 1. Launch COD Warzone and log in to your account.
Step 2. Navigate to the Options section and select the Account category.
Step 3. Change the Crossplay toggle from Enabled to Disabled.

Step 4. Now, restart the game and see if the "Warzone friends not showing" problem is fixed. If not, turn the Crossplay feature back on.
# 5. Restart Your Game Devices and Router
Some gamers said that the Warzone not showing friends online issue can be solved by simply restarting the game system and router. Here you may have a try.
Step 1. Make sure you end all tasks related to Warzone completely before your start the device.
Step 2. Restart your PC or console to refresh the game cache.
Step 3. Restart your router. To do so, unplug your router from the wall socket, and hold the Power button until the router is turned off. Then wait for at least 30 seconds and re-plug your router to restart it.
If none of the ways fix the Warzone no friends online glitch, all things you could do is wait for the game to fix itself. It's so sorry for that, but many users reported that the problem disappears after lasting several hours.