If you are looking for a way to merge C drive and D drive in Windows 7, here you can find the top recommendation MiniTool Partition Wizard to help you merge partitions easily and safely.
Kindly Remind: to avoid confusion, we would like to explain that the C drive and D drive in this post mean the C: partition and D: Partition respectively. 
With more and more data stored to C drive of Windows 7, now this partition is nearly out of space. However, there are lots of free space on D drive, so I want to know whether it is possible to merge C with D so as to enlarge system partition of Windows 7. 
Definitely, users are able to merge partitions, and there are 2 methods available. One is to use the Windows built-in Disk Management tool, and the other is to ask a third-party partition manager for help.
Next, we will introduce these 2 methods to merge C drive and D drive in Windows 7 in detail, and users can choose the appropriate one in accordance with actual demands. 
Tip: These 2 methods can be applied to any version of Windows OS, including Windows 7/8/8.1/10.
Merge C and D Drive in Disk Management - Data Loss
If users want to combine C and D via Disk Management, they need to back up all important data on D drive in advance, because this partition will be deleted. Naturally, all data saved in this drive will be lost. To back up data in a fast way, view the help tutorial Copy Partition to get instructions. 
Then, let's see how to merge partitions in Disk Management. 
Step 1. Press Win+R to call out the Run box, input diskmgmt.msc and hit the Enter key to load Windows Disk Management. (Another approach: right-click the Computer icon on the desktop, choose Manage and then Disk Management.)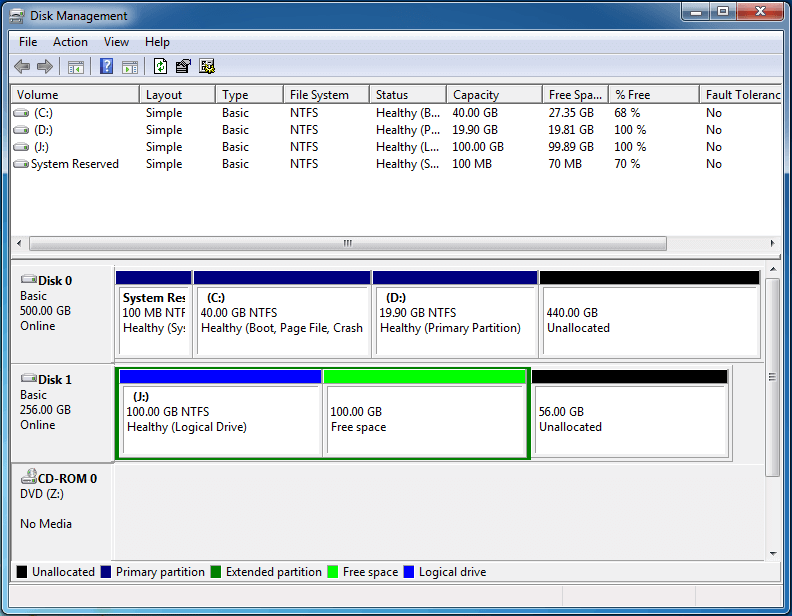 Step 2. Right-click partition D and then choose Delete Volume button to release unallocated space.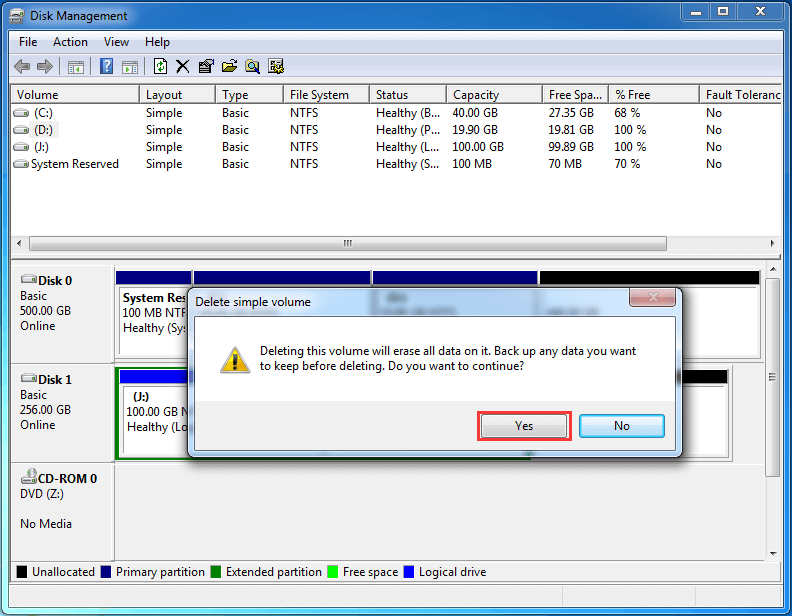 Step 3. Right-click partition C to choose Extend Volume button. Then, extend volume C by following Extend Volume Wizard.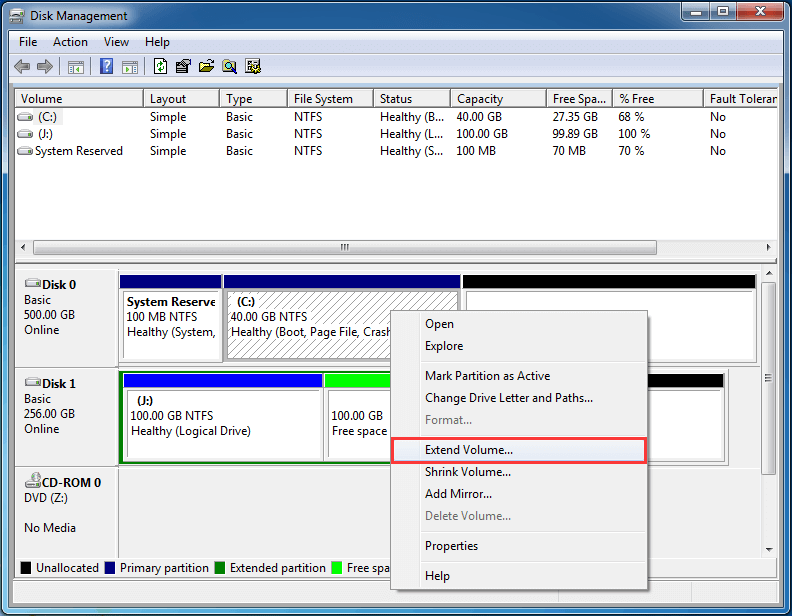 See Also: Why Is Extend Volume Grayed out and How to Quickly Fix It? Possible reasons for Extend Volume Grayed out are shown here, and users will be given corresponding solutions at the same time.
From the demonstration above we know although Windows Disk Management tool can help us merge partitions, it will lead to data loss unless we create a backup in advance.
Well, is it possible to merge partitions without losing any data? Of course, with the help of third-party partition manager, it is easier to merge C and D drive in Windows 7. 
Merge C and D Drive with Third Party Partition Manager – No Data Loss
To perform such an operation, you can ask MiniTool Partition Wizard for help, which is a green, safe, and easy-to-use disk partitioning program for Windows users.
MiniTool Partition Wizard offers a bundle of features for Windows users to reorganize their drives while keeping existing contents intact. To merge C and D drive in Windows 7, it is strongly recommended to use MiniTool Partition Wizard Pro to avoid accidents. 
Tip: Solution below also works for merge partition Windows 10 and merge C drive and D drive Windows 8/8.1.
Kind Remind: For a successful merge, please pay attention to the following 2 issues: 
Drive C and Drive D should be adjacent.
Both partitions should be formatted with NTFS. If one of them is formatted with FAT32, please convert it to NTFS in advance.
Then, how to combine partitions? Let's see detailed steps. 
Step 1. Users need to launch MiniTool Partition Wizard to get its main interface.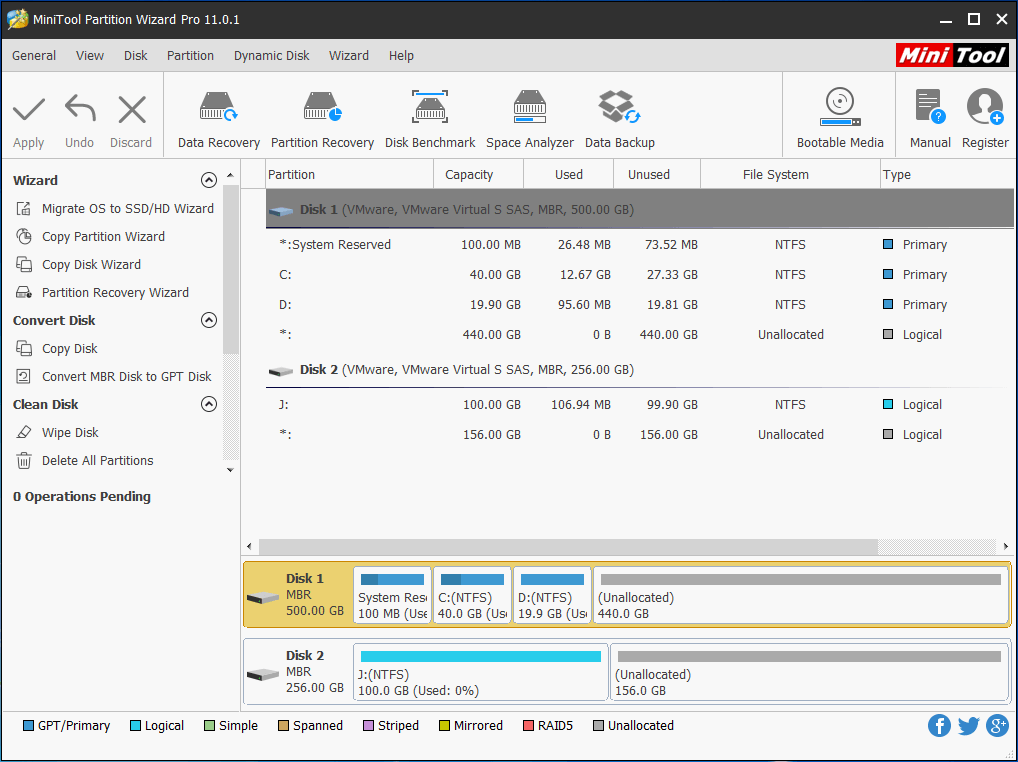 Step 2. Now follow these two guides to create a bootable media and then boot your computer from this media.
Step 3. Select C drive and then choose Merge Partition from the left action panel to enter its operating interface. Please note that the drive letters can be changed from what they are in the running Windows. Use the Explore Partition feature to confirm.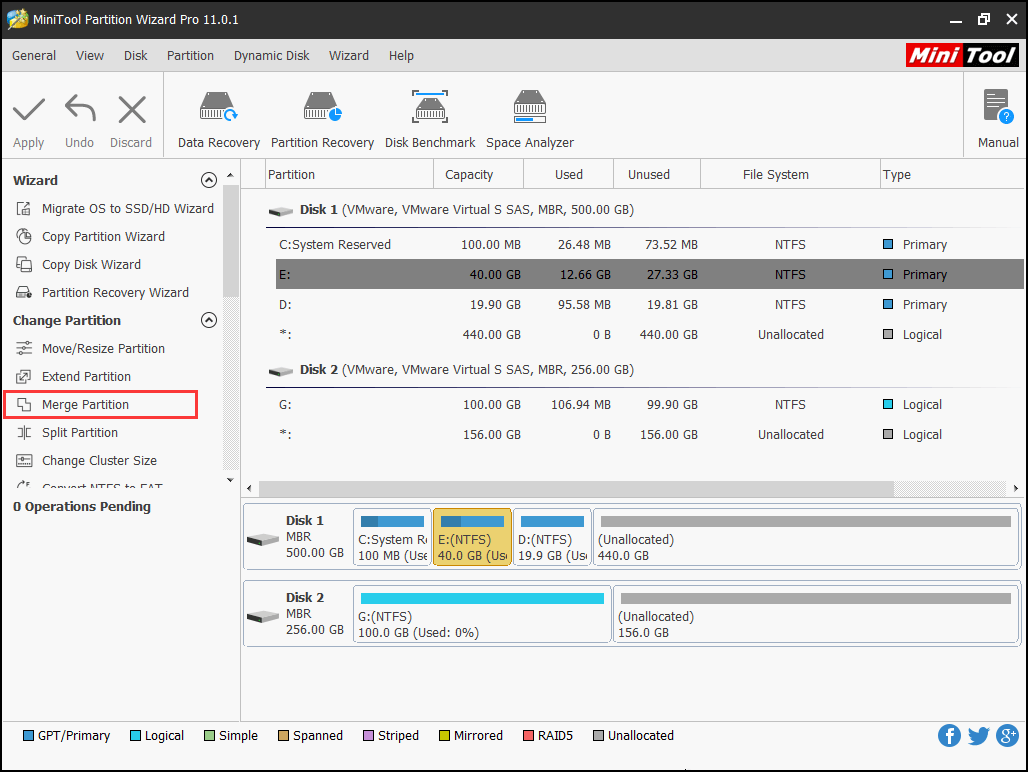 Step 4. Click Next button to get the following window.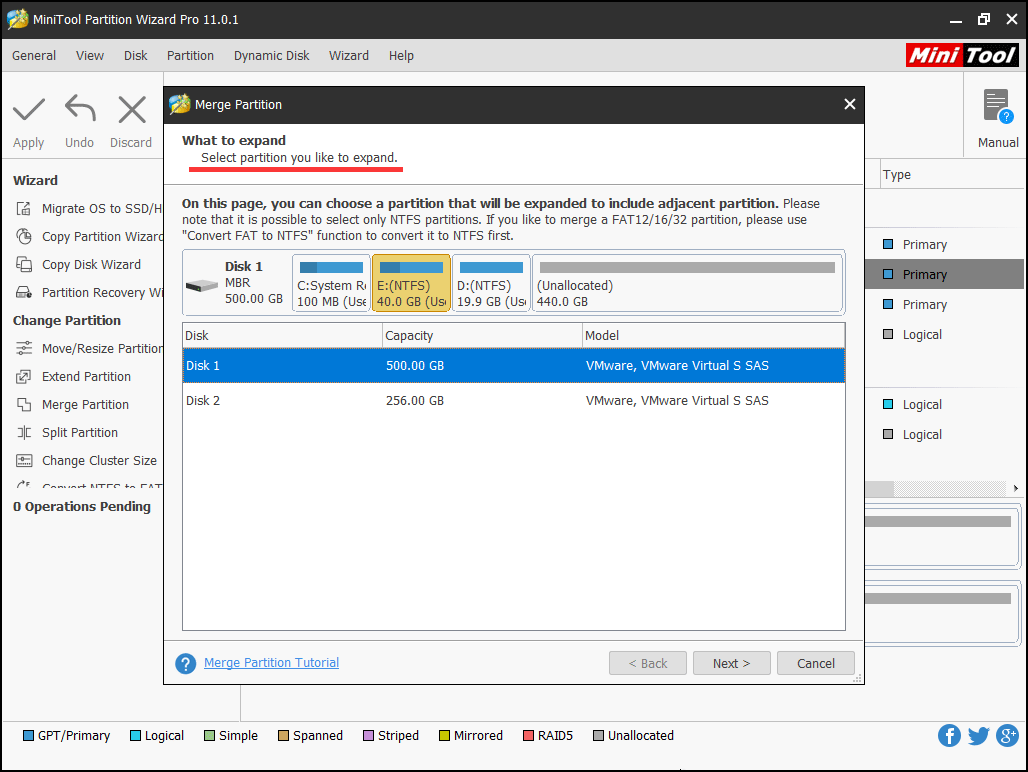 Step 5. Select partition D to get merged and click the Finish button.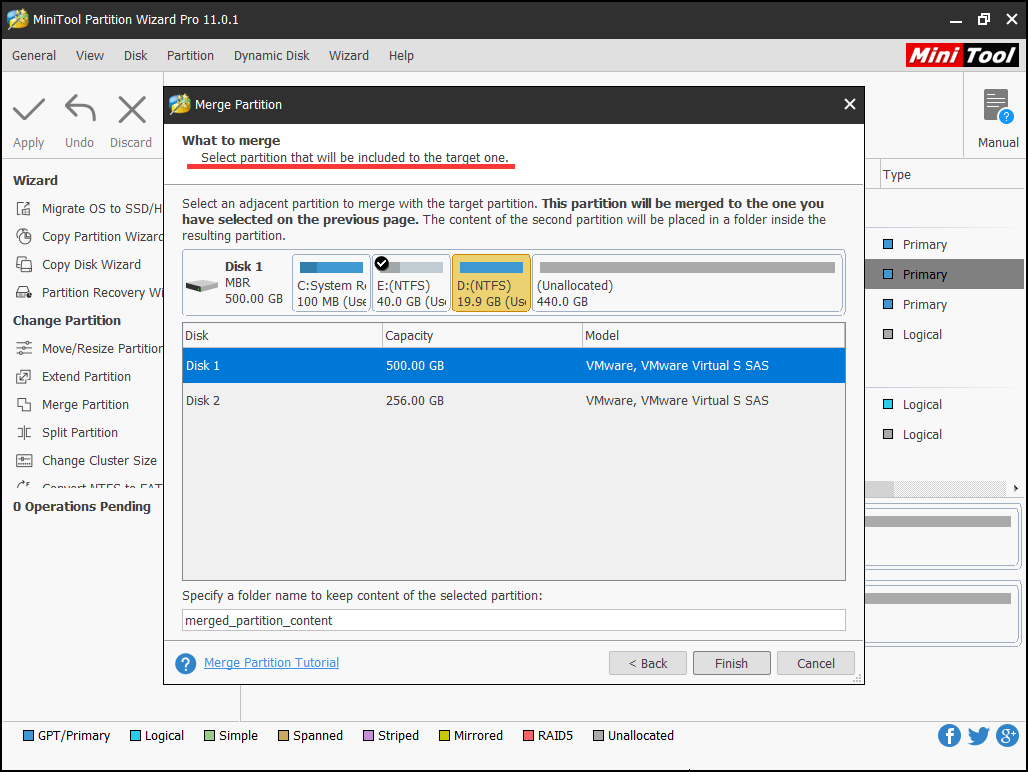 Tip: All data saved in partition D will be placed to the Merged_partition_content folder and then saved to partition C, so no data loss will emerge. Of course, you are able to change the folder name here.
Step 5: Click Apply to perform all changes.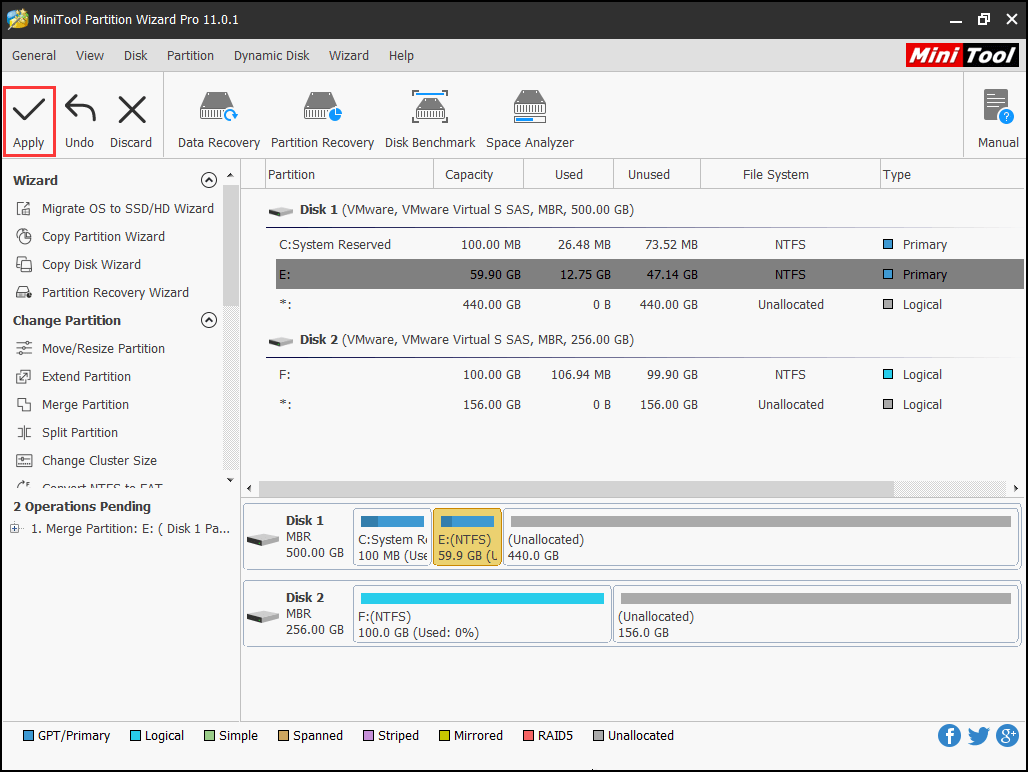 Actually, if there are some unallocated space or more partitions that have much free space, it is more flexible to extend partition rather than merge partition.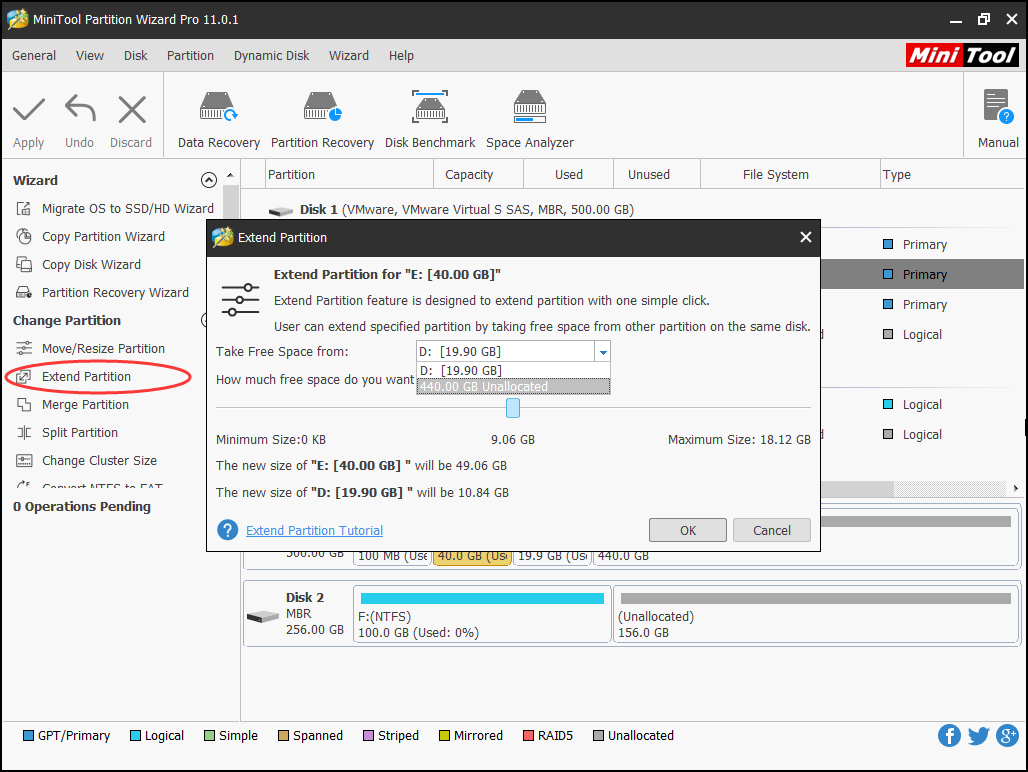 After all operations are done, users have finished merging C and D drive in Windows 7 by using MiniTool Partition Wizard, and no data loss is generated. 
"Here I got an easy way to merge C and C drive in Windows 7. Those who are trying to find a way to merge partitions can have a try."Click to Tweet
Comparing these 2 methods, we can find resorting to third-party partition manager is much better since it can help combine partitions without data loss. Just get one have a try!
For any question towards how to merge C drive and D drive in Windows 7, don't hesitate to let us know by leaving comments below.
Merge C and D Drive Windows 7 FAQ
What is the difference between C and D drive?
In Windows, C is set as the system primary partition, while D can be any partition such as the one that holds personal files, application data or even the second operating system that is currently offline. To merge C and D drive, make sure you are trying to put D drive into C. otherwise, the operating system in C wont boot.
How can I merge two partitions C and D drive in Windows 7?
Boot your computer using MiniTool Bootable media.
Get into Merge Partition wizard.
Select the system partition C as the one to be enlarged and then partition D as the one to be merged.
Confirm the merging operation and Apply.
How do I move unallocated space to C drive?
Run MiniTool Partition Wizard.
Select the partition located in front of the unallocated space and use the How do I move unallocated space to C drive? feature to drag it to the right side of the unallocated space.
Repeat the former step until the unallocated space is located at the right side of the C drive.
Now use Move/Resize Partition feature to extend the C drive.
Can we increase the size of C drive?
We can easily increase the size of C drive by using MiniTool Partition Wizard Pro.
Create a MiniTool bootable media and use it to boot your computer.
Find the real system partition and choose Extend Partition.
Follow the wizard to complete.