Two ways are recommended to free shrink Windows partition. The first one is to use the best free partition software - MiniTool Partition Wizard and the other one is to use Windows built-in Disk Management tool.
Shrinking a partition can release an unallocated space. Then this unallocated space can be used to create a new partition or be taken by another partition to enlarge its space. In one word, it can help you to manage the capacity of your hard disk more reasonably.
Therefore, you can see it is really useful to shrink partition. So, here comes the question: how to free shrink Windows partition? Don't worry, this post will share two easy and quick methods with you.
One is to use a free partition manager, and the other one is to use the Windows built-in Disk Management.
How to Free Shrink Windows Partition
The two different ways to shrink partition will be introduced in this part. Keep reading and follow the steps to try.
Method 1: Free Shrink Windows Partition with MiniTool Partition Wizard
To free shrink Windows partition, you can take advantage of a free partition magic - MiniTool Partition Wizard. It is a great partition manager free with so many powerful functions like Extend Partition, Convert FAT 32 to NTFS, Move/Resize Partition and so on.
To shrink Windows partition, Move/Resize Partition feature is what you need and it is available in the free edition of this tool. You can click the below button to have the partition manager free download.
After you launch this tool to its main interface, you will see the details shown below.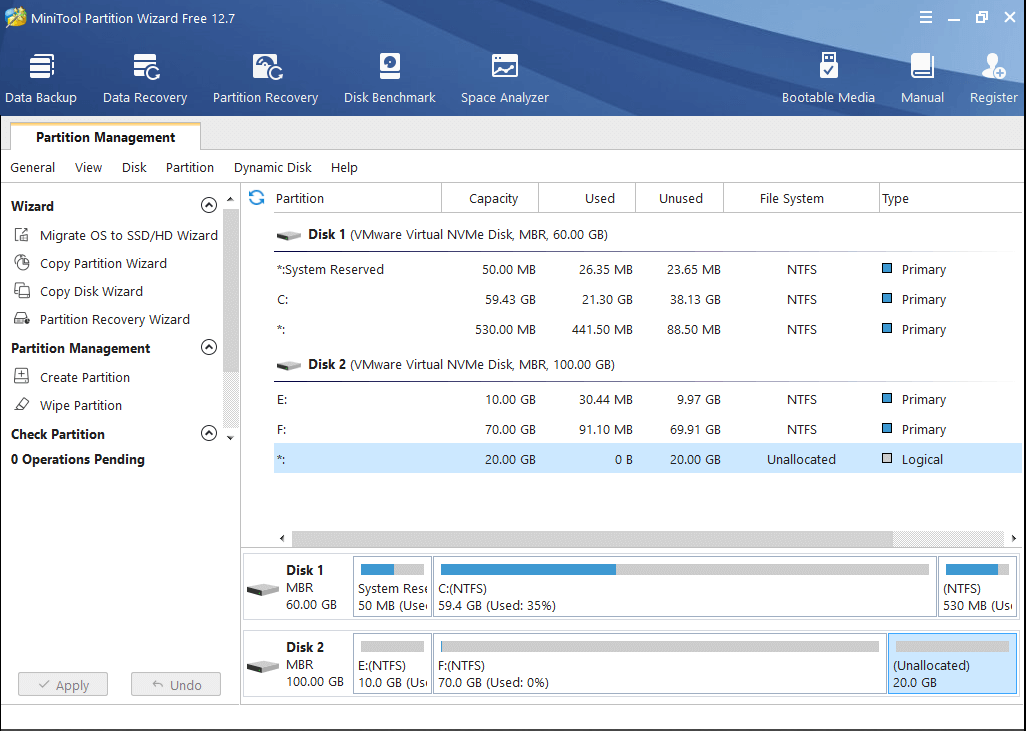 Step 1:Choose the feature Move/Resize Partition to start.
In the main interface, you can see the distribution condition of disk and partition in the computer. Select the target partition. Then you can decide to choose a way below to start shrinking.
1. Choose Move/Resize Partition from the left action panel.
2. Choose Move/Resize from the pop-up menu after right-clicking on the target partition.
3. Choose Partition from the menu bar.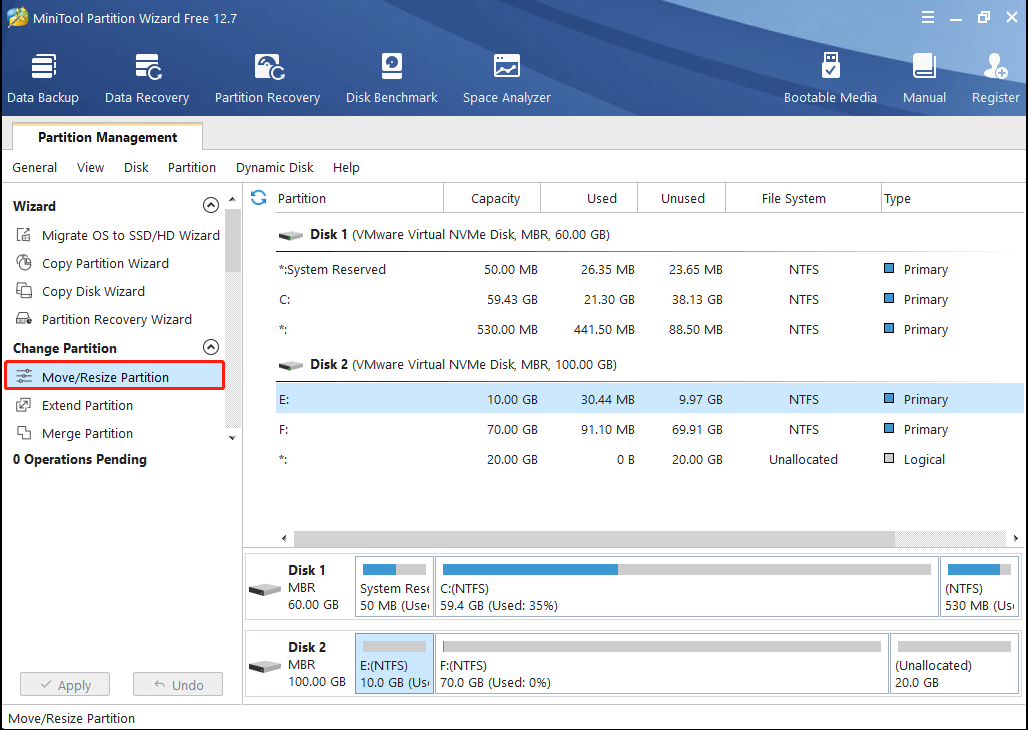 Step 2: Shrink the target partition.
In this interface, you get a pop-up window. Drag the left triangle rightward or drag the right triangle leftward to free up space of the target partition in this window, just as follows.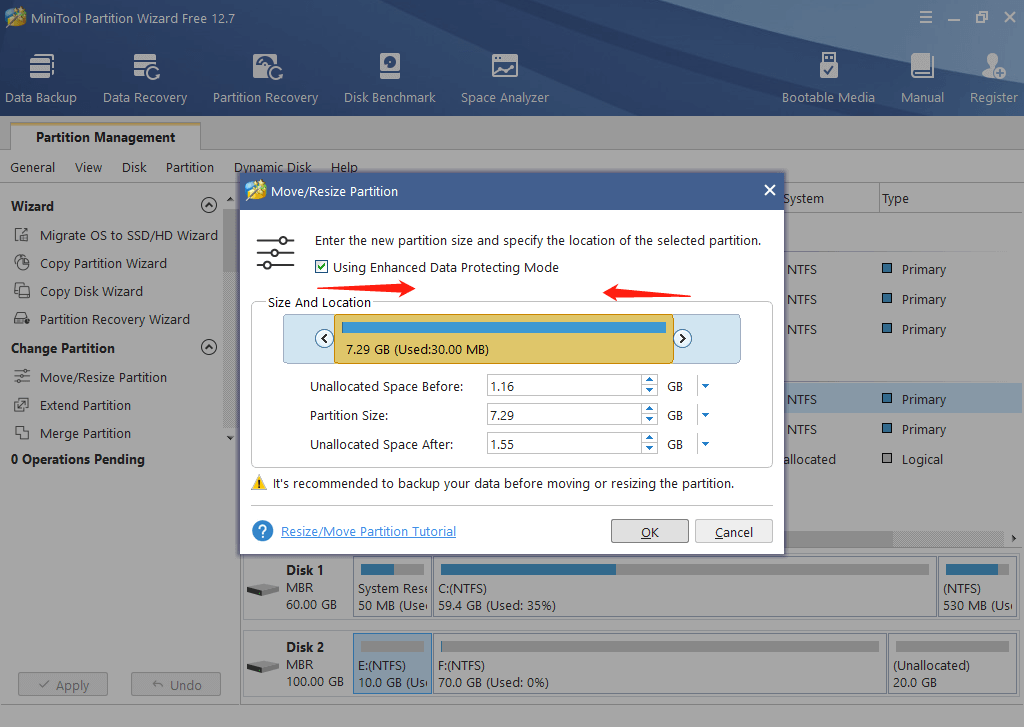 Or you can set the size you want to shrink manually. Then Click OK after the shrinking, to go back to the main interface.
Step 3: Click Apply to save the change.
In this interface, you can see that the size of the target partition is changed. As a result, there is an unallocated space in front of this target partition and another one behind. But this is only a preview effect, and you need to click Apply to perform the above operations, finishing shrinking partition in a real sense.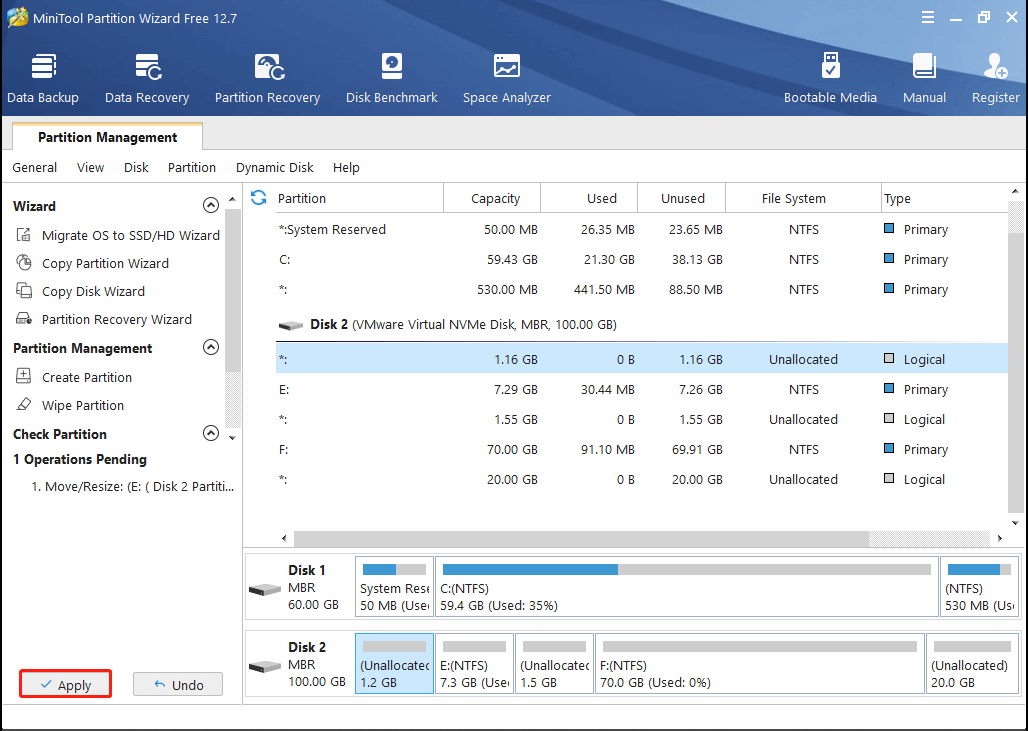 Now it finishes the shrinking, and you can check the result in Windows Explorer. Only needs three steps and your trouble will disappear.
You can see the MiniTool Partition Wizard is very convenient. It can produce more than one unallocated space and the location is not limited, so you can make full use of the space it separates.
Method 2: Shrink Volume with Disk Management
Windows Disk Management is a built-in partition tool, which can also do the shrink job for you.
In Disk Management, the feature to shrink partition named Shrink Volume. Now, to shrink Windows partition Windows 10, the detailed steps will be shown below.
Step 1: Open the Disk Management.
1. Right - click on My Computer. And it will jump out a pop-up menu.
2. Choose Manage from the menu. There will jump out a window.
3. Choose Disk Management from Storage. And then your hard disk condition will be listed.
Step 2: Right-click the target partition and choose Shrink Volume feature.
After right-clicking on the target partition, you will get a pop-up menu. Now choose Shrink Volume from the pop-up menu. Windows checks the volume to see how much it can be shrunk.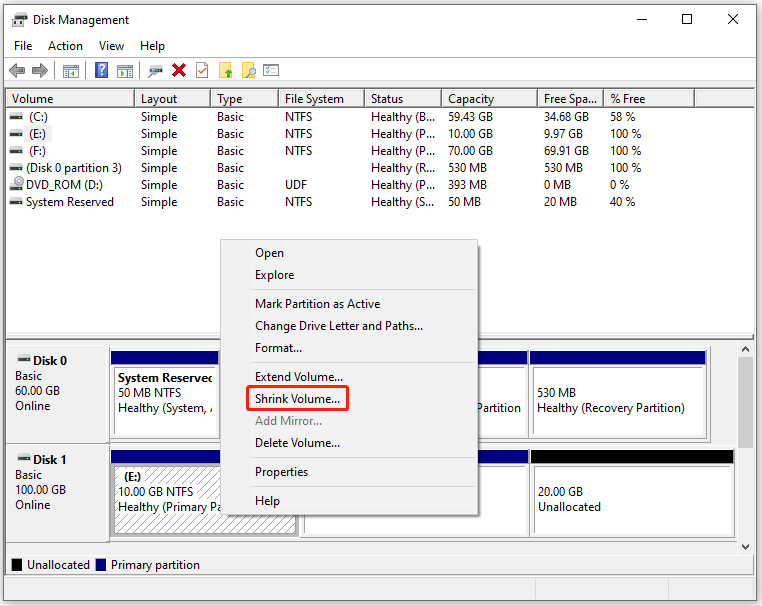 Step 3: Set the amount of disk space to release partition space.
Use the text box Enter the Amount of Space to Shrink in MB to set size you want to shrink. The amount listed here is 7118 MB. That's the maximum amount that can be shrunk; you can set the value as you want, but cannot over 7118 in this case.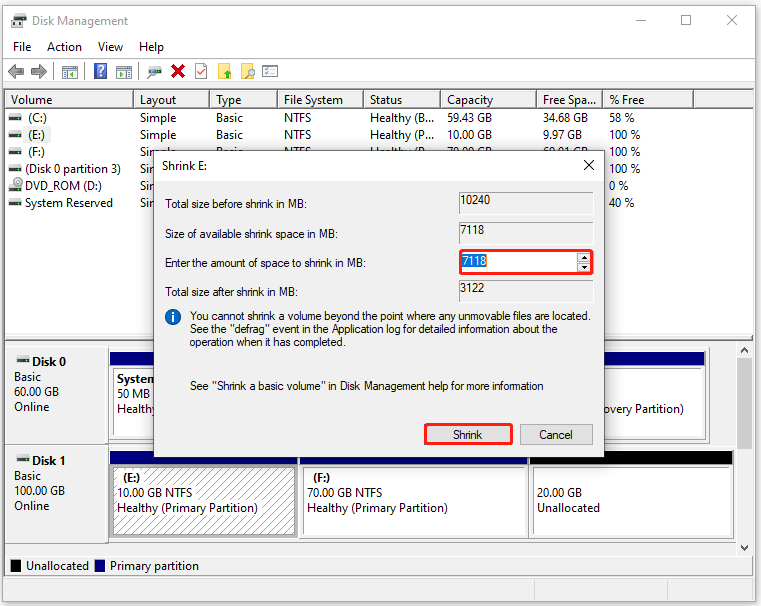 Step 4: Click the Shrink button to reduce the partition's size.
The computer busies itself with shrinking the volume. When the operation is completed, you will see the unallocated space appear right behind the target partition in the Disk Management console. Congratulations! The job is finished successfully.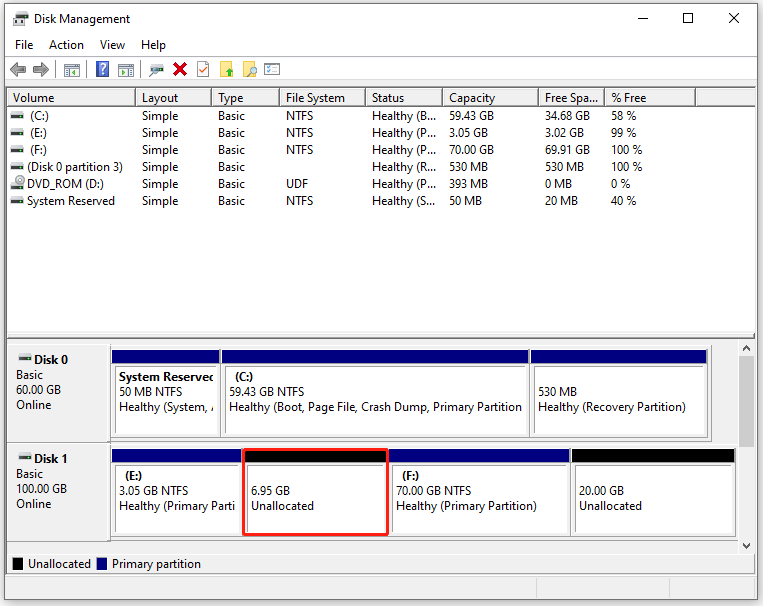 But you should know that the built-in utility has a defect that it does not allow shrinking partition from the forward to the backward, so the new unallocated space will only appear on the right side of the partition which you want to shrink.
In the above demonstration, the shrunk unallocated space only can be used to extend the partition on its left or create new partition instead of extending other partitions based on the limitation of extending a partition in Disk Management.
Obviously, there are some limitations in the Windows built-in disk management when you need to use it to shrink Windows partition. However, MiniTool Partition Wizard can break these limitations and bring you convenient.
Conclusion
After reading this post, you get two ways to free shrink Windows partition. And you can find that MiniTool Partition Wizard is a better choice relatively. Don't hesitate to use it to solve your issue.
Of course, if you have better advice in shrinking Windows partition, you can share it in the comment zone. Also, if you have any problem about MiniTool Partition Wizard, welcome to contact us by sending an email to [email protected].