For game lovers, a game booster is quite important. It usually helps them get better gaming experiences. In this post, MiniTool Partition Wizard introduces Wise Game Booster, a game optimizer for Windows PCs. You can have a try if you open play games.
Wise Game Booster is a free game optimizer available on Windows XP/Vista/Win7/8/10 (both 32-bit and 64-bit). It can help users to improve game performance by closing startups, freeing up memory, and speeding up the network. Keep reading for more details.
Wise Game Booster includes four main features: my games, system optimizer, process optimizer, and service optimizer. Now, let's see them one by one.
My Games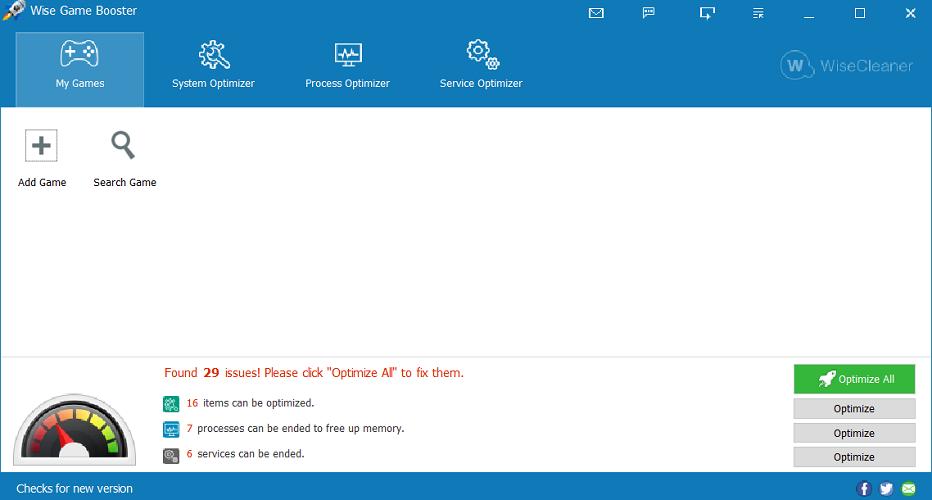 When you enter the main interface of Wise Game Booster, you can see four categories at the top toolbar.
Select the My Games category and you can add your installed games to Wise Game Booster manually or click the Search Game button to let Wise Game Booster search games from your local drives automatically.
At the bottom of Wise Game Booster, detected issues that might affect the game performance are listed, and you can click the Optimize all button to fix them with one click.
System Optimizer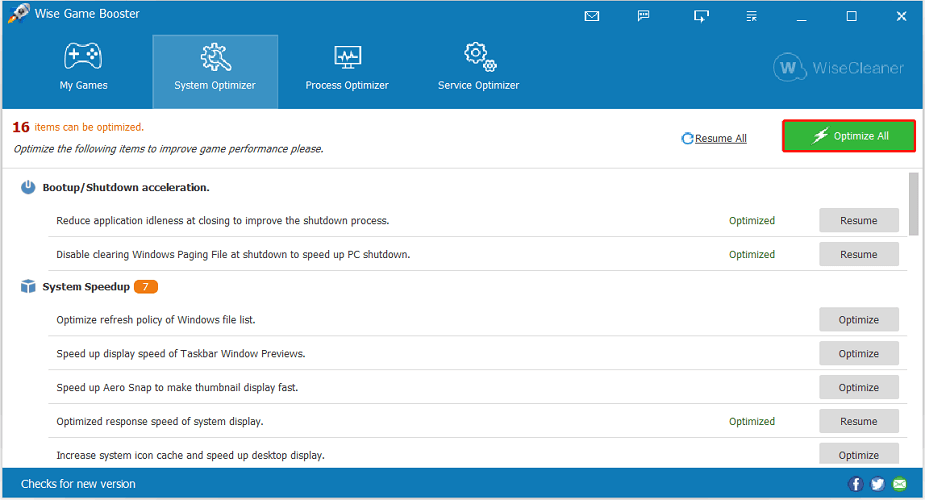 Wise Game Booster also provides a system optimizer feature. With this feature, your PC can be speeded up in many aspects, including:
The bootup and shutdown process;
System items, such as the response speed of foreground programs;
Network, such as LAN connection, DNS and DNS parsing speed, Ethernet card speed, network forwarding ability, and so on;
System stability (to avoid some basic problems that might happen to a PC);
Besides, it also allows users to optimize an SSD by disabling the drive defrag system on boot, disabling prefetch parameters, and enabling TRIM function to extend the SSD lifespan and improve the working performance.
Process Optimizer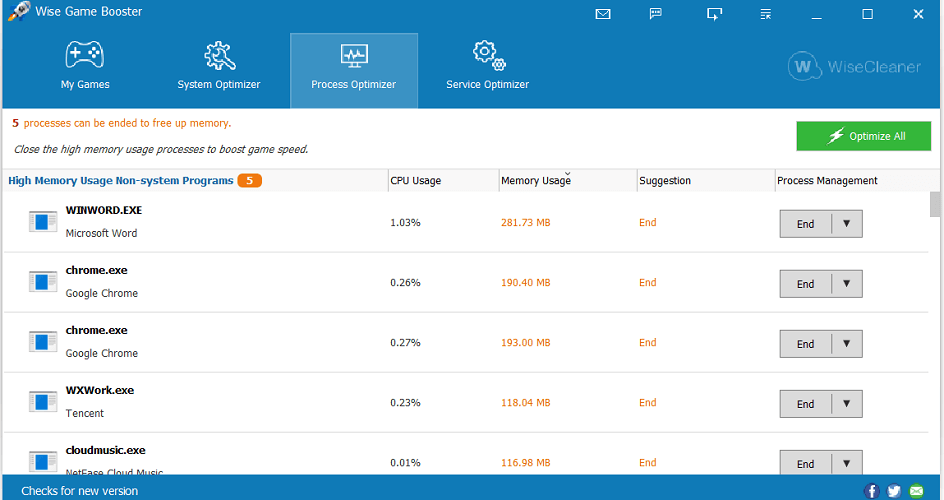 Under the Process Optimizer of Wise Game Booster, some high memory usage non-system programs are listed. You can the CPU usage and memory usage of each program. According to the suggestion from Wise Game Booster, you can choose to end some unnecessary programs running in the background to release system resources. In this way, you can play a game without less lagging or latency issues.
Service Optimizer
Similar to the process optimizer, the service optimizer feature of Wise Game Booster recommends you to stop some unnecessary services manually to boost game speed. Sometimes ending a certain service might bring problems to your PC. Before you end it, you'd better read the description under the service and make sure it can be closed without any issues.
Now you have learned the basic features of Wise Game Booster and it's your turn to have a try. Wise Game Booster is totally free and you don't need to worry about the cost. Its hardware requirements are also easy to meet:
CPU: Pentium 233 MHz or above
RAM: 128 MB or above
Disk Space: at least 10 MB
You can get the Wise Game Booster program by visiting its official website. Please do not download any program from untrusted websites, as there might be viruses or malware.
Of course, there are many other game boosters on the market. Our previous posts have introduced some of them, and you can also have a try, such as Razer Cortex Game Booster and Smart Game Boost. I prefer Smart Game Boost because it has a cool user interface and full features. You can choose the one you like according to your preferences.