Summary :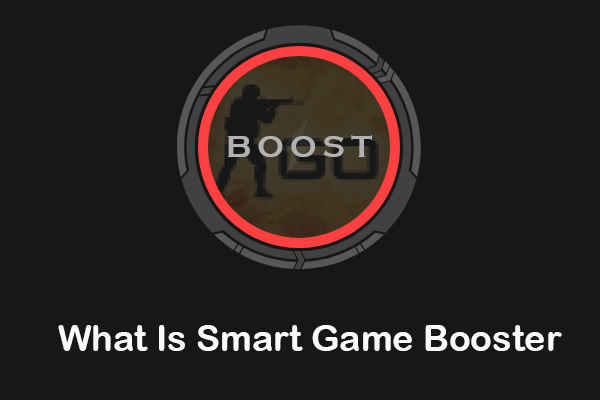 If you are a game lover, a game booster is a good choice for improving the gaming experience. In this post, MiniTool Partition Wizard introduces Smart Game Booster. Keep reading to know what it is and how to use it.
What Is Smart Game Booster?
Smart Game Booster is a professional game optimization program, released on 12 May, 2020 by Smart Game Booster. It is able to help improve PC performance, boost in-game FPS, and protect the game account.
You might wonder what you can do with this program. Don't worry. Keep reading to learn about its main features.
In general, there are four main features in Smart Game Booster: FPS boost, PC optimization, Analyze compatible games for PC, and Accounts guard. Now, let's see them one by one.
Smart Game Booster: FPS Boost
One of the main features of Smart Game Booster is the FPS booster designed for a smoother gaming experience.
As you know, FPS indicates how many frames your graphics card renders and your monitor displays each second. A higher FPS usually indicates smoother images and better performance in a game. If you have a low FPS while playing a game, there might be some performance issues with the game or your computer.
Smart Game Booster can increase FPS by unlocking the full potential of CPU and GPU. Therefore, before playing a game, you can use the FPS boost feature:
Launch Smart Game Booster.
Select the BOOST feature from the top toolbar.
Select the game you want to play and click the BOOST button for your game.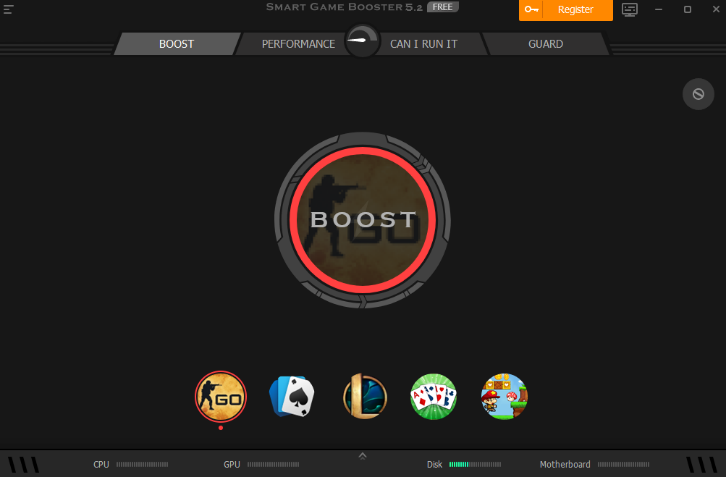 If there are available updates for your device drivers, Smart Game Booster will ask you to update them. Just follow the on-screen instructions to download and install them for a better gaming experience. Then wait patiently.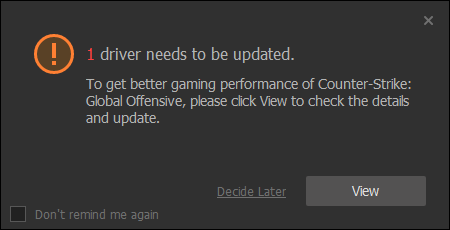 After that, you can launch the game from Smart Game Booster and you can play the game with less screen tearing and lower system latency.
In addition, at the bottom of the Smart Game Booster window, you can check the status and temperature of your CPU, GPU, disk, memory, and motherboard.
Smart Game Booster: PC Optimization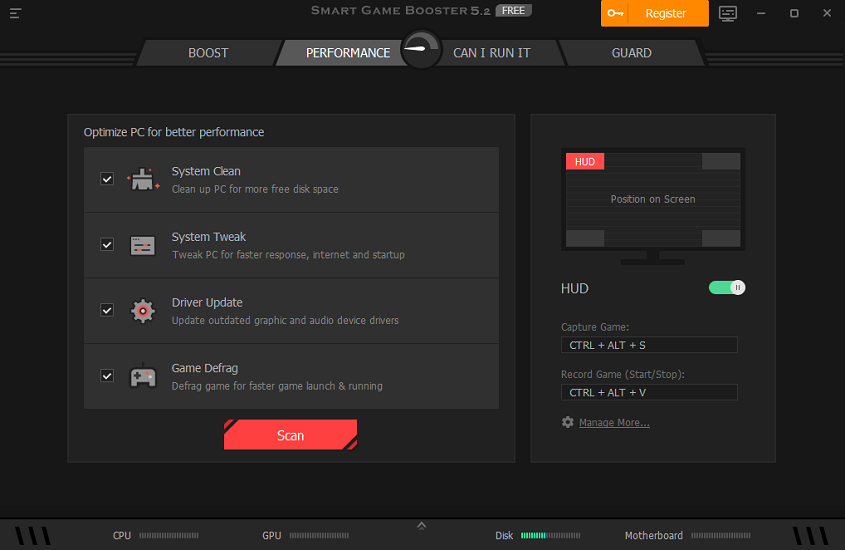 Besides increasing FPS, Smart Game Booster can also optimize PC to improve the PC performance and avoid frequent crashes. It is able to:
Clean up PC to free up disk space.
Tweak PC to speed up PC for faster response, internet, and startup.
Update outdated graphics and audio device drivers.
Defrag game for faster game launch and loading.
Smart Game Booster: Analyze compatible games for PC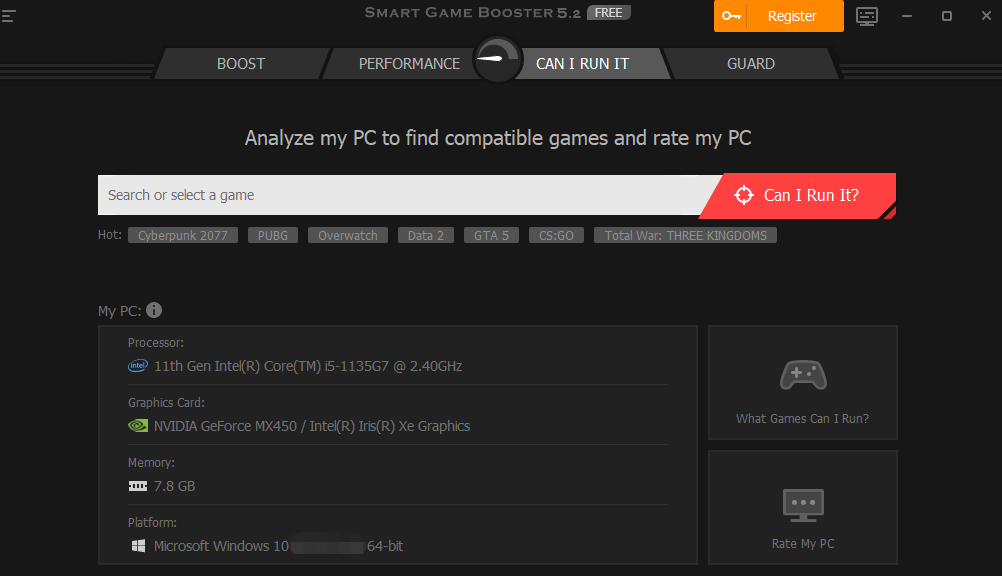 Another feature of Smart Game Booster is to analyze your PC to find compatible games and rate the PC.
If you want to run a game properly, your PC has to meet its minimum system requirements. For a better gaming experience, the recommended system requirements are required. Smart Game Booster displays some specifications of your PC here. You can search for a game and Smart Game Booster will help you analyze whether you can play it on this PC.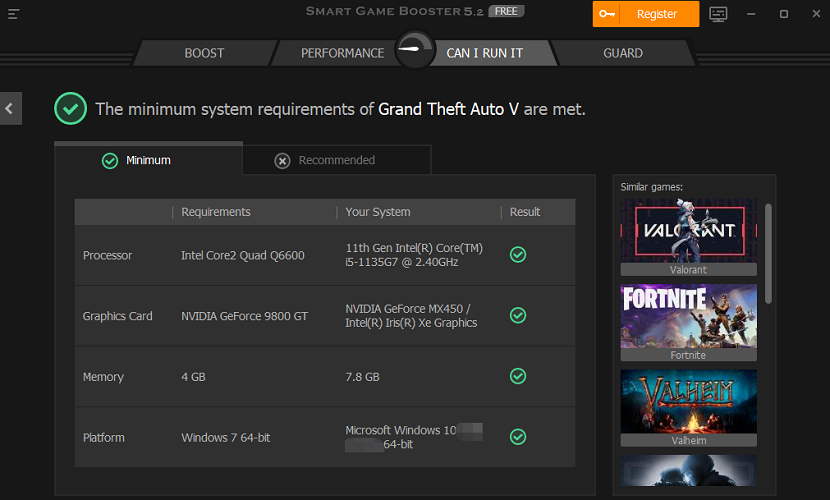 Click the "What Games Can I Run" button and you will get a list of games that are compatible with your PC, as the following picture shows. Smart Game Booster collects these games from various popular distributors, such as Steam, Uplay, Origin, Epic Games, etc.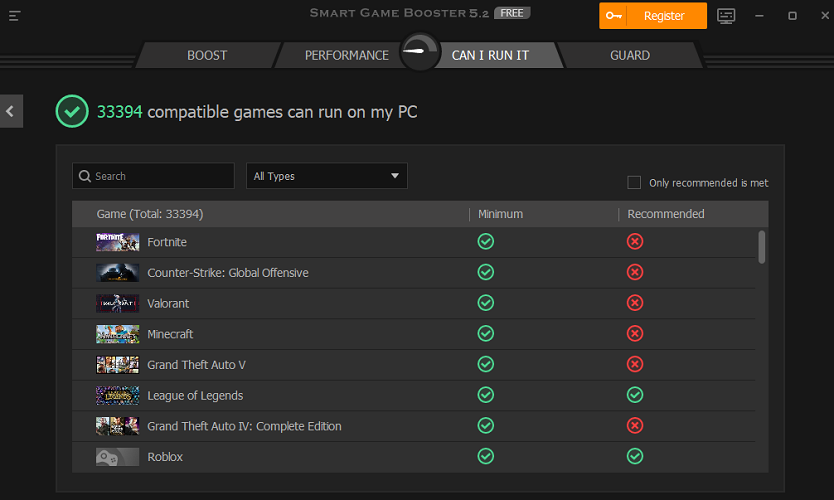 Select a game from the list can you can visit the official website of the game to download it, which is quite convenient for users who love to try new games.
Smart Game Booster: Accounts Guard
Smart Game Booster also provides a feature for protecting game accounts from hackers. It includes three types of security solutions for users:
Security Guard: it provides antivirus and firewall protection.
Account Guard: it can scan and remove spyware so that malware and password hackers will be unable to access your account and track your online trading traces.
Diagnosis: it can analyze PC status to help you find and solve PC issues.
You can use its main features free. For more advanced features, you need to upgrade to the Pro edition (start at $17.99/year). For more differences between Smart Game Booster free and pro, you should visit its official website.