This post from MiniTool Partition Wizard introduces Razer Game Booster: Razer Cortex. It can help you improve game performance. If you are a game lover, you should not miss it!
What Is Razer Cortex Game Booster
Generally speaking, Razer Cortex is a program that can be used to enhance gaming performance and system performance, as well as help discover the best gaming deals on a single platform.
It is developed by Razer Inc., a famous company that designs, develops, and sells consumer electronics and gaming hardware. If you are a game lover, you are recommended to learn about it and have a try.
As for the function, Razer Game Booster: Razer Cortex includes four parts mainly: Game Booster, System Booster, Game Deals, and Rewards. Let's see them one by one.
Razer Cortex: Game Booster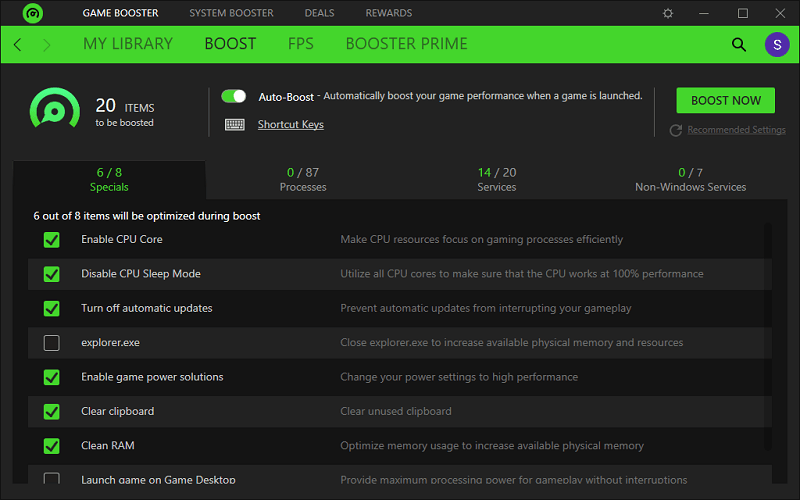 When you launch Razer Cortex, you can see four categories in the top toolbar. Here I'd like to introduce the Game Booster category. With Razer Cortex Game Booster, you can:
Use various performance enhancing and optimization tools to increase the frames per second (FPS) in a game, such as Disable CPU Core, Enable game power solutions, Clear RAM, etc.
Cut down on draggy load times.
In the program, you can choose pre-defined modes or customize FPS according to their preferences. By the way, under the MY LIBRARY tab, all the games installed on your computer will be listed, and you can launch it from Razer Cortex by clicking the Play button. You can also add a game manually to the library.
Razer Cortex: System Booster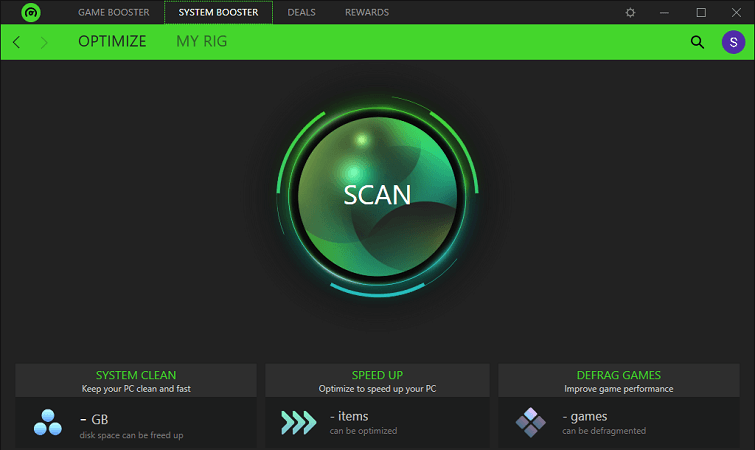 In addition to Game Booster, Razer Cortex also includes a System Booster feature. This feature can help you improve the performance of your PC, not only for gaming but also for daily use. With this tool, you can:
Clean unwanted junk files to free up disk space.
Optimize and speed up your computer.
Check your PC specifications, including the information about GPU, CPU, memory, resolution, GPU driver version, and operating system.
Razer Cortex: Game Deals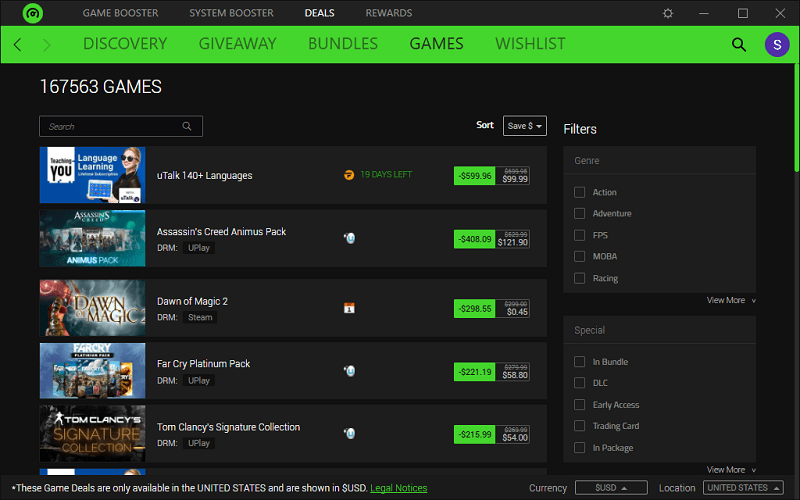 The Game Deals feature in Razer Cortex includes a price comparison engine and giveaways. In the program, you can check the latest updates on price drops from all the top digital game stores. Sometimes you might even get games or Razer hardware for free via the new giveaways of Razer Cortex if you are lucky.
Razer Cortex: Game Rewards
By launching games via Razer Cortex, you can earn digital currency. It rewards you with five Silver for each minute played and the Silver scores can be used to buy discounts or products from the Razer store. By the way, there's a daily limit to earn Razer Silver.
With the Game Rewards of Razer Cortex, you can get information about exciting campaigns and events and stay updated on the latest activities, and score rewards for free.
How to Get Razer Game Booster
After knowing what Razer Game Booster is, let's see how to get and use it. Here are the detailed steps.
Step 1: Launch your web browser and search for Razer Cortex. Then visit the official website of Razer and download Razer Cortex Game Booster.
Tip: Razer Cortex is supported for Windows 10, 8, and 7.
Step 2: Run the Razer Game Booster download file and you will get the following window. Select Razer Cortex. If you need, you can change the installation location at the bottom right corner.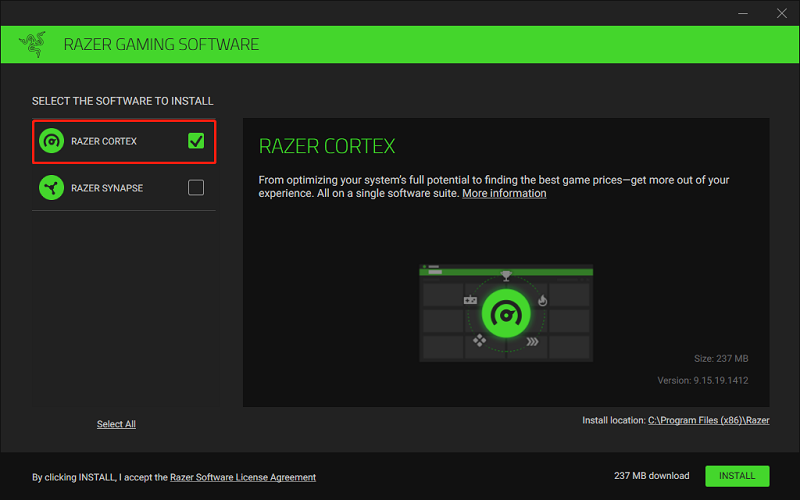 Step 3: Click the INSTALL button. Wait patiently until the installing process is finished.
Then you can launch Razer Cortex Game Booster and start to use it for free.