Do you want to try Windows Server 2016 for free? This post from MiniTool Partition Wizard shows you how to get a free Windows Server 2016 ISO. Then, you can install it on your PC and try it for 180 days.
How to Download Windows Server 2016 ISO
Windows Server 2016 is still in the support period of Microsoft, so you can get the Windows Server 2016 ISO download from the Microsoft official website. Here is the guide:
Please go to the Microsoft Evaluation Center page.
Scroll down to find Windows Server 2016 and click it.
Select ISO and the Continue
Complete a form about information like your name, company name and size, work email address and phone number, and region. Then, click the Continue button again.
Select language and click the Download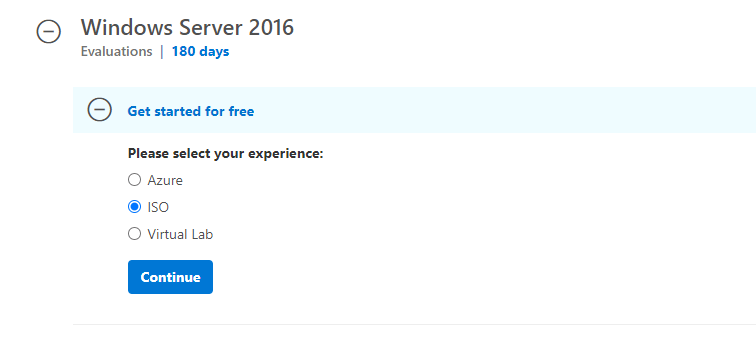 After you complete the Windows Server 2016 download, you can use Rufus or other burning software to burn the Windows Server 2016 ISO into a USB drive. Then, you can install Windows Server 2016 on a PC using the USB drive.
Note:
1. The downloaded Windows Server 2016 ISO is the Evaluation edition and it will expire in 180 days. To use it permanently, you should purchase it.
2. Evaluation versions of Windows Server must Activate over the internet in the first 10 days to avoid automatic shutdown.
System Requirements for Windows Server 2016
The minimum hardware requirements to run Windows Server are as follows:
CPU:4 GHz 64-bit processor; supports NX and DEP, CMPXCHG16b, LAHF/SAHF, PrefetchW, and Second Level Address Translation (EPT or NPT)
RAM: 512 MB (2 GB for Server with Desktop Experience installation option); supports ECC type or similar technology
Storage: 32 GB
Network: An Ethernet adapter capable of at least 1 Gb/s throughput and compliant with the PCI Express architecture specification
Additional Requirements: DVD drive, UEFI 2.3.1c-based system and firmware that supports secure boot, Trusted Platform Module, Graphics device and monitor capable of Super VGA (1024 x 768) or higher-resolution, Keyboard and Microsoft mouse, Internet access
Windows Server 2016 Editions
Windows Server 2016 include the following 6 editions:
Windows Server 2016 Essentials edition: It is designed for small businesses, and many features of Windows Server 2016 are not supported, including virtualization.
Windows Server 2016 Standard edition: It is designed for physical server environments with little or no virtualization. It includes licenses for up to two virtual machines and supports Nano server installations. It provides many roles and functions available with Windows Server 2016.
Windows Server 2016 Datacenter edition: It is designed for highly virtualized infrastructure, including private and hybrid cloud environments. It provides all roles and features available on the Windows Server 2016, including unlimited virtual machine licenses, Storage Spaces Direct and Storage Replica, etc.
Microsoft Hyper-V Server 2016: As a standalone virtualization server running virtual machines, it includes all the new features of virtualization in Windows Server 2016. This version has no GUI but has a user interface that displays a menu of configuration tasks.
Windows Storage Server 2016 Workgroup edition: It acts as entry-level unified storage.
Windows Storage Server 2016 Standard edition: It includes two virtual machine licenses and some roles like AD DS, AD CS, and AD FS are not supported.
However, the downloaded Windows Server 2016 ISO is for the Datacenter and Standard editions. When you install Windows Server 2016, you need to choose an edition. In addition, you also need to choose an installation option.
Server Core (recommended): It's a smaller installation and has no local GUI.
Server with Desktop Experience: It includes a full graphical user interface (GUI).