What is Bing? Do you want to know the difference between Bing and Google? This post from MiniTool Partition Wizard explains Bing vs Google to you. After reading it, you can decide which search engine to use.
What Is Bing?
When it comes to search engines, many of you will think of Google. However, there are many other search engines, Bing for example. Bing, also called Microsoft Bing, is a web search engine owned and operated by Microsoft. It provides a variety of search services, including web, video, image, and map search products.
As of 2022, Bing is the second largest search engine globally, with a query volume of 3.45%, behind Google (92.42%).
Bing vs Google
Interface and Features
When it comes to Google vs Bing, the interface and search feature offered by them are the biggest difference you may notice.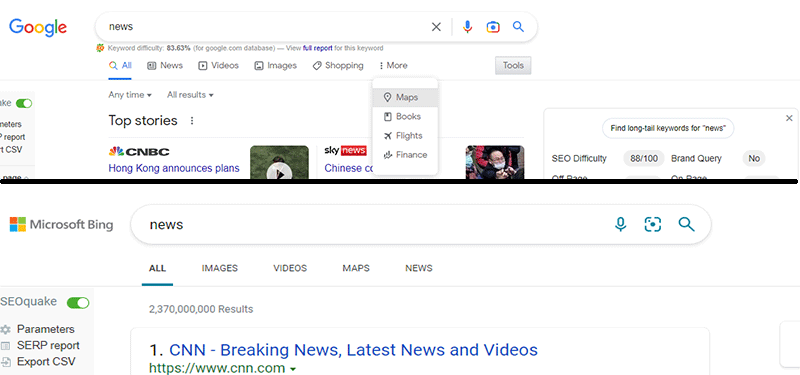 Bing's interface is very similar to Google's. The related searches are listed at the bottom. In the right panel, a relatively authoritative website is given.
As for Bing vs Google features, Google offers more features than Bing. In addition, if they offer the same feature, they may offer different tools to filter the results. For more information, you can refer to the following table:
Feature
Google
Bing
Text Search
By Time and Verbatim  
By Time
Image Search

By Size, Color, Type, Time, and Usage Rights

By Image size, Color, Type, Layout, People, Date, and License
Video Search
By Duration, Time, Quality, Source, and Closed Captioned
By Length, Date, Resolution, Source, and Price
News
By Time and Relevance
By Time and Best match
Maps

By Ratings and Open hours
Offers Directions, Phone number, and other information

Offers Directions, Phone number, Traffic, and other information
Shopping
By Price, Brand, Product Rating, Seller, Condition (New to Used), and Free shipping
NO
Books
By View, Document types, and Time
NO
Flights
Offers Travel, Hotels, and other information
NO
Finance
Offers financial news, market trends, and other information
NO
Tips:
Google Maps offers more means of travel for you to choose from in Directions.
Technical SEO
When you search for an item, Google and Bing don't offer you the same results. The reason is that they use different ranking algorithms. In general, Bing vs Google technical SEO includes the following content:
Bing heavily relies on conventional methods in understanding content like page titles, keywords in a domain, and metadata, while Google has little interest in these factors due to its advanced interpretation of language in this context. In addition, Bing focuses more on anchor text usage.
Bing has a preference for established content that's gained lots of traffic or has been live for a while. On the contrary, Google regards popular or even commercial websites just as valuable.
Google still utilizes backlinks analysis as the main method of ranking websites. The more links you have on your website, the better its overall authority, while Bing doesn't place as much weight on backlinks.
Google has mobile-first indexing guidelines. It uses a mobile version of your website for ranking and indexing purposes, while Bing doesn't have this policy.
Firefox vs Chrome | Which Is the Best Web Browser in 2022
Bing vs Google: Which One to Use?
Each search engine comes with its unique merits, flaws, and audiences. For example, Google has the biggest user community, but Bing offers a better click-through rate than Google. In addition, Due to its popularity, Google's advertisements are more expensive. You need to decide by yourself which search engine to use.
Bottom Line
Do you know other information about Hyper V vs VirtualBox? Please share them with us in the following comment zone. In addition, if you need to clone the operating system, manage disks, and recover data, you can download MiniTool Partition Wizard.