Although Windows 10's taskbar is not very ugly, it can look better just by increasing its transparency. In this post, MiniTool will show you how to make taskbar transparent through two tools: Registry Editor and TranslucentTB.
Make Taskbar Transparent via Registry Editor
The Registry is a core database in the Windows operating system, which stores various parameters that directly controls the startup of windows, the loading of hardware drivers, and the operation of some windows applications, thus playing a central role in the entire system.
Therefore, making a Windows 10 transparent taskbar is just a piece of cake to Registry. Please follow the steps below to make taskbar transparent:
Step 1: Press "Windows + R" keys simultaneously to open Run box. Then, type "regedit" into the Run box and hit Enter key to open Registry Editor.
Step 2: Navigate to the following location:
HKEY_LOCAL_MACHINE\SOFTWARE\Microsoft\Windows\CurrentVersion\Explorer\Advanced
Step 3: Right-click on the right panel and move the cursor onto New. Then, choose DWORD (32-bit) Value.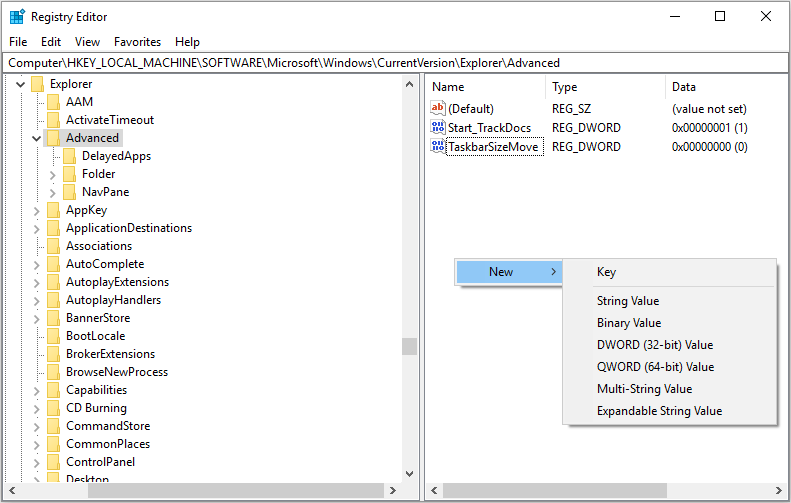 Step 4: Name the new value as UseOLEDTaskbarTransparency. Then, double-click this value and change its value data to 1. After that, click OK button to save changes.
Step 5: Right-click on the blank space of the desktop and choose Personalize. Choose Colors in the left panel and then scroll down the right panel to find Transparency effects. Turn it off and on again to apply the new change.
Through the above steps, the taskbar will become more transparent. The effect is shown as the following picture:

Tip: If you don't like the new "high transparency" look, you can change the value of UseOLEDTaskbarTransparency entry back to default 0. Then, save and apply changes again.
Make Taskbar Transparent via TranslucentTB
Although you can increase taskbar transparency with Registry Editor, you can't make the taskbar completely transparent. If you want the taskbar to be much more transparent so that only your icons show up against your wallpaper, you can use TranslucentTB.
TranslucentTB is a free, lightweight, and open-source application that allows you to quickly set your taskbar to be completely transparent. It's also capable of blurring your taskbar, and even tinting it whatever color you want.
How to make a transparent taskbar Windows 10 with TranslucentTB? Please follow steps below:
Step 1: Click here to download the latest version of TranslucentTB. (In this page, I downloaded TranslucentTB source code and setup file.)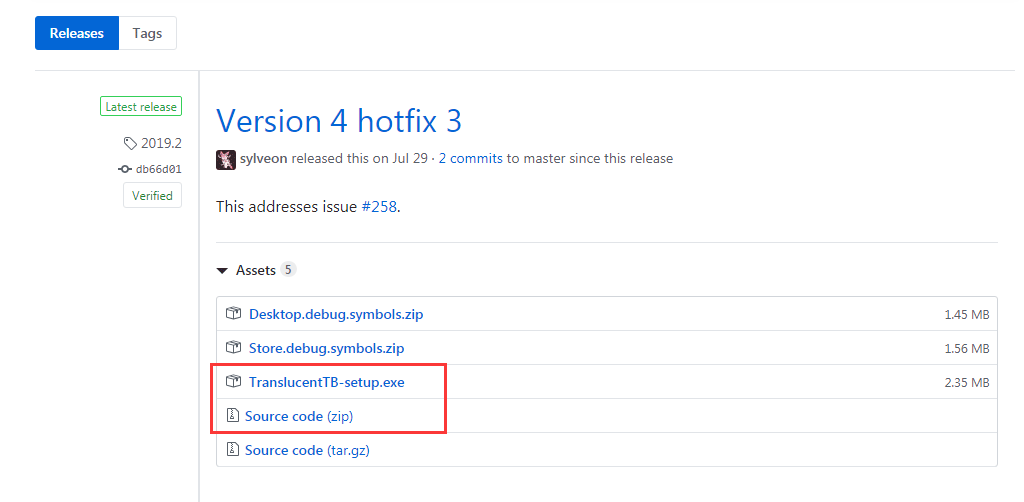 Step 2: Unzip TranslucentTB source code file. Then, double-click the TranslucentTB-setup.exe and follow the wizard to install it. (Immediately after I installed it, I noticed that my taskbar has become fully transparent.) The transparency effect is shown as the following picture:

Step 3: Click the notification tray and right-click on the TranslucentTB icon. You will get a pop-up menu shown like the following picture. (If you want the aesthetic change to become permanent, you should check Open at boot on this pop-up menu.)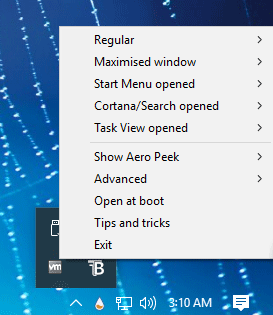 Step 4: Move the cursor onto Regular and choose one option from the pop-up menu. There are four options: Normal, Clear, Opaque, and Blur. Through these four options, you can manage taskbar transparency easily.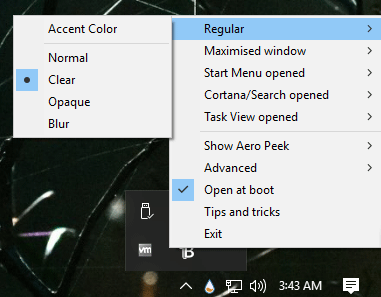 There are many other programs that can also make taskbar transparent, for example, StartIsBack, Start10, and Classic Shell. The reason why I recommend TranslucentTB is that it is an open-source program.