What Causes the Verizon Router Yellow Light?
The Verizon router has different LED lights with it, such as white, blue, green, yellow, and red. The different colors stand for different statuses. As shown in the image, the meaning of each color is as follows.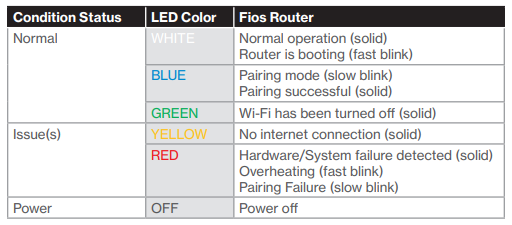 You can know that the yellow light on Verizon router stands for "No Internet connection." What causes this? Here are some possible reasons:
Your Verizon is overheating.
The wires connecting the end of the Verizon router with the electronic panel or your computer system may have become loose.
The Verizon router wires may have gotten damaged.
After knowing what causes the yellow light on Verizon routers, let's see the solutions for its fixes.
Solution 1. Check the ISP for Service Outage
If your ISP is down for maintenance or experiencing other issues, a yellow light will appear on the Verizon router. To check for this, you can visit the ISP's official site through your browser to see their announcement. If it is this kind of situation, you just need to wait. After it recovers, your Verizon light will become normal.
Solution 2. Restart Verizon Router and ONT
Restarting can fix many basic issues that happen on your device. So, you can try restarting your router and ONT (Optical Network Terminal) to fix this issue. Here's the way:
Turn off your Verizon router's power. If your router has a backup battery, disconnect it as well.
Unplug the ONT from the AC power. If there is an ONT battery, disconnect it as well.
Wait for 1–2 minutes, and then reconnect the ONT battery.
Reconnect the ONT's AC power.
Wait for the ONT to stabilize, and then restart your Verizon router.
Check if the Verizon router yellow light issue is fixed.
Solution 3. Check if your Router is Overheating
If your router is overheating, you may also encounter a Verizon router yellow light. To fix this, you can try turning off the router's power, including any backup battery, inverter, etc. Wait for it to cool down. You can also place your router in an area with sufficient airflow to prevent it from heating up again.
Solution 4. Check for the Cables
If your cables are damaged, loose, or connected to the incorrect port, you may experience an Internet connection problem. For these reasons, you'd better check all your cables in these ways:
Check if all the cables are connected to the right ports.
Examine the port for any loose cables. 
Check if there is any damage to your cables.
After checking, if you find that your cables are connected to the wrong ports or are loose from the ports, you can fix them yourself. However, if the Ethernet and broadband cables are damaged by a rat or other animal, you'd better ask for help from a technician.
Solution 5. Update The Firmware
Updating the firmware of the Verizon router can help you fix many issues. The Verizon router's firmware usually comes out once every two months or so. If your Verizon has never updated the firmware, you can have a try.
Solution 6. Contact Verizon Support
If all the solutions are unable to fix the Verizon router yellow light issue, you have to connect to Verizon's technician. This is because the problem might be a broken router or a faulty LED light that you can't fix yourself.
Bottom Line
This post provides six solutions for you to fix the Verizon router yellow light issue. You can fix it by selecting your preferred solution.
MiniTool Partition Wizard is an all-in-one partition manager and can be used for data recovery and disk diagnosis. If you are interested in MiniTool Partition Wizard and want to know more about it, you can visit MiniTool Partition Wizard's official website by clicking the hyperlink.