Are you experiencing Steam error 26 on your PC? Some players reported that they encountered Steam trade error 26 when trading on Steam. Why does this error happen? How to solve this problem? You can read this post of MiniTool Partition Wizard to find out the answers.
So, I am making a website that needs to send a trade offer to someone through a trade link. Every time I initiate the trade offer it comes up with Error 26.

--from reddit.com
As one of the most popular gaming platforms, Steam allows players to trade in-game items and extra copies of games through Steam Gifts. Sometimes, some issues (e.g., error 26 Steam) with trading in-game items may happen. The Steam trade error 26 indicates that the person is already trading with the items you want.
Why does error code 26 Steam occur? There are some possible causes listed below.
Disabled Steam Guard
Corrupted Steam client
Corrupted Steam client trading
New payment method
Full backpack of Steam client friend
How to Fix Steam Error 26
After knowing the causes of Steam trade error 26, you can try the following methods to fix this issue.
Solution 1. Restart Steam Client
First, you can try rebooting the Steam client to fix error 26 Steam. Follow the detailed steps below.
Step 1. Exit the Steam client. Then right-click the Windows icon and select Task Manager. Ensure the Steam client is not running in Task Manager.
Step 2. If the Steam client is still running, click it and select End task. Once done, relaunch the Steam client and check if the issue is fixed.
Besides, if the player you are trading with doesn't have enough backpack space, you may receive Steam error 26. So, ensure your friend's backpack is not full and they can receive the trade items. Then you can try trading with your friend again.
Open Steam and click Profile picture > View my profile > Inventory. In the next window, select View Trade History from the Trade Offers dropdown menu to check if the trading is completed.
Solution 2. Re-login Steam Client
You can try logging out of the Steam client and logging in again to fix error code 26 Steam.
Step 1. Launch Steam and navigate to Profile username > Log out of account.
Step 2. Once done, exit the Steam client and relaunch it. Then sigh-in to your Steam account again.
Solution 3. Enable Steam Guard
To get rid of Steam trade error 26, you can follow the steps below to enable Steam Guard.
Step 1. Launch Steam and login with your Steam credentials. Click Steam on the top-left side of the screen and select Settings.
Step 2. Then click Account and select MANAGE STEAM GUARD ACCOUNT SECURITY.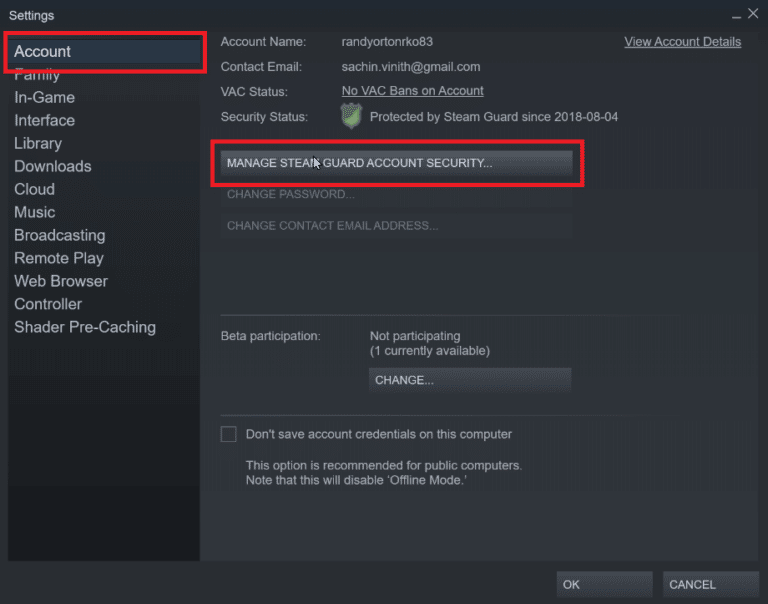 Step 3. In the next window, click Get Steam Guard codes by email (will require you to re-login).
Step 4. Then re-login to your Steam account and follow the on-screen wizard to complete the process.
Solution 4. Use Steam Web Version
You can try using the Web version of Steam to trade. Go to the Steam website and login into your account. Then you can try trading with others and check if Steam trade error 26 still exists.
Solution 5. Reinstall Steam Client
In addition to the above methods, you can try reinstalling the Steam client with these steps.
Step 1. Go to Control Panel > Programs and Features. Then right-click Steam and select Uninstall.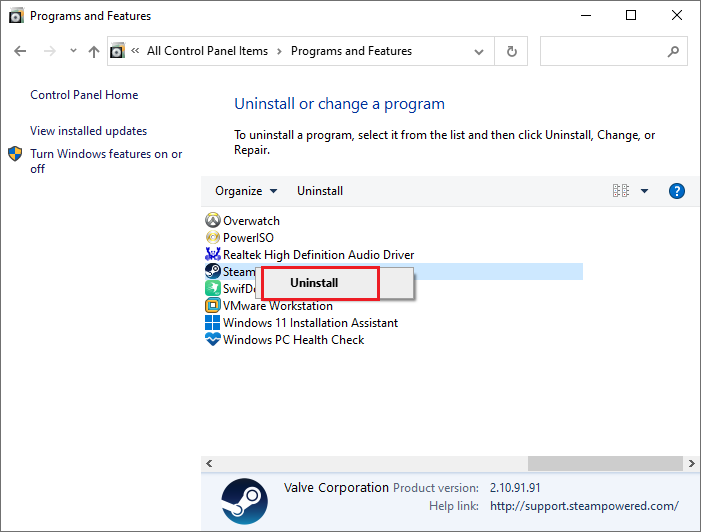 Step 2. Then follow the on-screen wizard to uninstall Steam. Once done, search %localappdata% in the Windows Search tool and open it.
Step 3. In the pop-up window, right-click the Steam folder and select Delete. Then reboot your PC.
Step 4. After rebooting, go to the Steam official site and reinstall Steam.
Step 5. Click the installed executable file and follow the installation wizard to install the application.
Solution 6. Contact Support
If Steam error 26 still exists, you can contact Steam support for help. Go to Steam > Help > Steam Support > Trading, Gifting, Market, and Steam Points > Trading. Then click I'm unable to trade. Finally, click Contact Steam Support and provide the details of your issue.
Conclusion
This post tells us some methods to fix Steam error 26. Getting your issue solved successfully? If you have any suggestions or better ideas, just feel free to tell us in the comment part below.
Besides, if you have disk or computer issues like data loss, insufficient disk space, computer freezing/running slow, or Windows not responding, you can use MiniTool Partition Wizard to solve your issue.
MiniTool Partition Wizard FreeClick to Download100%Clean & Safe