Nowadays, many people use Skype to keep contact with their family and friends or deal with something related to business. You fail to make a video call using Skype? Don't worry. MiniTool Solution offers you 5 solutions to fix the issue quickly and easily. Feel free to have a try.
Skype is a telecommunication application that has various features, including HD video calling, screen sharing, call recording and so on. You can use Skype on the web, phone or computer and it is really helpful in the modern society. However, some Skype users have reported the problem "Skype not working" sometimes.
There are some solutions for this issue on Windows 10.
Solution 1: Check Your Network
Skype won't work when there is something wrong with your network. So, if you want to fix "Skype not working", you can check your network in the first place.
If the other websites on your device are not working either, you need to try restarting the router or troubleshoot Wi-Fi issues.
If the other websites work well, the reason for "Skype not working" could be related to bandwidth
Your network speed may also be influenced when there are multiple people who are using the internet at the same time. Stop them and check if your Skype works.
If your network works perfectly and Skype still doesn't work, you need to try the next solutions.
Solution 2: Check Video Settings in Skype
You need to check your video settings and permissions if you cannot make a video call in Skype.
Here is the step by step guide to help you.
Step 1: Open Skype and go to Settings > Audio & Video.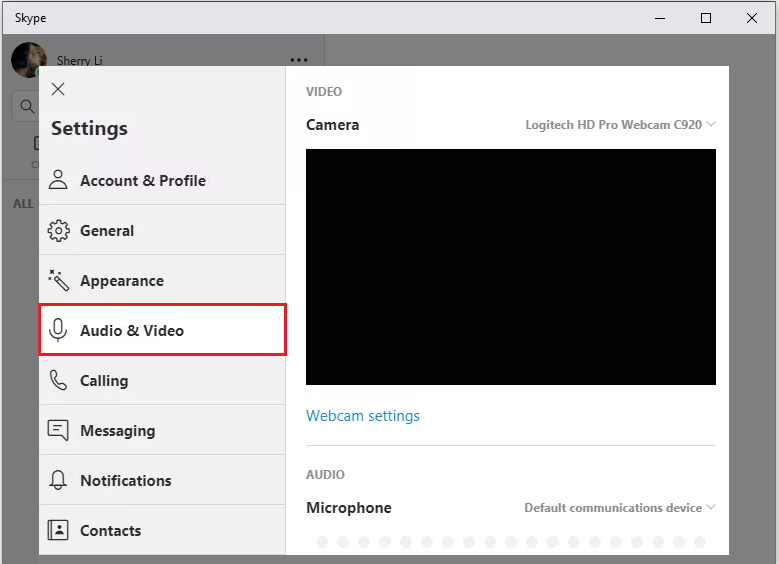 Step 2: If you don't see live video of yourself in the right pane, you need to:
Unplug the webcam then reconnect it to your computer if it is an external one.
If you get more than one camera, you can choose the one you want to use by clicking Webcam settings.
Tip: Please make sure there is nothing physically blocking the camera.
Solution 3: Allow Skype to Access Your Camera
If you have tried the first two solutions but they are not helpful, you need to check if your Skype has the permission to access your Camera and Microphone.
Step 1: Press Win + I to open Settings.
Step 2: Go to Privacy > Camera.
Step 3: Check the settings:
Make sure the option "Allow apps to access your camera" is turned on.
Under "Choose which Microsoft Store apps can access your camera", turn Skype on if it is off.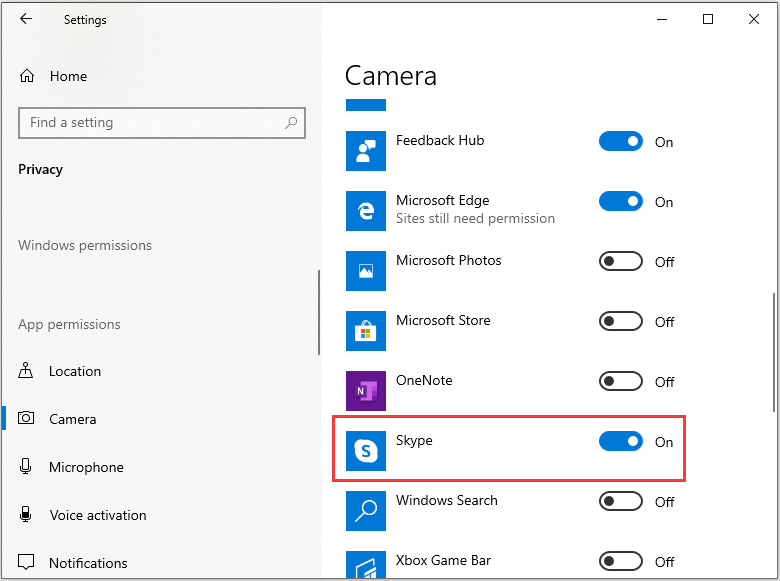 Tip: You can use the same way to check the Microphone settings.
Now you can use Skype to make a video call and check if the problem "Skype not working" has been fixed.
Solution 4: Update Your Device Driver
If your audio driver is outdated, you may have issues when you make a video call with Skype. An effective way is to update the driver.
Step 1: Press Win + R to open Run window. Then input devmgmt.msc and hit Enter to go to Device Manager.
Step 2: Double-click Sound, video and game controllers to expand it.
Step 3: Right-click your audio driver and choose Update driver from the menu.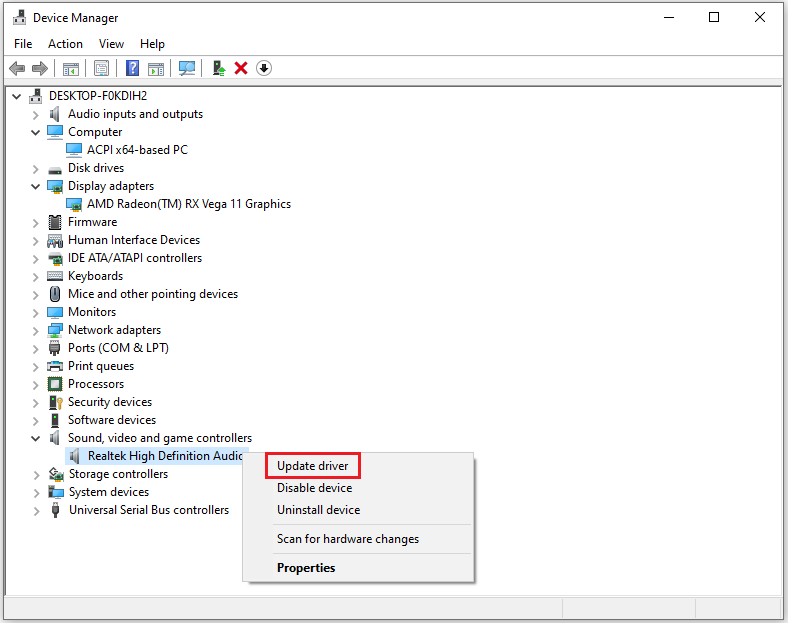 Step 4: Click Search automatically for updated driver software in the pop-up window. Then Windows will update the driver for you.
Solution 5: Reinstall Skype
You can also try reinstalling Skype to fix the problem.
Step 1: Close Skype. Then type appwiz.cpl in the Run dialog window and click OK.
Step 2: Locate and right-click Skype from the list of programs. Click Uninstall and then follow the instructions to finish the process.
Step 3: Download and install the latest version of Skype from the website.
Hope these solutions for "Skype not working on Windows 10" are useful for you!