Why is my ping so high in Roblox? how to lower ping in Roblox? A great many players are vexed by these questions. If you are also trying to fix the Roblox high ping issue, this post of MiniTool is what you need.
Roblox is a popular online game and development platform that gathers worldwide players through games. It allows you to program games and play games created by other users. Since its release, this platform attracts a large number of people. Sometimes, however, this game platform runs into various issues like Roblox error code 279, Roblox can't move, and the one discussed here. Why is my ping so high in Roblox? How to lower ping in Roblox? Let's keep reading.
Why Is My Ping So High in Roblox
According to a survey, the Roblox high ping and lag spikes can be caused by a variety of factors. The main reason behind the problem is related to a poor internet connection. In addition, outdated device drivers, corrupted DNS cache, conflicting applications, firewall or antivirus interference, and improper graphics settings are also responsible for the issue. Don't worry. We will show you how to reduce ping on Roblox in 6 simple ways.
How to Lower Ping in Roblox
How to lower ping on Roblox? There are 6 applicable fixes for you.
# 1. Optimize Your Internet Connection
A poor network connection is the most common reason for the Roblox high ping issue. So, we highly recommend you optimize your internet connection. To achieve that, you can refer to several useful tips below:
Restart your router or modem. To do so, you can unplug your router from the power, and then wait for about 60 seconds and re-plug it.
Connect to wired internet. Compared with most WiFi connections, wired connections provide you with a fairly fast and stable internet speed.
Limit the number of active connections on your network. If your internet is shared among multiple users, then you may not get enough bandwidth to run the game.
Switch to a VPN connection. Some users report that the Roblox high ping issue can be solved by switching to a VPN. Here you may have a try.
Contact your ISP. You can upgrade to an internet plan with more bandwidth, which can optimize the game experience. Also, you can improve the internet quality by upgrading associated hardware.
# 2. Close Any Unnecessary Applications and Services
If there are too many apps and programs running in the background, then it could eat up your bandwidth causing high ping in Roblox. In this case, you need to close these bandwidth-hogging programs in Task Manager.
Step 1. Press Ctrl + Shift + Esc keys to open the Task Manager window.
Step 2. In the pop-up window, select the Network tab to sort tasks by bandwidth consumption, and then right-click the bandwidth-consuming task and select End task. After that, you can repeat this step to close all unnecessary apps and services.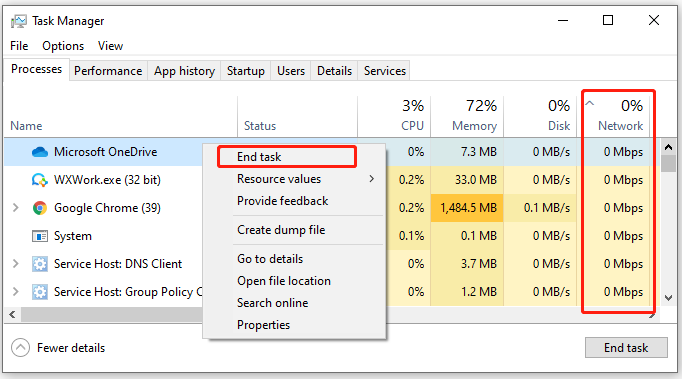 Now, you can relaunch the client and check if the high ping is lowered in Roblox.
# 3. Install Any Updates Related to Roblox
Sometimes the Roblox high ping issue can occur when your system is running with outdated software and device driver, including graphics card driver, network adapter driver, and the application itself. Here's we recommend you install any updates related to Roblox.
# 4. Allow Roblox Through Your Firewall or Antivirus
In addition, your firewall or third-party antivirus program may block the game platform or limit the online interaction. So, make sure that your Roblox is added to the exception lists of your security programs. Here you can refer to the quick guide below:
Step 1. Type firewall in the search box and then select the Windows Defender Firewall from the context menu.
Step 2. Click on Allow an app or feature through Windows Defender Firewall from the left pane.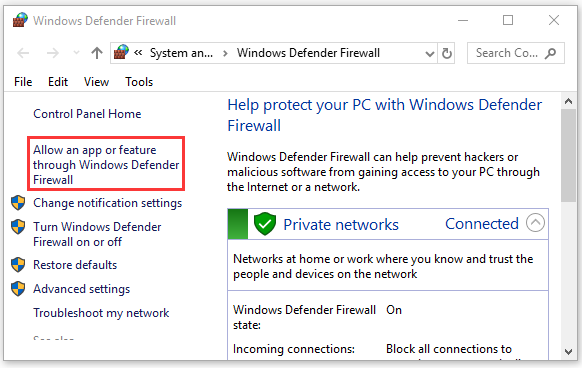 Step 3. Click on Change settings to give administrator permission, and then select the checkbox for Roblox from the list of programs, and tick the checkboxes for both Private and Public networks.
Step 4. Click on OK to save the change.
Once done, you can see if the Roblox high ping gets solved. If not, you may consider disabling the Windows Firewall temporarily.
# 5. Lower the Graphics Settings in Roblox
Another simple way on how to lower Roblox ping is to lower the graphics quality. It may seem strange but some players have proven this method is useful. Let's have a try.
Step 1. Launch the Roblox game client, and then click on Play to continue.
Step 2. Press the Esc key or click the Three-horizontal button at the left corner to open the Settings window.
Step 3. Select the Graphics Mode and set it to Manual.
Step 4. Now, select the Graphics quality option and lower it.
# 6. Flush DNS
As mentioned above, the high ping in Roblox can be triggered by corrupted DNS cache. This is because build-up DNS cache can affect the performance of your internet connection. So, we recommend you flush DNS. For that:
Step 1. Type cmd in the search box, and then right-click the Command Prompt from the top result and select Run as administrator. Click on Yes in the UAC window.
Step 2. In the elevated Command Prompt window, type the following commands in order and hit Enter after each one.
ipconfig /flushdns
ipconfig /registerdns
ipconfig /release
ipconfig /renew
netsh winsock reset
Step 3. Restart your computer to execute the last command, and then you can check if the high ping issue is fixed.
How to reduce ping on Roblox? Now you can try any or all of the 5 fixes I have explained above and see which one works best for you.