You need a network latency test tool when you perform a latency test. In this post, MiniTool lists several network latency testing tools for you. According to your needs, pick one from them now!
What Is Network Latency
Network latency refers to the amount of time it takes for a computer or application to respond to your request. Latency in networks is measured in milliseconds. It can be either measured as the Round Trip Time (RTT) or the Time to First Byte (TTFB). The less time it takes, the better. An acceptable average latency is 100 milliseconds, while some online video games require a latency under 50ms.
Tips:
1. Latency is equal to delay, which is linked to the connection speed and bandwidth of a network.
2. RTT is defined as the amount of time it takes a packet to get from the client to the server and back.
3. TTFB is the amount of time it takes for the server to receive the first byte of data when the client sends a request.
To know the exact latency of your network, you need to perform a network latency test via professional tools. In the section below, several network latency test tools are collected.
Network Latency Test Tools
The following network latency test tools provide features like network latency testing, network mapping, problem troubleshooting, general network baselining, etc. The feature varies on different latency test tools.
#1: DATADOG
This tool helps you monitor network latency between any two endpoints at the app, IP, port, or PID layers. Besides, it analyzes network traffic latency effortlessly when it flows across applications, containers, availability zones, and on-premise servers.
It aims to improve end-user experience by troubleshooting latent network communication in on-prem, cloud, or hybrid environments. To test network latency with this tool, navigate to its official website and sign up for an account with your business email. Then click the GET STARTED FREE button.
Tips:
After you sign up for the account, you can get 14 days of unlimited monitoring.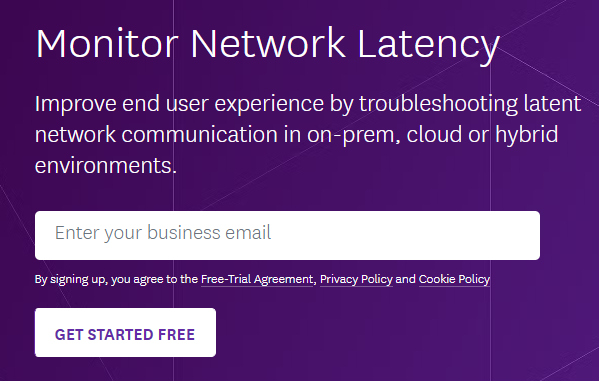 #2. Speed.cloudflare.com
This is an online network latency test tool that enables you to test network latency and network speed (download & upload). It will automatically test latency on network after you navigate to speed.cloudflare.com. Once the test ends, it shows you the results in detail. It even displays the network quality score, enabling you to know your network condition quickly. If you want to conduct network latency testing again, simply click on the Retest button.

#3. SolarWinds Network Performance Monitor
The network latency test tool from Solarwinds can test, measure, and reduce network latency. It offers you a 30-day free trial. After you click the DOWNLOAD FREE TRIAL button on its home page, it prompts you to a page where you are required to type your personal information. Once done, click PROCEED TO FREE DOWNLOAD to get this application on your computer. Then run this application to perform a network latency test.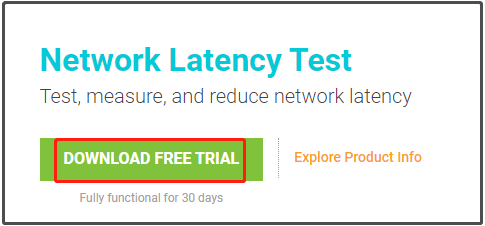 Network Latency Issues Troubleshooting
As the response is instant, absolute zero is impossible. Multiple factors can influence network latency. For instance, network latency will vary according to the types of Internet connections you use, the distance between access points and information-sending locations, and the size of bandwidth. When you encounter network latency issues, check these items first before using the methods below.
Disconnect computers or network devices and then re-connect them.
Power cycle your router and modem.
Reset the router and modem.
When the following symptoms appear, it may indicate that you are suffering from high latency.
It takes a long period of time to send your data (probably because a large attachment is included in an email).
It's slow to access servers or web-based applications.
The websites don't load at all.
Further reading:
To test the speed of storage devices, you can use the Disk Benchmark feature of MiniTool Partition Wizard. Within a few clicks, you will learn the actual write & read speed of your storage device. It can be used to test SSD, HDD, SD card, USB flash drives, etc.
MiniTool Partition Wizard FreeClick to Download100%Clean & Safe
It is considered as a replacement for programs like Blackmagic Disk Speed Test, Intel SSD Toolbox, and other similar applications.