When CPU goes high, we will open Task Manager to see which process uses more CPU. After launching Task Manager, some Windows users notice a suspicious process MPSigStub.exe. What is it? Can you remove it from your computer? Read the post where MiniTool answers all the questions.
On Windows computers, there are lots of files and users suspect whether they are safe. I have talked about DasHost.exe, NTUSER.DAT, and more. In this post, I focus on another suspicious file MPSigStub.exe.
What Is MPSigStub?
Lots of Windows users think MPSigStub.exe is suspicious due to the following cases:
It has no Microsoft credentials in the Properties window.
It sometimes is located on the second partition or even on an external hard drive.
Its file name contains the word Stub. A stub is a file created by a crypter that encrypts a malicious program to make it undetectable by anti-virus software.
In fact, the genuine MPSigStub.exe (Microsoft Protection Signature Stub) is a trusted Microsoft installer application and it was implemented on Windows Vista, Windows 7, and Windows 8.
Its role is to extract downloaded Windows Updates in a temporary directory (a folder with a name like 5b7ebf9872d5b93ab156a444). After the extracting process, MPSigStub.exe will perform various checkups and determines if the extracted files are ready to be applied.
The application is also used by Windows Defender and Microsoft Malware removal for extracting purposes. By default, MPSigStub.exe is in C:/ Windows / System 32. Known file sizes on Windows 10/8/7/XP are 548,000 bytes, 485,02 bytes, and more.
However, some malware can camouflage themselves as the executable file and hide inside C:/ Windows / System 32. Therefore, you should check the MPSigStub.exe process on your PC to see if it is a threat.
Remove MPSigStub from Windows PC
Although MPSigStub.exe will not break your system files, it is not essential for Windows. If you want to remove it and the folders it created, you can follow the tutorials below and the tutorials are carried out on Windows 10 computer.
Delete MPSigStub.exe via File Explorer:
Input exe in the Cortana's search bar. Right-click the result and click Run as Administrator.
Click Yes on the UAC window.
Find the folder that contains MPSigStub.exe, right-click it and choose the Delete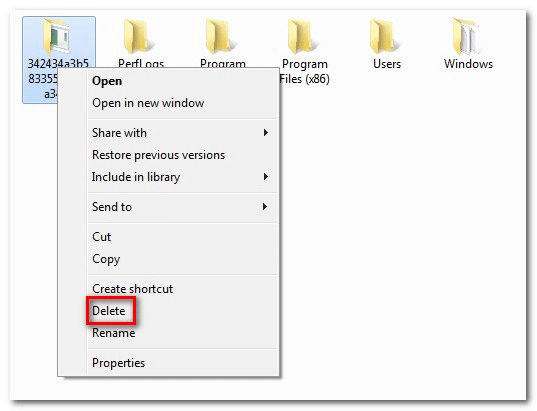 Delete MPSigStub.exe via Properties:
You can remove the file by making some changes in its Properties window. How to do that? Follow the steps below.
Step 1: Find the location of MPSigStub.exe and right-click it to select Properties.
Step 2: On the Properties window, go to the Security tab and then click the Edit button to change permissions.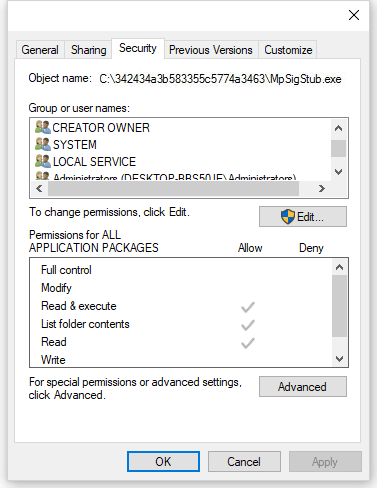 Step 3: In the Permission window, select Users and ensure that your account is set as active. Check all the boxes under Allow and finally click the Apply button.
Step 4: Find MPsigStub.exe again and delete it normally.
Do you have any other doubts about MPSigStub.exe? If yes, please write them down in the following comment zone and we will reply to you as soon as possible.
If you really want to delete the file and the folder it created, you can try one of the mentioned ways.