You Really Need Reliable Antivirus Protection
We live in a so-called digital world that has become increasingly complex with time. These days, it is hardly impossible to manage our computer without solid antivirus protection, regardless of whether you prefer Windows or Mac OS.
Nowadays, the bad guys of the internet are so sunning that they are always coming up with new ways to breach our privacy, drain our bank account, and so on. It is always a big headache.
However, somebody always has fluke mind that he thinks he is a careful web suffer, while experts admit that even a careful web surfer still needs reliable antivirus protection to stay protected from a range of ever-evolving threats, such as ransomware, virus, spyware, and so on.
Bitdefender VS. Windows Defender
You may have realized the significance of the antivirus protection. Whether you are paying for an antivirus or choosing a free alternative, you will need to know whether the features are enough to keep your data safe.
With this in mind, let's see a head-to-head battle between two reliable antivirus – Bitdefender and Windows Defender, and what they offer you.
Bitdefender - Comprehensive Sets of Features
As the Wikipedia record, Bitdefender is a Romain cybersecurity and anti-virus software company. It develops and sells anti-virus software, internet security software, endpoint security software, and other cybersecurity products and services.
Shine 1: protecting against cyber attackers that take advantage of your mic or webcam
Most Bitdefender packages come with protection against cyber attackers that use your mic or webcam, with restrictions on both. To secure your webcam against kinds of threats, Bitdefender is one of the top recommendations.
Shine 2: creating a secure payment environment via Bitdefender Safepay
If you are worried about buying online, you can use Bitdefender Safepay, which lets you browse online in a secure environment. You can use it for any website, but please note that Bitdefender will alert you to switch to its Safepay if it finds you are trying to make a payment without it.
This feature works well with Bitdefender's limited VPN, too, especially if you are unaware of the danger of public WiFi and you risk your data on an open WiFi network.
You get a daily allowance for data, but this is capped at 200MB. If VPN protection is important, you'll want to combine Bitdefender with a VPN provider like ExpressVPN
Shine 3: coming with a password manager to protect your most sensitive data
Bitdefender features a password manager to protect your most sensitive data, which is a nice addition.
Given the risk from ransomware, it is good to see that Bitdefender prevents file changes to your most sensitive data and offers comprehensive file encryption to lock down any critical documents. There is also a neat file shredder that erases any of your files. 
Please note that most of these features are standard for Windows users with the most basic Bitdefender Internet Security package, and you will need to choose one of Bitdefender's multi-OS plans, like Total Security your Mac or Android device.
Windows Defender – A Typical Antivirus Scanner
Windows Defender is the free and default antivirus option, and it comes as part of Windows itself. Depending on your specific version of Windows 10, Windows Defender may be called Windows Security or Windows Defender Security.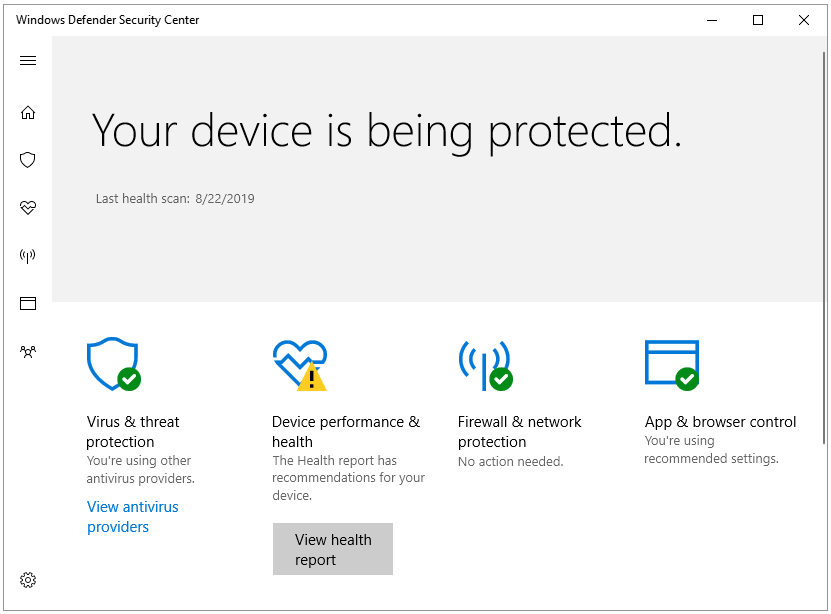 Shine 1: giving a way to the installed third-party antivirus 
Windows Defender will switch itself and let its competitor take over once the third-party antivirus is installed. Once you uninstall it, Windows Defender will reactivate its protection.
Shine 2: performing a quick and thorough scan 
As its core, Windows Defender is a typical antivirus scanner. You can do a quick scan to detect any immediate threats, but it also offers targeted scanning of folder or drive, in addition to a more thorough scan of your system.
Shine 3: offering web protection via SmartScreen
Thanks to SmartScreen, Windows's anti-phishing and anti-malware protection, Windows Defender includes web protection.
SmartScreen takes advantages of Microsoft's extensive experience with cloud computing, using an extensive cloud-based database of threats to offer the widest possible protection.
This feature comes pre-built into Microsoft Edge, and will soon be available to Google Chrome users with the Windows Defender Browser Protection extension. This will make Chrome even safer to use.
Shine 4: offering specific protection against ransomware
Windows Defender also embraces specific protection against ransomware. By default, it will protect certain folders, like your documents folder, but you can also customize it to protect any folders you want. Furthermore, it also automatically backs up these files to your OneDrive account.
Compared with Bitdefender, Windows Defender doesn't offer all the trimmings, but it offers a solid alternative to a third-party antivirus suit.