What Is DasHost.exe?
DasHost.exe, short for Device Association Framework Provider Host, is a file provided by Microsoft. This file is used to connect wireless and wired devices to the Windows operating system, including the mouse and printer.
Is DasHost.exe a Virus?
Usually, in Windows 10 and 8, the dashost.exe file is not a virus and it won't threat your computer. But if you find the file in Windows 7 or other previous versions of Windows, it is most definitely a virus, or it is not necessary for Windows to run normally.
However, the dasHost.exe file can also be a virus on Windows 8 and 10. If there are many dasHose.exe processes running or one of them is using high CPU or memory in Task Manager, you should take some actions to confirm whether they are viruses.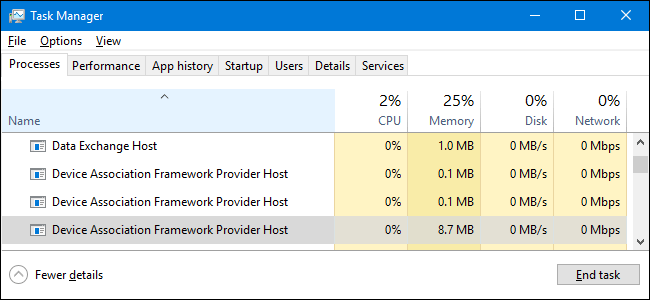 To confirm whether the dasHost.exe running on Task Manager is a virus, you can see the location of the file.
On the Task Manager window, switch to the Details
Right-click the exe process and then select Open file location.
If the location of the file is C:WindowsSystem32, you can take it easy as the location means that this file is benign. If the file is in another location, you need to remove it immediately to protect your computer. The tutorial on removing the malicious dasHost.exe displayed below.
There is another way to help tell whether the file is potentially harmful.
Under the Details Right-click the suspicious dasHost.exe process and then select Properties.
On the Properties window, look at its size.
The size of the real dasHost.exe file should be less than 100KB. If the size of the file is more than that number (especially the size is several megabytes), you need to delete it as soon as possible.
Why Does DasHost.exe Use High CPU or Memory?
Normally, the dasHost.exe process just uses less than 10MB of RAM and near zero percent in CPU usage when you do pair a device.
If you find the dasHost.exe process eats up too excessive memory or CPU usage, there are two cases.
The file is a virus and you need to check your computer for malware.
The file is real and you need to update your OS and then update the drivers if necessary.
To scan your computer for malware, you can utilize Windows Defender.
Click Start button and then select the Settings
On the Settings Window, select Update & security > Windows Defender.
Click Open Windows Defender Security Center from the right pane and then click Virus & threat protection.
Click the Quick scan button to let this tool to find the potential threats.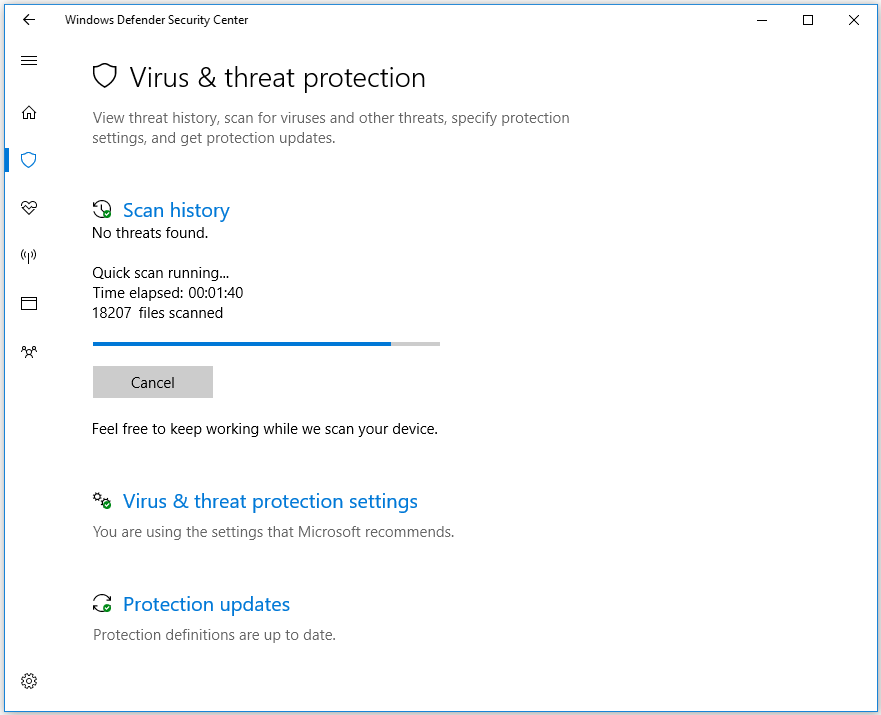 To know the ways to update Windows, you can read the post Two Efficient Ways to Do Windows Update from Command Line.
When your Windows has been updated, you should open Device Manager and see if there are any unknown devices (with a little yellow exclamation mark) that Windows has not been able to identify. You can try manually updating these drivers. It is possible that your Windows can find drivers for the device. If Windows fails to do that, you may need to find drivers for those unknown devices by yourself.
Can You Disable Malicious DasHost.exe?
Please note that you can't disable Device Association Framework Provider Host. Without the file, most devices cannot connect to your computer. If you think this process consumes lots of CPU or memory, you can try temporarily killing it.
If you have confirmed the dasHost.exe is a virus by using the mentioned ways, you can try the deleting it manually. If you cannot remove it, you can try scanning your computer to remove the virus.