There are various memory cards on the market. If you buy a wrong card for your digital device, it's possible that your device can't access the card. In this post, MiniTool introduces several common memory card types on the market to you, including SD, TF, CF, MMC, MS, xD, and XQD card.
Memory cards, generally in the form of cards, have the characteristics of small size and large storage capacity. They are independent storage media used in mobile phones, digital cameras, portable computers, MP3s and other digital products.
Due to the wide application of memory cards, many manufacturers have launched their own products, so there are many types of memory cards. Different types of memory cards may be incompatible in interface. Before you buy a memory card for digital products, you must first figure out the type of memory card you need.
The types of memory cards currently available on the market include SD, TF, CF, MMC, MS, xD, etc. In this post, I will introduce them to you.
1. CF Card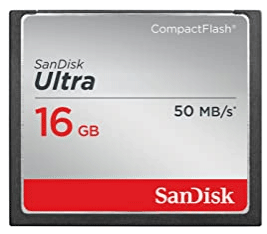 The CF card (Compact Flash) was first launched by SanDisk in 1994. It's supported by CFA (CompactFlash Association), which already has members like Canon, LG, Epson, Casio, Minolta, Nikon, Kodak, NEC, Polaroid, Panasonic Psion, HP and many other OEM users and partners. Therefore, CF card has a solid foundation.
The CF card is one of the longest-standing memory cards on the market. It has advantages like large storage capacity, low cost, and good compatibility. Its disadvantage is the large size. The CF card is divided into CF I and CF II. The latter is twice as thick as the former.
CF I card slot does not support CF II card, while CF II card slot is backward compatible with CF I card and supports MicroDrives. Besides, most other types of memory cards can be used on the CF card slot through the adapter, including SD cards, MMC cards, Memory Stick Duo, xD cards, SmartMedia cards, etc.
Note: CFA later introduced faster CFast and CFexpress cards, so CF card is sure to be phased out. CF card, CFast card, and CFexpress card are not compatible with one another.
2. MMC Card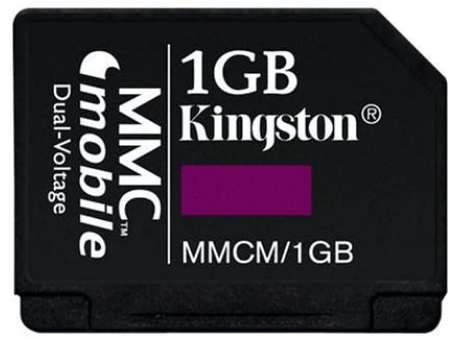 Due to the large volume of traditional CF cards, Siemens and SanDisk jointly launched a brand-new memory card product in 1997 — the MultiMedia Card (MMC). The biggest highlight of the card is its wide compatibility. It fits in devices like digital camera, MP3, MP4, mobile phone, GPS, PAD, etc.
It later derived models such as RS-MMC, MMC Plus, and MMC Mobile. SD card is also developed on the base of MMC, so MMC card can be read by SD slot.
3. SD Card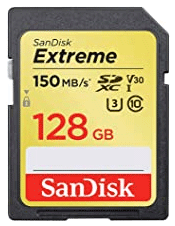 SD card (Secure Digital Memory Card) is currently the most widely used memory card. It was jointly developed by Japan's Matsushita, Toshiba and the US SanDisk in August 1999.
The SD card is developed based on the MultiMedia card (MMC) format, and the size is similar to the MMC card, but it is 0.7mm thicker than the MMC card to accommodate a larger capacity storage unit. The SD slot can accept the MMC card, while the MMC slot can't read SD card.
The upper limit of the standard capacity of SD cards is only 2GB, which is not enough to cope with the increasing capacity requirements. Therefore, new SDHC and SDXC standards have been formulated to make the maximum capacity of SD cards up to 2TB.
In addition to ordinary SD cards, there are smaller Mini SD cards and Micro SD cards. These cards can be read by the SD card slot if they are sleeved with adapter.
Note:
Micro SD card is also called TF card (TransFLash). Read
TF vs Micro SD
to know more.
4. MS Card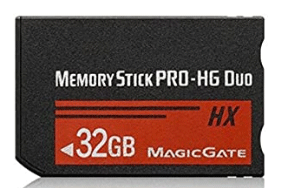 MS (Memory Stick) is a memory card product introduced by Sony in 1999. It is only used in Sony's digital products. However, because Sony's digital product line is very rich, the Memory Stick is popularized rapidly and is widely used.
In addition, Sony has also launched expanded and upgraded products of Memory Stick, including MS PRO, MS Duo, MS PRO Duo, MS Micro (M2), and Compact Vault.
5. xD Card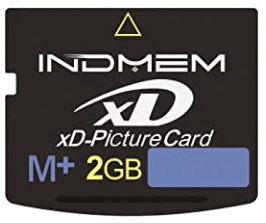 The xD card, also called xD-Picture card, is jointly launched by Olympus Corporation and Fuji Co., Ltd. After 2003, digital cameras produced by Fuji and Olympus all used xD memory cards as media.
At present, there are three types of xD cards commonly available in the market: standard type, M type, and H type. The three types are only different in technology and chip, so the speed is also different. Among them, the H-type xD card is the fastest, and its reading and writing speed is about 2 times faster than the standard type and three times faster than the M type.
6. XQD Card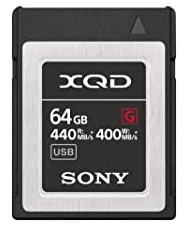 The XQD forma was first announced in November 2010 by SanDisk, Sony, and Nikon, and was immediately picked up by the CFA for development.
The format is designed for high-resolution cameras and digital cameras. It uses PCI Express as a data transfer interface and provides a reading speed of 500 MB/s and a writing speed of 125 MB/s. The storage capacity can exceed 2TB.
The XQD card is not backward compatible with CompactFlash or CFast cards. But it is compatible with CFexpress card.