This post will introduce you with some basic yet crucial knowledge about AM3+ CPU. You will probably find what you want here. To learn more related info, just go to MiniTool partition assistant website.
What Is AM3+ CPU?
AM3+ CPU refers to the CPU compatible with socket AM3+.
Socket AM3+ is an evolution and modification of the former AM3 Socket. It can also be called the replacement or successor/inheritor of the Socket AM3. AM3+ Socket, launched in the middle of 2011, is designed for processors that make use of the AMD Bulldozer microarchitecture and is compatible with AM3 CPUs. In other words, the AM3 processors fit the AM3+ motherboard.
The AMD Vishera line processors also adopt the AM3+ Socket. Socket AM3+ is the last AMD Socket for which Windows XP operating system support officially exists.
AM3+ CPU Cooler
Since the four holes for fastening the heatsink to the motherboard are located in a rectangle with lateral lengths of 48 mm and 96 mm for AMD's sockets including Socket FM2, Socket AM3+, Socket AM3, Socket AM2+ and Socket AM2, it is interchangeable for the cooling systems of those sockets.
About AM3 Processor
Similarly, AM3 processor refers to a processor paired with Socket AM3.
AM3 Socket is a kind of CPU socket for AMD processors. It was released on Feb. 9, 2009, as the inheritor to AM2+ Socket, alongside the initial grouping of Phenom II CUPs designed for it. The most important progress for AM3 compared to AM2+ is the support for DDR3 SDRAM. The largest CPU for AM3 Socket is the Phenom II X6 100T.
Socket AM3+ vs AM3
We will use a table to compare AM3+ and AM3 CPUs, and list the differences between the AM3+ Socket and Socket AM3.
| | | | | |
| --- | --- | --- | --- | --- |
| | Pin number | Pin diameter | Serial link speed | Maximum current |
| AM3+ | 942 | 0.51 mm | 3400 kHz | 145 A |
| AM3 | 941 | 0.45mm | 400 kHz | 110 A |
Besides, there is a redesigned CPU cooler retention harness that enables slightly better airflow for AM3+ CPU while keeping cooler backward compatibility.
Some CPU manufacturers have gained AM3+ support for some of their AM3 kind motherboards by upgrading BIOS. Therefore, the mechanical compatibility is guaranteed and it's possible to fit AM3+ CPU in AM3 Socket mainboards if the AM3 socket can supply enough peak current.
And, for using the sideband temperature sensor interface to read the processor temp, some CPU PWM fan headers may only run at full speed. Moreover, certain power-saving utilities may not work for lacking support for rapid VCore switching.
Though AM3+ socket CPUs are technically compatible with motherboards of socket AM2+ and AM2 on pin numbers, they still can't work with those boards for lacking the DDR2 controller on the processor.
AM3+ CPU List
Below is a chart of the AM3+ Socket compatible processor list.
AMD FX 4100
AMD FX 4130
AMD FX 4150
AMD FX 4170
AMD FX 4200
AMD FX 4300
AMD FX 4320
AMD FX 4350
AMD FX 6100
AMD FX 6120
AMD FX 6130
AMD FX 6200
AMD FX 6300
AMD FX 6350
AMD FX 8100
AMD FX 8120
AMD FX 8140
AMD FX 8150
AMD FX 8300
AMD FX 8310
AMD FX 8320
AMD FX 8320E
AMD FX 8350
AMD FX 8370
AMD FX 8370E
AMD FX 9370
AMD FX 9590
Best AM3+ CPU
The following will introduce the top 3 AM3+ CPUs on Amazon. They are also the best AM3+ processors for gaming.
#1 AMD FX8350 45646788 FD8350FRHKBOX
AMD AM3+ CPU FX8350 is the industry's first and only native 8-core desktop CPU for unmatched multitasking and pure core performance with all-new "Bulldozer" architecture. With a clock speed of 4.0 GHz, turbo speed 4.2 GHz, 8 MB L3 Cache and 125 W electricity, the processor can run multiple compute-intensive applications seamlessly.
#2 AMD FD8300WMHKBOX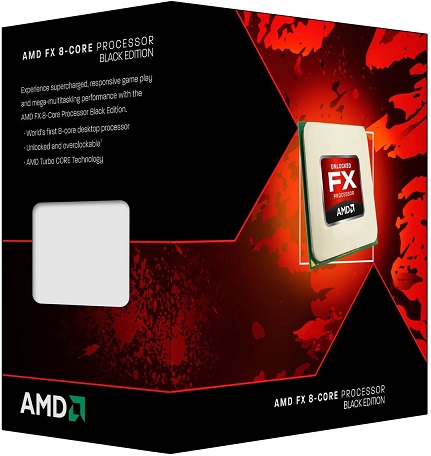 AMD FD8300WMHKBOX is a desktop processor with AM3+ Socket support, Wishera 8-core chipset, 3.3 GHz clock speed, 4200 GHz processor speed and 95 W power supply. It supports DDR3 SDRAM memory and was first available on January 31st, 2015.
#3 Dopam Do AMD FX 8370
Dopam Do AMD FX 8370 is an AM3+ CPU of octa cores, 4.0 GHz clock speed, 8 MB L2 cache capacity, and 125W power supply. Its processor is 32 nanometers and was first released on July 2, 2019.
Also read: