Sometimes, you may need to update BIOS. Usually, BIOS updates will fix bugs and improve PC performance, security, and compatibility. In this post, MiniTool Partition Wizard will show you how to do Lenovo BIOS update using 3 ways.
Before you update BIOS, please adhere to the following suggestions, lest BIOS update fails and causes some serious issues.
Please always keep the AC adapter connected during the update process.
Do not turn off your computer or put the system into standby or hibernation.
Save your work and close other applications.
Update Lenovo BIOS Using Lenovo Tools
Lenovo Vantage and Lenovo System Update are two Lenovo tools that you can use to update BIOS.
Lenovo Vantage: It is a program preinstalled in Lenovo PCs. It has many features including monitoring PC operation, optimizing PC performance, scanning hardware, updating system, etc.
Lenovo System Update: It is a program used to update, and install Lenovo drivers, BIOS and applications. It is supported on the following systems: ThinkPad, ThinkCentre, ThinkStation, and Lenovo V, B, K, E-Series.
Should you use Vantage or System Update to keep your systems current? Actually, the two tools use the same mechanism to check and install updates. So, you can make a decision as your will.
How to Update BIOS Using Lenovo Vantage:
Launch Lenovo Vantage.
Click System Update.
Click Check for updates. It will check available updates. If there are BIOS updates available, you can choose it and update it automatically.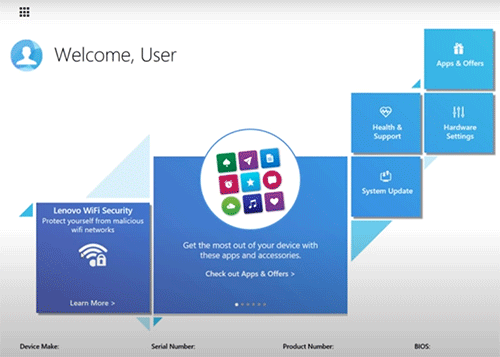 How to Update BIOS Using Lenovo System Update:
Launch Lenovo System Update.
Click Get new updates. Then, it will display available updates and you can decide which update is to be installed.
Update Lenovo BIOS Using WinFlash
WinFlash is a program used to flash the BIOS under Windows. It is suitable for most Award and Phonix BIOS. Lenovo PCs also support updating BIOS using WinFlash.
Install and launch WinFlash.
It provides you two ways to get the BIOS file. You are able to choose the way that is preferred.
Follow the wizard to update BIOS.
If you choose Get BIOS from Device, you should download the BIOS update first. Here is the guide on how to download a proper Lenovo BIOS update file.
Open Lenovo support website (support.lenovo.com).
Enter the system machine type or product name.
On the product page, click Drivers & Software.
Filter by BIOS/UEFI, and choose the corresponding OS information.
Download the BIOS file.
Update Lenovo BIOS Directly
Nowadays, most BIOS files are executable files and they can be executed directly from Windows. Therefore, after downloading the Lenovo BIOS update file, please extract it and double-click it to run it directly.
Tip: Lenovo also provides BIOS file (.iso) that can be used to make bootable CD. Then, you can update BIOS using the bootable CD. But to make a bootable USB, you should convert it to an .IMG file first.