What is Lenovo Vantage? What uses does Lenovo Vantage have? Should I remove Lenovo Vantage or keep it? In this post, MiniTool Partition Wizard will give you answers to these problems.
What Is Lenovo Vantage?
Lenovo Vantage is an app provided by Lenovo and pre-installed on Lenovo PCs. This app is created specifically for PCs running Windows 10 and replaces Lenovo Companion, Lenovo Settings, and Lenovo Account Portal applications.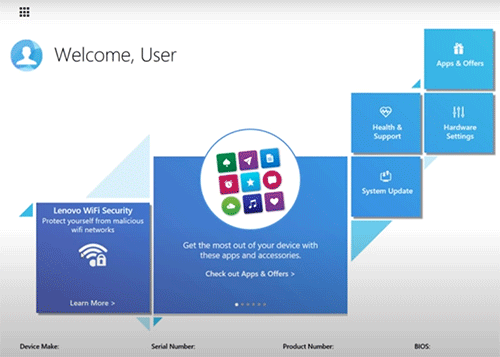 What uses does Lenovo Vantage have? Actually, nearly half of its features are overlapped with Windows features. These features include:
PC Personalization: it can personalize PC in power, audio, visual, input, and Smart Settings. For example, it can manage and prolong notebook battery life; adjust camera settings, brightness control, microphone settings, Dolby settings; and change Touchpad, Function Key (Fn), Keyboard Backlight, and mouse/pen/touch settings.
PC Protection and Update: it can protect your PC and update important system software and drivers.
Health Check: it can evaluate system health and run diagnostics on your device.
User Guide and Support: it can access your system's user guide, and get support.
Lenovo Diagnostics Tool – Here's Your Full Guide to Use It
Windows offers services similar to the above features. But to do the above jobs, you should perform several operations, while in Lenovo Vantage, you can do the above just in one interface.
Apart from the above features, Lenovo Vantage also has some special functions. For example:
Have access to Lenovo Migration Assistant - a free application that seamlessly transfers files and settings from one PC to another.
Discover other fun and useful applications.
View accessories compatible with your device.
Identify warranty status (start date and end date).
Improve your WiFi security, avoiding data leakage.
Identify the system serial number, product number, and BIOS.
Lenovo Security Console provides an invisible layer of protection for your cloud applications.
Security Advisor provides a suite of security tools that is recommended by Lenovo and vetted by security professionals, such as McAfee LiveSafe, Dashlane Password Manager, SurfEasy VPN, etc.
These features are very useful. If you don't have other alternative programs to do these jobs, keeping Lenovo Vantage is a good choice.
Should I Remove Lenovo Vantage?
Now, you see what Lenovo Vantage is and you can decide whether to remove it or not. In my opinion, you can save this software in your computer, because this software has some useful features but only takes up about 13.62 MB space.
But some users report that this software is full of ads and they want to remove it. In this case, you can try uninstalling it from Control Panel. Here is the tutorial:
Type "Control Panel" in the Windows Search menu.
Click Control Panel to open it.
Click Programs and then click Uninstall a Program.
On the Programs and Features screen, scroll down to find Lenovo Vantage Service.
Right-click this software and choose Uninstall.
Through the above steps, you can remove Lenovo Vantage. If you want to get this software back later, you can download it from Microsoft Store. Here is the brief tutorial:
Find Microsoft Store in the Start menu.
Type "Lenovo Vantage" at the search bar in Microsoft Store.
Click the Lenovo Vantage icon to access the application page. Then click Get and Launch to download Lenovo Vantage.
Click Launch after downloading Vantage and Vantage will load and open.
Choose your preferences and read over and agree to Lenovo's privacy policy.