This post of MiniTool shows you the necessity of using a League name checker. Based on that, it provides you with top 3 League of Legends name checkers along with their using guides. You can pick one LOL name checker as you like to check the availability of your summoner name.
About the Availability of LOL Name
League of Legends is a game that has existed for about 12 years. It owns millions of gamers. Given that fact, new players may feel hard to choose a favorite summoner name as it has been used by others. At this time, you need a League name checker that can help you check if a League name is available or when it will be available. This post collects some LOL name checkers for you.
Tips:
Each summoner name will have six-month inactivity protection once created. In addition, each level above six will earn additional inactivity protection for up to 30 months.
Further reading:
If your summoner name or username violates the terms, you need to rename it. The name would be considered inappropriate if it includes the content below.
Implied or blatant hate speech, offense, harm, violence, or harassment towards individuals or a group related to cultural, racial, gender, social, religious, political, national, etc.
Attack social causes or political views
Sexual content that is violent, obscene, criminal, or vulgar
Profanity and referencing hard drugs or underage illegal anything
How to Access and Use LOL Name Checker
You can check if a League name is available via the game client by moving to Store > Account > Summoner Name Change and then typing the name. However, this will not help you track or come up with cool and rare names.
Moreover, the client doesn't offer extra information except for simply accepting or rejecting a summoner's name. Here comes the need of a third-party name checker League. Well, this section introduces several free online League of Legends name checkers for you. Simply pick one from them to see the availability of your LOL summoner names.
#1. lolnamechecker.tapnets.com
You are able to access this League of Legends name checker by clicking here. Enter a summoner name into the box and then click the Check Name Availability button. Then it will display the result at the bottom of the button.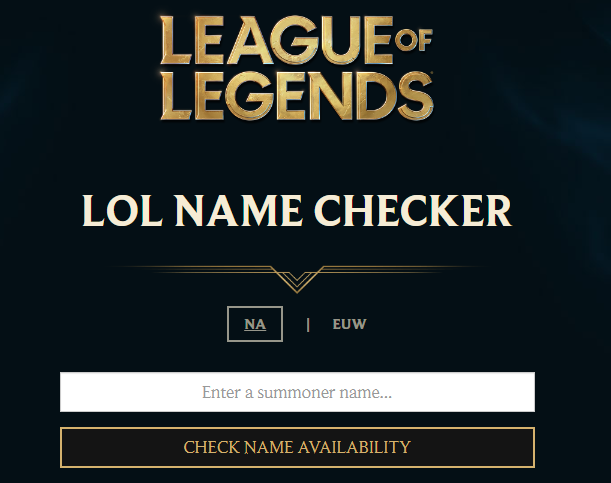 #2. lolnames.gg
The League name checker on the lolnames.gg site allows you to check specific summoner names. You can even specify whether you want a name with only letters, only numbers, or with symbols. It can create names with symbols to be as unique as possible. It shows you all upcoming and available names too.
To use this name checker League, go to the lolnames.gg, enter your summoner name, choose a place from the drop-down menu, and then click Search. After a while, you will get the result.

#3. lols.gg
The LOL name checker offered by lols.gg can search the status of any League name. Additionally, it shows you how long it'll be until the user is available for claiming. Importantly, it includes a service that finds all available names of different character lengths, and recently available names.
This League of Legends name checker can even track certain names, so you can keep an eye on specific names in the game. Here are the steps for using this League name checker.
Navigate to the lols.gg.
Scroll down the page until you locate the Name Checker
Input a summoner name in the box.
Choose your region from the drop-down menu behind NA.
Click on the Search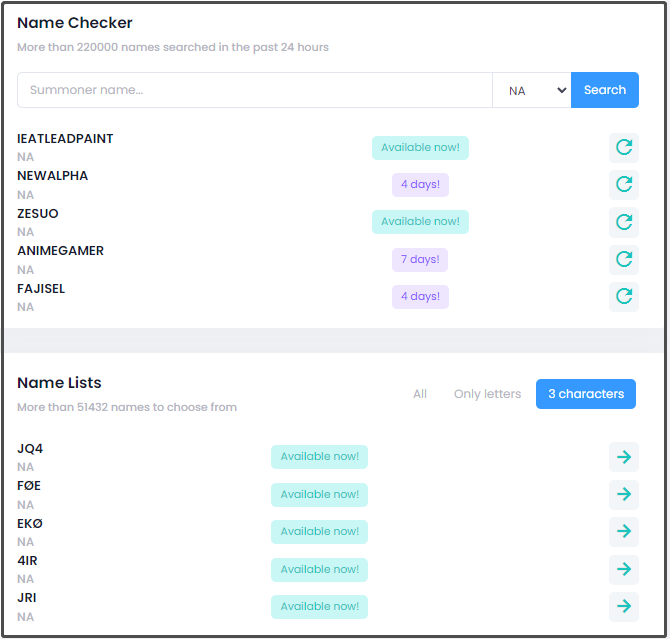 Best Partition Manager for Windows
If you are looking for a partition manager for Windows, MiniTool Partition Wizard is an ideal choice. It enables you to create/format/extend/shrink/delete/copy/recover partitions, perform surface test, check file system, convert FAT to NTFS (vice versa), etc.