Summary :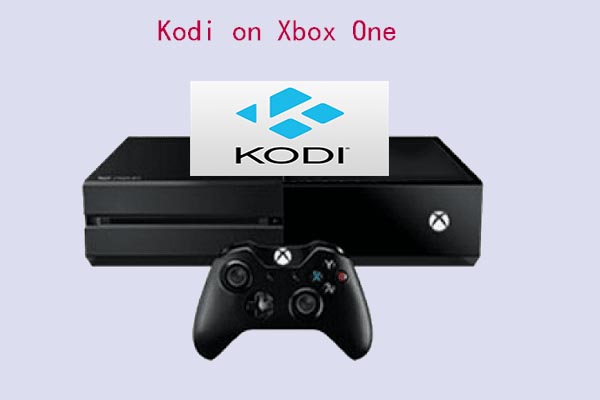 As Kodi comes as a native Xbox app, a large number of want to install Kodi Xbox One. However, they don't know how to do that. Today, MiniTool provides you with a full guide on how to install and use Kodi on Xbox One.
An Overview of Kodi
Kodi originally named Xbox Media Player, was generated to work on the original Xbox. It is an open-source streaming media player from the Kodi Foundation. It allows you to stream video across the Internet without the help of web browsers or proprietary apps.
Note: Kodi should only be used for the content that you have legal right to access.
Therefore, you can skip spammy advertisements while watching online TV shows or movies on Kodi. This program supports most major operating systems including Windows, iOS, Android, Mac, Linux-based systems, Amazon Fire Stick, as well as Nvidia Shield and Apple TV.
The developers of Kodi announced on December 29th, 2017 that Kodi is available for Xbox One series consoles including Xbox One, Xbox One S, Xbox One X, Xbox 360. Kodi for Xbox One is great, but here comes the question - how to install Kodi on Xbox.
The content below will show you the details. Before that, you should learn the benefit and drawback (limitation) of installing Kodi on Xbox One.
Also read: Fix Kodi Buffering Error with This Kodi Buffering Fix Guide
What You Should Know Before Installing Kodi on Xbox One
Though Kodi 19 has been released, most third-party addons and builds are not working properly with it. In addition to that, the present version has some limitations. For instance, you are unable to utilize Blu-ray drive to begin the disk; network support is limited to only NFS:// shares.
To obtain more details, please visit Kodi for Xbox One. Due to these limitations, you may encounter some issues. Given to that fact, you are recommended to use its old versions or other stable releases.
Certainly, you can obtain much benefit after installing Kodi on Xbox One. The features of both two platforms will be combined after that. Then more operations will become applicable.  
You may like this: Can You Watch Netflix on Switch? How to Get It on Switch?
How to Install Kodi on Xbox One
Here are two ways to install Kodi on Xbox One.
Way 1: Install Kodi on Xbox via Microsoft's Store
Step 1: Type Store in the search box and then click on Microsoft Store under Best match.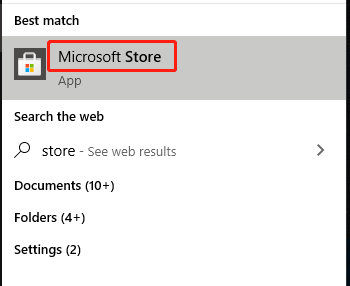 Step 2: Type Kodi in the search bar of Microsoft Store. You can often see the search bar at the upper right corner of the Store.
Step 3: Then you will see the icon of Kodi on the left side of the screen. Click on it and click Install on Xbox One. Then Microsoft Store will try to connect to your game console and install the Kodi by itself.
Step 4: After some time, you will see Kodi being downloaded or queued for downloading on your Xbox. After Kodi is installed, launch it.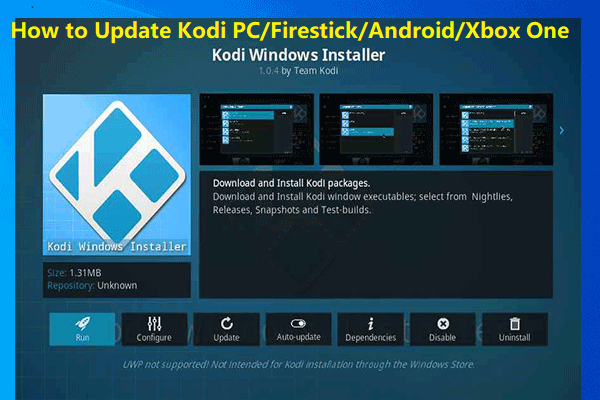 Are you searching methods to update Kodi on the Internet? If so, read this post now. It tells you how to update Kodi on different devices like PC and Firestick.
Way 2: Install Kodi on Xbox via Xbox's App Store
Step 1: In the Xbox One main menu, click on the search button.
Step 2: Type Kodi and hit Enter.
Step 3: In the pop-up screen, click the get button to download and install Kodi.
Step 4: When the installation ends, click launch to begin Kodi.